Lilly and I went to see the Elgin Symphony Orchestra play Tchaikovsky recently — Symphony No. 5 in E minor, part of the program called "Time for Spring" — and they did a fine job of it. But the astonishingly good part of the concert was the half-hour or so Time for Three was on stage. The trio, two violins and a double bass, set up in front of the orchestra and went to town, accompanying the orchestra on Concerto 4-3 by Jennifer Higdon, who apparently wrote the piece about five years ago with Time for Three in mind.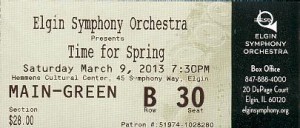 The trio – Zach De Pue, violin; Nick Kendall, violin; and Ranaan Meyer, double bass – were more than just energetic, technically adept young men, though they were certainly that. They went well beyond good musicianship, exuding their joy in working together, which wasn't lost on the audience, who applauded frequently and stood for the three at the end (until they came out for an encore).
More about Time for Three is at the PBS Newshour web site, and while this YouTube video doesn't really do them sonic justice – I'm not sure anything but seeing them live could – it still shows their range, and how they approached working together, and how enthusiastic the audience was. And of course it was filmed in the same hall as we saw them. In fact, it's from roughly the same vantage point, except we were to their left, rather than their right, on the second row (which are the cheap seats at the ESO, but acoustically just fine).