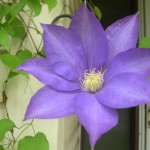 Some rain lately, and nighttime thunderstorms, but not as much as in April. Grass and bushes and flowers are luxuriating. It's a good way to approach the real start of summer, which is around June 1.
I had another idea to elaborate on Dogs from Space today as our dog was attacking the vacuum cleaner. Dogs have famously testy relations with vacuums, and ours does her bit by barking at the thing while it's running, and trying to bite the front end. Dogs might be smart, but not smart enough to attack the real source of their enemy's power, the electric cord. I would discourage that in harsh terms anyway, but so far it isn't an issue. Maybe she believes she's won when the machine is turned off.
What are the mortal enemies of the intelligent dogs from the Sirius system like? Noisy, metallic creatures that suck up their environment looking for food.
Of course, a very simple Google search reveals that Hollywood had a go at the dogs as space aliens 10 years ago in a movie that doesn't seem to have made much of an impact. Probably because it was bad, though that isn't necessarily an obstacle to box office success.