The other day, an old friend mentioned a paperweight she has on her desk, one that she acquired when we worked together in Nashville in the mid-80s. I didn't remember the item, but it did inspire me to take a look at some of the debris on my desk even now.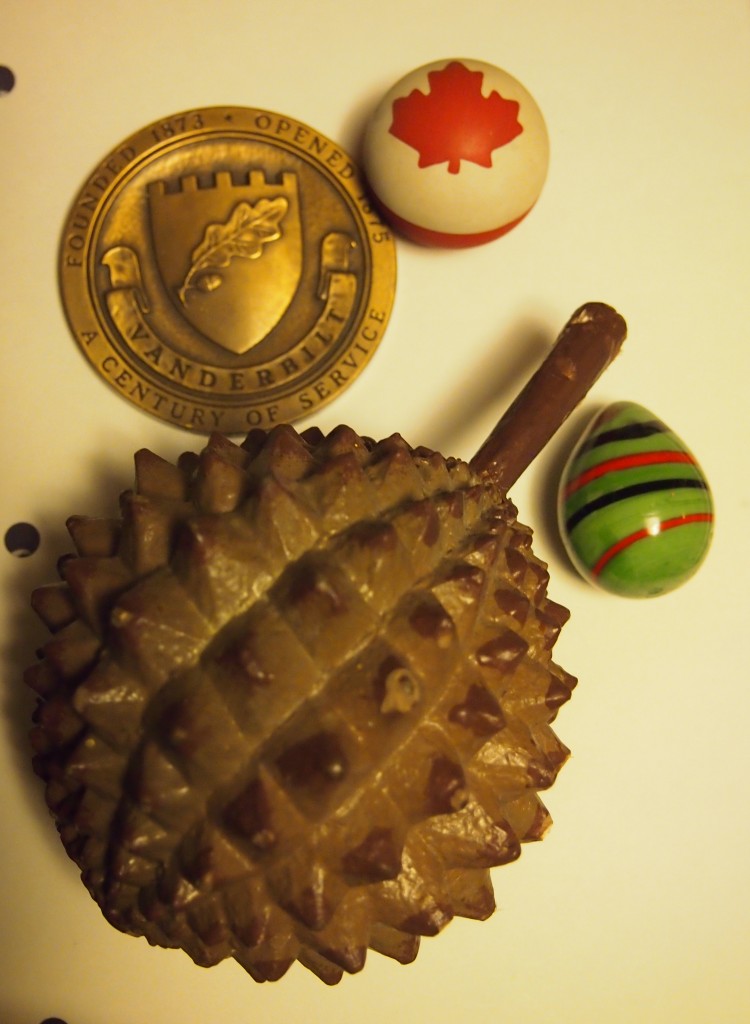 The largest item is a plastic durian. A contributing editor at a magazine I once worked for, a woman who lived in Singapore for a while, gave it to me. I think because it came up in conversation that I knew what a durian was. The dog chewed on the stem not long ago, but I got it away from her.
The medallion is a Vanderbilt souvenir. Not sure when I got it, but it wasn't when I attended school there. It's a sturdy bronze object, weighing 9 oz., with Cornelius Vanderbilt on the obverse. Made by Medallic Art Co. of New York, according to the rim of the medallion. Maybe the company was once HQ'd in New York, but according to the web site, it's now a division of Northwest Territorial Mint, which is headquartered in Federal Way, Washington, and has no facilities in New York.
I got the Maple Leaf bouncy ball at a store in Canmore, Alberta, in 2006. It was just after Canada Day, and Canada-themed items were at a discount.
The green item is a glass egg I bought at the Bergstrom-Mahler Museum in Neenah, Wisconsin, last year. A pretty piece of glass, but also inexpensive and hard to break.