Ten years ago, I wrote about our visit to Tiananmen Square 10 years earlier, noting that "Yuriko and I got into a taxi — one of those yellow van-like vehicles that Bob said were called breadboxes — and said 'Tiananmen.' Said it a few times, actually, before the driver figured out where we wanted to go. Soon we were walking the cement squares that make up that vast plaza. It was a bright, windy moment."
Naturally, we took pictures of each other. Here I am wearing the same shirt I held while posing with Mt. Fuji, this time posing with Tiananmen Gate.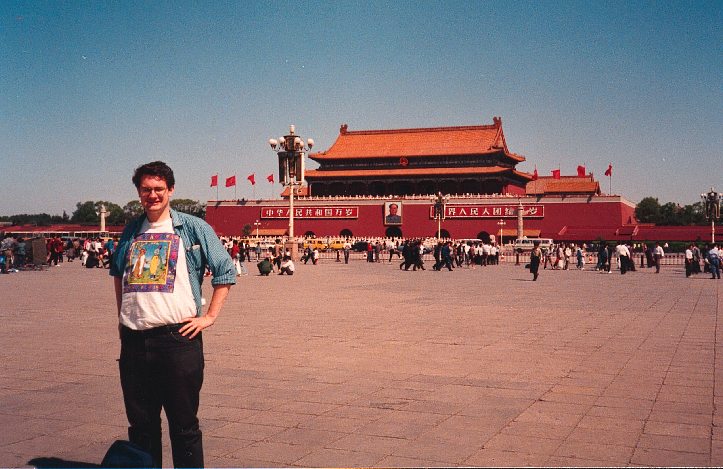 Here's Yuriko, posing near Mao's tomb, or more formally the Chairman Mao Memorial Hall.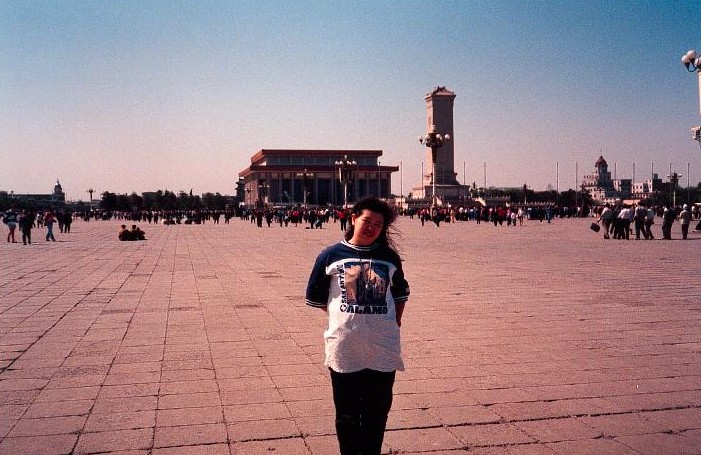 The line wasn't long to get into the tomb. The Great Helmsman, as I recall, was under glass, and had a Chinese flag draped from mid-chest on down. He looked a bit waxy, but I guess nearly 20 years of embalming (at the time) will do that to a fellow. Being the only exhibit, it didn't take long to see Mao, and soon we exited – right into the gift shop, or rather the gift area outside the exit, which was marked off by partitions.
How many places can you buy Mao souvenirs? Not many, so I bought a set of Mao postcards, which I sent to Jay and Deb, and some packs of cigarettes with Mao on them, which I sent to friends who smoked. I also bought a set of lapel pins, which I still have somewhere. One has the National Emblem of the PRC; another, the Chinese flag; and then there's Mao. I scanned it some years ago. Not the best image, but it gives a flavor of the thing, which is maybe about a half inch in diameter.
In September 1994, when we returned to Beijing to prepare to ride the Trans-Siberian to Moscow, Bob took us to the Hard Rock Cafe Beijing, which had opened earlier that year, and which I've learned closed in 2012. The place featured the usual Hard Rock collection of rock memorabilia and hagiographic images of rock stars, but particularly striking was a round painting on the ceiling. Its background was sky blue with clouds, and arrayed around the edge were portraits of early rock legends – Elvis, Chuck Berry, Buddy Holly, the Beatles, the Stones, et al. The painting also had local references: Tiananmen Gate and the Temple of Heaven.
We were seated so we could see the painting easily. Bob said, "Look closely and you'll see a figure not usually associated with rock 'n' roll." And sure enough, there he was. The reproduction of Tiananmen Gate was accurate, including the painting of Mao that hangs there.