Somewhere or other at some time, I read that Mount Carroll, Illinois, had enough things to see to recommend a short visit (how's that for source amnesia?). Wherever I got it, I can pass along that recommendation. It's a small place, with only about 1,800 people, but it has a sizable concentration of historic structures. We took a look at a few of them on the afternoon of June 20.
That includes a fine courthouse, the Greek Revival part of which dates back to before the Civil War. Elsewhere on the courthouse grounds are a few monuments – but not quite as many as some courthouses I've seen – including a tall one dedicated to Union veterans. Turns out that Lorado Taft sculpted the cavalryman at the top of the monument, which is formally called the Carroll County Civil War Soldiers And Sailors Monument.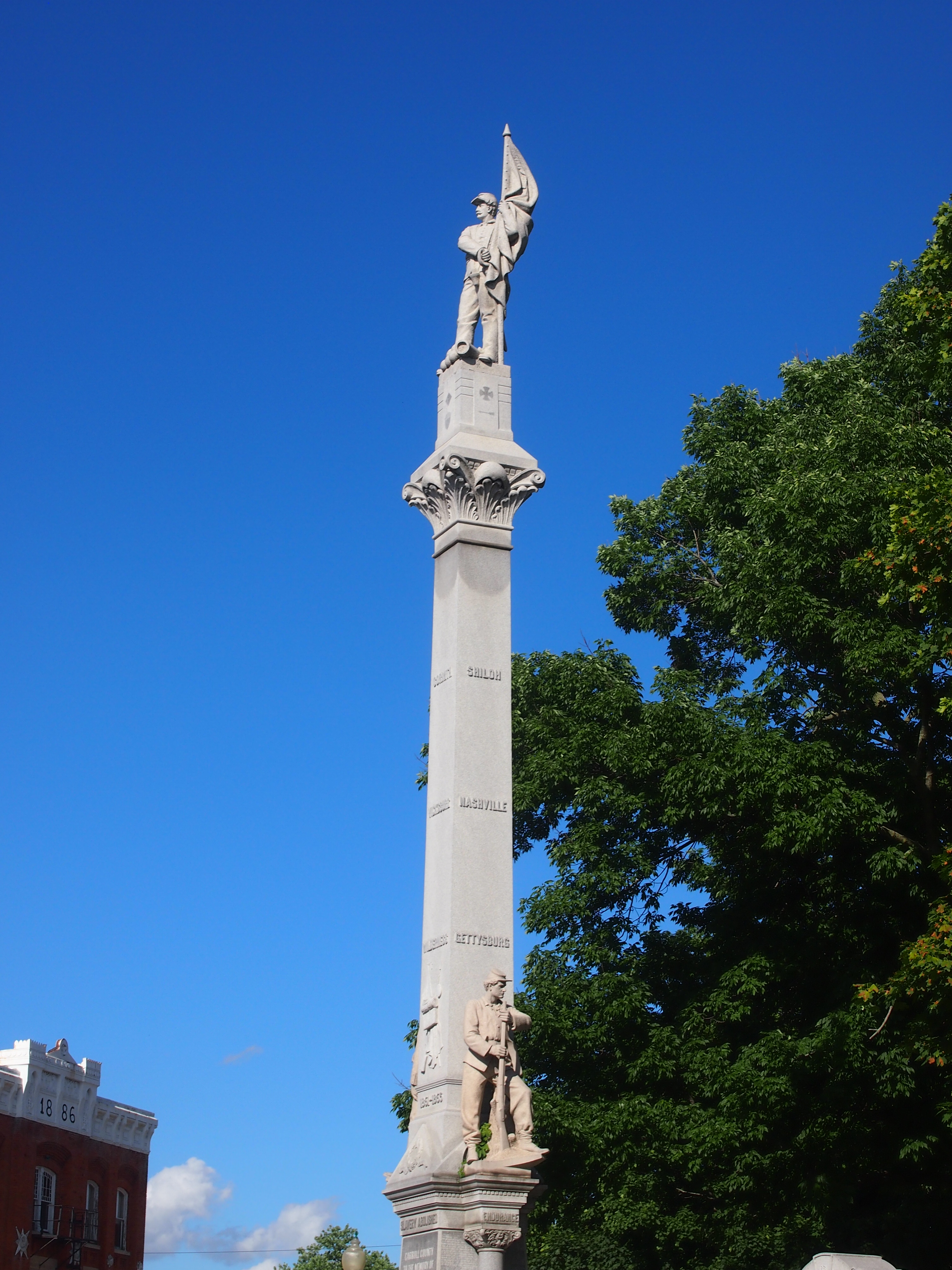 Writing in the short-lived blog Larado Taft: The Prairie State Sculptor, Carl Volkmann says, "Lorado Taft was a member of a team of artists who was commissioned to create the Carroll County Civil War Soldiers And Sailors Monument. George H. Mitchell designed the monument, and Josiah Schamel constructed the foundation. John C. Hall designed the annex that was added later when county officials determined that there were many names missing from the original honor roll list.
"The monument consists of a fifty-foot vertical shaft with a Lorado Taft-sculpted soldier holding a flag at the top. Lewis H. Sprecher of Lanark posed for the statue and made several trips to Taft's Chicago studio to model for it. Two additional statues are attached to the base of the monument, one an infantryman and the other a cavalryman."
Not far from the town square is a genuine, honest-to-God Carnegie Library that is, in fact, still a library. We went in for a look around. It seemed like a nice facility for a town the size of Mount Carroll. We were the only ones in the library except the librarian – it was about 30 minutes ahead of closing time on a Friday afternoon – and I spoke briefly to her, telling her that I wanted to show my daughters what a Carnegie Library was. I also wanted to come in because they aren't exactly common sites.
Later, I checked, and my feeling wasn't quite right. At least according to this Wiki list, some 60-odd Carnegies are still functioning libraries in Illinois alone, out of more than 100 originally built. Seems like most of them are in small towns away from metro Chicago, so unless you frequent that kind of small town, you won't see them much.
Just before we left town, we came across something that's presumably not always near the courthouse in Mount Carroll: this unusual car.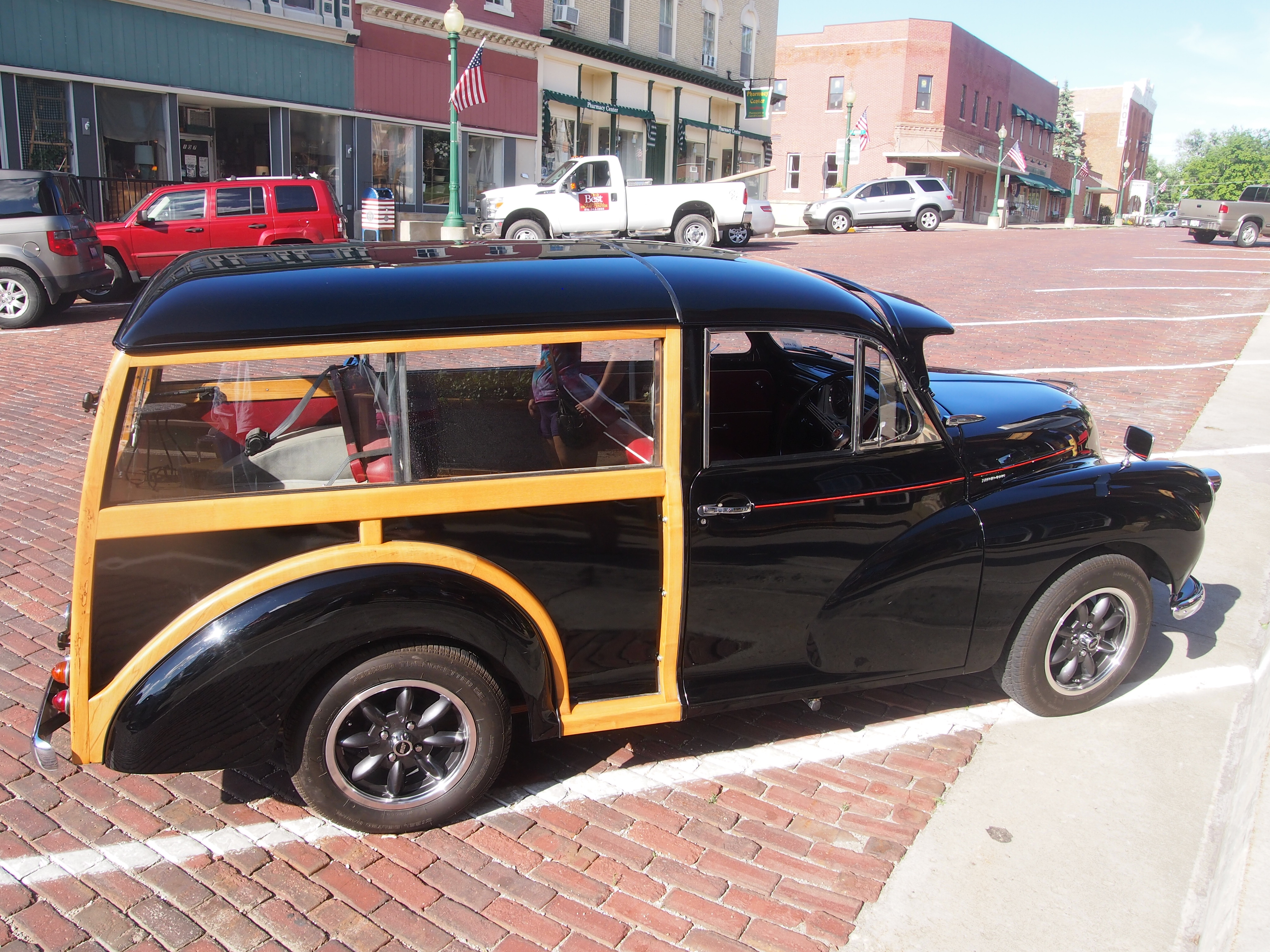 Unusual for American roads, that is. I don't think I've ever seen a Morris Minor in this country. It's so unusual that besides it being a Morris, I didn't know anything else about it.
Naturally, I had to look it up. Through the marvel of Google images, I was able to pin it down to a Morris Minor 1000 Traveller. In its pages on Morris Minor history, Charles Ware's Morris Minor Centre Ltd. in Brislington, Bristol, says "there is only one other car on British roads today which is as familiar as the Morris Minor, and that's the Mini. That both were designed by the same man is no coincidence, and indeed Sir Alec Issigonis is one of the very few car designers whose name is recognised by the man or woman in the street and not just by enthusiasts or fellow engineers. [This might be true in the UK, but I have no way to judge that.]
"The products of Sir Alec's genius have had a profound and highly beneficial influence on the British motor industry, so it is hardly surprising that it is his first car, the Morris Minor of 1948, which has become the subject of this proposal for a long-life car."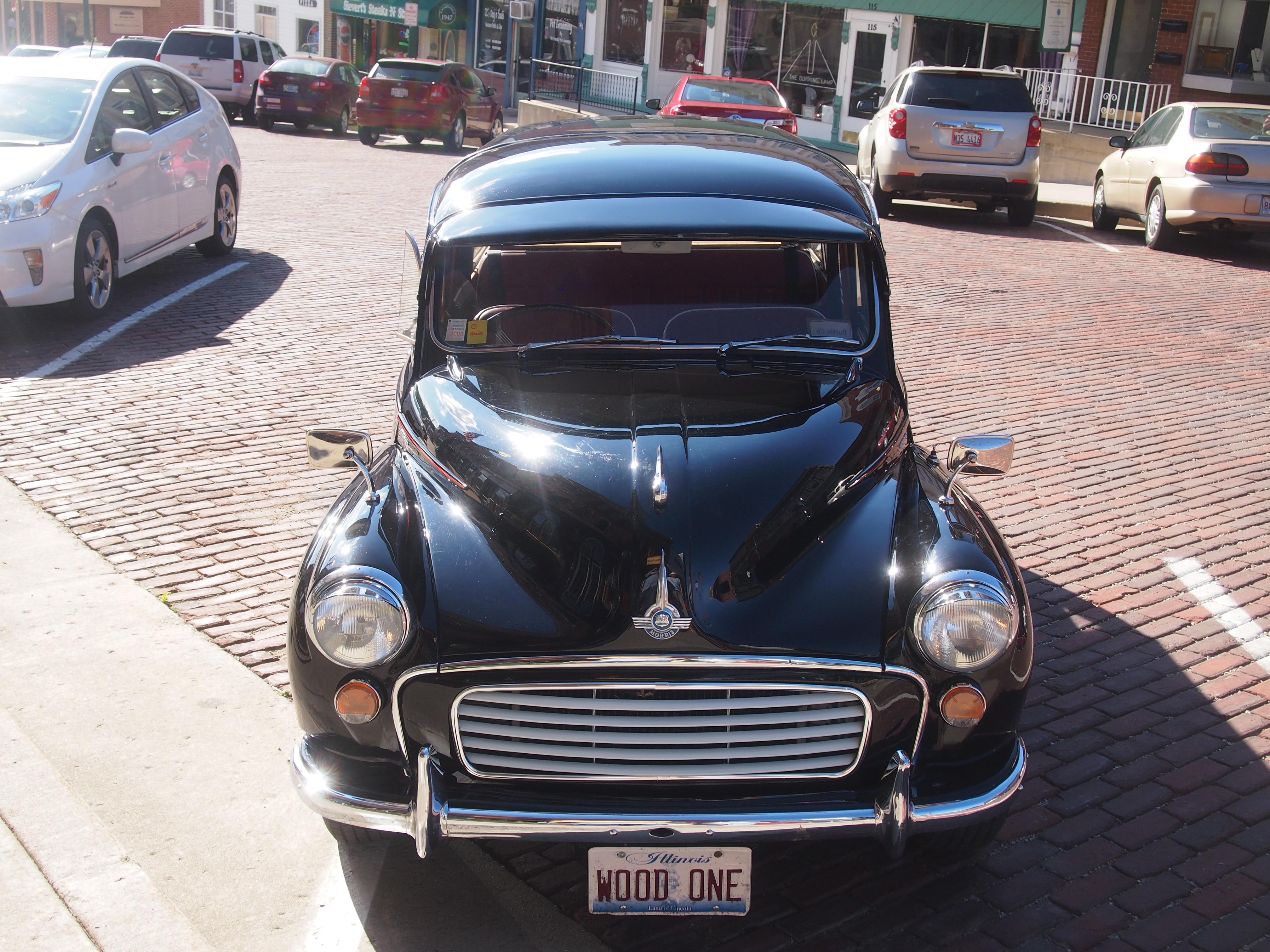 More about Sir Alec here. I'm not sure I'd want to own a Morris Minor myself, but it's a distinctive design. Good to see one loose on the roads of North America. I'm glad there are enthusiasts in this country. Any fool with money can buy a snazzy new sports car or a Lexis or the like, but it takes some imagination to invest in a Morris Minor.