I rode the subway a lot in New York, as I always do. Remarkable how different the stations and the cars look compared with the early '80s, but I felt that way 10 years ago. Mainly it's that lack of graffiti. If you're ever interested in what the cars looked like back then, see the last 15 minutes or so of Saturday Night Fever. Upset over the turn of events, Tony rides the subway all night – sitting in cars covered with graffiti.
Another, smaller difference I wondered about: does the system use the IRT, BMT and IND designations for anything? I didn't see them on maps or at stations. I know that they haven't actually referred to different systems since the consolidation in 1940, but I think that even in the '80s I saw lines referred to using those letters, at least on maps, and maybe signs in the stations – the IRT especially. Or maybe I'm misremembering. But at least as late as the 1960s, "IRT" must have been understood, hence the remarkably dated lyric:
LBJ took the IRT/Down to Fourth Street USA/When he got there what did he see?/The youth of America on LSD
The Times Square Alliance tells me 360,000 pedestrians pass through Times Square every day. Walking through it, that's easy to believe. One evening I finished a meeting not too far away and wandered over, just to see the nighttime light spectacle again. Of course it's a tourist destination. That should keep me away? I'd rather walk through it now than 31 years ago, which I did. The place was a dump then.
After I'd had enough of Times Square – it doesn't take too long – I headed east toward Hell's Kitchen. I examined restaurant menus along the way. Lesson: the further you get from Times Square, the more reasonable the prices become, though you're always paying Manhattan prices.
Something I didn't realize: Times Square used to be Longacre Square (or Long Acre). For a period before 1904, that is, when the Times built a new building there. (And there's always something interesting at Shorpy.) The old name survives faintly in the Longacre Theater on West 48th St.
Another day, I also took a quick stroll through Grand Central, since I was nearby. No doubt about it, it's a monumental space.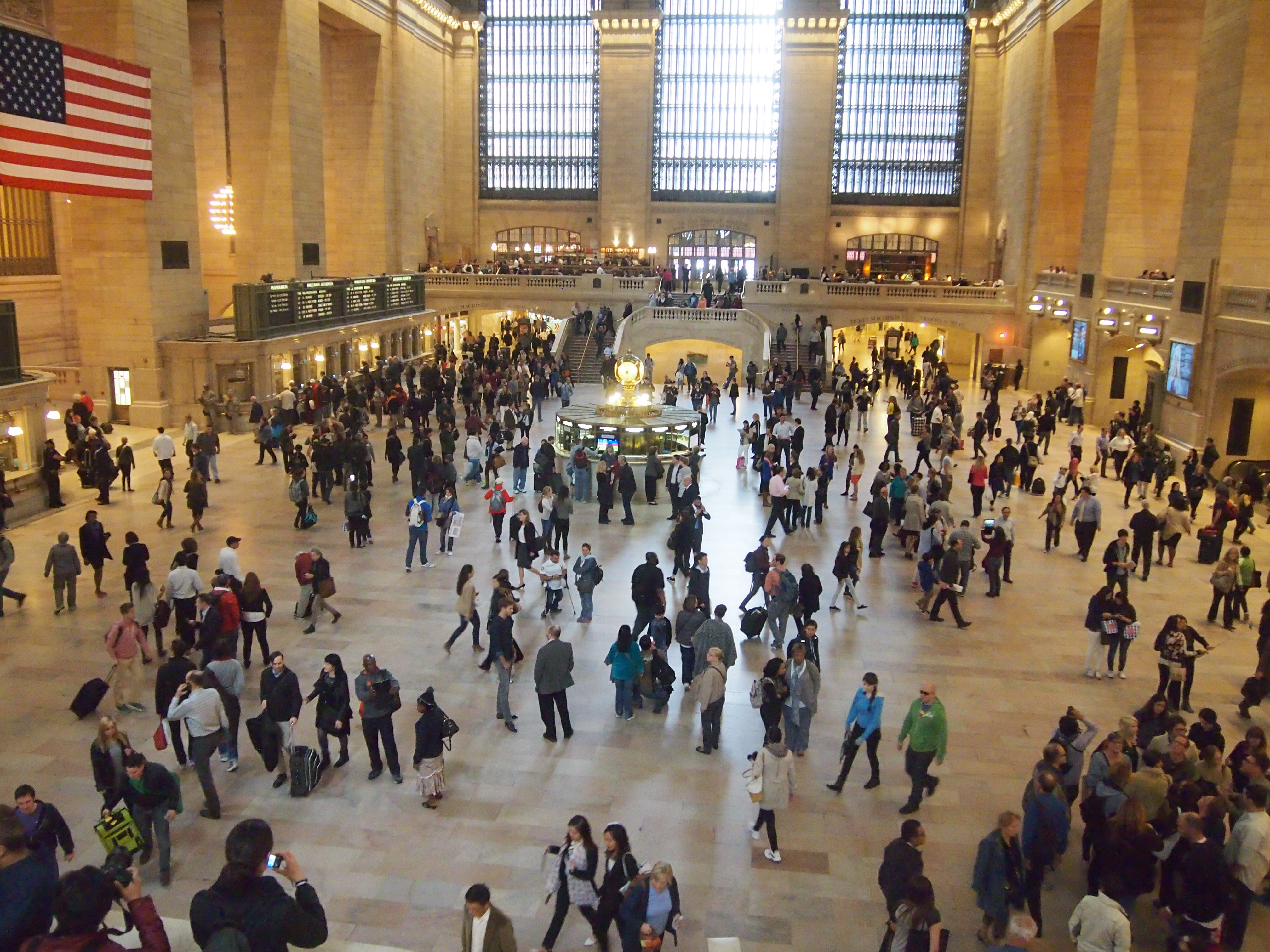 There's an Apple Store in Grand Central now. That didn't used to be there. I didn't visit it, but I did visit the NY Transit Museum's shop in Grand Central, and bought a few fridge magnets and postcards (just a few, they were overpriced).
Speaking of postcards, I'm happy to report that tourist shops on the streets around Times Square still sell cards at 10 or 12 for a $1. The only deal near Times Square. Remarkably, not all of the cards are crummy and unimaginative. The best ones I found were of not only the Brooklyn Bridge, but also the Manhattan and Queensboro bridges.
Under construction near the September 11 Memorial Museum: Santiago Calatrava's World Trade Center Transportation Hub – the new PATH station with service to New Jersey, that is. Behind it is the soon-to-open One World Trade Center. It might now be the tallest building in the Western Hemisphere, but it doesn't stand out in the skyline like the Twin Towers did. Maybe that's a good thing.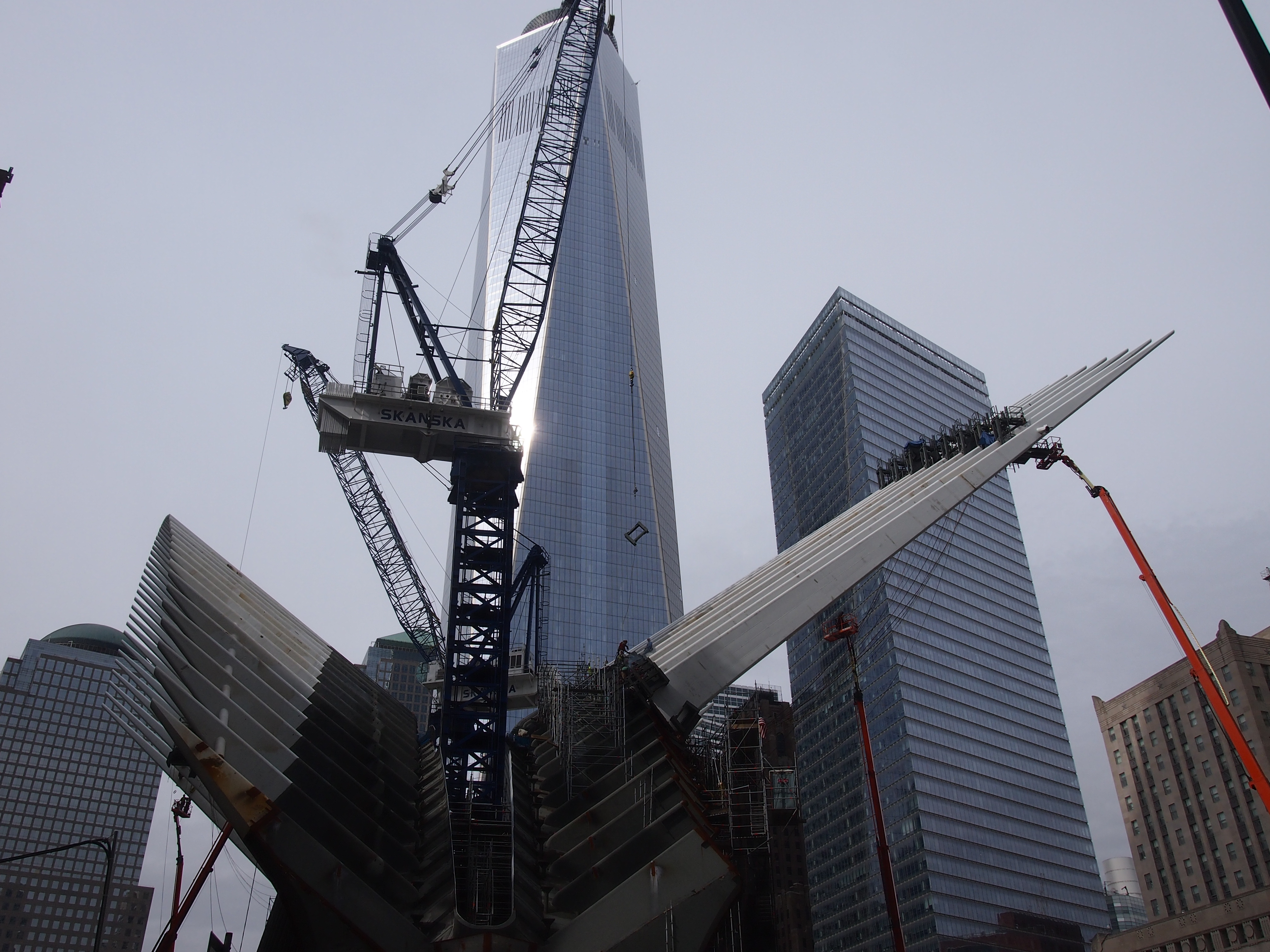 Reviews of Calatrava's design are mixed. As reviews tend to be. The station will open next year.