I didn't specifically seek out statues while visiting San Antonio, but sometimes I would be wandering along and there was another one. Such as this fellow, important enough to get a life-sized bronze downtown, on Houston St.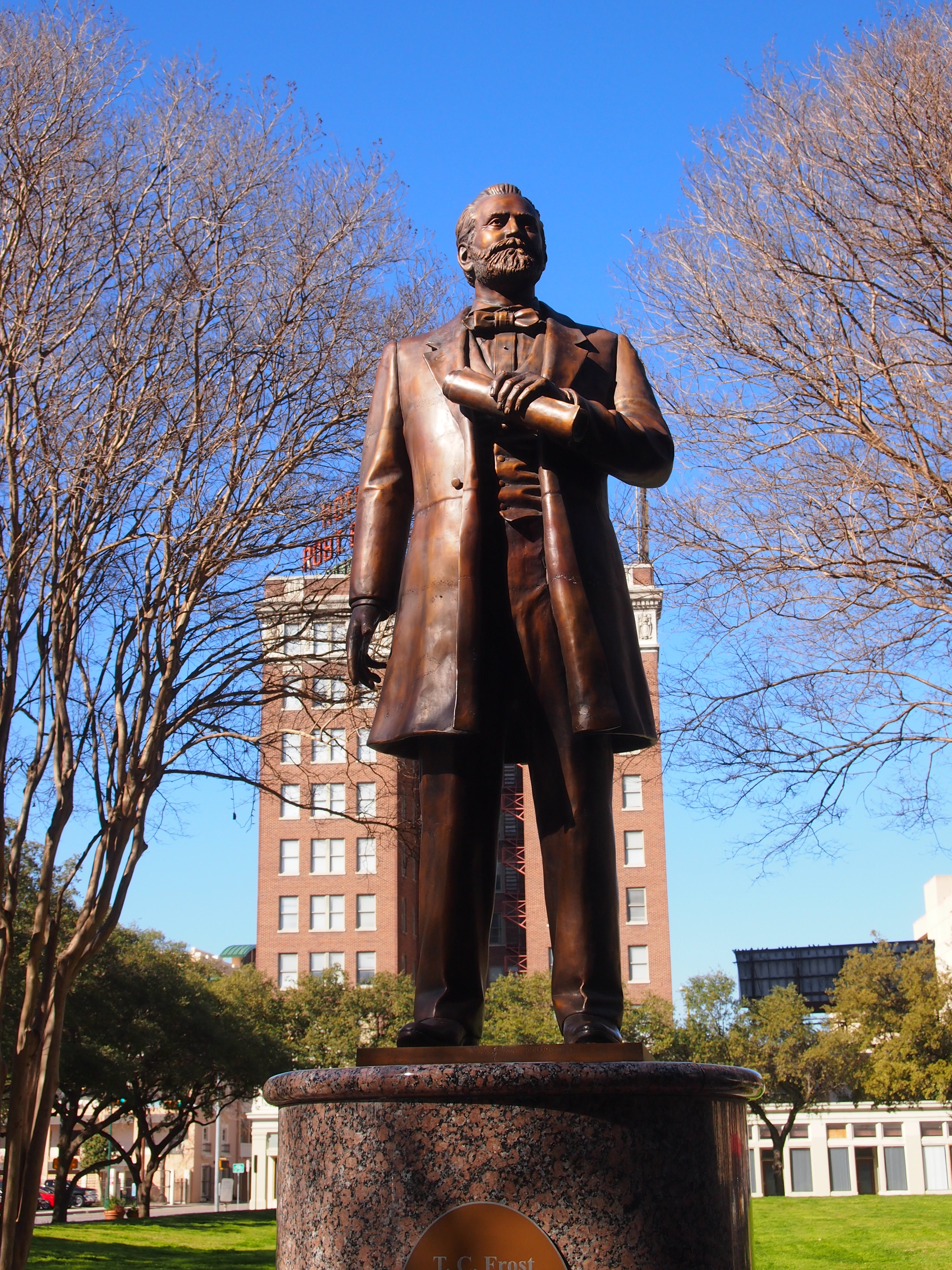 It's Thomas Claiborne Frost (1833-1903): frontier lawyer, Confederate commander, wool merchant, and eventually banker. Frost Bank exists to this day as a major regional bank focusing only on Texas markets, and most recently it had the distinction of not being caught with exposure to the bum mortgages of the 2000s, and so turned down TARP money.
Sculptor Robert L. Dean Jr. did the Frost statue. He's better known for a number of Eisenhower statues, including ones in Denison, Texas; West Point; Ike's presidential library; and in London and Normandy. He also did Patton, Bradley, DeGaulle, and Eddie Rickenbacker, among others. I'd never seen the Frost bronze because it's fairly new, put there only in 2001.
Here's a person I didn't know had a bust in San Antonio.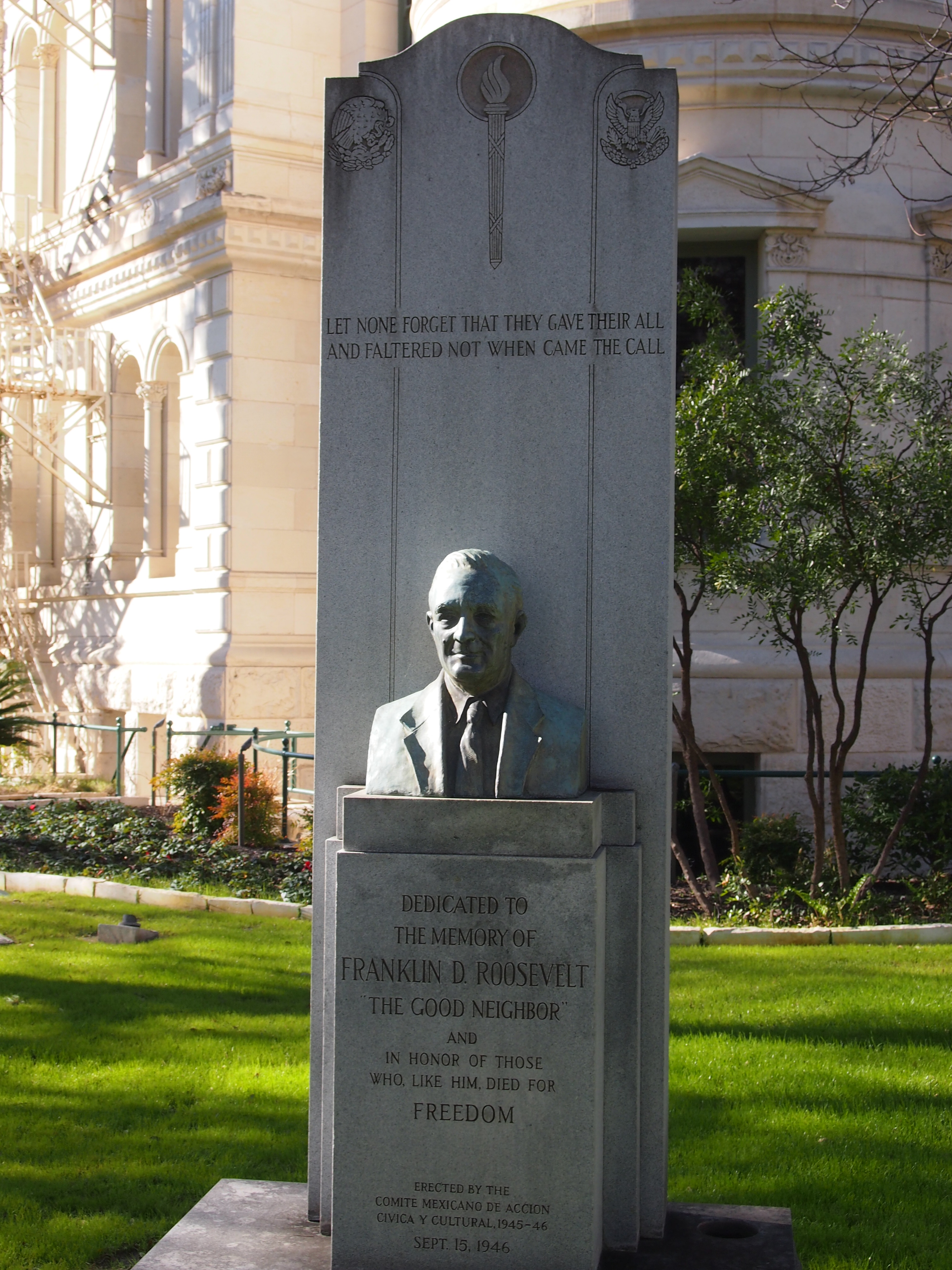 President Roosevelt, looking not quite like the FDR we know from photos and movies, but never mind. The memorial is on the grounds of San Antonio City Hall, a 1946 gift from Mexico — specifically, the Comite Mexicano de Accion Civica y Cultural. The sculptor was from San Antonio, however: Louis Rodriguez, a member of a family that still carves memorials and gravestones. Louis and his brother James best-known work is the Alamo Cenotaph.
Not far away is "The Conquistador," a bronze outside the Spanish Governor's Palace.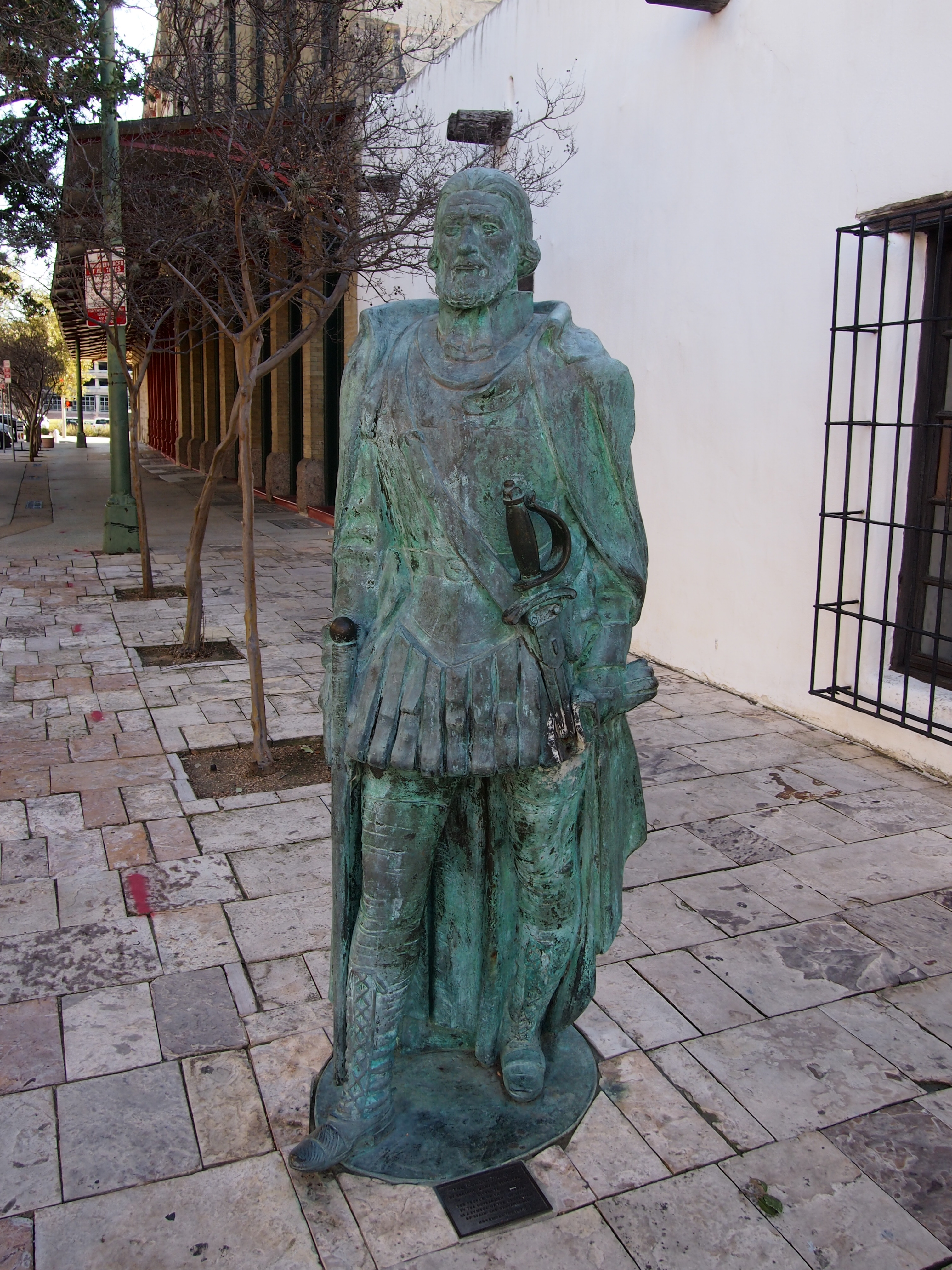 It too was a gift to the city — by the government of Spain in 1977, "as a symbol of the close ties of Spain and San Antonio," according to the plaque at the foot of the work. The sculptor was Enrique Monjo, who also did work at the National Cathedral.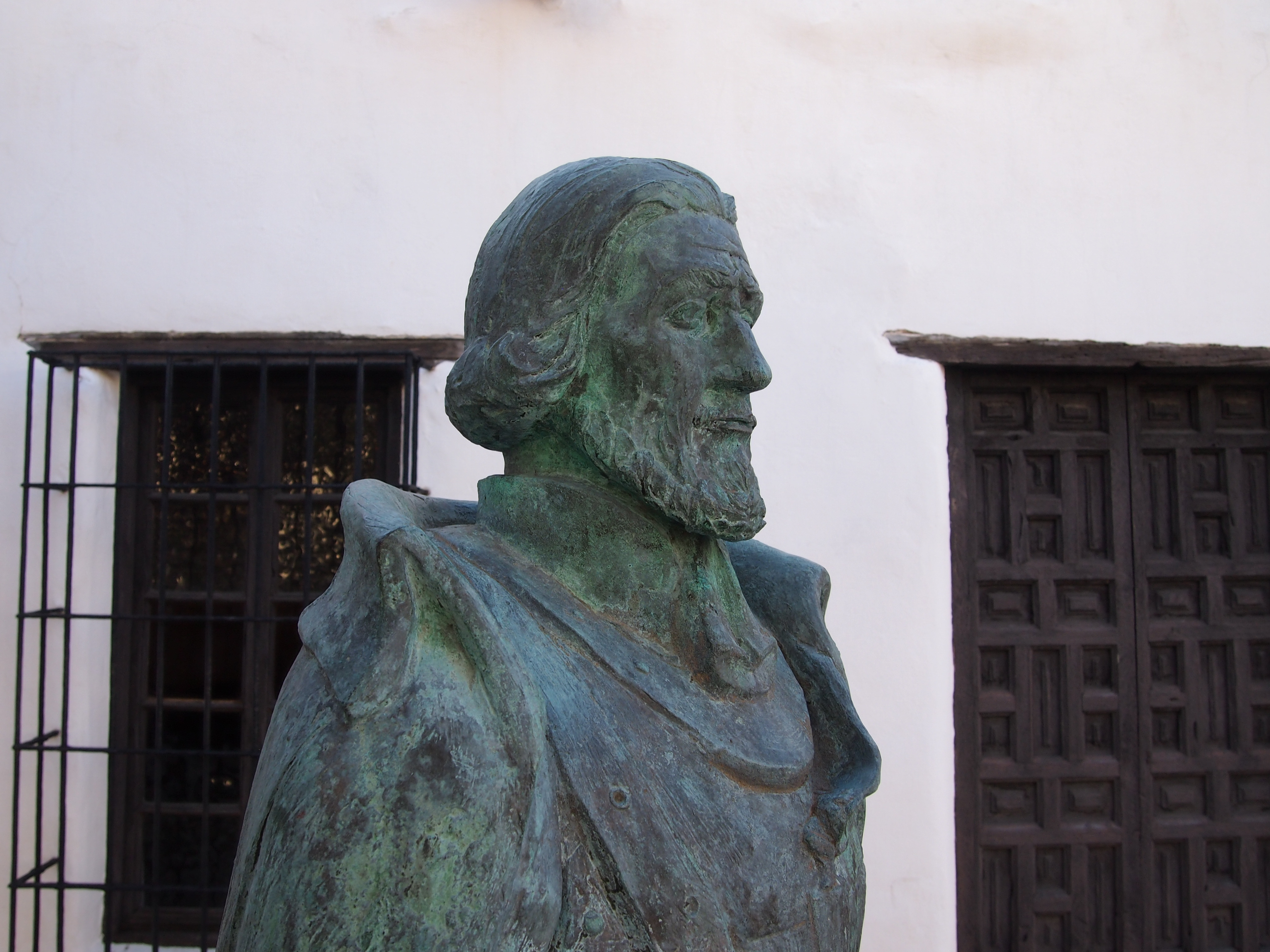 Here's a fellow in a Texas pose.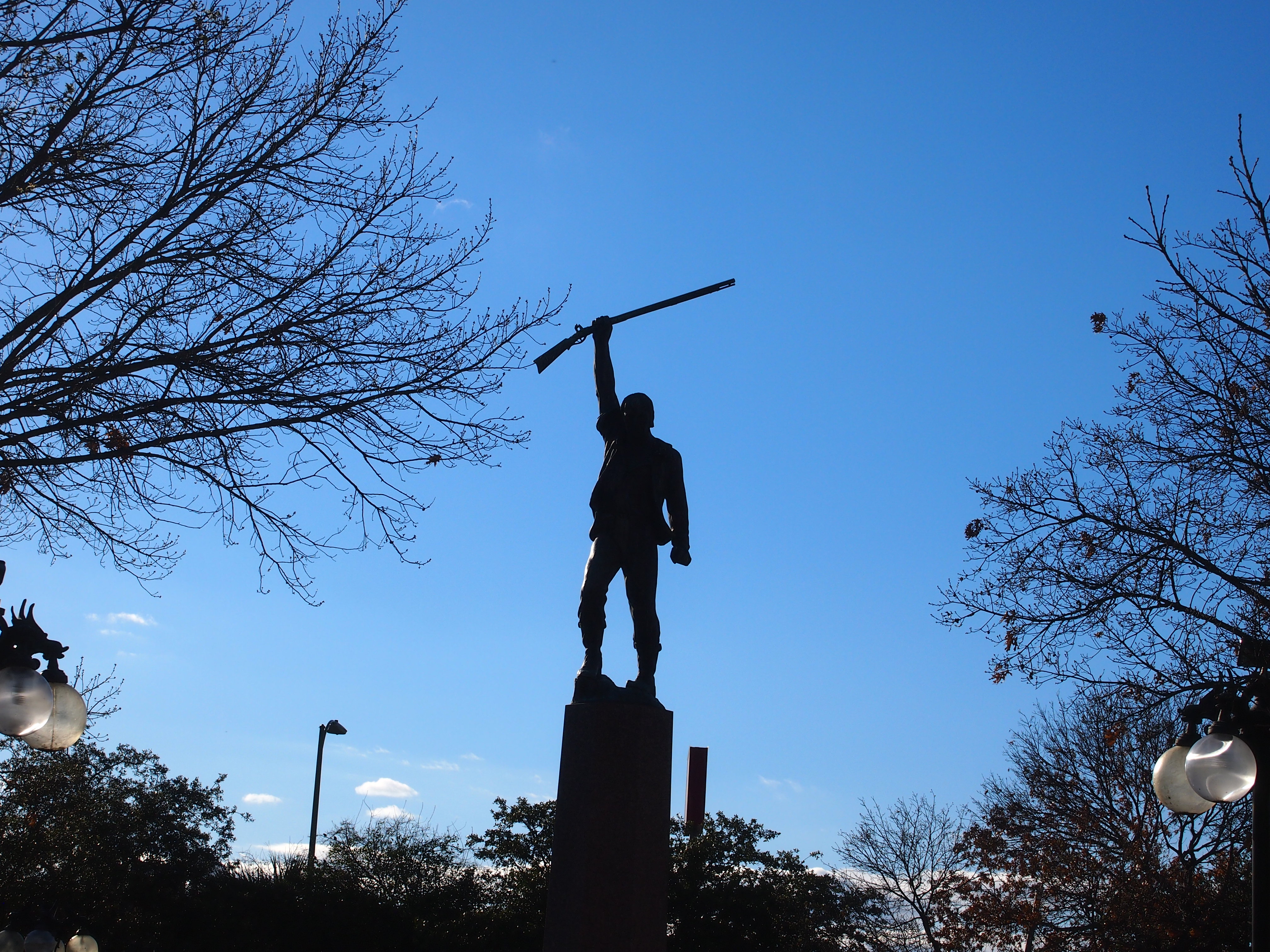 Who holds his weapon so defiantly? Texian Ben Milam, in Milam Park downtown. He was one of the leaders of the Texian forces in the Siege of Bexar in late 1835, which resulted in the capture of San Antonio from Mexican forces under Gen. Martin Perfecto de Cos, an incident that precipitated the better-known Battle of the Alamo a few months later. Milam didn't live to participate in that, or even the conclusion of the Siege of Bexar, since a Mexican bullet hit him in the head on December 7, 1835, two days ahead of Cos' surrender. Besides Milam Park, a scattering of other places in the state are named for him, such as Milam County, northeast of Austin. But the Ben Milam Hotel in Houston is no more.
One Bonnie McLeary did the statue, which was commissioned for the Texas Centennial in 1936, along with a number of other statues around the state. She's better known, according to A Comprehensive Guide to Outdoor Sculpture in Texas (1996), for her "garden sculptures and her portrayal of children."
Then there's Jolly Jack.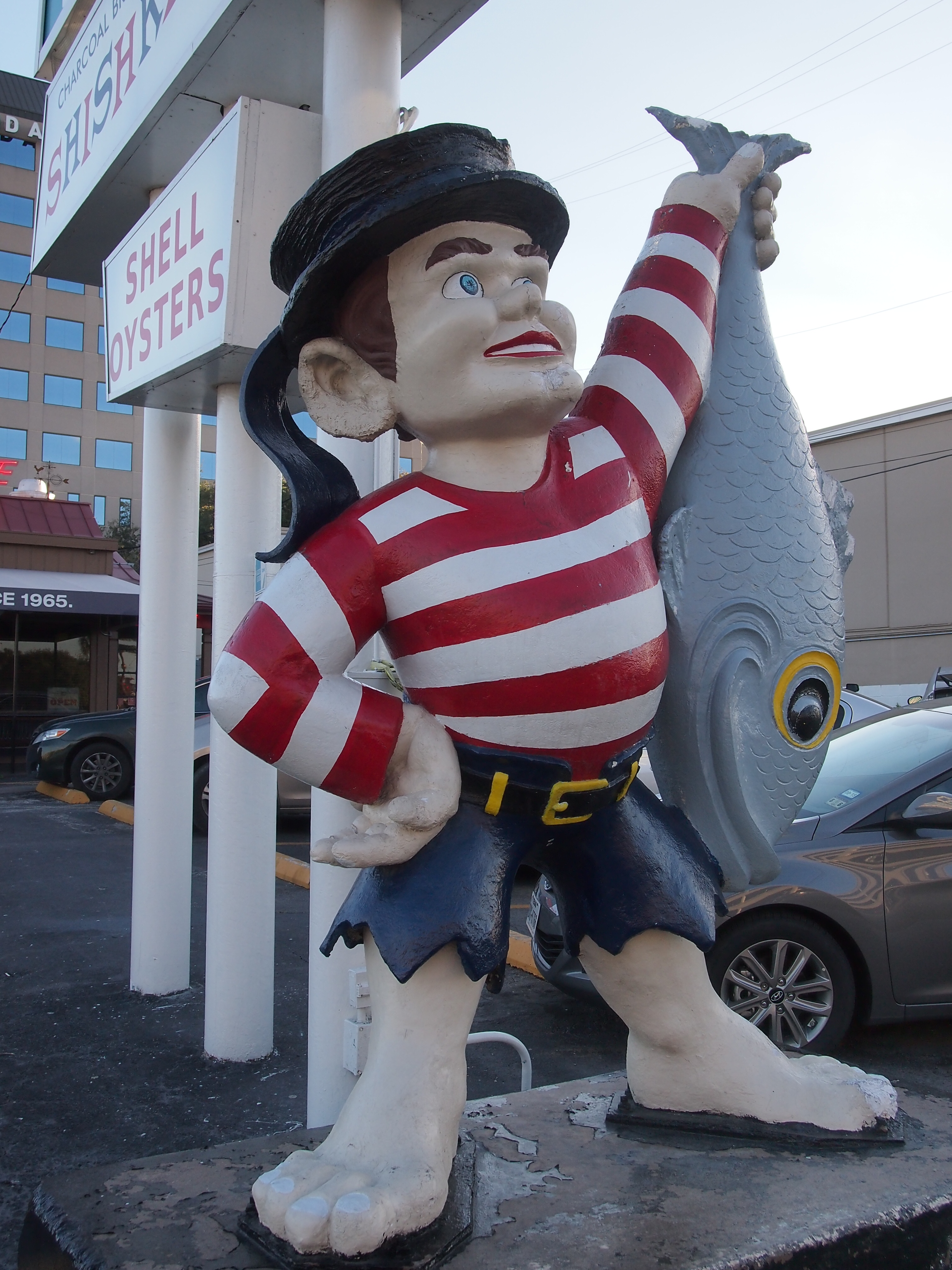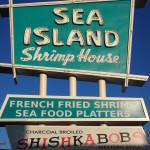 He stands outside of Sea Island, a restaurant on the North Side of San Antonio, near North Star Mall. Remarkably, I've been able to find mention of its creators, two Austin artists named Dana Younger and Kevin Collins, at least in this 1998 Austin Chronicle article: "In August, the area was dominated by Jolly Jack, a 10-foot-tall statue commissioned by Sea Island Shrimp House. Jack is the regional seafood chain's answer to the classic Bob's Big Boy, an oversized cartoon fat kid [looks like an old-time jack fisherman to me, not a fat kid] in cut-off blue jeans and bare feet, with a red-and-white striped shirt and a black top hat. He proudly holds a five-foot-long fish up in his left hand to entice potential diners. Collins and Younger were paid $9,000 to make the mold and will get $3,000 for each of three more Jolly Jacks."