Just south of I-410 on the North Side of San Antonio, you'll find Robert L.B. Tobin in bronze.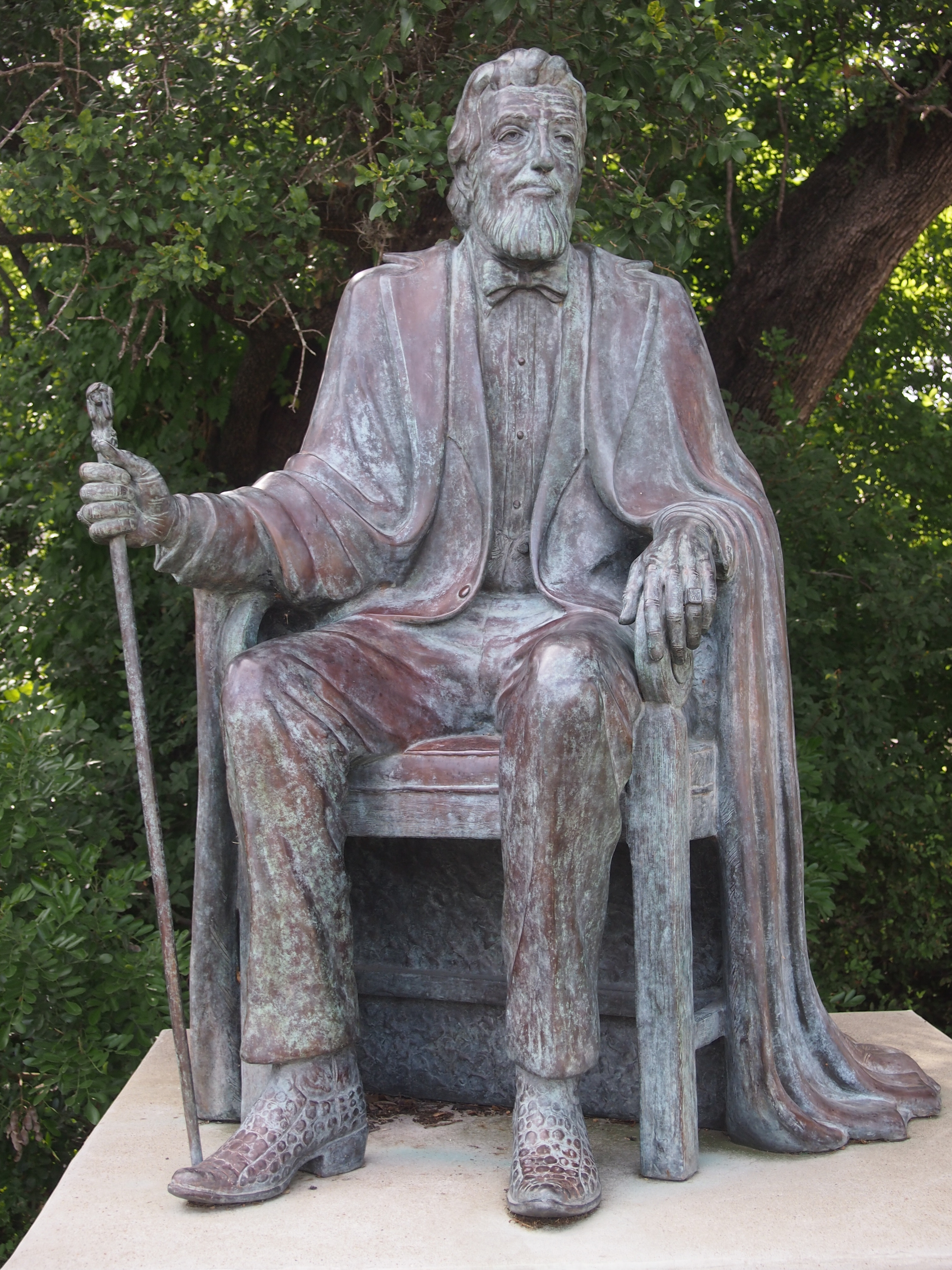 Tobin (1934-2000) inherited Tobin Suverys, the largest mapmaker to the oil industry, at only 19 when his father died in a plane crash. Apparently, the younger Tobin made a good run of it, enough to make him a major philanthropist in San Antonio and elsewhere. As the NYT said (and where is the Express-News obit?):
"Mr. Tobin served on the boards of the Metropolitan Opera in New York and the Santa Fe Opera. He was also on the boards of the Museum of Modern Art and of the Spoleto Festival in Italy. He endowed libraries and museums, underwrote operas, sponsored symphony premieres and championed artists and composers in many places.
"The major beneficiary of his philanthropy was the McNay Art Museum in San Antonio [an excellent museum]. Mr. Tobin's mother, the late Margaret Batts Tobin, was president of the museum's board of trustees for many years. She built a special wing for the museum on the 50th birthday of Mr. Tobin, her only son."
I've also seen mention of Tobin's "Lucchese alligator boots," which can be expensive indeed. This must be them in bronze.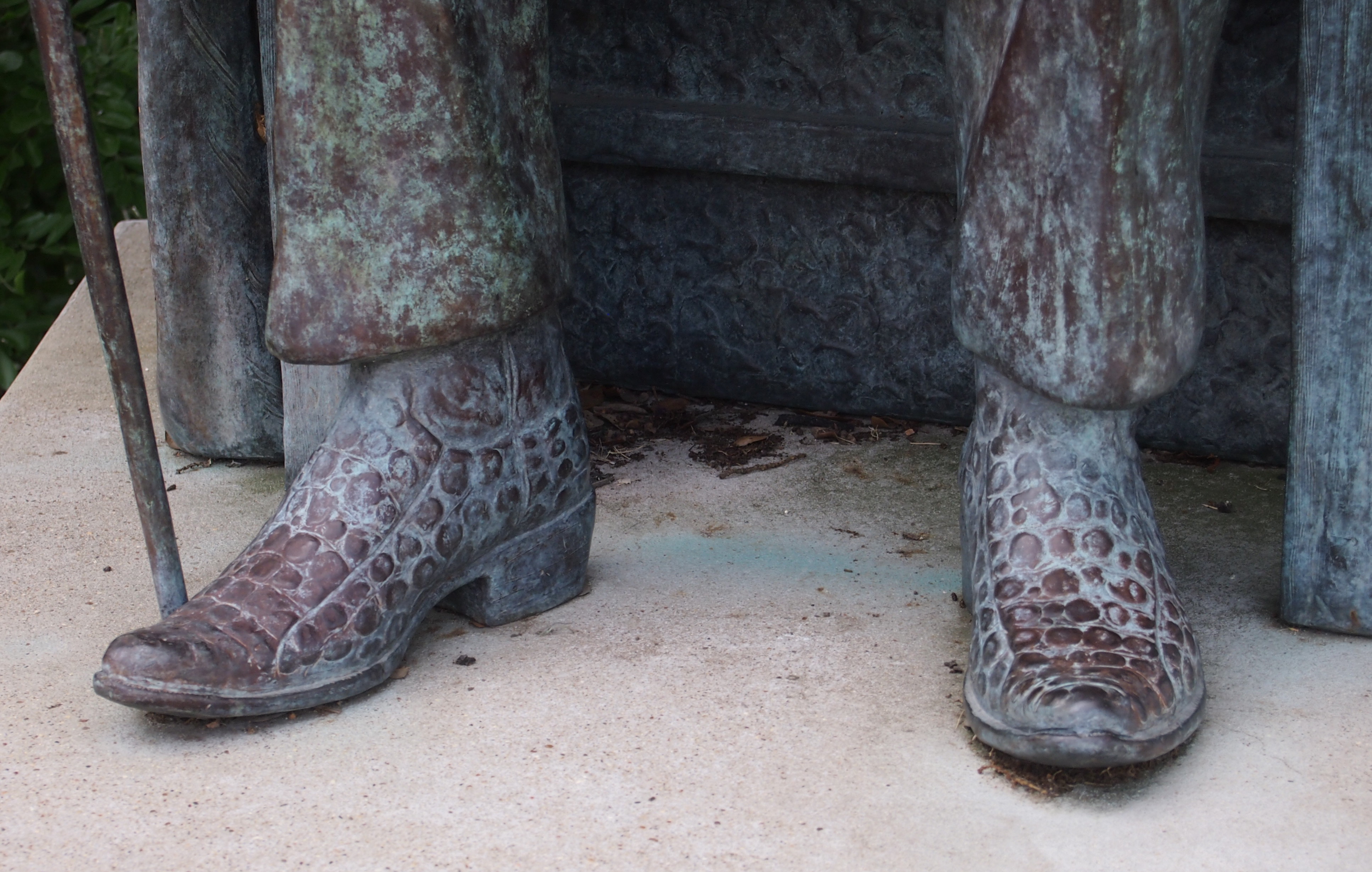 Also notable on the statue is Tobin's cane, which has See No Evil, Hear No Evil, Speak No Evil monkeys on it. Not sure why the motto was close enough to his heart for him to want it on his cane, and then in bronze, but there you have it.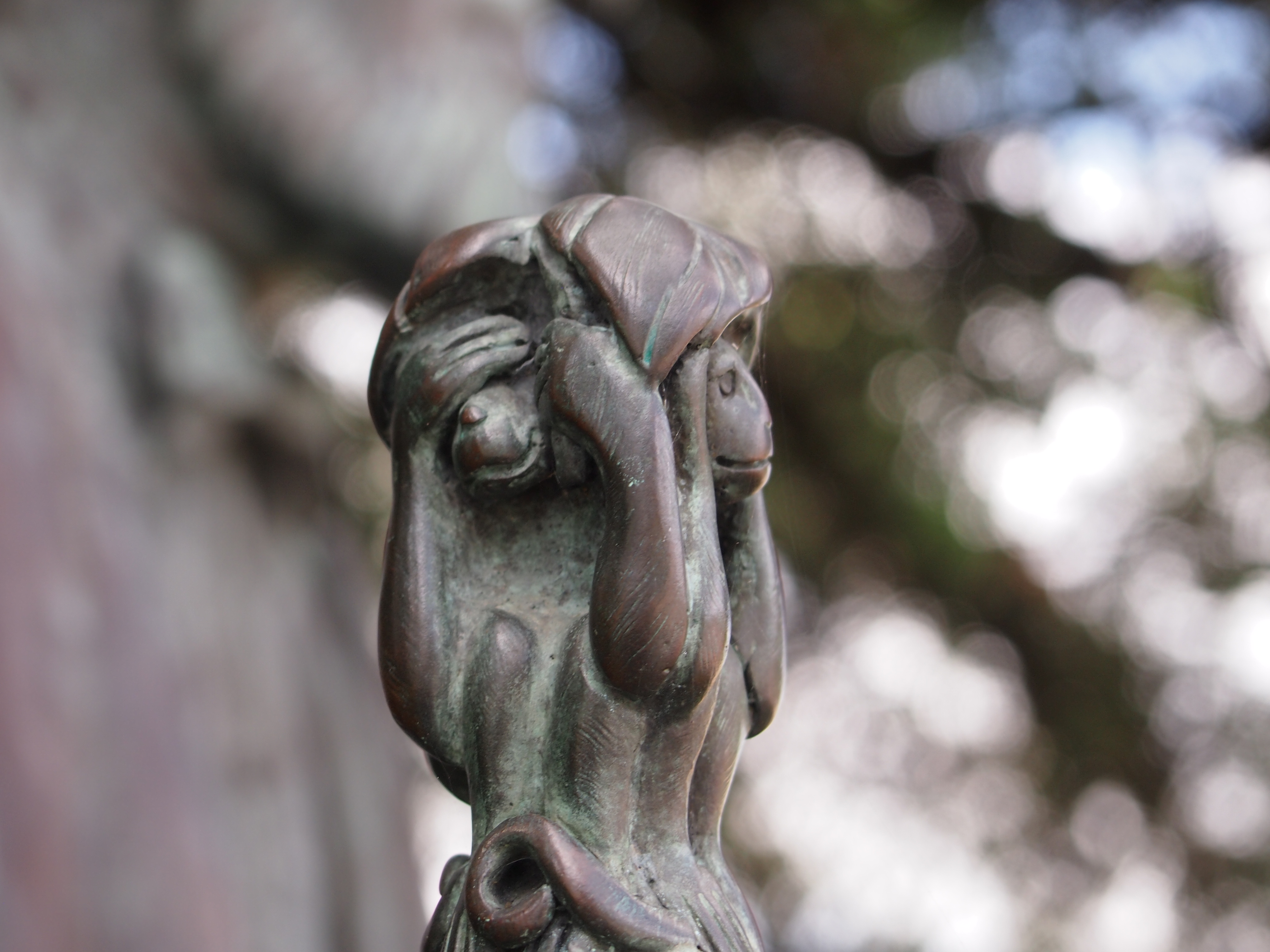 The statue is at the trailhead of Robert L.B. Tobin Park, a roughly two-mile segment of the Salado Creek Greenway between I-410 and Eisenhower Road. In a non-drought July, the greenway is green all right.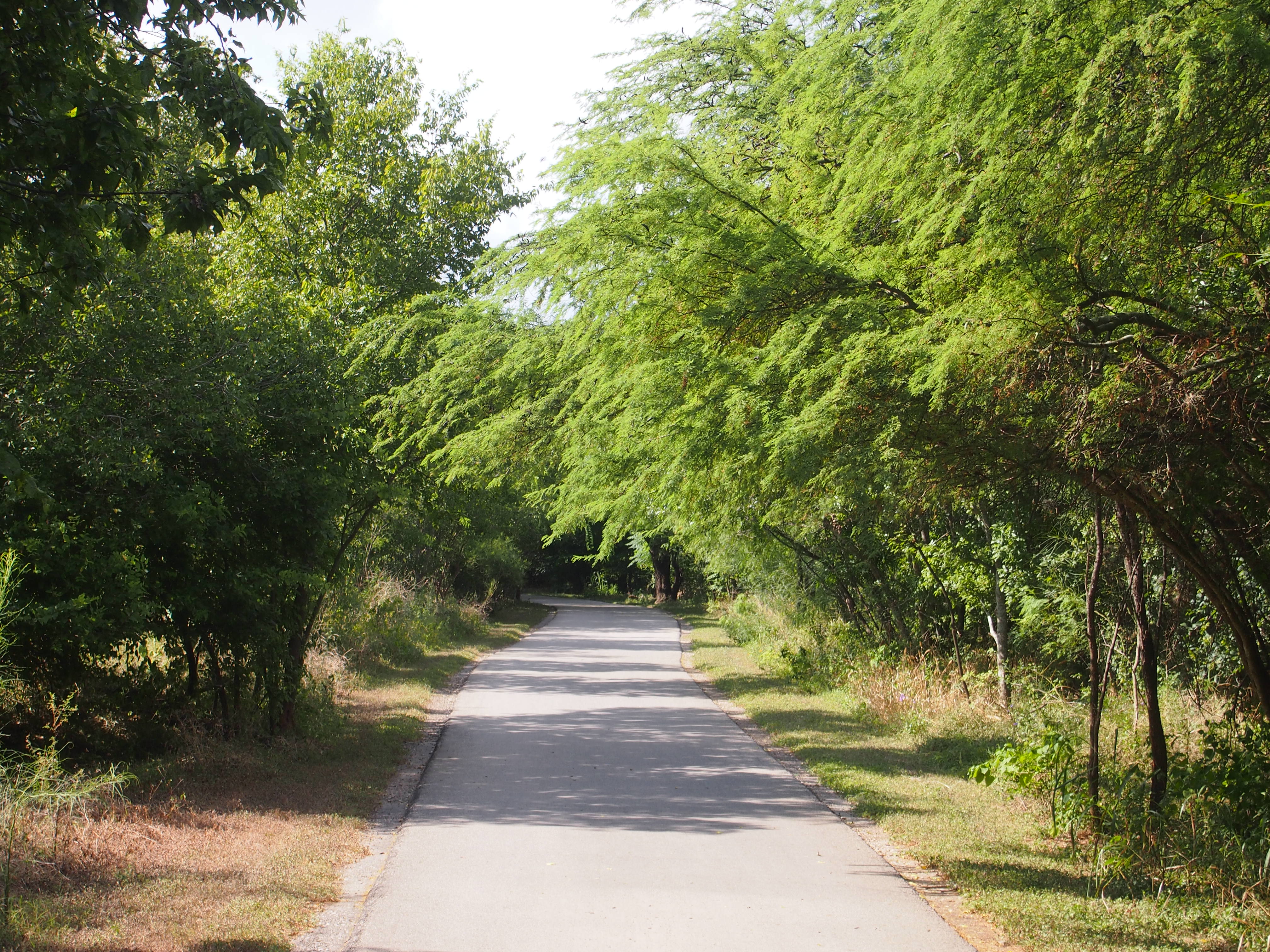 Tobin himself helped design the park shortly before he died, and his foundation ultimately donated 89 acres of land to the project. It opened in 2008. No wonder I'd never heard of it before Google Maps told me about it this year. All of the while I lived in San Antonio, and for years after, it was simply inaccessible land owned by Tobin (though if you'd asked me or anybody, no one would have known who he was).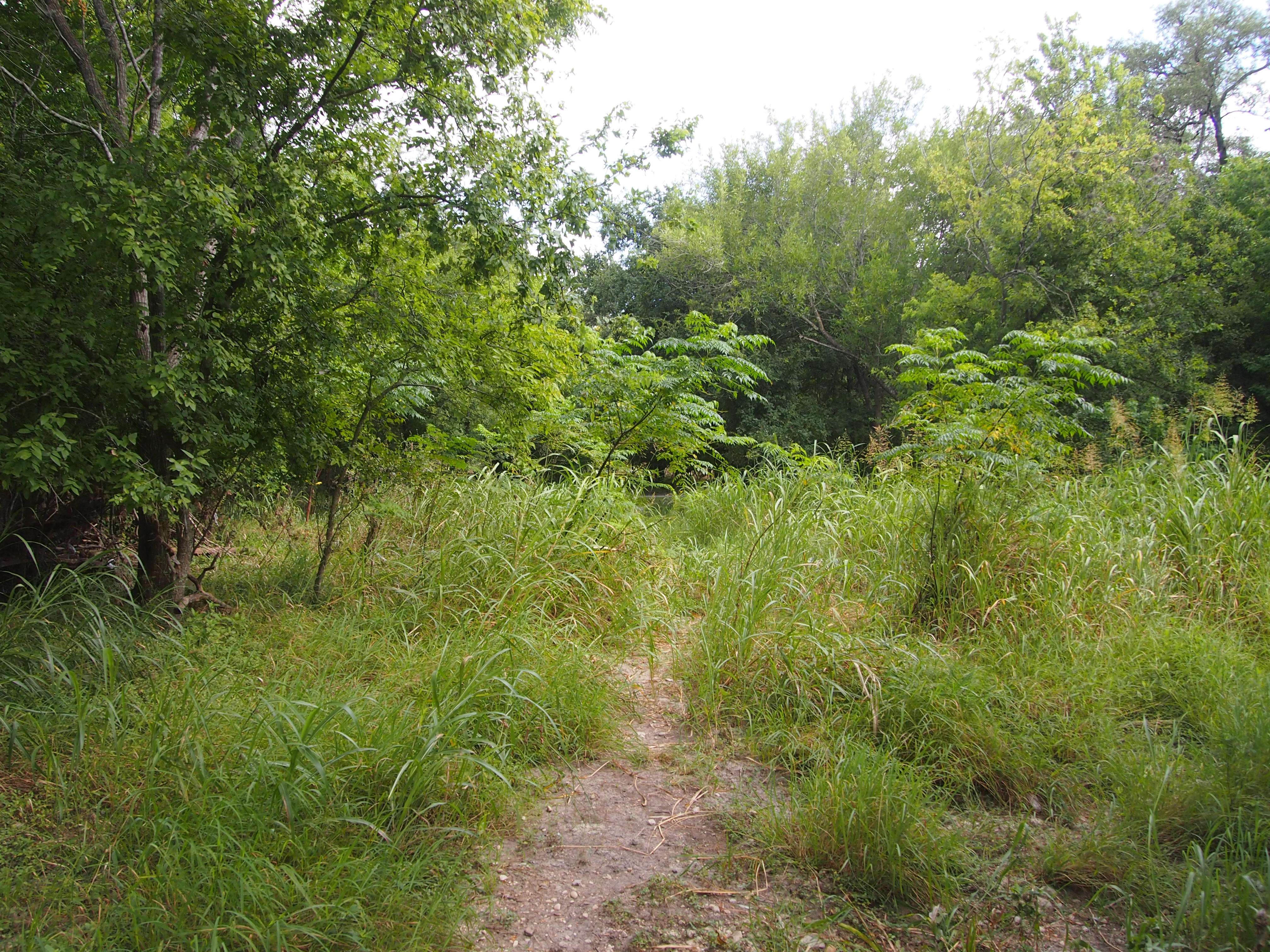 Tobin Park is part of the bigger Linear Creekway Parks Development Program, the goal of which is to create linear parks along Salado Creek, Leon Creek, Medina River and the San Antonio River. Remarkably enough — Texas isn't always the anti-tax place it seems to be — sales tax funding for the project was approved by voters in the 2000s. I wish the municipality well with this project. Greenways are fine things.
This is Salado Creek, with some visible sedimentary rock.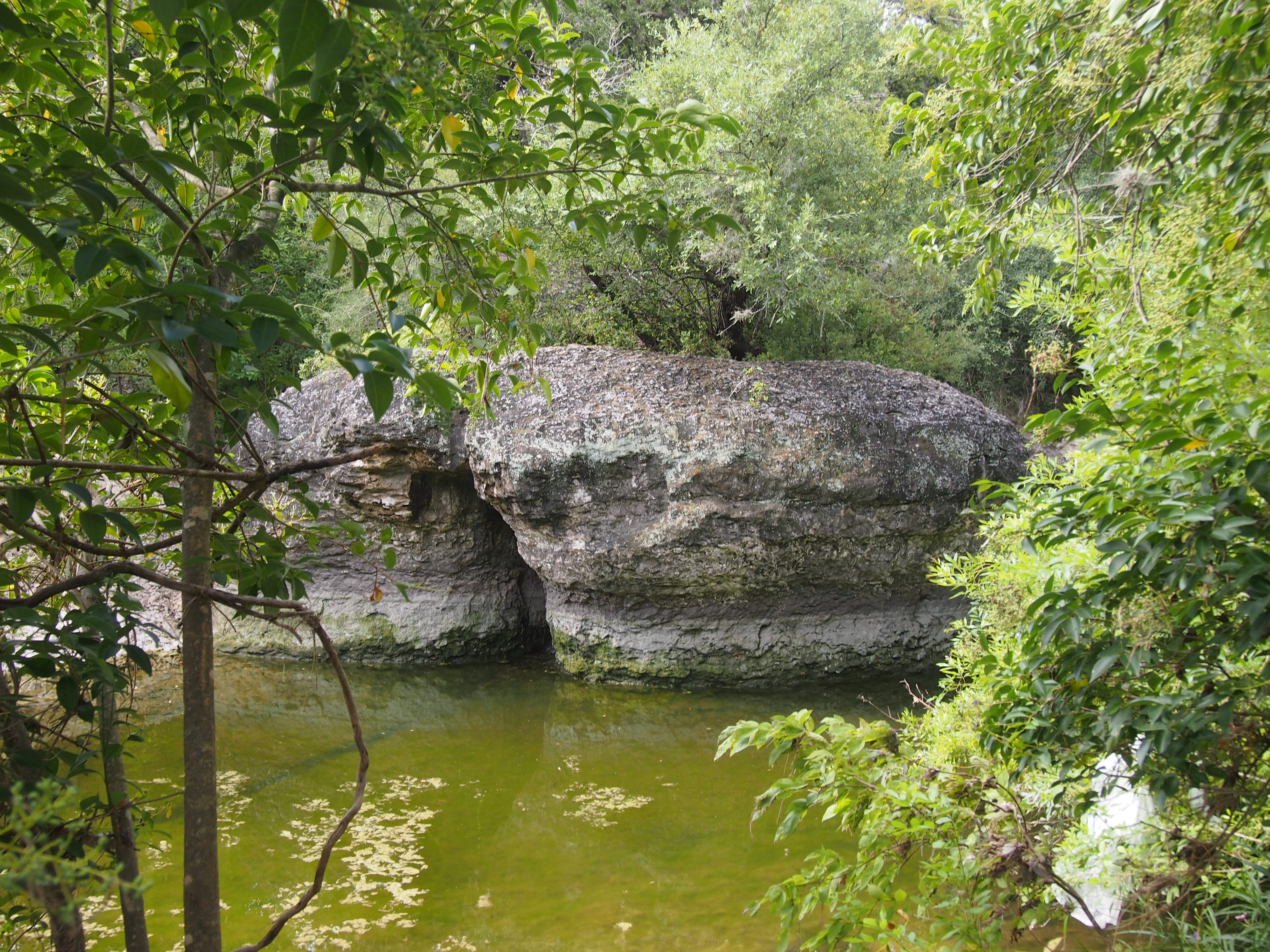 It's surprising there's still water in it at all, but then again that's a sign of how wet the weather has been this year. I imagine during some of the downpours in the spring — which is characteristic of San Antonio's weather — Salado Creek was a torrent.