Not long before Memorial Day weekend this year, my professional duties took me to AAA's web site, and a press release there told me that among American travelers, "the top destinations this Memorial Day weekend, based on AAA.com and AAA travel agency sales, are: Orlando, Myrtle Beach, Washington, DC, New York, Miami, San Francisco, Boston, Honolulu, Los Angeles and South Padre Island."
We didn't go to any of those destinations last weekend, as interesting as they all are. (I'll bet Myrtle Beach has its charms; it's the only one on the list I've never been to.) Instead, we went to Dayton as the primary destination, with shorter stops in Wapakoneta, also in Ohio, along with Indianapolis and Ft. Wayne — the last two for meals. So it was a western Ohio trip.
Ohio, land of the curious swallowtail flag. The Ohio Burgee, it's called.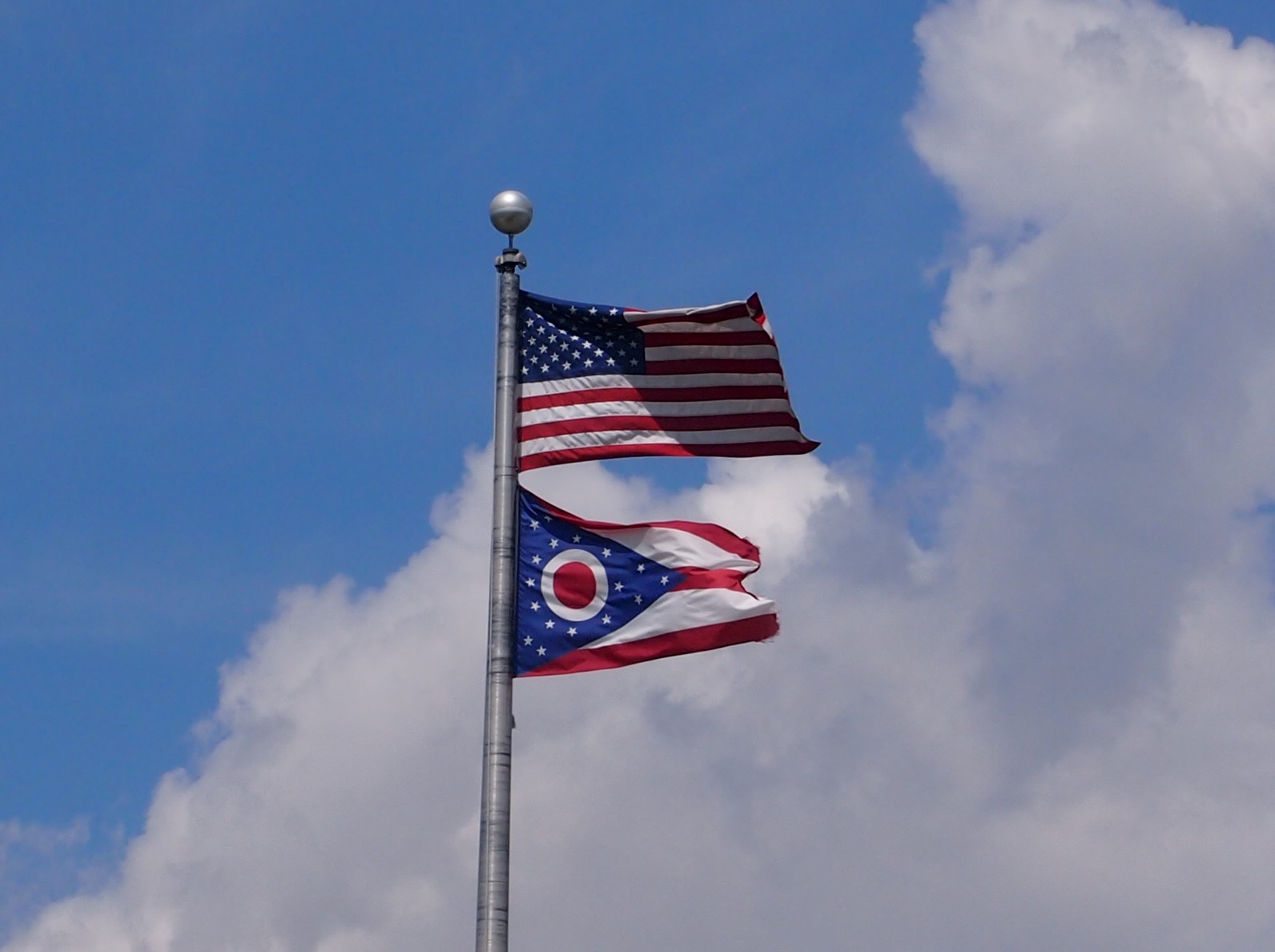 Or maybe we took an aerospace-themed trip, since we spent the better part of Saturday at the sprawling, extraordinary National Museum of the U.S. Air Force just outside of Dayton, on the grounds of the Wright-Patterson Air Force Base. It has a reputation as one of the best aviation museums in the country, often mentioned in the company of the Smithsonian Air & Space Museum. Now that I've been there, I can see why.
The Wright brothers were from Dayton, and the Wright sister too. Four boys and a girl survived to adulthood, and all but the eldest brother were ultimately involved in the business of flying machines. These days, the city features the Dayton Aviation Heritage National Historical Park. Part of the park includes a museum dedicated to the Wrights — and, curiously enough, to Ohioan poet Paul Laurence Dunbar, who did have a remarkable life. After lunch on Saturday, we took in the Wright-Dunbar exhibits, despite our tired feet.
On Sunday morning, as my family lolled in our room, I went to the Woodland Cemetery and Arboretum in Dayton. Covering 200 hilly, wooded acres, Woodland is a fitting name and most aesthetic burying ground I've seen since Green-Wood Cemetery in Brooklyn.
We came by way of I-65 to Indianapolis and then I-70 to Dayton. I didn't want to return the same way, so we headed north on I-75 to Wapakoneta, boyhood home of Neil Armstrong, and current location of a spaceflight museum. From there, US 27/33 took us to Ft. Wayne, a city I'd never visited, despite its relative proximity.
I also wanted to drive US 30 from Ft. Wayne across Indiana. It turned out to be a fairly fast way to traverse the state, something like the Trans-Canada Highway out in Saskatchewan or Manitoba; that is, as a divided highway, but not limited access one.
Maxine's Chicken & Waffles in Indianapolis offered the best meal of the trip, so good and filling that we barely needed to eat the rest of the day after stopping there at about 4 EDT on Friday (but still 3 CDT according to our stomachs). Chicken and pancakes were on the menu, which I had this time around.
When we came out of Maxine's, I saw something I'd only ever heard about: a Megabus.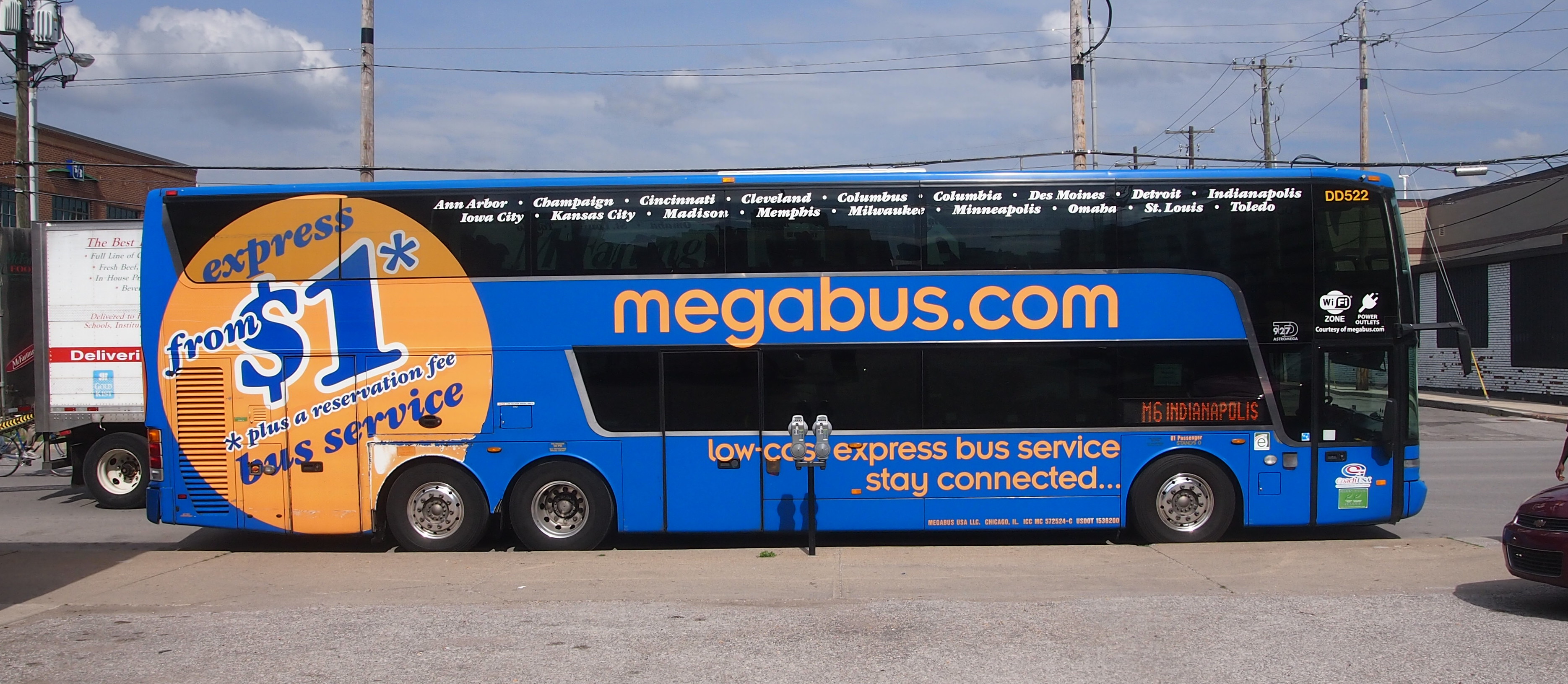 The bus on the Chicago-Indianapolis run. I suppose there on N. East St., toward the eastern edge of downtown, is where it picks up its budget-minded passengers. According to the web site, the price for Chicago-Indianapolis is "from $25." I'm not sure how much that really would be, but at least the bus offers wifi. They know their market.