I think I was in the 8th grade when I learned the difference between flotsam and jetsam. Mr. Allen's English class. He was firm in his belief that you should learn things in school. I suppose most teachers feel that way, but he was particularly adamant. Once a wiseacre named Tim asked Mr. Allen why anyone had to learn what he was teaching. "Because if you don't know it, you'll be ignorant," was his answer.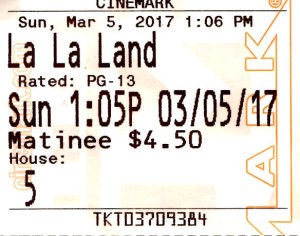 Saw La La Land recently. It was everything it needed to be. Namely, skillfully made and visually appealing light entertainment, with an especial fine use of the Griffith Observatory as a setting, and an ending a bit above the usual formula. A lot else has been written about it, of course. Endless commentary. As far as I'm concerned, that's overthinking the matter.
My parents' and grandparents' generations weren't right about everything, but I think they had a healthy take on song-and-dance movies. Mostly light entertainment, though there was the song that was just as powerful a weapon as any cannon or battleship in the First World War.
Speaking of war, after posting about the evacuation of Fort Moultrie on December 26, 1860, I found the digital version of The War of the Rebellion: a Compilation of the Official Records of the Union and Confederate Armies to see if Maj. Anderson's telegram was indeed the first item in that sprawling compendium. It is.
I was amused by the second item, also a telegram, dated December 27.
Major Anderson, Fort Moultrie:
Intelligence has reached here this morning that you have abandoned Fort Moultrie, spiked your guns, burned the carriages, and gone to Fort Sumter. It is not believed, because there is no order for any such movement. Explain the meaning of this report.
— J.B. Floyd, Secretary of War
Or as Sec. Floyd might have said privately, "The deuced you say! He did what?" Three days later, Floyd resigned as Secretary of War, and is remembered — when he's remembered at all — for suspicious behavior in that office, at least as far as the Union was concerned, and as an incompetent Confederate general.
General Floyd, the commanding officer, who was a man of talent enough for any civil position was no soldier, and possibly, did not possess the elements of one. He was further unfitted for command for the reason that his conscience must have troubled him and made him afraid. As Secretary of War, he had taken a solemn oath to maintain the Constitution of the United States and uphold the same against all enemies. He had betrayed that trust.
— Personal Memoirs of Ulysses S. Grant
Recommended eatery in Charleston: Bluerose Cafe.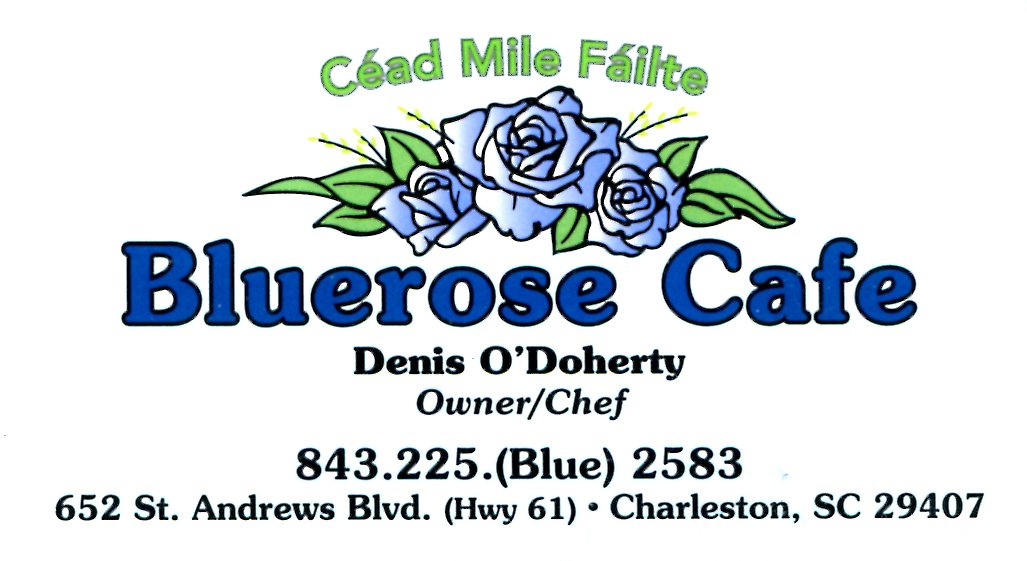 I started looking for dinner a bit late on a Friday night, and went to one place I'd found on Google maps. It was jammed, and more importantly, so was its parking lot. I went to my second choice. It too was full. Facing the possibility of fast food, which I didn't really want, I headed back toward to hotel, when I noticed the Bluerose. Plenty of parking there.
The restaurant wasn't packed either. In fact, at about a half hour before closing, only one table was occupied, with a fellow eating at a counter, and a hostess/waitress behind the counter. The place was simply decorated, but not drab, and the longer I looked around, the more I started noticing Irish touches, such as the sign that said, Céad Míle Fáilte (a hundred thousand welcomes).
I sat at the counter as well, and the man eating there said, "I'll get you something as soon as I'm finished. I haven't had a chance to eat all day."
He had a distinct Irish brogue. Turned out he was Denis O'Doherty, the proprietor. I told him not to hurry. We talked a bit, and he told me that he'd come to the United States a good many years ago, living in Boston quite a while, but in Charleston for the last 13 years or so, running the Bluerose. People get around.
I ordered the pan fried flounder before too long, and Mr. O'Doherty went back to the kitchen, which is visible from the counter, to prepare it. While he was at work on that, a woman came in and ordered some food to go, and talked a while with Denis as she sat at the counter. A regular customer. I got the feeling that the place had a lot of regular customers.
He didn't let the talk distract him too much, because when I got my fish, it was superb. Which was the exact word I used when he asked how the fish was. Sometimes, when it comes to finding good food on the road — even in the age of Yelp and Tripadvisor and all that ya-ya — you just have to get lucky.