The weather forecast for Paducah, Kentucky, on August 21, 2017, called for partly cloudy skies. Ah, but which part? As good as weather forecasting has gotten in recent decades, that's beyond its competence. When waiting for a solar eclipse under partly cloudy skies, you just have to hope for the best.
In the mid-morning that day, at least, partly cloudy meant high, thin clouds that probably wouldn't obscure the eclipse too much. They certainly didn't block the bright sunlight. So we went about our business. Mine was business. I got up early in the morning and wrote and filed and edited and so forth, continuing what I'd started Sunday afternoon and evening, compressing the day's work into the morning, so I'd be free to watch the sky in the early afternoon.
Late in the morning, we checked out of the motel and headed to downtown Paducah, to seek out a late breakfast. We didn't want to be distracted by hunger while looking up at the totality, nor during much of the drive home afterward. A scattering of stores along the way, and a few downtown, offered eclipse-related souvenirs.
That was the case even before we got to Paducah. One small-town restaurant not actually in the path of totality had a marquee advertising eclipse burgers and eclipse shakes, whatever those were. Officialdom, in the form of flashing highway signs, had also taken to warning drivers about traffic around the time of the eclipse. One sign — in rural Indiana, I think — said that pulling over to the side of the road to watch the event was unsafe.
All the way down to Kentucky, the radio mentioned the event, both in the form of news and deejay patter, some of it not very bright. On the morning of the eclipse, I spotted people wearing t-shirts commemorating the event. I know it was a superstitious feeling, but I thought that was a bad idea. Wearing a shirt about an event that hadn't happened yet, and which could be spoiled to errant clouds? That's just asking for cloudy trouble.
We arrived at about 11:00 for late breakfast/early lunch at the Gold Rush Cafe on Broadway. Gold rush indeed. The place was doing a land-office business. There was a 30-minute wait for a table, we were told. While the rest of my family waited, I took the opportunity to scout out the place where I'd planned to see the eclipse, a few blocks away at or near the McCracken County Library, which was holding an eclipse-themed event starting around noon.
I made my way from the restaurant south on 4th St., to Washington St., where I turned west. At Washington and 5th St. is the library, a modernist joint with a small area of greenery and trees next to the building. People were already gathering there, their cars filling the parking lot behind the library. Looked like an OK spot, as did the plaza across Washington from the library. I turned north on 5th past, amusingly, the offices of the Paducah Sun, and headed back to Washington. Another block east and I was back at the restaurant, sweating profusely. (Is there any other way to sweat on a hot summer day?) It was about 90 F and the sun was strong under those thin hazy clouds. Not perfect, but very good skies — if it would last another two hours.
We only waited about 20 minutes to get a table. The restaurant was abuzz with eclipse talk. The people at the next table, two of whom were wearing science-nerd t-shirts, talked about it. A woman at another table talked of seeing another eclipse in Australia. A bearded fellow at the table next to ours, eating by himself, talked to his waitress about where he might find some eclipse glasses. The place was full — more business than they usually get on a Monday, I figure — and the event seemed to be on everyone's mind.
Later, I saw the restaurant's Facebook page, which posted that morning: "Ok folks, I don't imagine many of you are running around downtown today…. we're taking our last orders at 12:30 so that way we can go see the eclipse as well. Thanks for your understanding!"
As for eclipse glasses, I'd acquired some Celestron brand shades online the month before, when I'd read that such glasses shouldn't be used after more than three years. The ones we have from the Transit of Venus are five years old. That's erring on the side of caution, since I don't really know whether they degrade enough to be hazardous after five years.
Then, of course, there were reports of substandard glasses, either made carelessly or purposely so. If made with intentional disregard for eye safety, that's as bad as making bogus antibiotics. Bastards. So that's in the back of one's mind, though I'd tested the glasses the week before in my back yard without ill effect. I'm glad to report that our Celestrons seem to have protected us.
As for a shortage of eclipse glasses on the day itself, there was none. The library was giving them away, and so was an antique shop across the street from Gold Rush Cafe (or maybe selling them, I didn't ask).
While eating lunch, the skies outside dimmed for a short spell. I knew it was too early for the partial phase of the eclipse, so that meant only one thing: clouds. When we emerged from the restaurant some time after noon, white, fluffy clouds punctuated the sky. The kind you don't mind seeing any other time. Some were sizable. This was bad. Periodically the sun would be obscured for a few minutes.
There was nothing for it but to wait. We spent a while in the antique store. I bought some postcards there, because of course I did, including an eclipse souvenir card. Glad I found it. The artist is Jane E. Viterisi, apparently a local artist.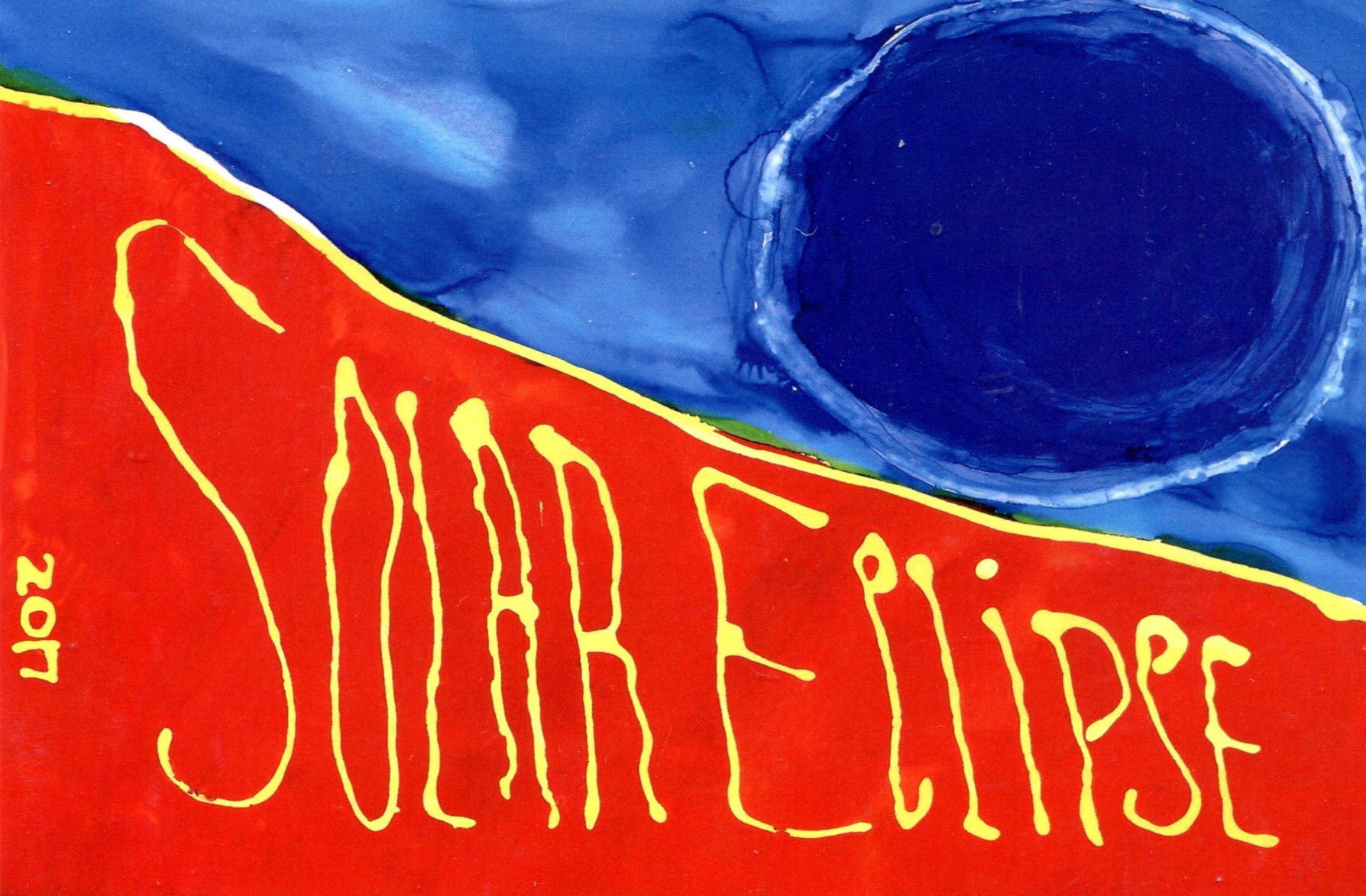 At about 12:30, we went to the McCracken County Library. The crowd wasn't enormous, but sizable. People were milling around, parked in chairs and sitting on the ground. Just about everyone had glasses. We tried our eclipse glasses out for our first look at the event while in the library parking lot.
There it was, through the shades that excluded all other light: a fat orange crescent sun. Quite a sight all by itself, and getting leaner all the time. Meanwhile, the skies around the sun were clear, but clouds lurked elsewhere. Totality was coming.