The Edinburgh Fringe Festival was pretty much out of the question this year — and it's probably a logistics hassle of the first order, even of you're already in the UK — so I went to the Chicago Fringe Festival for a few hours on Sunday afternoon. Though not a trans-Atlantic proposition, it did involve driving into the city, which has its own small hassles.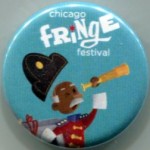 Naturally I left home later than I wanted to, so I caught only two performances, more-or-less picked at random: With the Weight of Her Fate on Her Shoulders and Jeff Fort and Fred Hampton: A Revolutionary Love Story. Per Fringe rules, each ran for an hour or less, with the latter taking nearly the whole 60 minutes, the former not quite so much.
The festival, now in its eighth year, is in the Jefferson Park neighborhood of the Northwest Side. One of the selling points of the festival is that all of the venues were within easy walking distance of each other, and they were. Despite all the years I've lived in northern Illinois, it was yet another unfamiliar neighborhood, so I spent some time walking around between the shows as well.
Jefferson Park is a pleasant strolling neighborhood, even in the fairly high heat of late summer, with its residential and commercial thoroughfares (Milwaukee and Lawrence) very much in the Chicago pattern: leafy small streets lined with small apartments, plus blocks of shops along the larger streets. In our time, Jefferson Park is heavily Polish. So Polish, in fact, that the Copernicus Center is there, at 5216 W. Lawrence Ave.
The center includes the Mitchell P. Kobelinski Theater — formerly Gateway Theatre, the first movie palace in Chicago for talkies. That by itself would be worth seeing, but over Labor Day weekend, the center holds its Taste of Polonia festival, which was in full swing Sunday afternoon. So the place was jumping, having attracted more people than the Fringe could ever dream of, and making a lot more noise. As I passed, a band was playing "Come on Eileen," sounding like the Save Ferris version.
I wasn't in the mood for a festival, but I did walk by the entrance and took a look at the outside of the building, including the sweeping tower atop the building. That was added in the 1980s and is said to resemble the tower of the Royal Castle in Warsaw, or at least its post-WWII reconstruction.
The Fringe venues were more modest, but I was surprised to learn that three of them were actual theater spaces: the Gift Theatre, Jefferson Park Playhouse and Windy City Music Theatre Blackbox Studio. Jefferson Park, in other words, has a theater scene. Other performances were held in spaces provided by the Congregational Church of Jefferson Park.
With the Weight of Her Fate on Her Shoulders was at Gift Theatre, a 50-seat slice of space with three rows of seats, black walls and a small performance area under a modicum of lights. You can't get any more basic than that for a theater space, so everything depends on the strength of the writing and the skill of the actors.
Weight wasn't bad, but not that good. The three young actors certainly had some acting chops. The tight space of the theater fit the setting of a cramped refuge from unseen but definitely heard urban combat going on outside. It also fit what the play seemed to be about: war is hell, it will drive you mad, and then probably kill you. Also, words are weapons. What? One of the characters seemed to talk — verbally harass — another into a violent death. Or was that supposed to be a stray bullet coming into the room?
As earnest as it all was, the short play was something of a muddle. I couldn't quite bring myself to care whether the characters survived, because I wasn't quite sure what kind of danger they faced. At times I felt like dozing off, but forced myself to stay awake, like you do during a hard patch of long-distance driving. There's no risk of causing a traffic accident sitting in a theater, but snoring during a live show would be embarrassing.
I had no such problems with Jeff Fort and Fred Hampton: A Revolutionary Love Story, a fine work of historical fiction, done in the Congregational church's meeting hall. The thing was engaging. I wanted it to last longer than its hour. The acting was strong, especially the two leads, and while it would have been easy for the playwright — Steven Long — to stray into the tendentious, he avoided that trap, portraying the leads as human beings rather than talking points.
The story was straightforward, depicting meetings between Black Panther leader Fred Hampton, during the year before the authorities murdered him, and Jeff Fort, a major gang leader in Chicago at the time. Hampton spent considerable energy trying to persuade Fort to give up his criminal enterprise and join him in revolution, which he believed would be along Marxist, not racial, lines. Fort was less impressed by the idea of revolution.
As depicted, the two were in a kind of courtship: Hampton doing his best to persuade Fort, who resisted his pleas, along with spells of mutual admiration, quarrels that almost turned violent, and a sense of foreboding. Aptly so, since both men were doomed in their own ways. A short life for Hampton and a long one for Fort. Even now, the real Jeff Fort, aged 70, is at the federal supermax prison in Florence, Colo., where he will surely be until he dies.
After the play, Steven Long came out and asked the audience, about 25 of us in all, to mention it on social media. That's the first time I've ever heard that, but probably not the last. For my part, I'm mentioning it and the festival here.
My attendance at the Fringe this year was as much an exploratory run as anything else, to see whether it might be worth committing more time and energy to in future years. I'd say yes.