During the last part of our Chicago Open House visit-as-much-as-you-can excursion on Sunday, in the near western suburb of Oak Park, I found myself face-to-face with a Mills dime slot machine.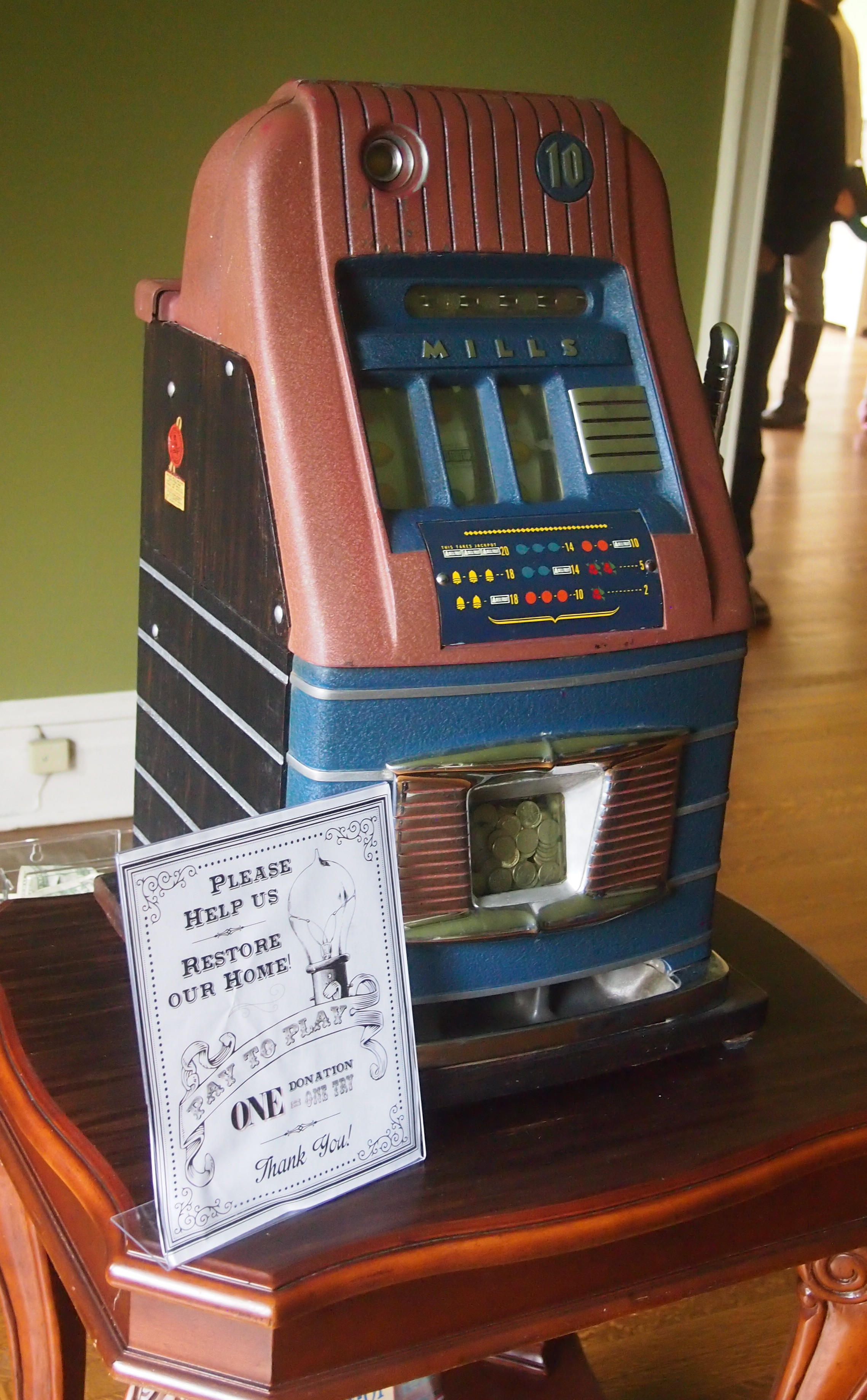 A nearby docent encouraged me to put in a dime. I did so and watched the wheel spin. It might be an antique machine, but it will still give you a fruit-based result. What it will not do is give any sort of payout. My dime was a donation, so I could see the machine move.
Next the docent made it spin without putting a dime in, so I could see the machinery inside in action. The back had been removed just for that purpose. It's impressive — mainly because I can't understand at all how such a machine works.
My dime is going to the further upkeep of the building in which I found the slot machine: Pleasant Home, also known as the Farson House, built in 1897.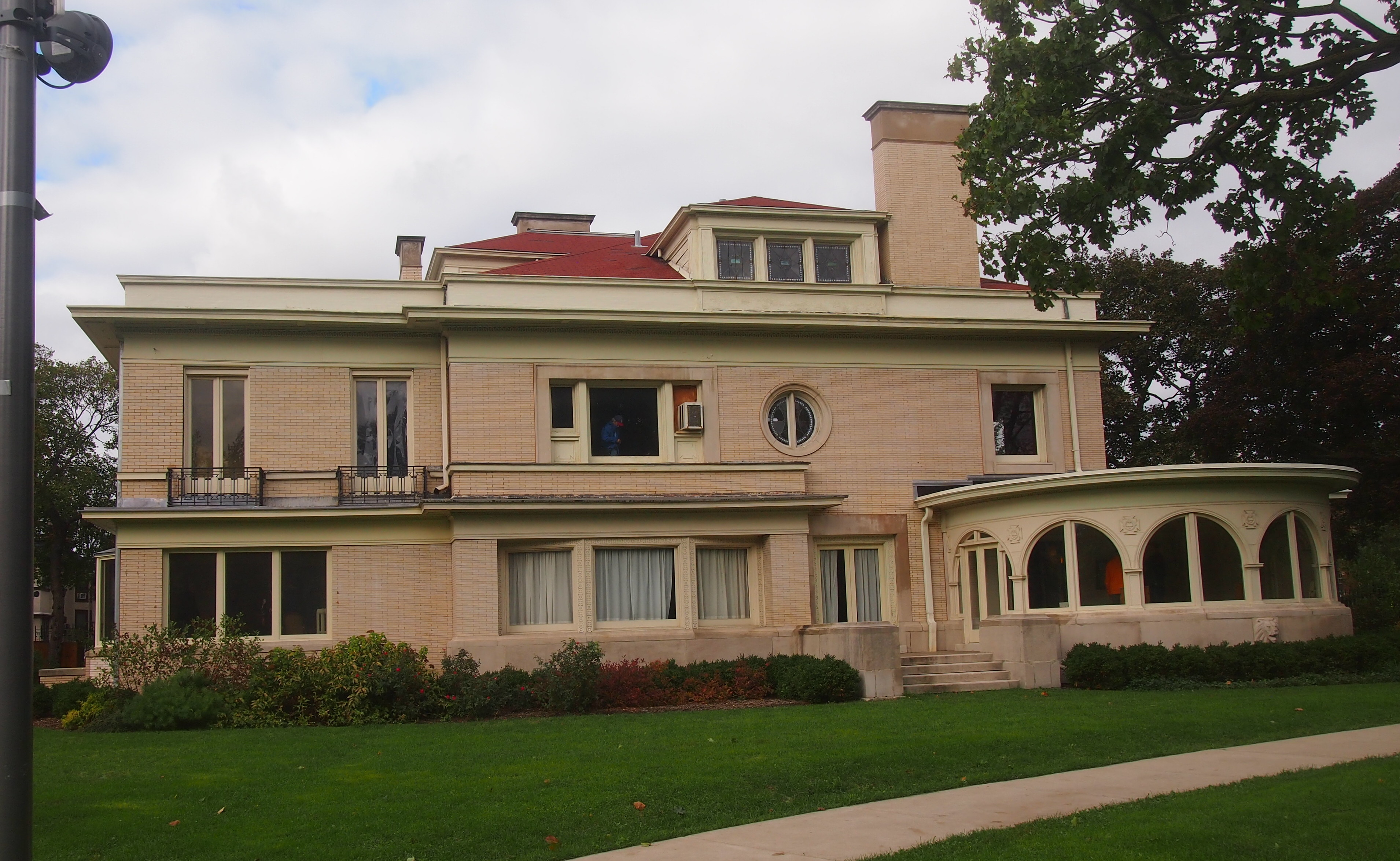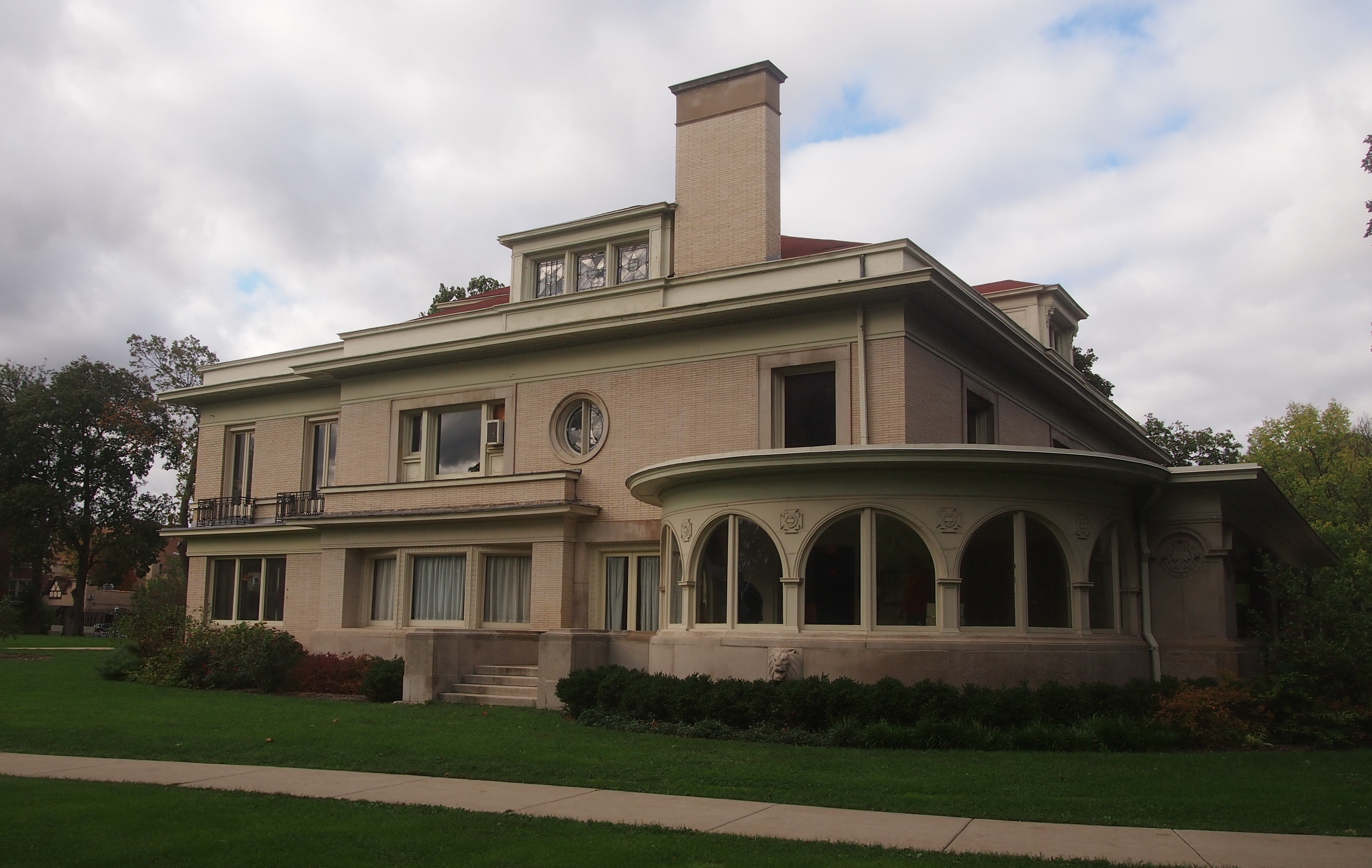 As much as I understand these things, the house is important in the development of the Prairie School. The AIA Guide to Chicago not only has an entry about the house, it devotes more than a page to it, which is major attention from that publication. Prairie School and in Oak Park, but not by Frank Lloyd Wright. Rather George Washington Maher, a contemporary of his who didn't live nearly as long (dying in 1926), designed the house.
The Maher web site says: "In describing the Farson house, architectural historian Paul Sprague wrote '…it was extraordinary… compared to typical residences of the late 1890s. Its clean lines, flat surfaces of Roman brick, stone and wood, and simple rectangular window frames, chimneys and porch openings would have been hard to parallel anywhere at the time except in building by Sullivan and Wright.' "
Got an expansive porch, all right.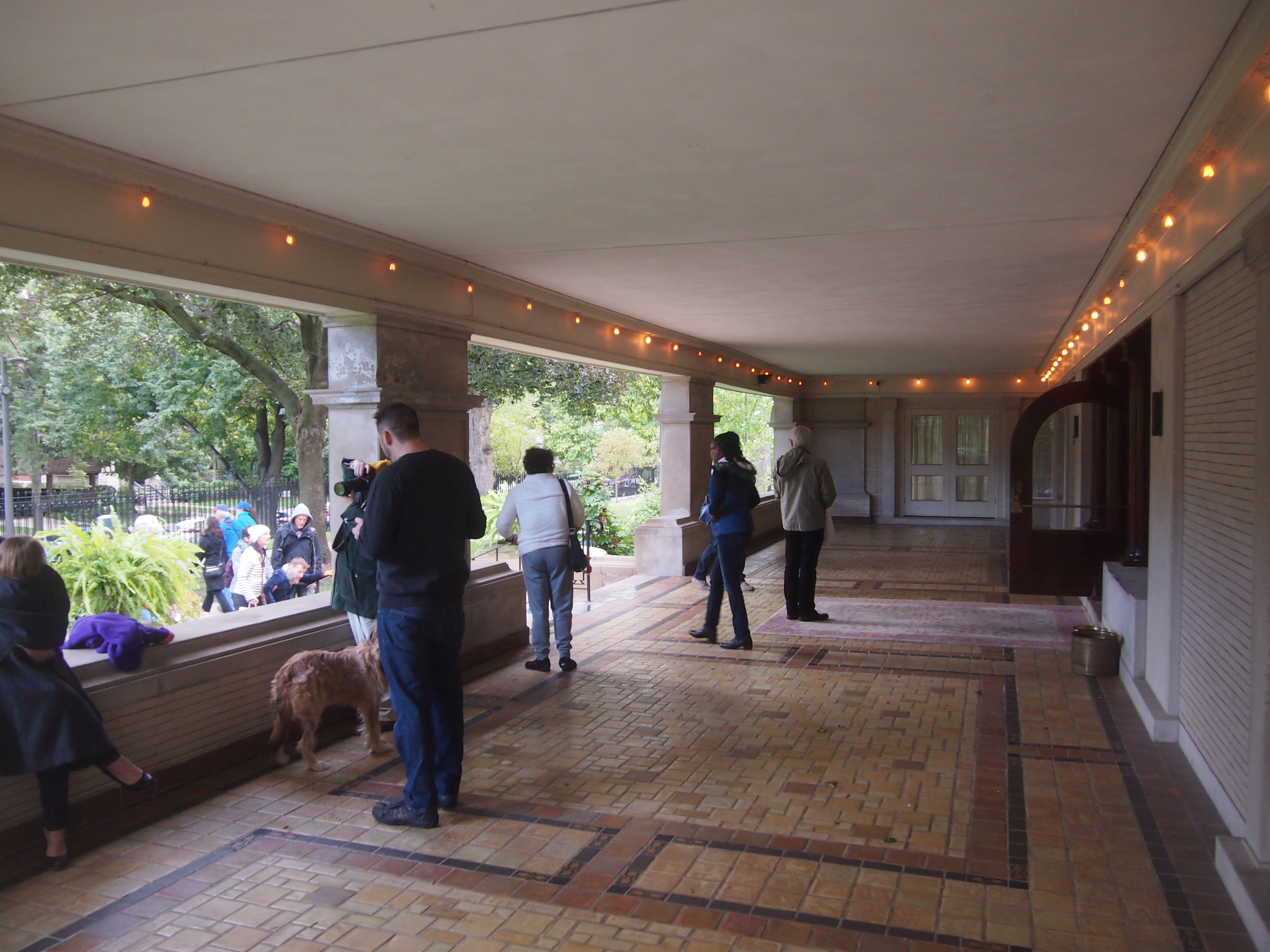 What do slot machines have to do with all this? That's a tangent worth pursuing — another benefit of looking at things and then thinking, What was it I saw?
The first owner of the house was, according to the Pleasant Home web site: "Famous for his immaculate white flannel suits, red cravats and ties and top hats or straw boaters. [John] Farson gathered around him a vast circle of friends who shared his interests in everything up-to-date. As his passions shifted from horses to automobiles to roller skating, Farson amazed Oak Parkers with his public-spirited nature and high energy."
He was a Gilded Age millionaire banker (d. 1910), so he could indulge his interests. Slot machines were not one of them, however. That was the business of the second owner of the house, Herbert S. Mills.
"Shortly after the Worlds' Columbian Exposition of 1893, the young Mills built the first coin-operated automatic slot machine and later manufactured Mills machines of all kinds for his penny arcades and fortune-telling machines. Mill's penny arcades became institutions on American's main streets and amusement parks at the turn of the century."
I've read elsewhere — a tangent from a tangent — that it was actually Charles Fey who invented the modern slot machine, out in California. But he did partner with Mills to produce them on a mass scale, and no doubt become very rich as a result.
"Raising eight children during the years they spent in the home, the Mills lived more quietly than the Farsons… In 1939, when the Mills family sold the house to the Park District of Oak Park, the grounds were designated as Mills Park in their honor."
One more detail: while it was probably a pleasant place to live, certainly by early 20th century standards, Pleasant Home takes its name from its location, at the corner of Pleasant St. and Home Ave. in Oak Park.