WGN said this morning: "Periods of rain and thundery downpours are to persist into Tuesday evening, maintaining a flood threat across the entire metro area." Just what we need.
"Chicago lies on the warm side of a front extending from the southern Plains, to lower Michigan. Unseasonable, moisture-rich Gulf air is being focused along this boundary which separates polar air from unusual warmth, more typical of late April. The ground is frozen and where it has melted, soils are saturated." Yep.
Regrets, I've had a few. Here's one: I could have seen Cab Calloway live. He was still performing in the 1980s, with more vigor than anyone over 80 can expect to have.
But I didn't seek him out. I've got no excuse.
Sometimes, you do the next best thing. I thought of that on Sunday evening when Ann and I went to see Big Bad Voodoo Daddy at the Old Town School of Folk Music in the city. At one point, frontman Scotty Morris and his hoppin' band did a cover of "Minnie the Moocher." It wasn't Cab, it couldn't be, but it was a gas.
The whole show was a gas: rousing swing revival tunes by enormously talented musicians who've been playing together for decades. Loud but not too loud, brassy but leavened by strings, as much of a righteous riff as I'm ever likely to reap. It might be the 21st century, but they're the cats shall hep ya, even so.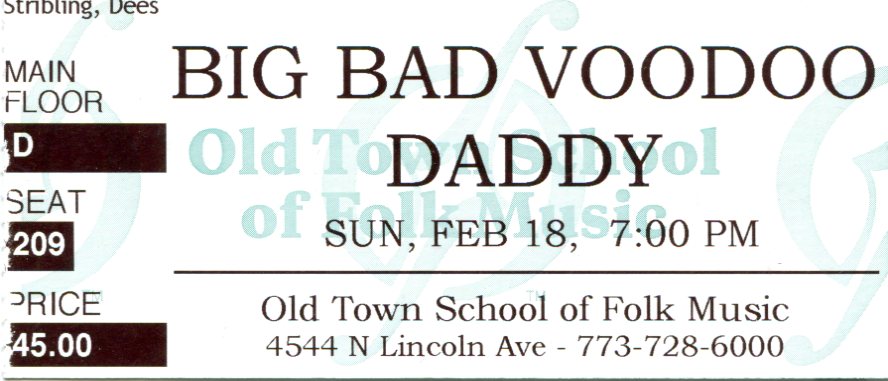 Morris, in his suit and tie and what must be his trademark fedora, sang and alternately picked guitar and banjo, and did a little patter for the audience. Not too much, but he included the fact that the band has been together for 25 years this year.
"Twenty-five years ago, the most famous band in the world was Nirvana," he said. "I think they had four hit songs that year. So I figured that was the perfect time to start a swing band."
According to the band's web site, it "was named Big Bad Voodoo Daddy after Scotty met Texas blues guitar legend Albert Collins at one of the latter's concerts. 'He signed my poster "To Scotty, the big bad voodoo daddy." I thought it was the greatest name I had ever heard on one of the greatest musical nights of my life.' "
Morris and eight other men took to the stage and made the music come alive via trumpet, all manor of sax, clarinet, trombone, double bass, keyboard, drums and more, playing and jumping and swinging, while their instruments reflected the variable colored spotlights of the venue. Smoke and the clink of glasses would have added to the ambiance, but we don't get those in the 21st century (or even earlier: the difference between Preservation Hall in 1981 and 1989 was smoke).
BBVD did an energetic mix of swing standards — "Minnie" with all the call-response Hi-De-Ho you could shake a stick at, but also "Diga Diga Doo," "Mambo Swing," "The Jumpin' Jive," and "I Wan'na Be like You" — along with tunes of their own. Neo-swing, you might call those, or the commonly used term, electroswing.
Such as "Why Me?"
The video is fun, and I like the recorded version, but it isn't as much fun as the live version. I suspect it's their biggest hit, if you can call it that, because they did it during the encore.
Though BBVD has always been a touring band, I think they were also promoting their latest record on this tour, Louie, Louie, Louie. Record indeed, since vinyl copies were for sale in the lobby.
Named, according to Morris, after the three Louies: Armstrong, Jordan and Prima. "We stole a lot from them," he said. Well, sure. They stole from the best and made it their own.