On Easter Saturday, which was clear and pleasantly warm, we took our first Chicago Architectural Foundation tour of the year, more about which later. To get there, we took a train to Union Station, timing things so that we could eat before the tour. I figured the place to go was Lou Mitchell's. It had been a while, though more recently than 2005.
I might be misremembering, but I think my friend Rich took me to Lou Mitchell's for the first time during my first visit to Chicago in 1981. Or if not then, sometime during a visit in the 1980s. Even then it was an institution of a diner, and Lou Mitchell himself was still around, giving away either doughnut holes or tiny packs of Milk Duds to patrons as they came in.
So much of an institution that the National Park Service devotes a page to the restaurant as part of its Route 66 series. "Built in 1949, Lou Mitchell's is located at 565 West Jackson Boulevard, a few blocks west of Lake Michigan and the eastern terminus of Route 66," the page notes.
Lou Mitchell's itself claims a 1923 founding by Lou Mitchell's father, but presumably that was a different location. In '49, the Mitchells probably thought nothing of the fact that W. Jackson happened to be US 66 at that point, just that it was a good city street to be on. These days, there's a bit of Route 66 decor on the walls, but not too much.
"Visitors immediately focus on the original aluminum and glass storefront," the NPS continues. "Rising up from the upper front façade and extending the entire length of the building is the eye catching, original 1949 neon sign that proudly states 'Lou Mitchell's Serving the World's Best [sic] Coffee.'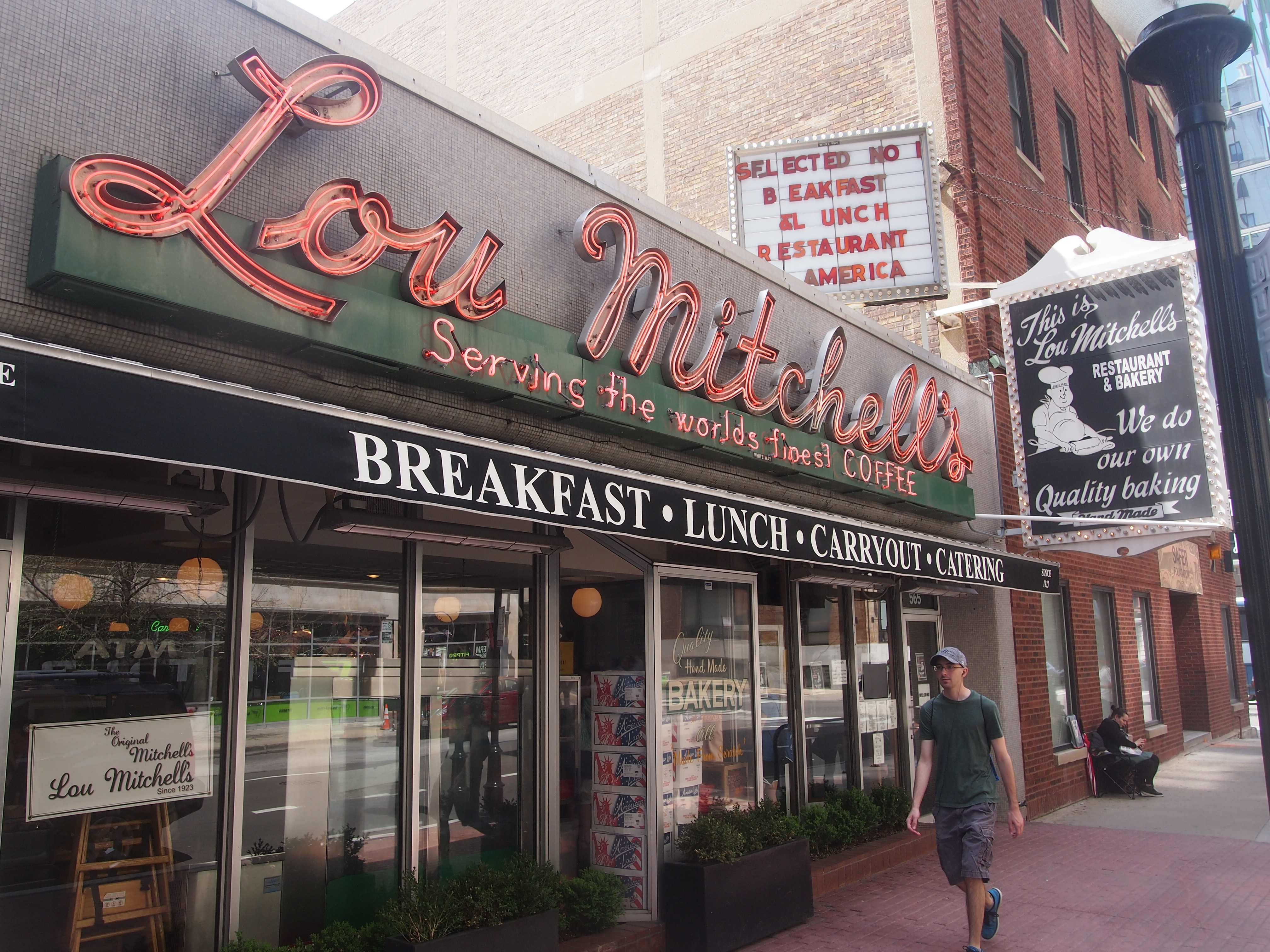 "Another original sign, this one extolling the restaurant's handmade bakery goods, is still hanging on the front façade. Aside from timely upgrades of the kitchen and bathrooms, the interior of Lou Mitchell's has not been significantly altered since 1949. The dining room retains its original black and white terrazzo flooring, and most of the dining and counter areas are unchanged.
"The booths have their original wood tables, coat racks, and seats, although the seats sport new upholstery. The multi-sided counters with individual stools are original but have newer laminated surfaces and upholstery. Much of the wood and Formica wall paneling dates to 1949."
Add to these things the hum of talking people, the clink of silverware and the distinct pleasant smell of a diner, and that's the atmosphere you get at Lou Mitchell's. None of that would matter without the food, which has been uniformly good over the years I've eaten there. Mostly breakfast items for me, such as the sapid ham and cheese omelette I had recently, which comes with cubed potatoes and toast. My kind of eats.