Something new in the mail the other day: a circular from Patel Brothers. The grocery stores of theirs that I've seen have the appearance of being local — tucked away in strip centers — but in fact Patel Brothers is a national chain, with about 50 stores. The brand did start in Chicago, however, with its first store on Devon Ave., hub of the city's East Indian population, in the 1970s.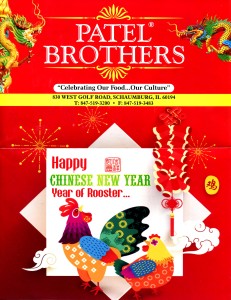 The four-page circular has one of our names on it, so it's more than a blind mass mailing. Chinese New Year is mentioned on the front page. Guess the Patels are looking to expand their market a bit.
On the back page, various East Asian items are offered, such as Ichiban Tofu, Sriracha sauce, TYJ spring roll pastry and Chaokoh coconut water. Looking up that last one further, I learned that the Thai product is the "Official Coconut Water Partner of Liverpool Football Club."
Inside the circular, the products are more South Asian. From it I learn that Swad brand is popular. Apparently that's an Indian food distributor headquartered in Kerala, but its web site is less than helpful when it comes to offering much information about the company.
The About Us page says, all sic: "Catering to gods own people is no mean task. We embraced this challenge with great enthusiasm and with Swad Food Products, a well known house hold brand name in India. We make available premium Wheat & Rice Products all over the world. Our products are available all over the world through more than hundred strong distributors. Our Product Quality agreed internationally by getting orders from Middle East, Europe and USA."
Anyway, at Patel Brothers, you can buy Swad peanuts, cashews, salt, moong dal, whole moong, kidney beans, kabuli chana, turmeric powder, ghee, rice flour and canola oil.