A handy list of "notable burials" at the Fairmount Cemetery in Denver is posted at Wikipedia. So handy that the cemetery web site doesn't bother with its own list, it merely links to the Wiki site.
Like the list of interred notables at Mount Holly Cemetery in Little Rock, I didn't recognize any of them. Like Arkansas history, I'm shockingly ignorant of the details of Colorado history, particularly the names of governors, Denver mayors, U.S. Senators and Congressmen from the state, local judges, newspaper editors, businessmen, ranchers and others. All those classes of achievement are represented by the Fairmount dead.
Some are intriguing. Such as Arlene White Lawrence, (1916–1990), bishop and the third president and general superintendent of the Pillar of Fire Church. Great name, that. Seems that the Pillar of Fire International is a Methodist sect. Methodists have splinter sects? This one goes back to one Alma Bridwell White.
Encyclopædia Britannica on White: "An intense experience of personal sanctification in March 1893 induced White to organize a series of revival meetings at which she attempted to recover the fervour and piety of primitive Methodism.
"Her zealous emotionalism, together with her outspoken criticisms of the decorous accommodations of the Methodist hierarchy, brought the wrath of conservative churchmen down on White and her husband [a Methodist minister], who was transferred to a still-less-desirable pastorate. She eventually persuaded him to resign altogether."
Ah, those "decorous accommodations." Not Where Jesus Would Live, she probably believed. Or Wesley either. The couple then founded what would become the Pillar of Fire Church. Arlene White Lawrence was their granddaughter, who obviously went into the family business eventually. The church, headquartered in New Jersey, is an ongoing thing.
That's a digression from a Denver cemetery, but cemeteries are good places to digress, as you ponder the stones and the names and the dates. I didn't happen to see Lawrence's stone, but never mind. There was a lot else to look at Fairmount, founded in 1890 and sprawling over 280 acres.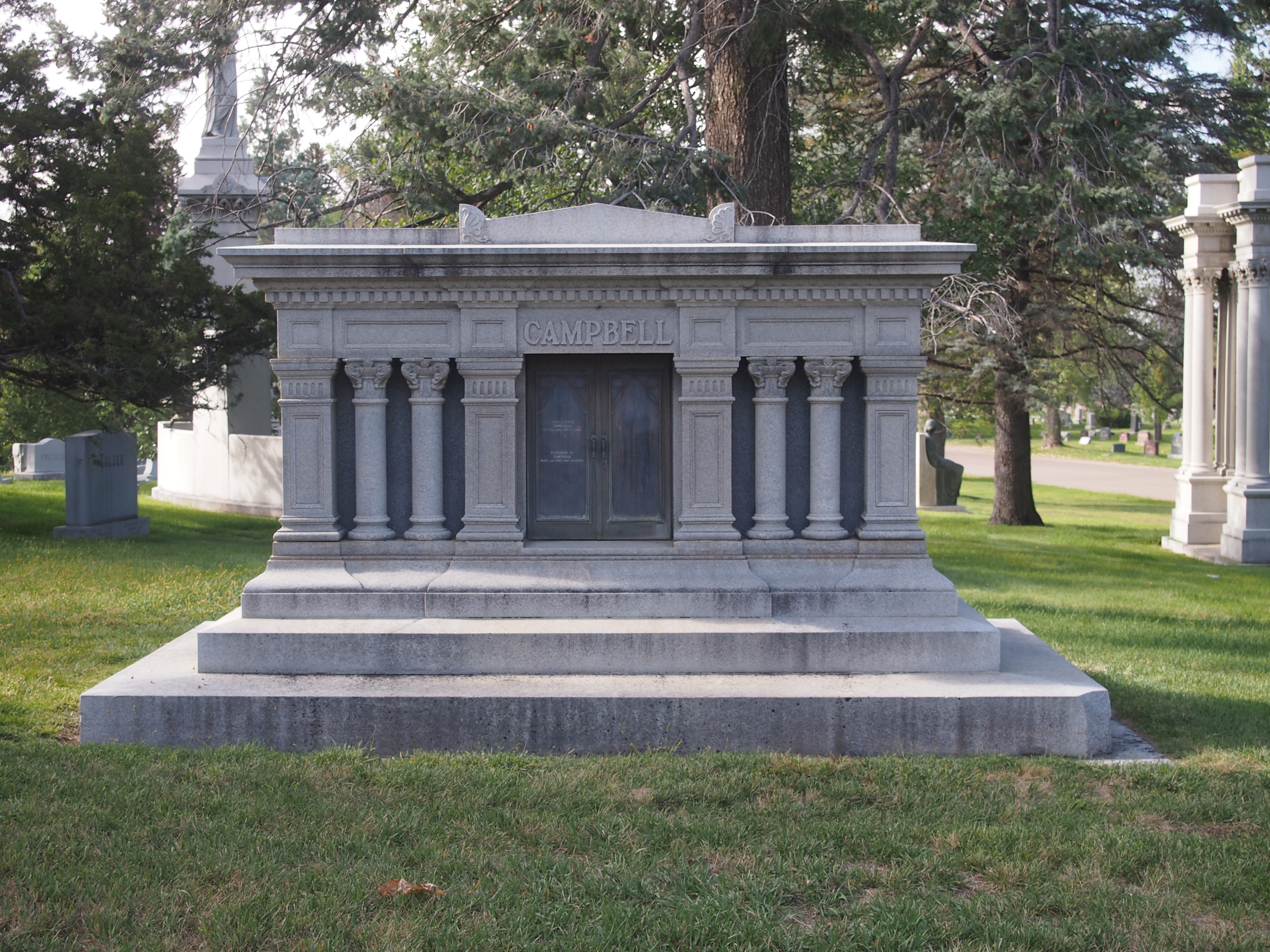 An even bigger one.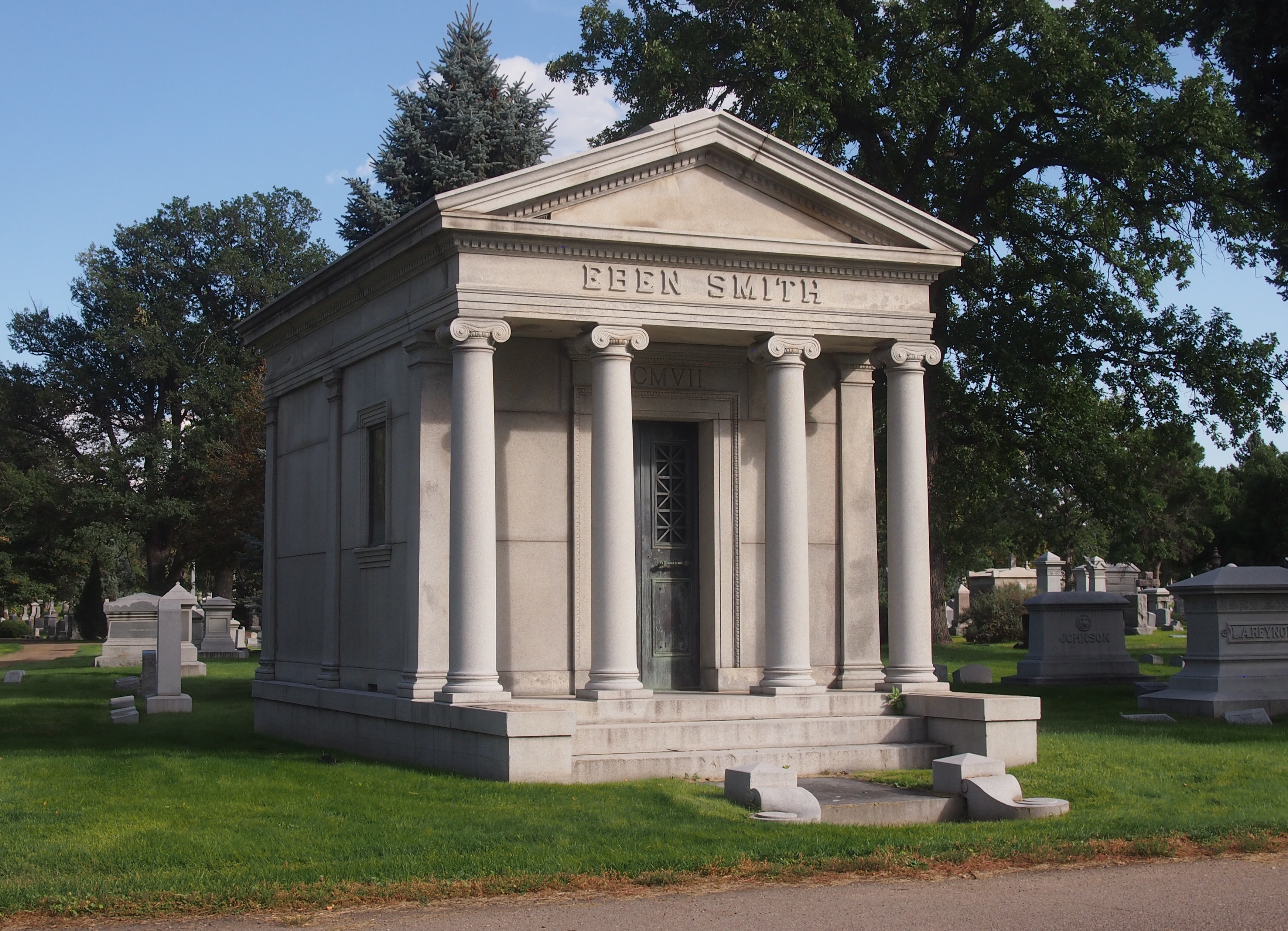 Eben Smith was a Colorado mine baron of the late 19th century. I can only imagine that meant he was a ruthless bastard. Something the position called for.
"Destined to be grand from the start, Fairmount was designed by Reinhard Schuetze, whose success at Fairmount immediately became the talk of Denver," the cemetery web site says. "He subsequently designed City, Congress and Washington Parks, as well as the areas around the Capitol. Today, Schuetze is known as the father of Denver's park system.
"Fairmount is home to Colorado's most extensive arboretum, filled with numerous Champion Trees and one of the largest collections of Heritage Roses in North America."
Didn't see any roses, but the trees were all around. Probably some Champions and a lot of also-ran trees too.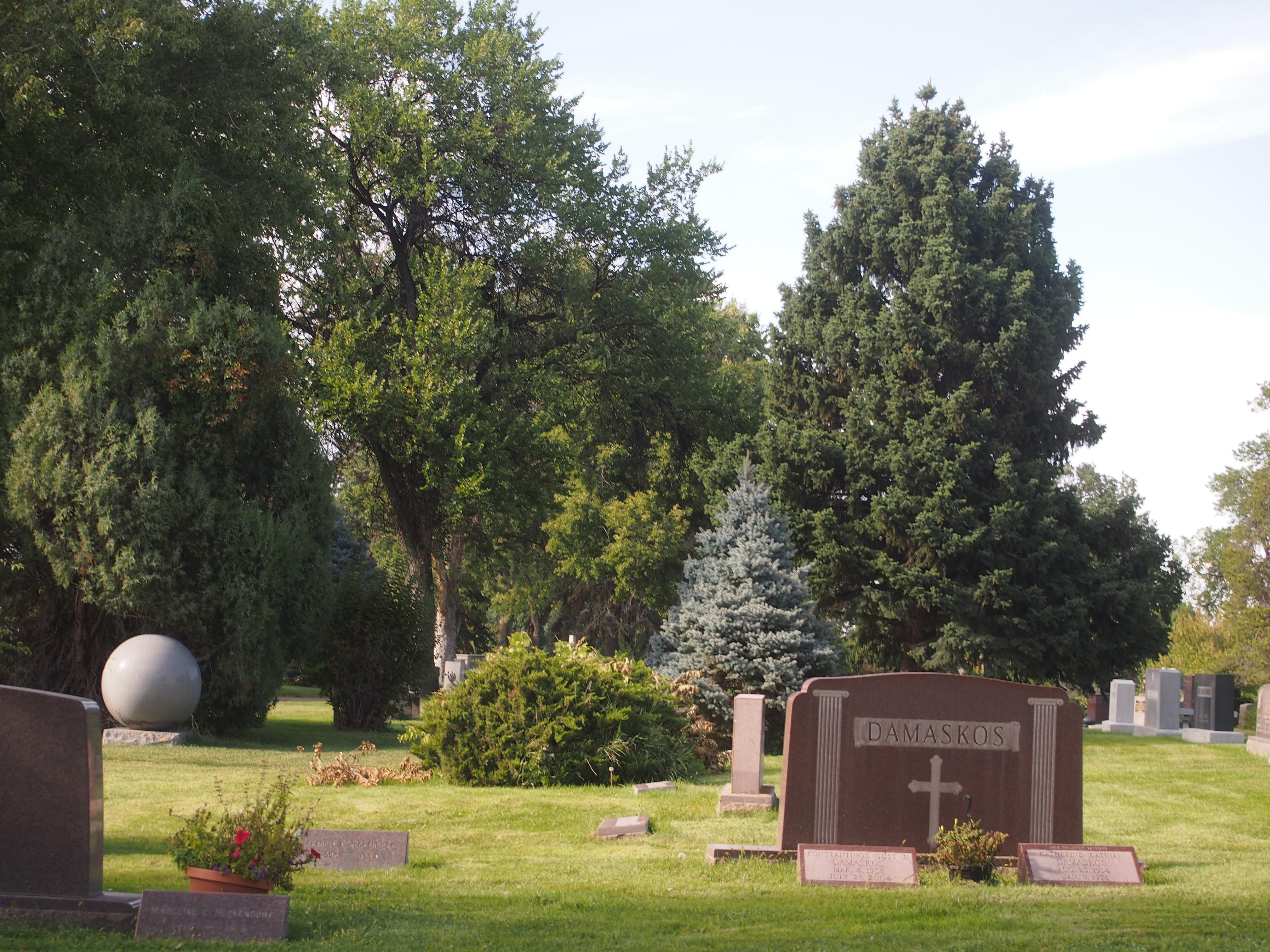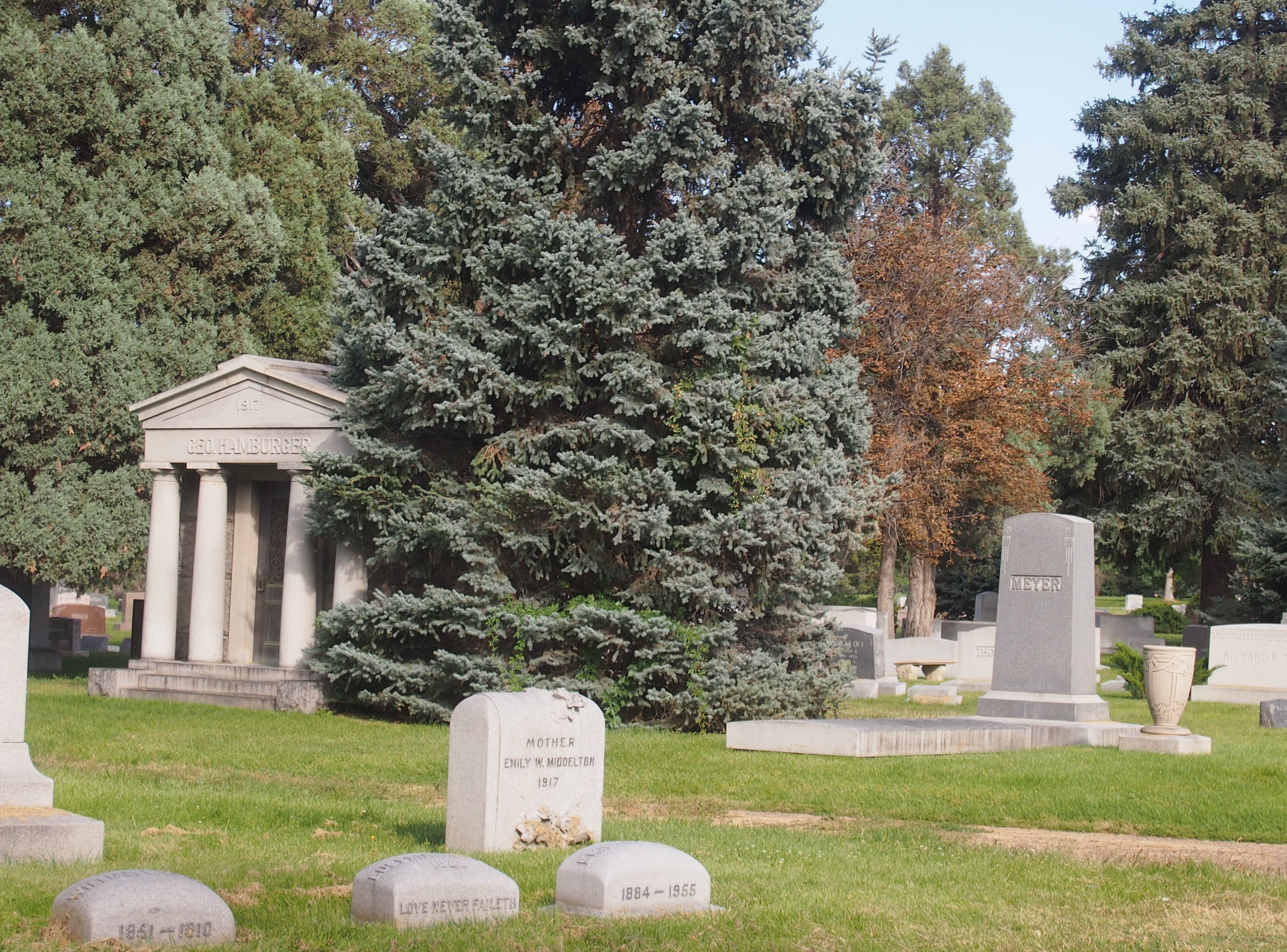 "The cemetery's two original buildings, the Little Ivy Chapel and the 1890 Gate Lodge, are designated historic Denver landmarks. And the Fairmount Mausoleum contains one of the largest stained glass collections in Colorado."
The charming Little Ivy Chapel, with a French Gothic look.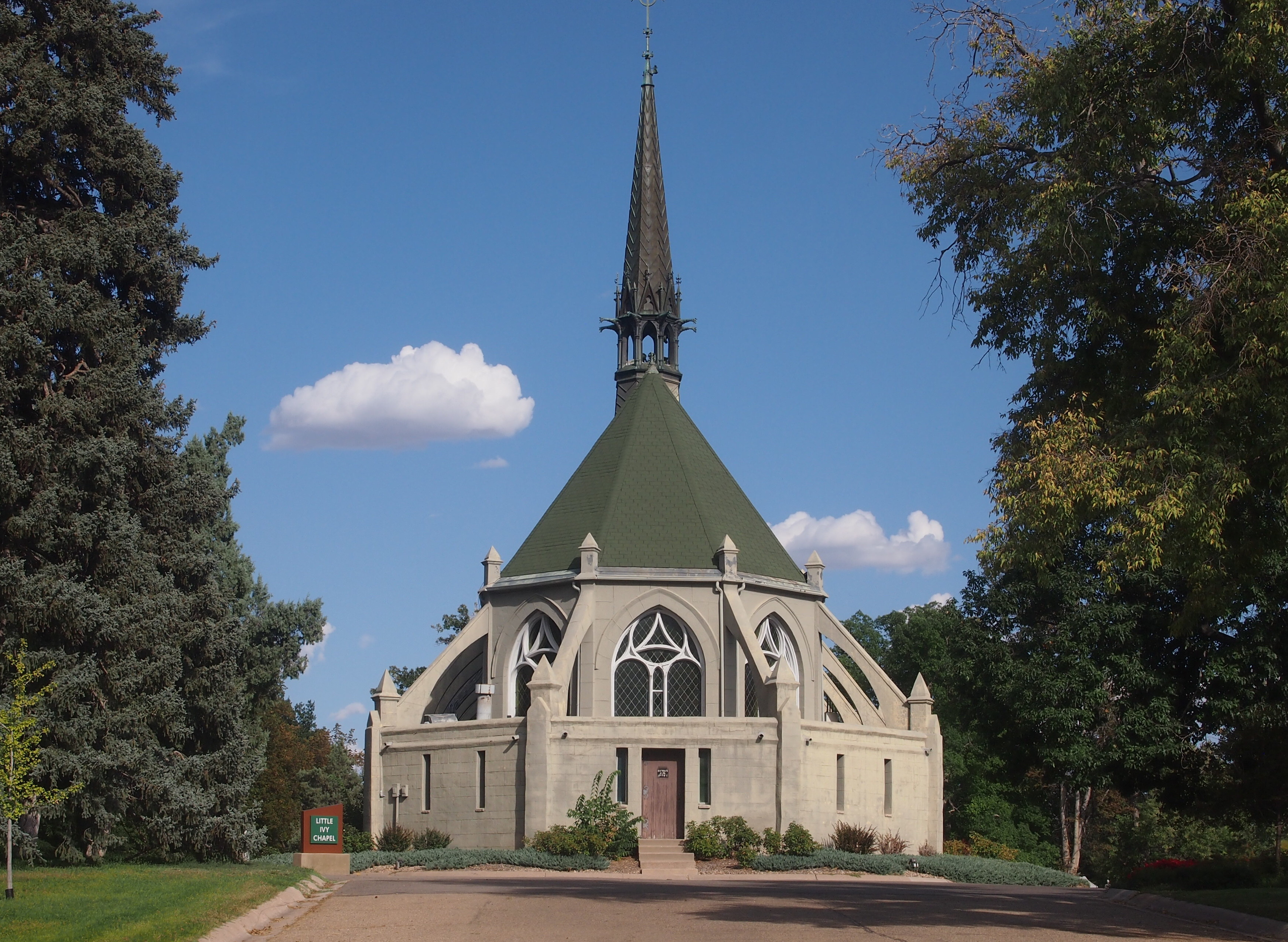 The nearby Chapel in the Pines.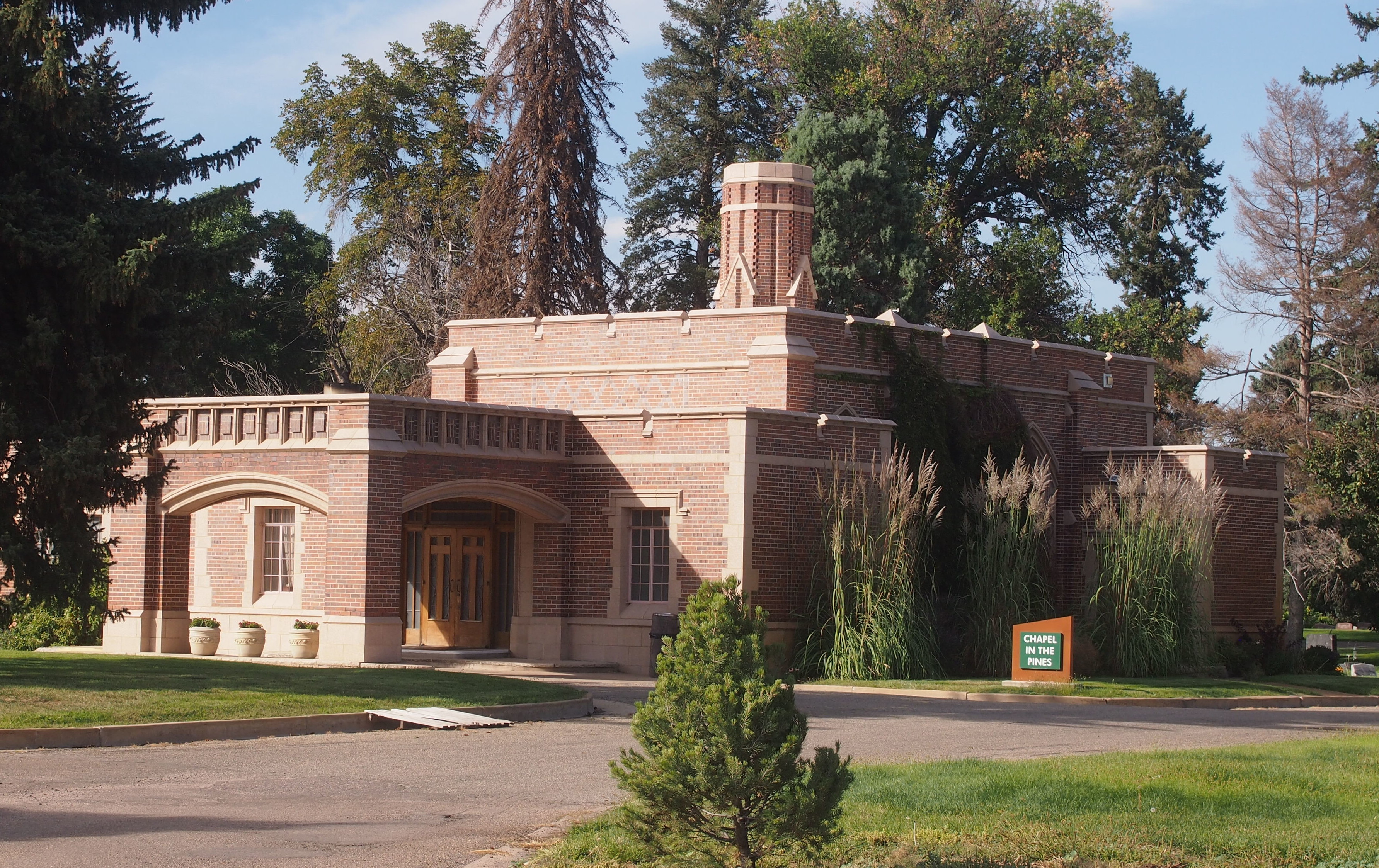 The stately Fairmount Mausoleum. The aforementioned stained glass must be those windows, but I didn't have time for a closer look.

I spotted a less conventional grave site, of fairly recent vintage, near one of the cemetery entrances. A young woman named Jessica, 1986-2009, a victim of a modern plague.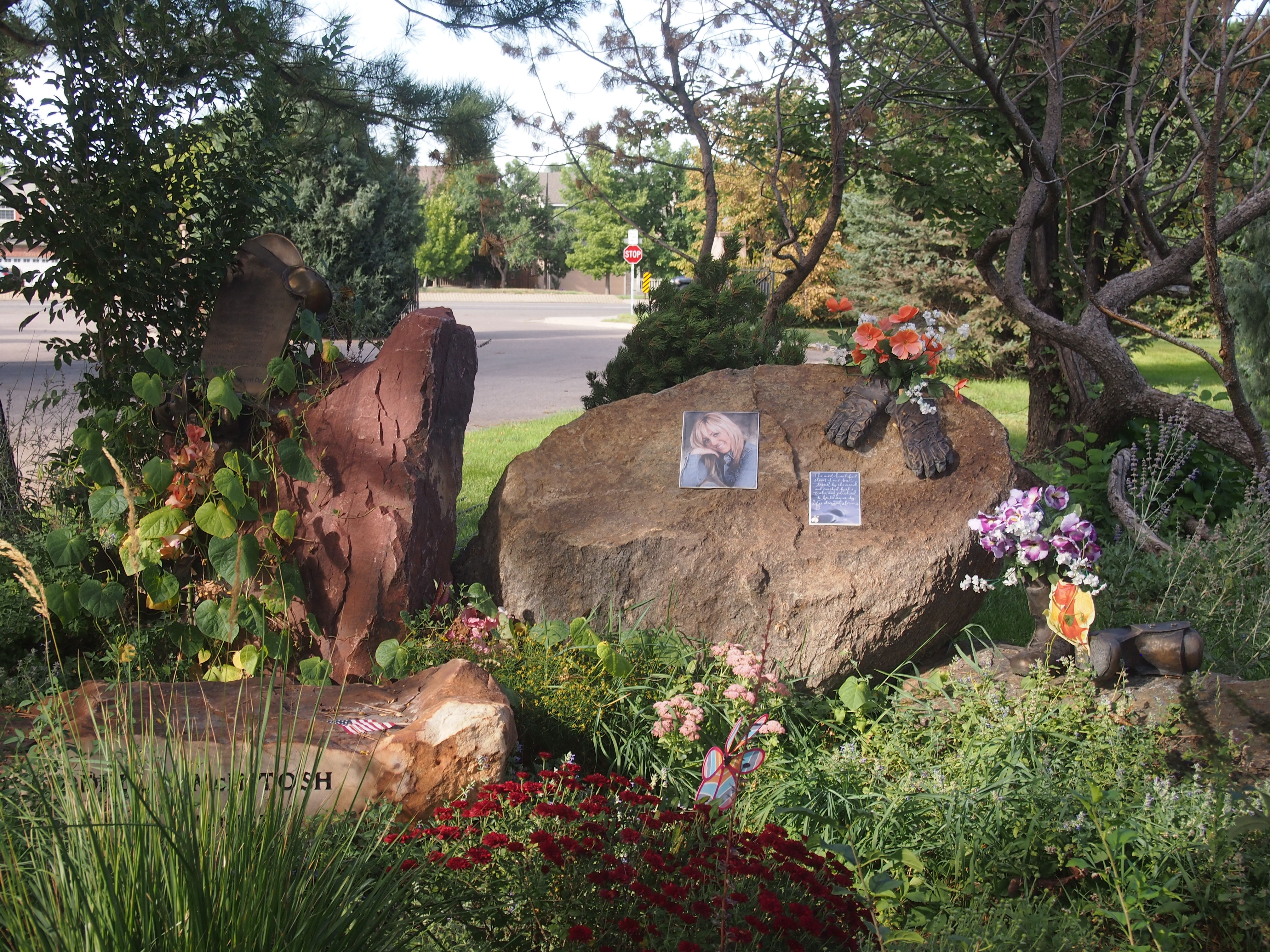 Sculptor Sutton Betti writes about the memorial: "The project was installed… March 29, 2012, and is my second permanent installation in Colorado. Although there is [sic] no figurative elements in the piece, I enjoyed making it, as this is something quite unique from my past work.
"Commissioned by Jessica's mother, the memorial is designed to show the young woman's love of snowboarding. Being a snowboarder myself, I was able to understand her daughter's love of the sport."