Ah, Greek food. A fine thing. I've had it in a number of places, including Sydney, but unfortunately not Greece. There was none to be found in San Antonio of the 1970s, nor Nashville of the early '80s, or at least I made no effort to find it.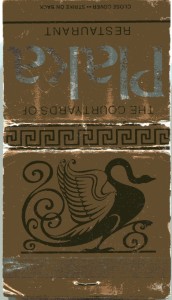 So I never had any until sometime in the mid-80s, probably in Chicago. One of the things to do during visits to the city in those days was seek out various kinds of food you couldn't find at home, relying on word-of-mouth or luck in those pre-look-it-up-on-your-electronic-box days, to get commentary from a crowd of strangers. Will future generations believe people used to live like that?
Based on online evidence, the Courtyards of Plaka seems to be closed, but I'm not entirely sure, and don't feel like calling them unless I'm going there. In any case, 30 years ago was long enough ago that a lot of restaurants still gave away matches, rather than cards. Now I sometimes can't find either.
I picked up some matches when I went with my friends Neal and Michele, who lived in Chicago at the time. I just had moved there the month before. I don't usually write anything on the matches or cards I find at restaurants, but for some reason I did that time. Maybe I should have more often.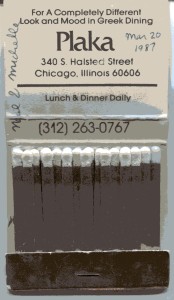 Can't say that I remember much about that evening, though I'm sure we had a fine time. A short 1993 description of the restaurant in the Tribune said: "A lively place, especially once the live piano music gets underway. A handsome bar overlooks the stage-perfect for those who just stop in for a drink. The pretty, two-level dining room is awash in shades of terra cotta, with dark green accents; a series of white wooden slats suspended from the ceiling creates a canopy effect that makes you feel as though you're eating outdoors.
"The menu lists a fair number of mezedes, the tapas-like tasting portions that lend themselves to grazing. There are also solid, sizable entrees: a pair of double lamb chops, a bit too chewy but quite tasty, and pair of expertly grilled, gently seasoned quail."