An obscure monument to obscure men fighting for a now-obscure cause. That's what I found at Mount Carmel Cemetery last week when I spied the Clan-Na-Gael Guards Monument. What a find.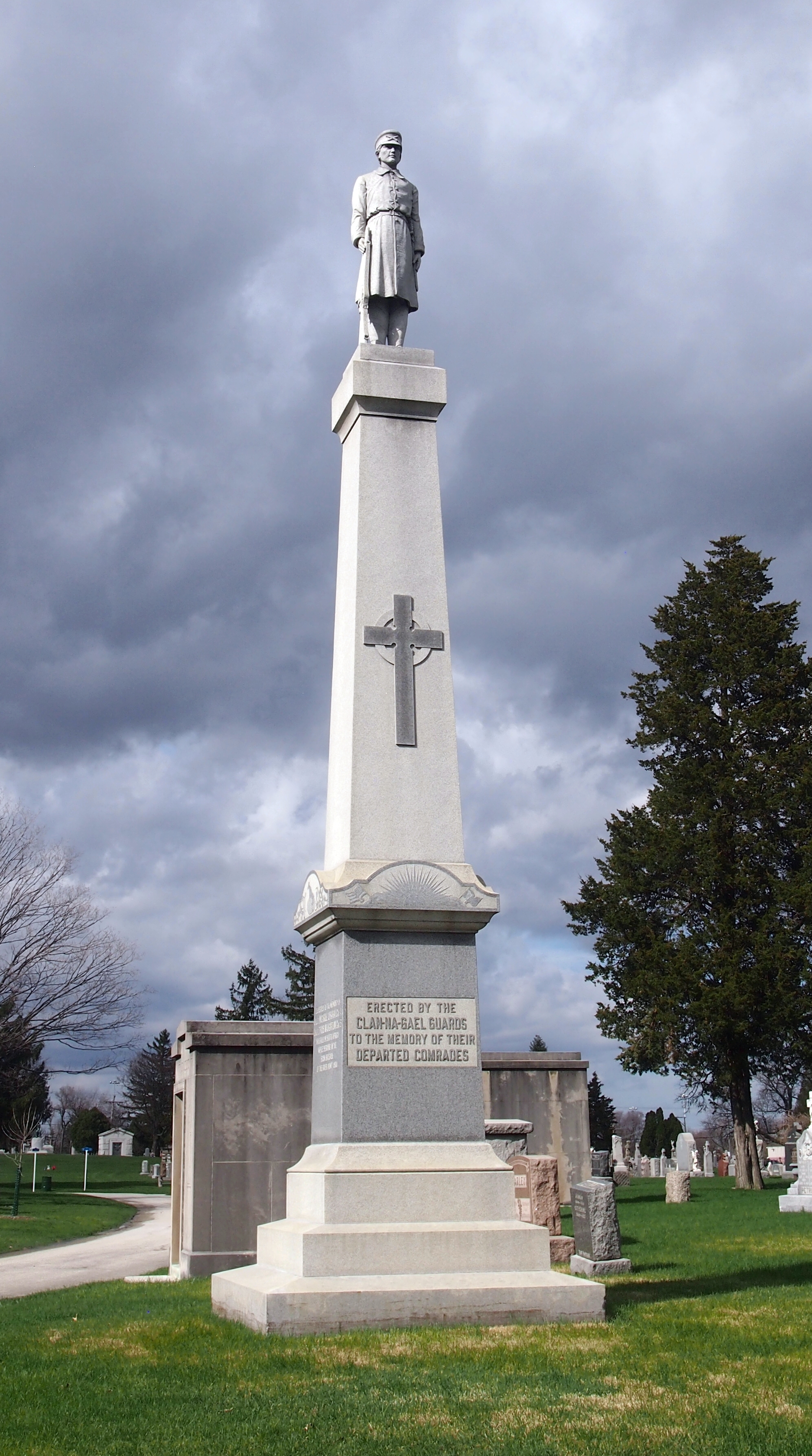 Obscure isn't meant as a pejorative. People besotted with fame might think it's one, but obscurity is the common fate of almost everyone and everything. Life's still worth living. In future millennia, we'll all be as distinctive as grains of sand on a beach. It won't even take that long. That's probably as it should be.
Yet we memorialize. In stone sometimes, no doubt since mankind learned to carve. I'm no expert on the psychology of memorials, but I'd guess they're mostly for those who already remember: family, friends, colleagues, comrades-at-arms, or a public who read the newspaper stories, saw the newsreels, recalled the special bulletin interrupting a radio or TV show. Memorializing for posterity might be given lip service, but that's all it is.
The front of the Clan-Na-Gael Monument says (in all caps, but that screams):
Erected by the
Clan-Na-Gael Guards
To the memory of their
Departed comrades
The Clan-Na-Gael was, of course, dedicated to Irish independence. Any enemy of the British was a friend of theirs, such as Imperial Germany 100 years ago, though this memorial goes back a little further. I shouldn't have been surprised to read the side of the memorial, yet I was:
Dedicated to the memory of
Lieut. Michael O'Hara Co. A
Lieut. Thos. Naughton Co. B
Who died in South Africa
While serving in the
Irish Brigade
Of the Boer Army 1900
Irishmen in the Boer War? Yes, indeed. Not just any Irishmen — though I've read there were a fair number in South Africa at the time, working in the mines — but Irishmen from Chicago who headed out to Africa for a chance to stick it to the British.
Soon, I came across a digitized version of an anti-British polemic, Boer Fight for Freedom, written in 1902 by Michael Davitt (an associate of Charles Stuart Parnell, and interesting in his own right). In the book, there's a passage about the Chicago Irish who fought for the Boers:
The CHICAGO IRISH-AMERICAN VOLUNTEERS
This small contingent of volunteers was spoken of in Pretoria as the "finest-looking" body of men that had yet reached the Transvaal capital from abroad. They numbered about forty, excluding the medicos and non-combatants, and were all young men of splendid physique and of the best soldierly qualities.
They were under the command of Captain O'Connor, of the Clan-na-Gael Guards, and joined Blake's Irish Brigade. President Kruger extended a special reception to the company, and addressed them in complimentary terms before they started for the front.
Lord Roberts was on the point of advancing from Bloemfontein when the Chicago men arrived, and they were hurried forward to Brandfort along with other reenforcements for De la Rey, who was in command until the arrival of Botha.
O'Connor and his men acquitted themselves most creditably in all the rear-guard actions fought from Brandfort to Pretoria; Viljoen's Band Brigade, Blake's and O'Connor's men, with Hassell's scouts, doing their share of fighting in all the engagements during events and occurrences which were well calculated to damp the enthusiasm of the allies of the Boer cause.
It is, however, under trying circumstances, offering little or no compensation for services or sacrifice, save what comes from the consciousness of a duty well performed, that men are best tested in mind and metal, and the work done during that most disheartening time was worth many a more successful campaign fought under brighter hopes for the cause of liberty.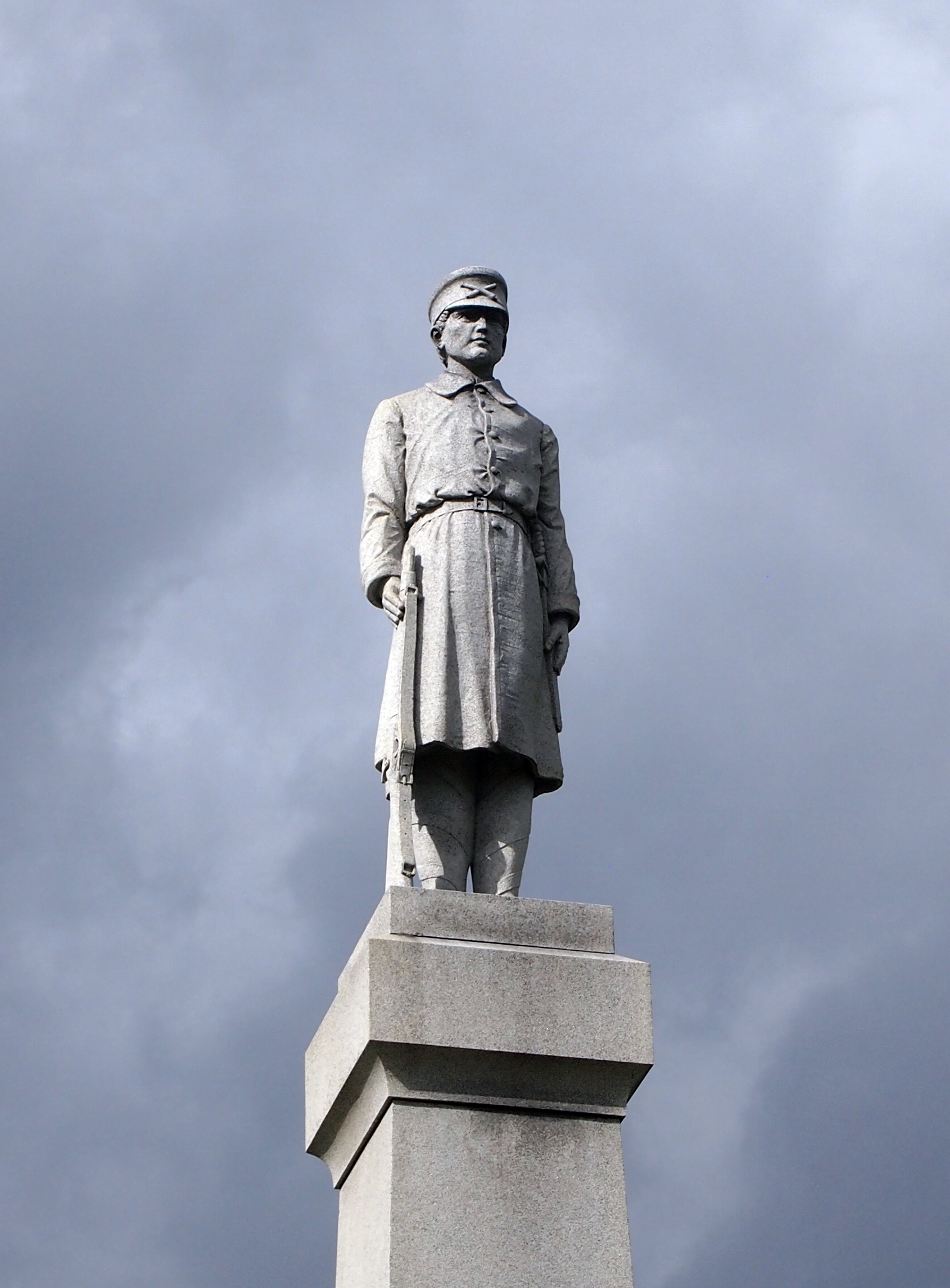 But what of the memorial itself? I found digitized information about that, too, in The Reporter, a Chicago-based national trade publication "devoted to the granite and marble monumental trade," the masthead says (man, Google wants to digitize everything).
The October 1914 edition of the magazine tells us that, "Sunday, September 27th, there was unveiled with due ceremony, in Mt. Carmel cemetery at Hillside (a suburb), a Barre granite monument to the memory of Lieutenants Michael O'Hara and Thomas Naughton, who lost their lives while serving with the Boers against the British in South Africa. They were the only ones killed out about 40 Clan-na-Gael guards who went to the war from Chicago.
"The monument is a shaft with conventional bases, die, plinth and shaft, and was furnished by the Moore Monument Co., the price being about $1,800."
That was fairly serious money, about $43,800 in 2017 dollars. I don't doubt that the surviving members of the Clan-na-Gael Guards' foray to Africa got their money's worth.