While my friend Steve stayed with me in Osaka in October 1991, we took a weekend trip to Takayama in Gifu Prefecture, in the Japanese Alps. (All the pictures below are dated October 26, 1991.) The small city is better known as Hida-Takayama (飛騨高山), since takayama simply means "tall mountain," which describes a fair number of places in Japan. It used to be in Hida Province, in the pre-Meiji era way of dividing the country.
I've posted about the trip before. But nothing about the statues on the Kajibashi Bridge over the Miyagawa River in Takayama. Steve and I posed with different ones.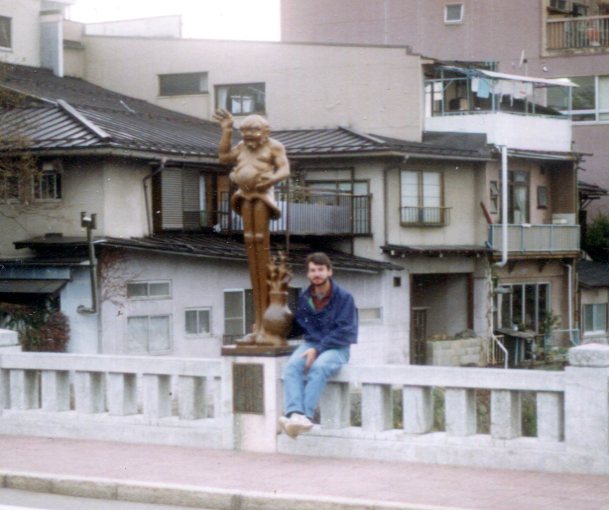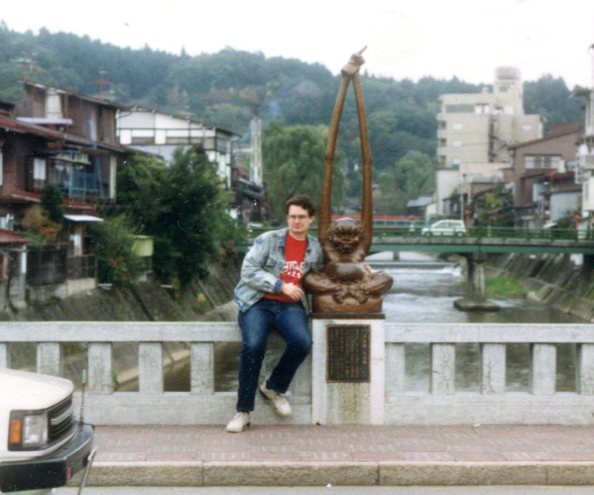 One source, clearly written in English by a Japanese writer — but not too bad a job, all sic — says: "Extremely long-arm goblin, Tenaga and long-leg goblin, Ashi-naga are displayed on the railing of Kaji-bashi bridge. Te-naga and Ashi-naga folklore is handed down in Japan, which represents the god of immortal.
"There is another folk tale about the creature. This creature was regarded as a hobgoblin, a ghostly apparition, Yokai in Japanese. The creatures with their weird long arms and long legs are said to do wrong to people.
"So, two different traditions about Te-naga and Ashi-naga. There is a shrine to dedicate the creatures in Nagano prefecture."
We also spent some time at the Hida Folk Village (飛騨民俗村), which is an open-air museum with about 30 farmhouses from this part of Japan.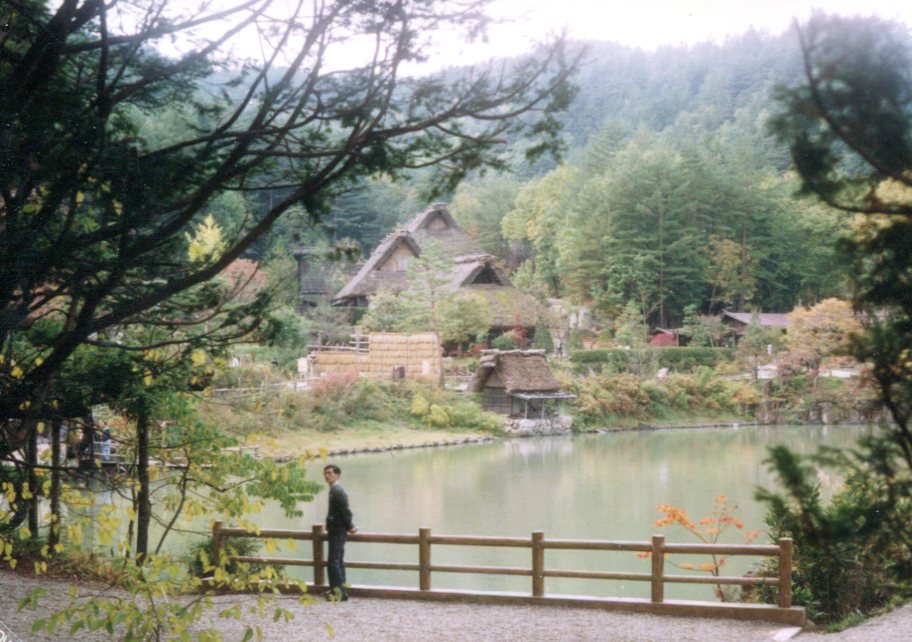 Complete with a bell to ring. Ring bells if you can.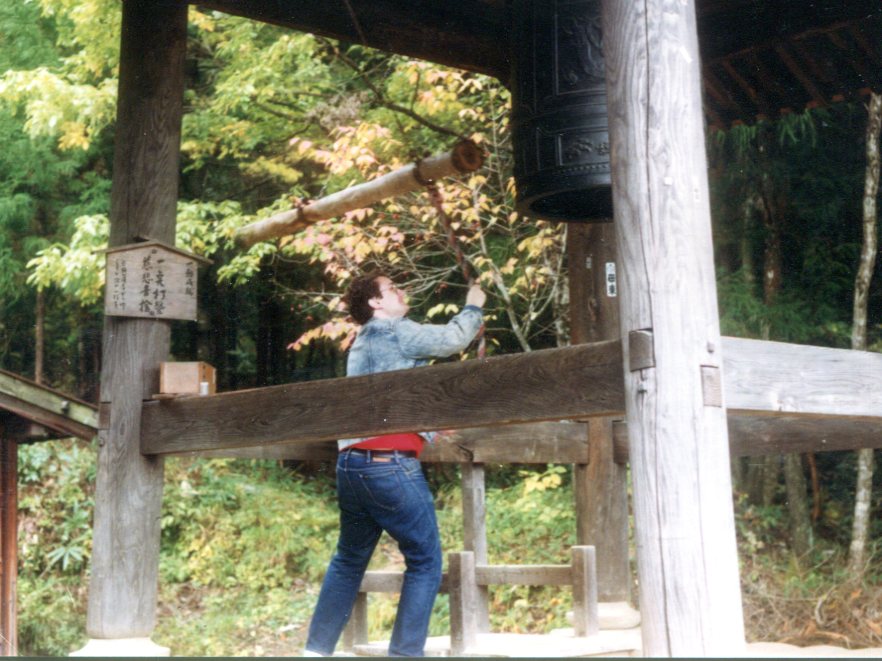 "We saw a man and a woman fashioning hemp sandals from stacks of cord," I wrote. Here's the man.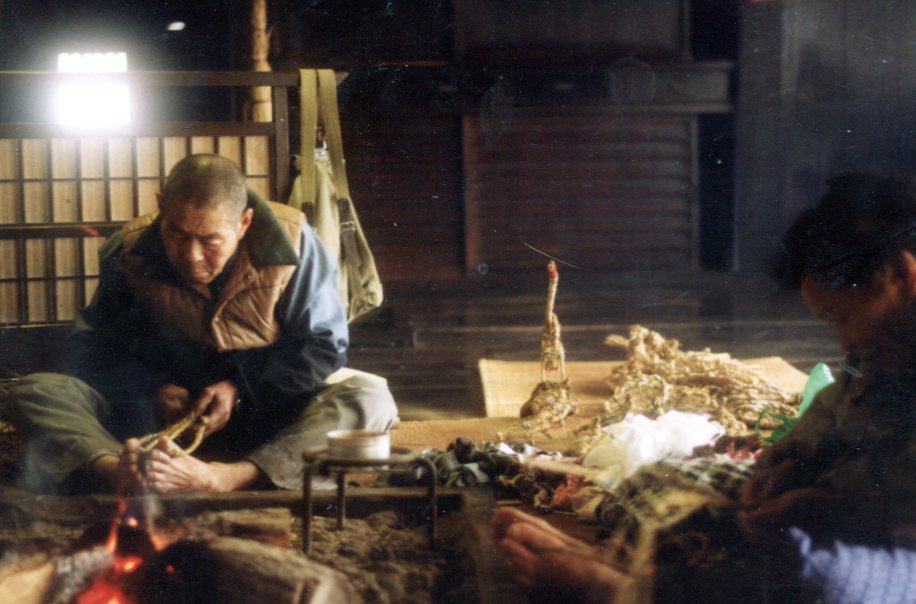 I don't believe this was in the Folk Village.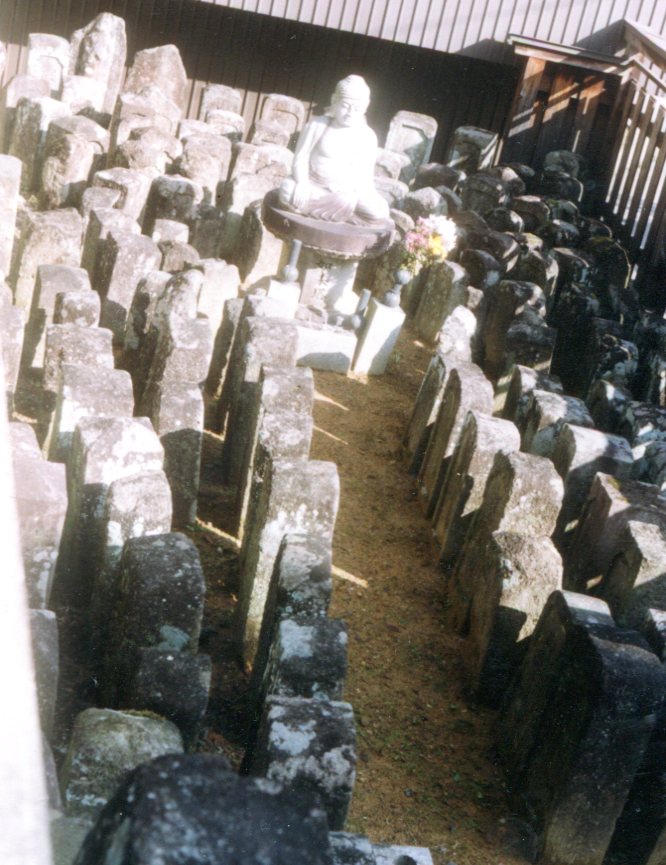 Rather, it's a good example of an urban Japanese cemetery. Since cremation is the norm in Japan, burial space isn't necessary. Rather, the memorial stones can be fit into a tight space. In a city, even a small one like Takayama, that's often an irregular or otherwise hard to develop plot of land.