Not long ago Ann and I went to Evanston to see a production of The Pirates of Penzance by a troupe known as the Savoyaires, directed by Amy Uhl (choreography) and Timothy Semanik (music). I'd seen it advertised in the Iolanthe program last spring, and it occurred to me that I'd never seen it on stage. So I wanted to go.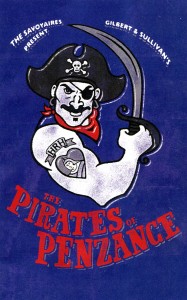 I saw the Kevin Kline and Linda Ronstadt movie version sometime in the mid-80s at the Vanderbilt cinema. It was essentially a filming of the 1980 Broadway production. I'm not sure what it was, but I remember the movie being a little off. A little stiff.
Maybe it didn't offer enough of that jolly good time that you should get from Gilbert & Sullivan. We got that from the Savoyaires, who didn't need an elaborate venue to pull it off. The show was staged in a sizable but plain junior high school auditorium, complete with an orchestra.
Phillip Dothard played the Pirate King with gusto, and Sahara Glasener-Boles brought the right amount of sauciness to the part of Ruth. Of course what everyone was waiting for was the Major-General to show up and sing his signature song. An actor named Bill Chamberlain did that part.
"How did he learn to do that?" Ann asked later.
"Practice," I said, though in fact, even if I had the voice, I doubt that I could ever do "I Am the Very Model of a Modern Major-General."
And while Chamberlain was very good, he didn't quite get all of the enunciation. Close enough, though. He was definitely part of the jolly good fun.
The program included "A Pirates of Penzance Glossary," including the likes of Babylonic cuneiform, The Frogs of Aristophanes and Heliogabalus, whom it described as an "infamously depraved Roman emperor."
"What was he depraved about?" Ann asked.
I couldn't remember. It had been years since I'd read about him. A vague sense of perversion clings to him, but I wonder if there's much to it. Ancient historians liked gossip and lurid invention as much as anyone else, and so did not-so-ancient historians.
"To confound the order of the season and climate, to sport with the passions and prejudices of his subjects, and to subvert every law of nature and decency, were in the number of his most delicious amusements," Gibbon wrote of the boy-emperor.
He also wrote: "It may seem probable, the vices and follies of Elagabalus have been adorned by fancy, and blackened by prejudice." In other words, dress as a woman a few times and people will make up all kinds of stories about you, especially if you're emperor.
Ah, well. I will leave it to learned sages to argue over Heliogabalus. Next year's production by the Savoyaires is Ruddigore, another G&S I've never seen staged. I'll try to go.