I have a few more colorful banknotes from the third world, but today's Australia Day. I don't have any notes from that country — being real money, I exchanged them when I got back — but I do have coins. Such as a dodecagonal 50-cent piece dated 1984, one of the 26.3 million minted that year.
It features a fairly ordinary observe.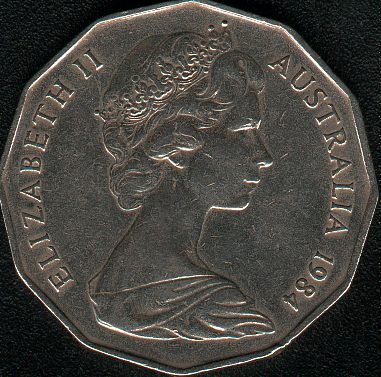 The Royal Australian Mint says: "Since her coronation in 1953, five effigies of Her Majesty Queen Elizabeth II have appeared on the obverse of Australian coins. Previous effigies were designed by Mary Gillick (1953), Arnold Machin (1966), and Raphael Maklouf (1985). Since 1998, Australian coins have used the current effigy by Ian Rank-Broadley." So I've got the last year of Arnold Machin.
The 12-sided coin replaced a round 50-center in 1969, apparently to help avoid confusion with the round 20-cent piece. The reverse sports the Oz coat-of-arms by Stuart Devlin.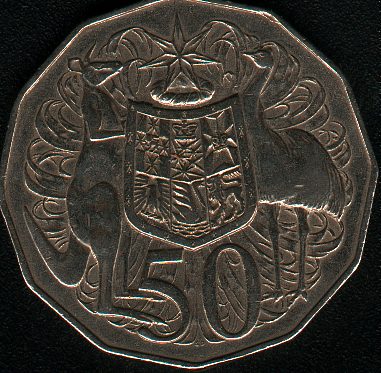 I like the distinctive kangaroo and emu. Squeezed on the shield are the symbols of the six Australian states, united as a nation.
I also enjoyed reading that for a while, Stuart Devlin, who was Australian-born but is a resident of the UK, was Prime Warden of the Worshipful Company of Goldsmiths.