Demographic note: a lot more people reside in Mount Carmel Cemetery in west suburban Hillside, Ill., than in the village itself. The cemetery has about 226,000 permanent residents, while the village has only about 8,100 (living) people. But the advantage goes to the living, of course. For instance, they can vote in Cook County elections; most of the dead people can't.
I've known about Mount Carmel for years, but only got around to visiting last week, on a cool and partly cloudy afternoon. The cemetery is thick with upright stones —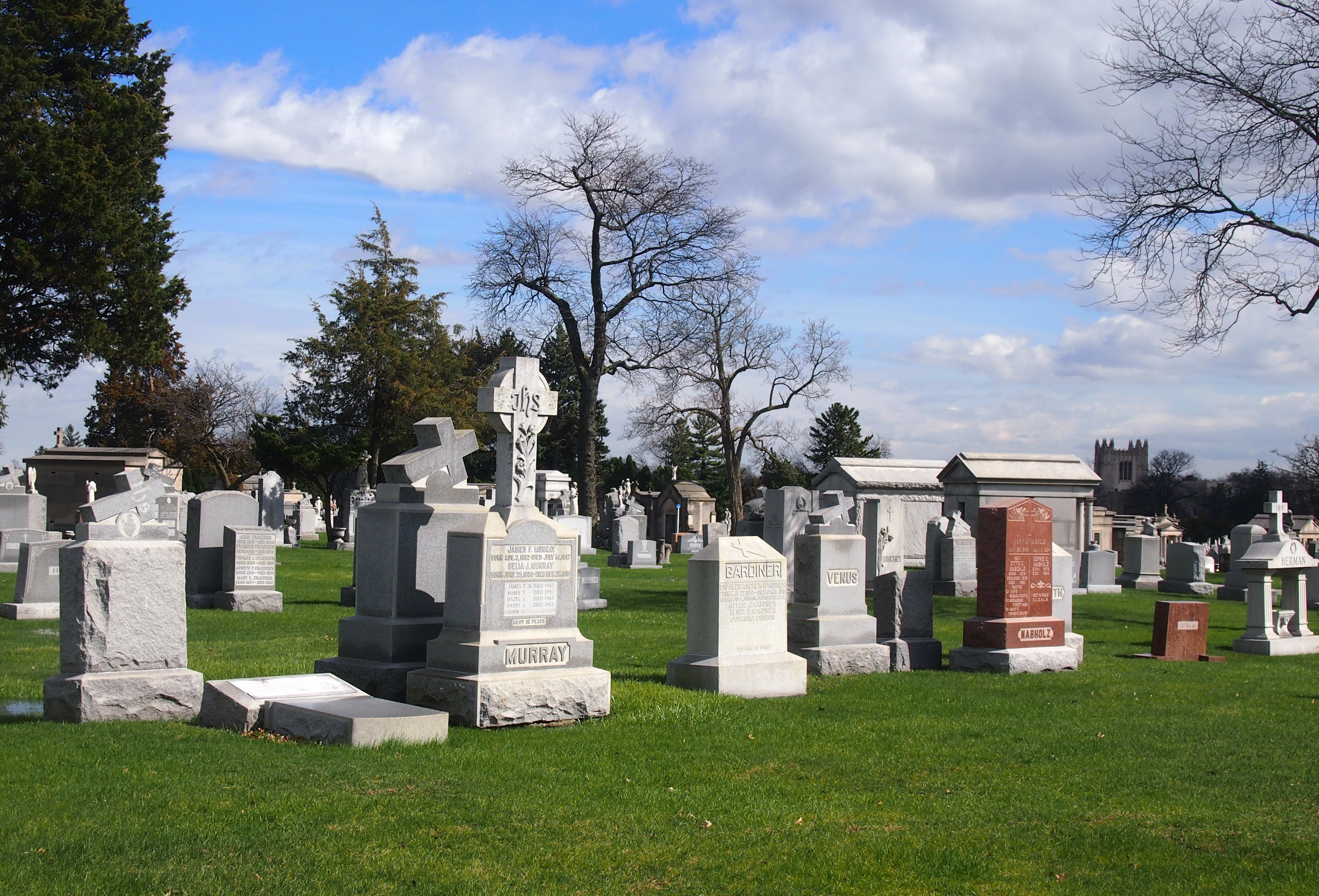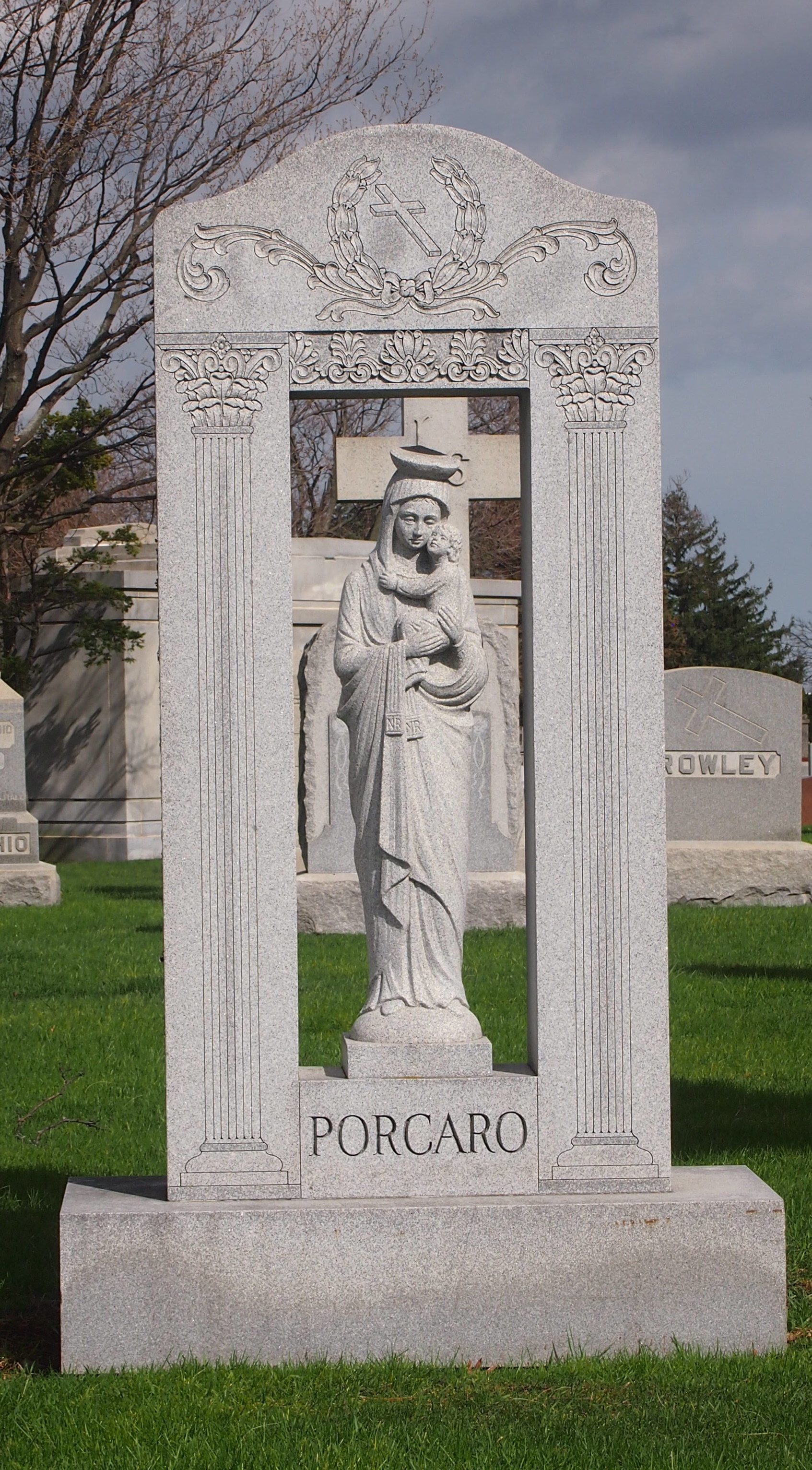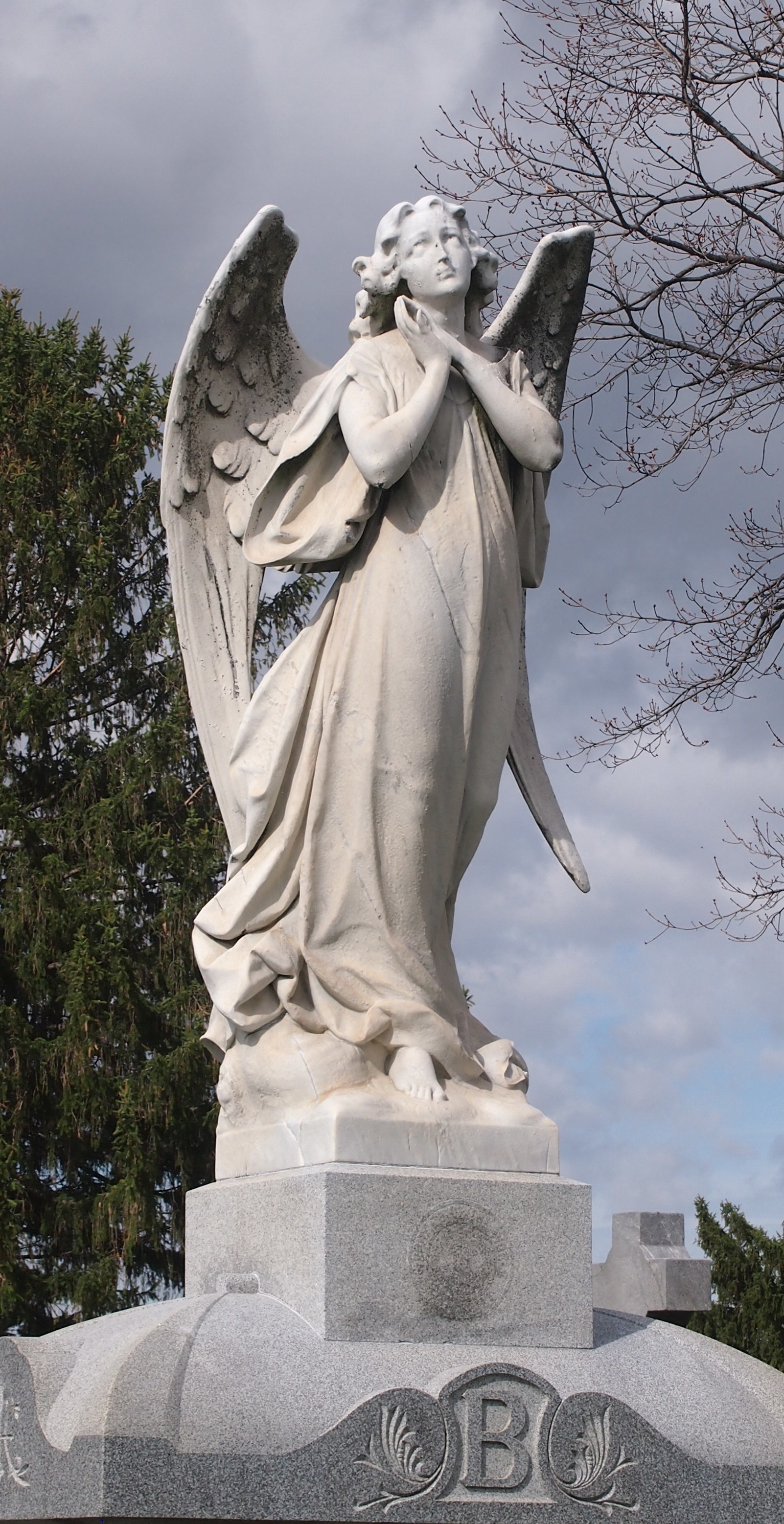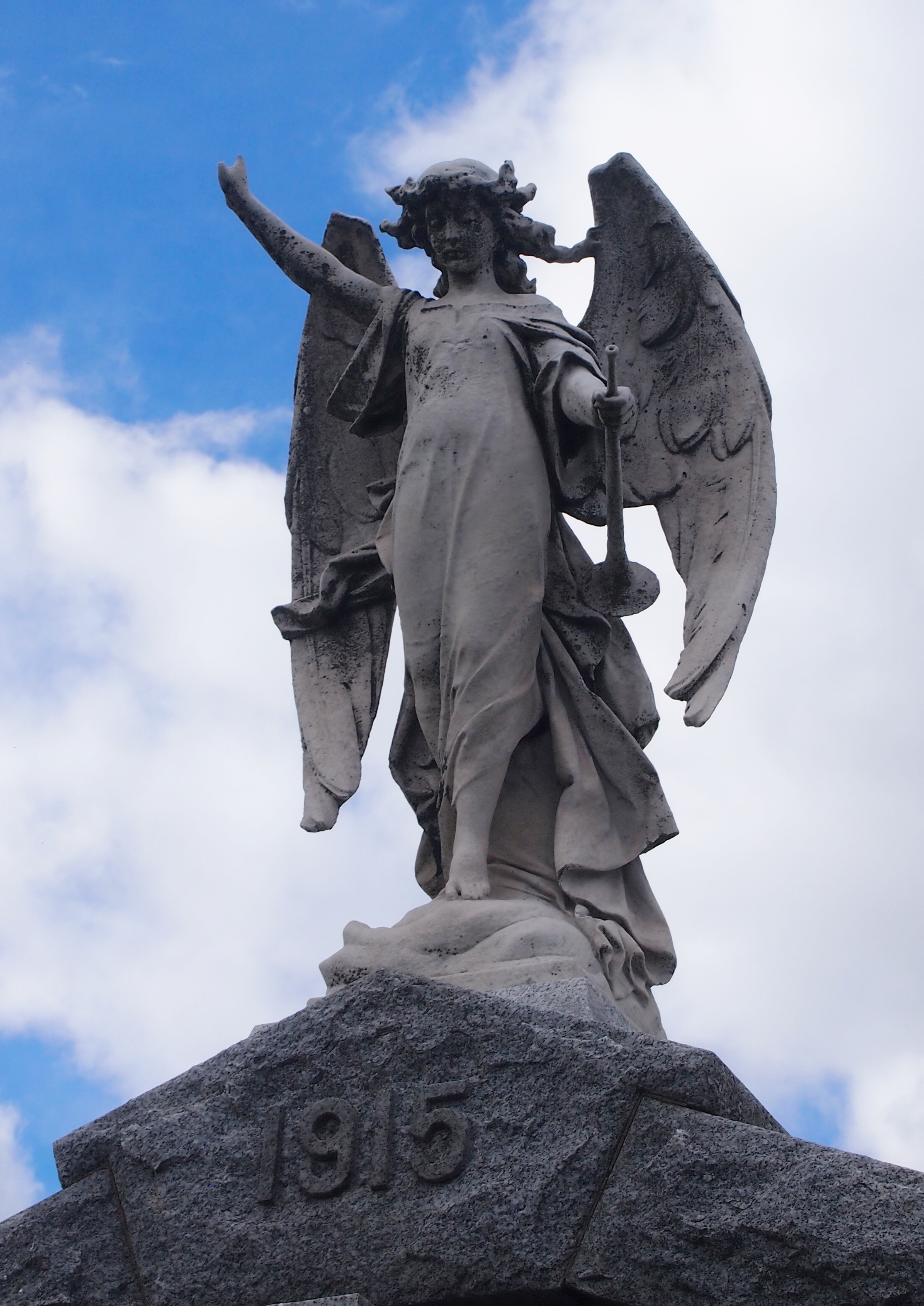 … and mausoleums. In fact, there are a lot of family mausoleums there, about 400, including these three.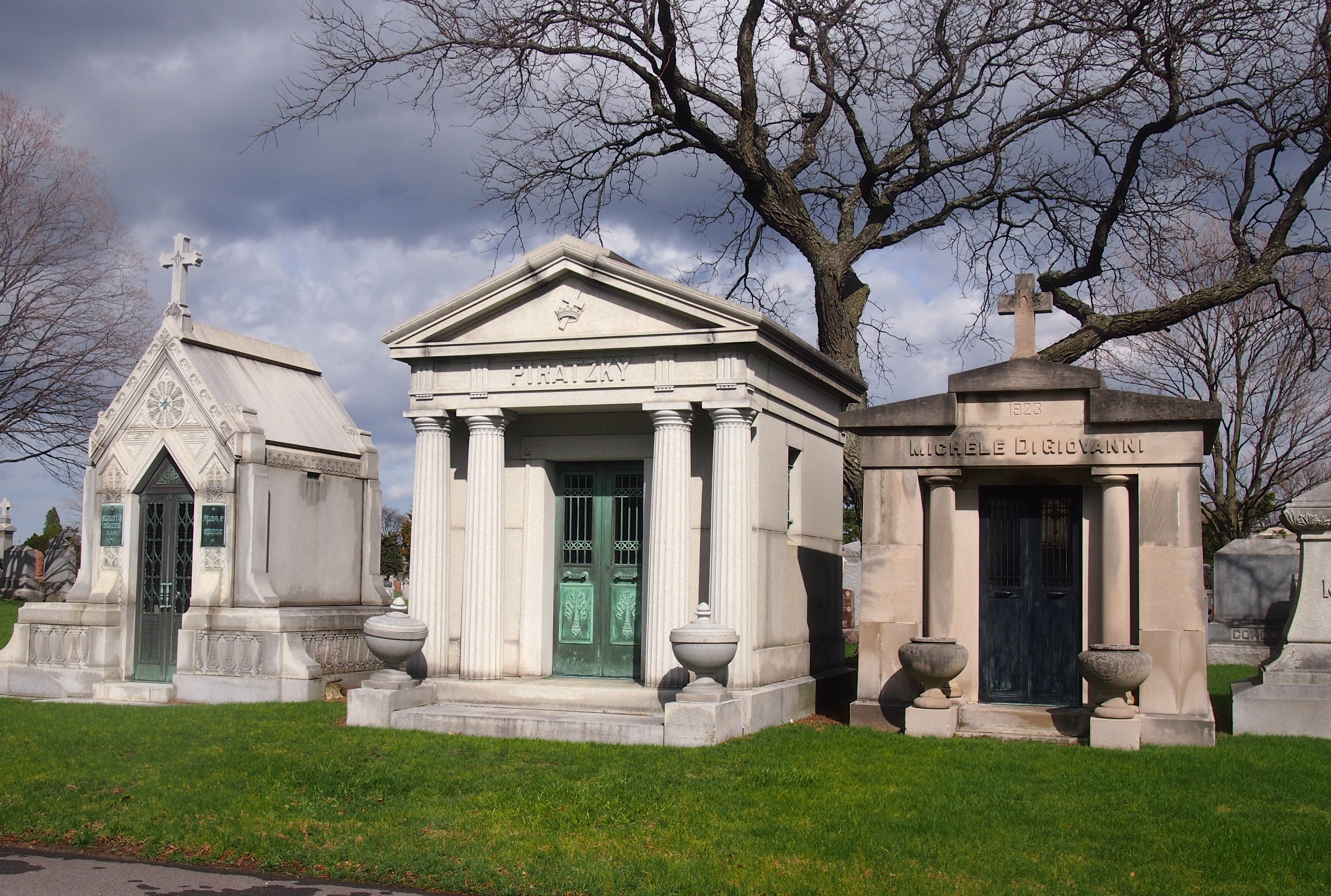 At Mount Carmel, one learns that the Lord is a Cubs fan.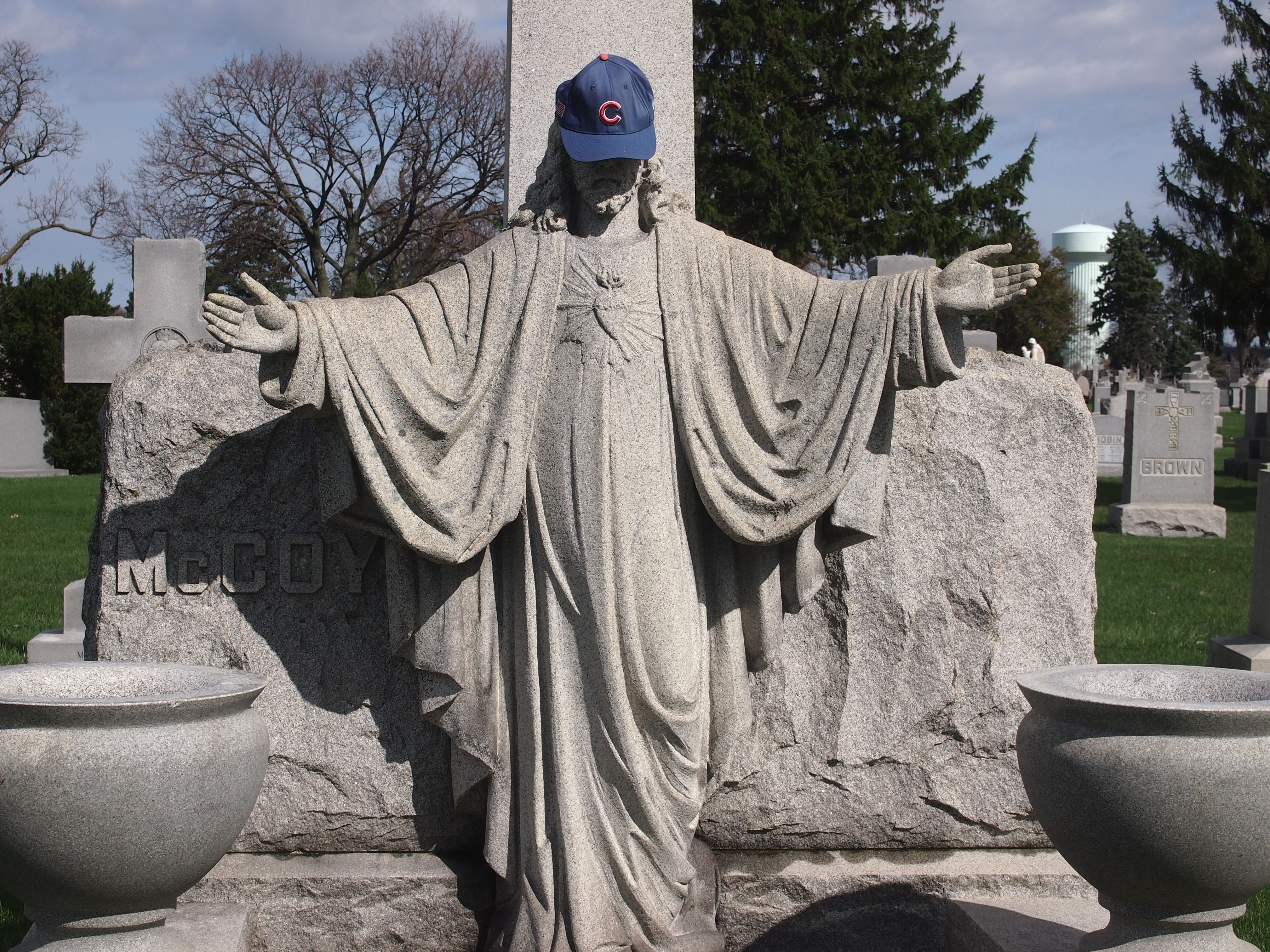 On a hillock in the middle of the cemetery is the Bishops' Chapel, or Bishops' Mausoleum, but in full the Mausoleum and Chapel of the Archbishops of Chicago, complete with Gabriel blowing his horn.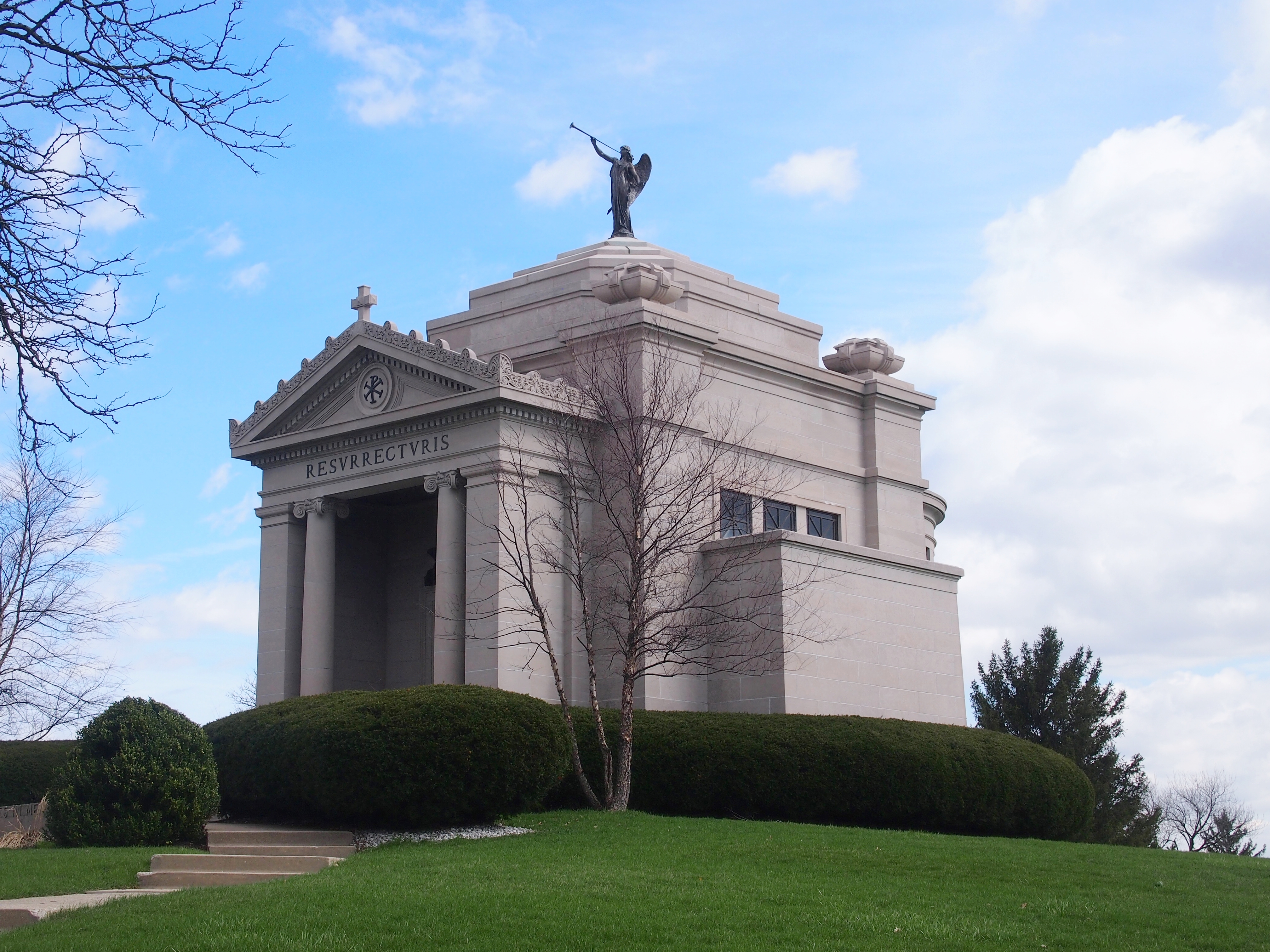 Inside are the remains of seven bishops, archbishops and auxiliary bishops of Chicago, mostly recently Joseph Cardinal Bernardin, who was entombed in 1996. I remember in the fall of '96 seeing his funeral procession cross the Michigan Ave. Bridge from an office window in 35 E. Wacker, where I worked. Presumably they were headed for Mount Carmel.
The book Mount Carmel and Queen of Heaven Cemeteries by Jenny Floro-Khalaf and Cynthia Savaglio gives quite a lot of detail about the Bishops' Mausoleum, which was completed in 1912. The cemetery itself was established with the new-born century in 1901, long before the Eisenhower Expressway ran to its north, and probably when Roosevelt Road to the south — not yet called that, but 12th St. in the city at least — was very rudimentary indeed.
"[The chapel] was the brainchild of Chicago's second archbishop, James Quigley, who oversaw its construction," Floro-Khalaf and Savaglio write. "He engaged a local architect, William J. Brickman, who came up with the simple, Romanesque style that embodies the building's outline. However, in keeping with the aesthetic tastes of his predecessor, Patrick Feehan, Quigley engaged one of the most famous architects of the day, Aristide Leonori, who designed the building's breathtaking interior… Leonari executed a design reminiscent of Rome in marble and mosaic."
A locked door was as close as I got to the breathtaking interior, for which I blame wankers who would do harm to it. But over the door, you're reminded that Quigley built the place.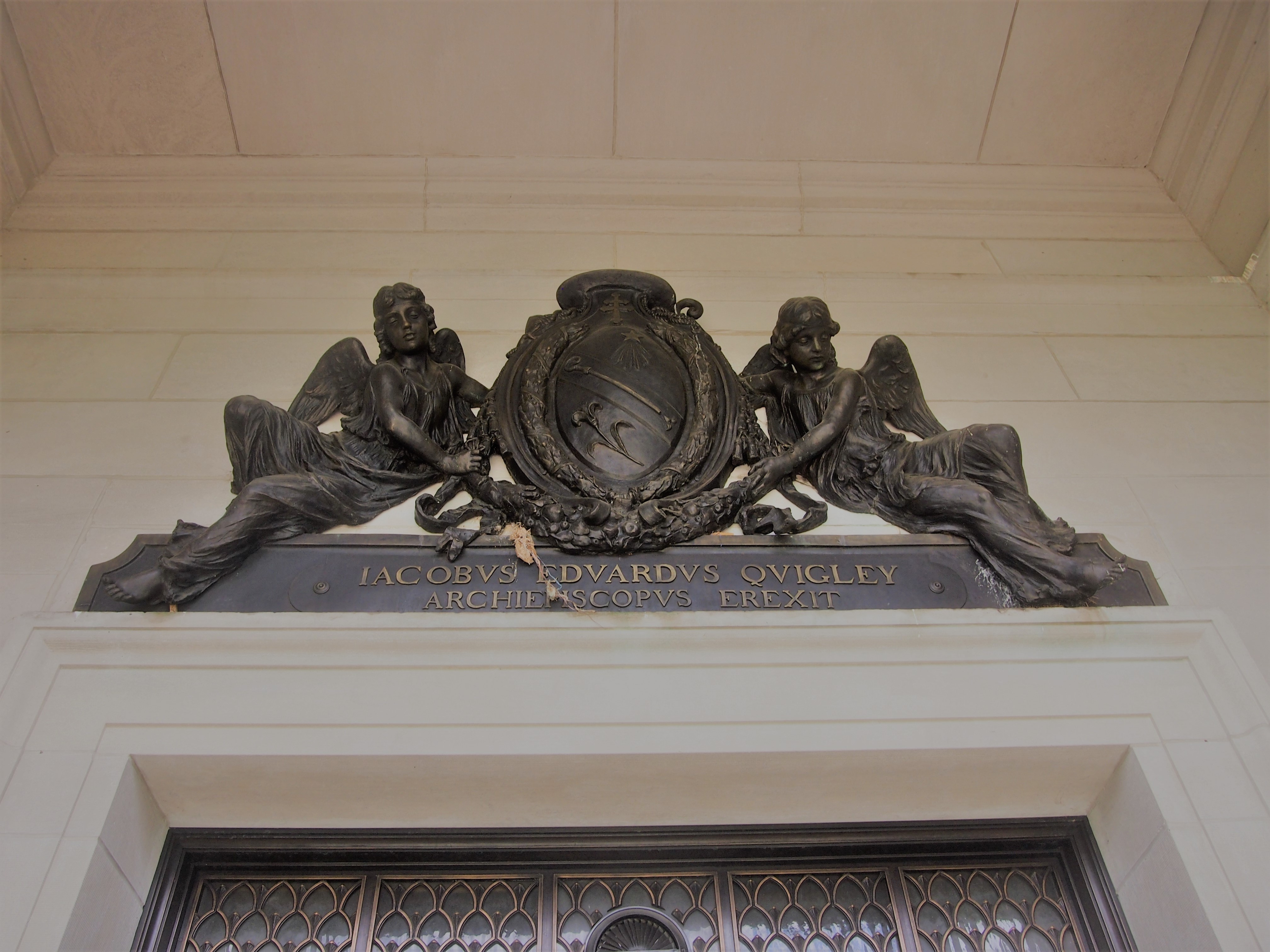 Many Italian names dot the cemtery's landscape. Benedetto, Bernardo, DeVito, DiGiovanni, Felicetti, Gazzolo, Genna, Mazzitelli, Salerno, Serritello, Truppa, Perazzo, Porcaro, Porzio, and Viviano were among those I saw, though there was a fair number of Irish names and others mixed in.
One name I didn't see was Capone. If I'd done any research beforehand, I would have known where to look for Al Capone. The cemetery doesn't guide visitors to his grave, unlike the signs posted to direct you to the Wright Bros. at the Woodland Cemetery in Dayton or the Hunley crews in Magnolia Cemetery in Charleston. Maybe some other time.
Other mafioso are buried in Mount Carmel, though not as well known as Capone any more. But their stories are no less lurid. Such as Joseph "Hop Toad" Giunta, who ran afoul of Capone in a particularly bloody way, or so the story goes. I didn't see his grave, either.
Find a Grave says, "He was a high ranking member of the Capone gang who formed a secret alliance with Al Capone enemy Joe Aiello. Giunta planned to kill Capone and take over his operations, and enlisted the help of Capone triggermen John Scalise and Albert Anselmi with the promise of higher positions when Giunta was in power.
"Capone found out about the plan and invited Giunta, Scalise and Anselmi to a dinner party. During dinner Capone brought out an Indian club he'd received as a gift and proceeded to beat the three men to near death. Capone then allegedly finished the job with gunshots…"