It's Space Exploration Day. Always a good thing to think about.
Ella's Deli in Madison, Wisconsin, is on E. Washington Ave. If you're driving on that street, it's hard to miss.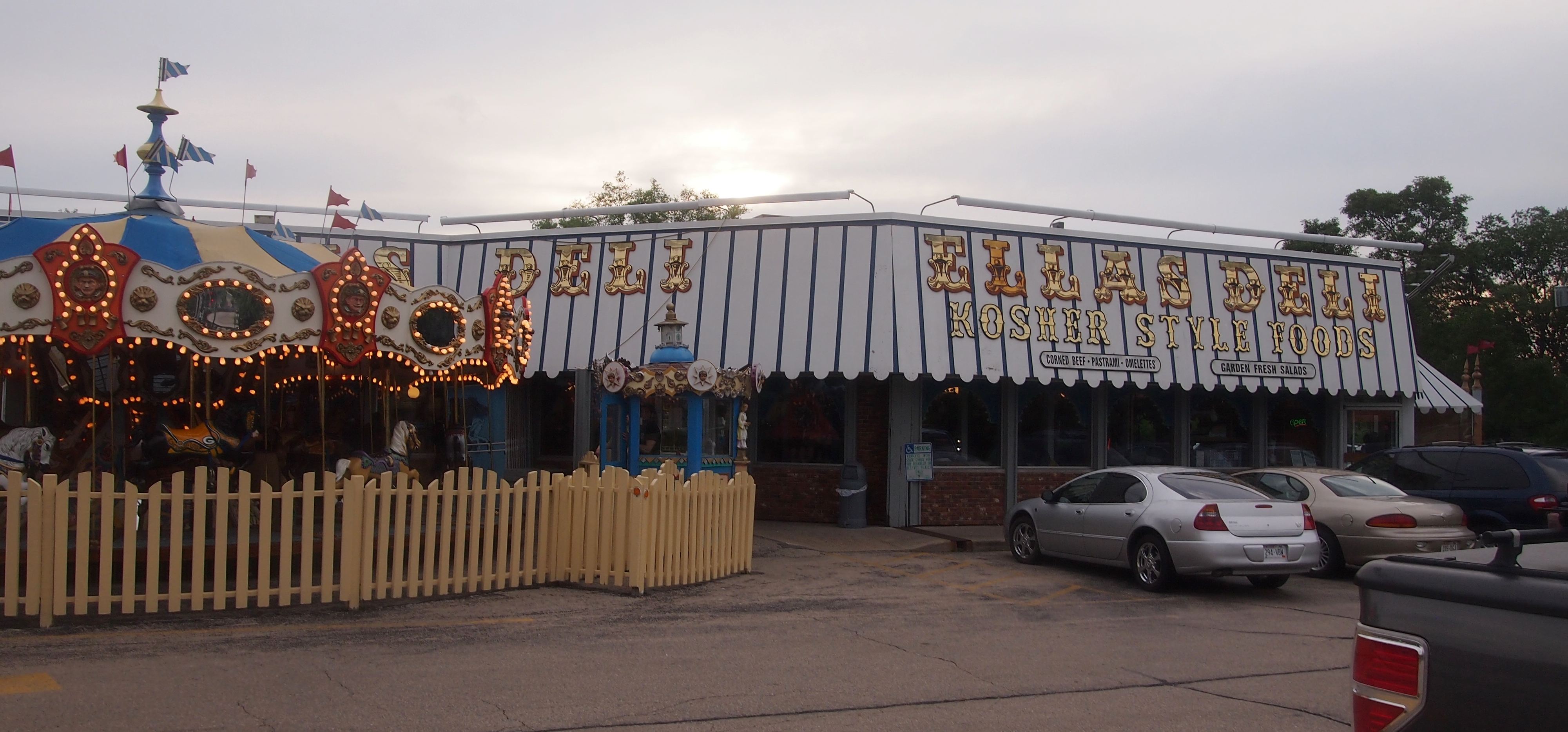 Washington Ave. happens to be a good way to get from I-90/I-39, which runs east of Madison, into the city. Right into downtown, in fact: straight to the capitol, the university, the lakes, and so on. Over the years I've noticed Ella's as I passed by, but never stopped. This time, I drove on Washington Ave. specifically to get there.
A bit from Ella's web site: "In the early 1960s Ella Hirschfeld owned and operated Ella's on State Street as a small kosher style deli/grocery/restaurant. At that time Ella's provided an outlet for the Jewish community and others to buy kosher products over the counter, as well as offering restaurant service for about a dozen tables.
"In 1976, Ella's opened another location, thanks to the support of Madison's community… In recent years, Ella's Deli on East Washington Avenue became the only Ella's Deli.
"Under the same ownership for over 45 years, Ella's operates with in-house bakers, full-time cooks that prepare our foods from scratch, and animations designed and built on the premises."
It was a good choice, both as a place to eat, and a place to see odd things. For instance, a robot-like entity meets you inside the door.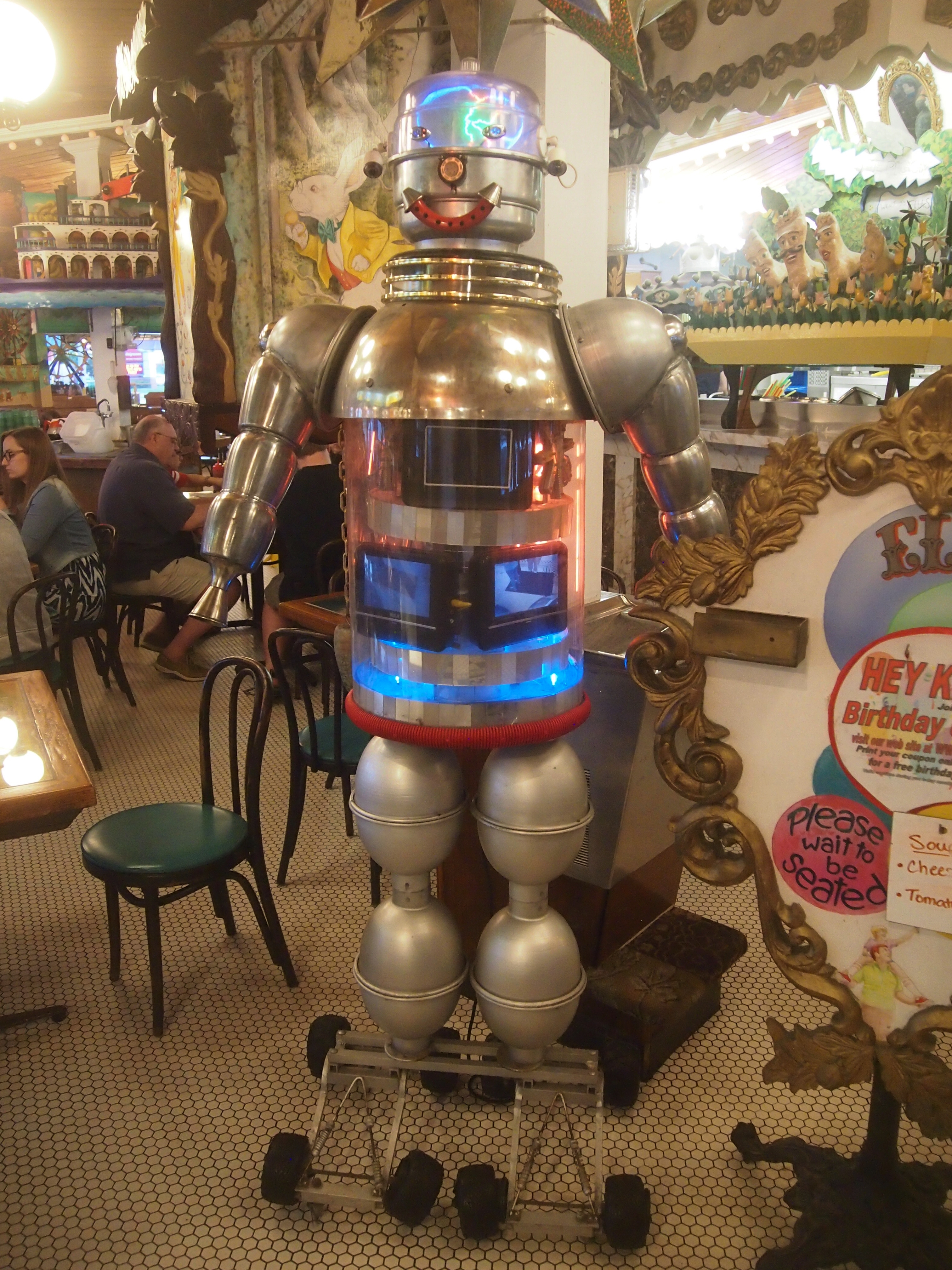 The restaurant doesn't exactly have a theme, though I've seen it referred to elsewhere as "a place to take your children." Certainly, but like some things supposedly for children, it isn't just for them.
Mostly, it's just whimsical. Most of the decoration, which is near the ceiling, seems to have been picked to add to the place's overall whimsy. You can appreciate whimsy at any age. More when you're older, if you've a certain cast of mind.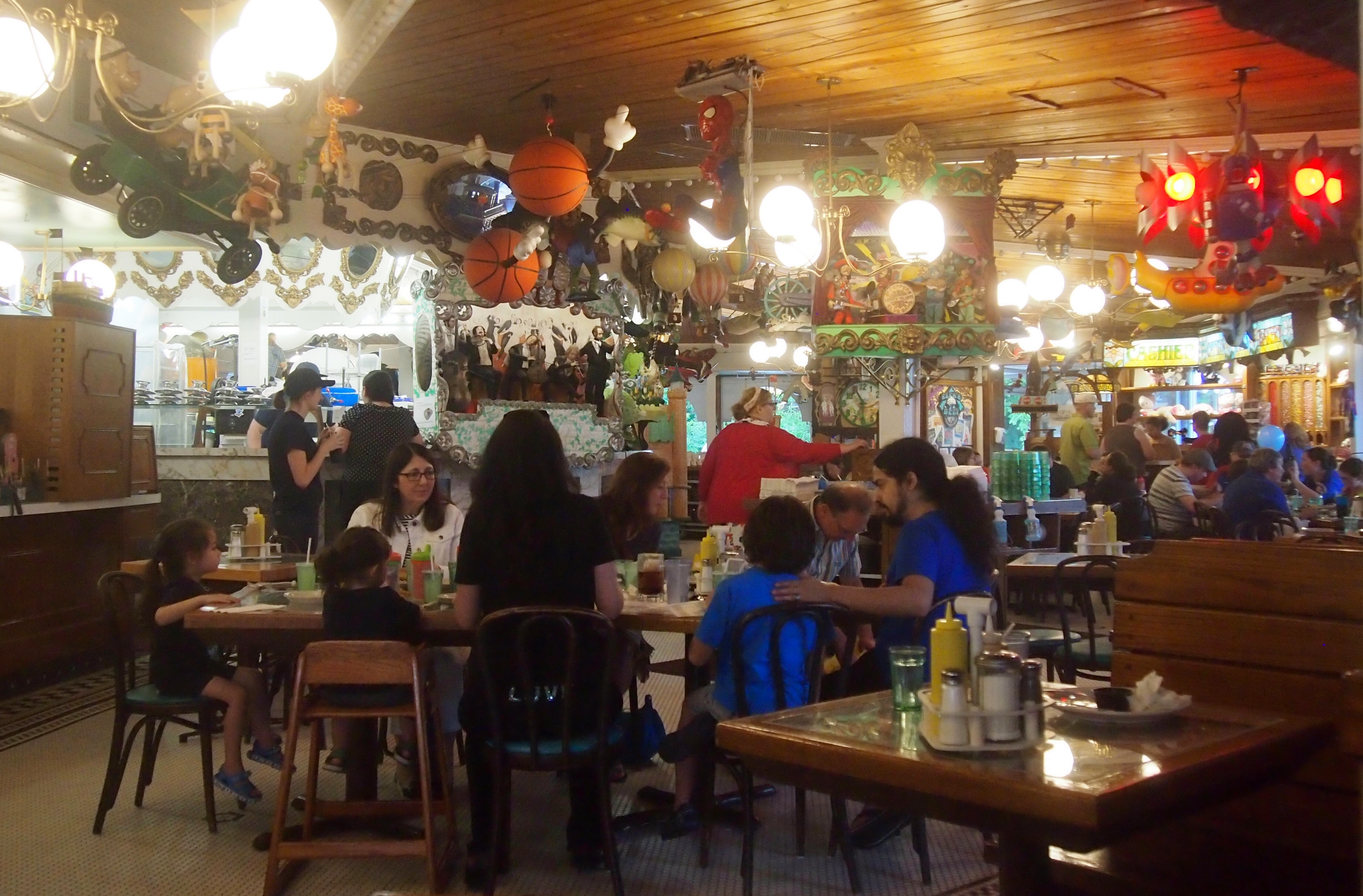 A number of figures attached to small motors whirred back and forth on wires stretched across the ceiling. Such as the Man of Steel.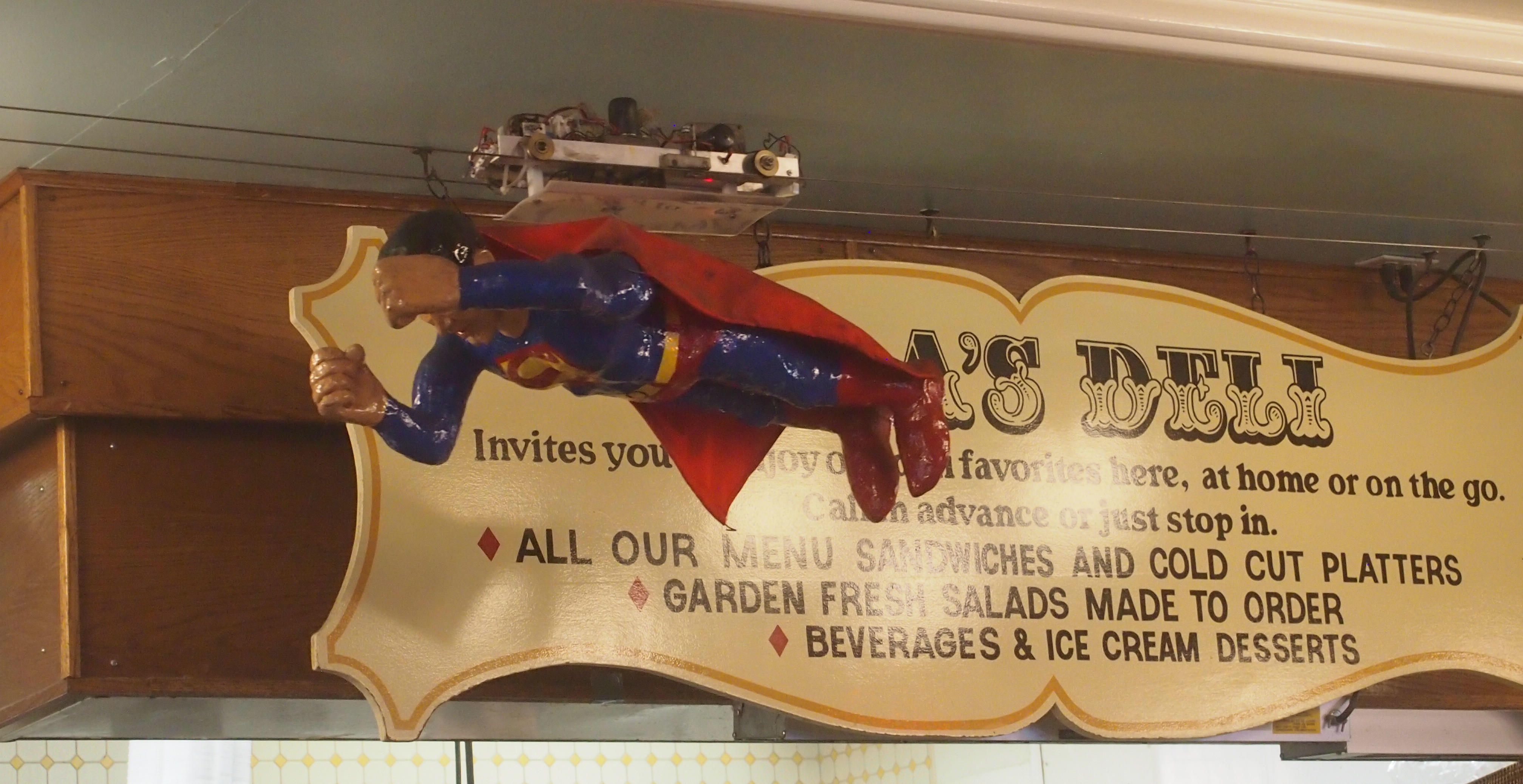 Popeye riding a rocket.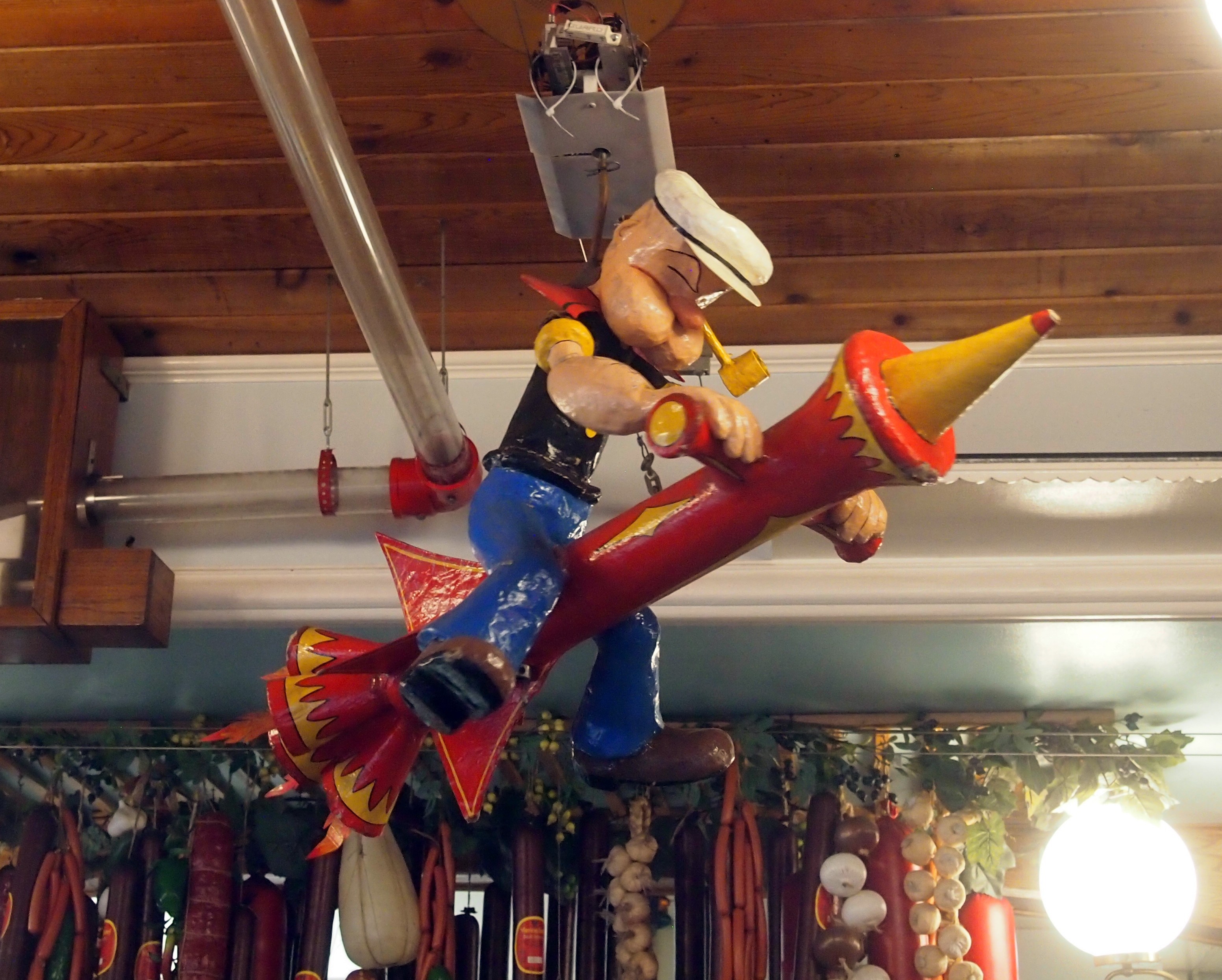 Not sure who this sort-of astronaut is supposed to be, but he and the Aladdin Genie were just over our table. Or aquanaut? Note the golden seahorses.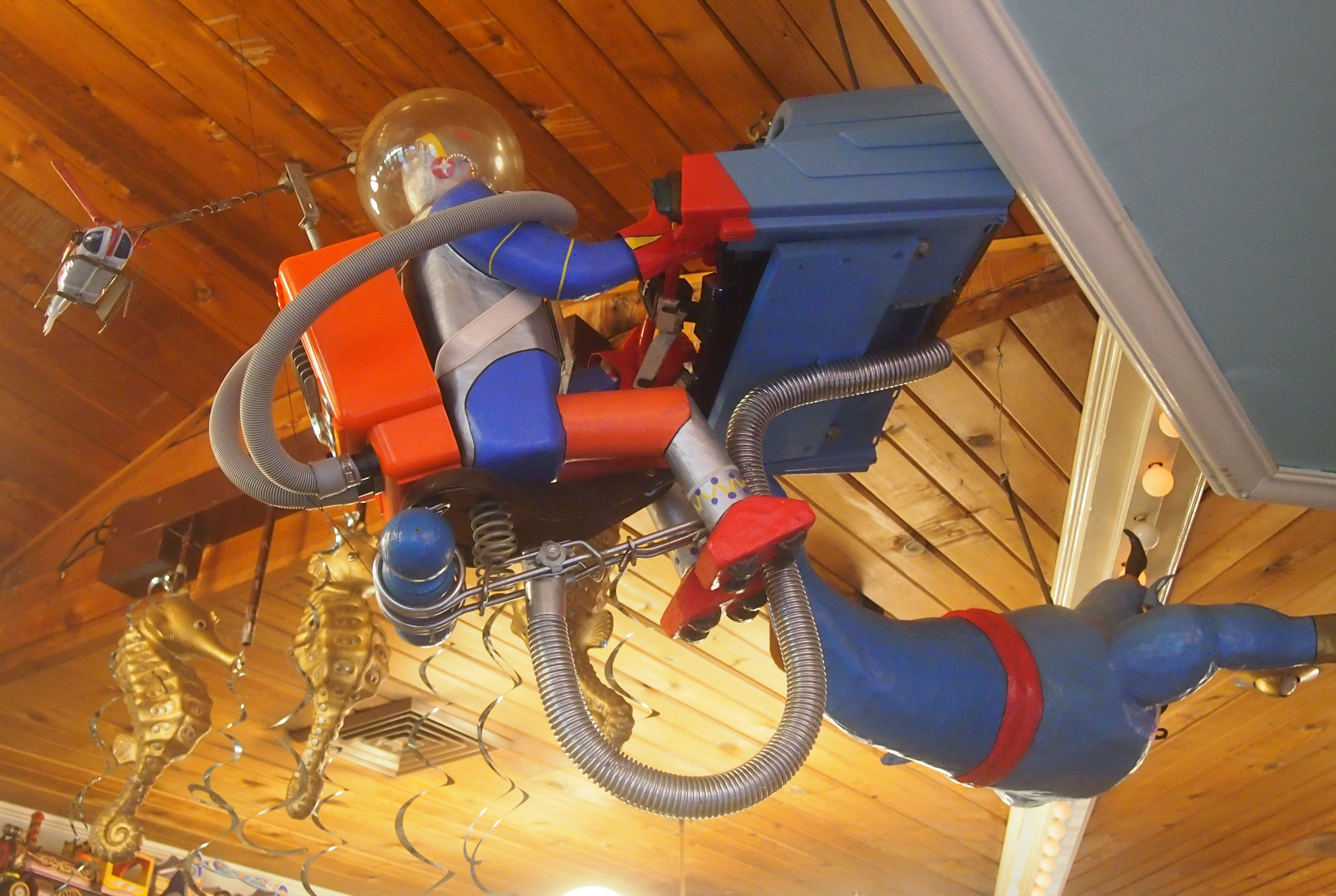 Elsewhere were tableaux, such as Sgt. Pepper's Lonely Hearts Club Band.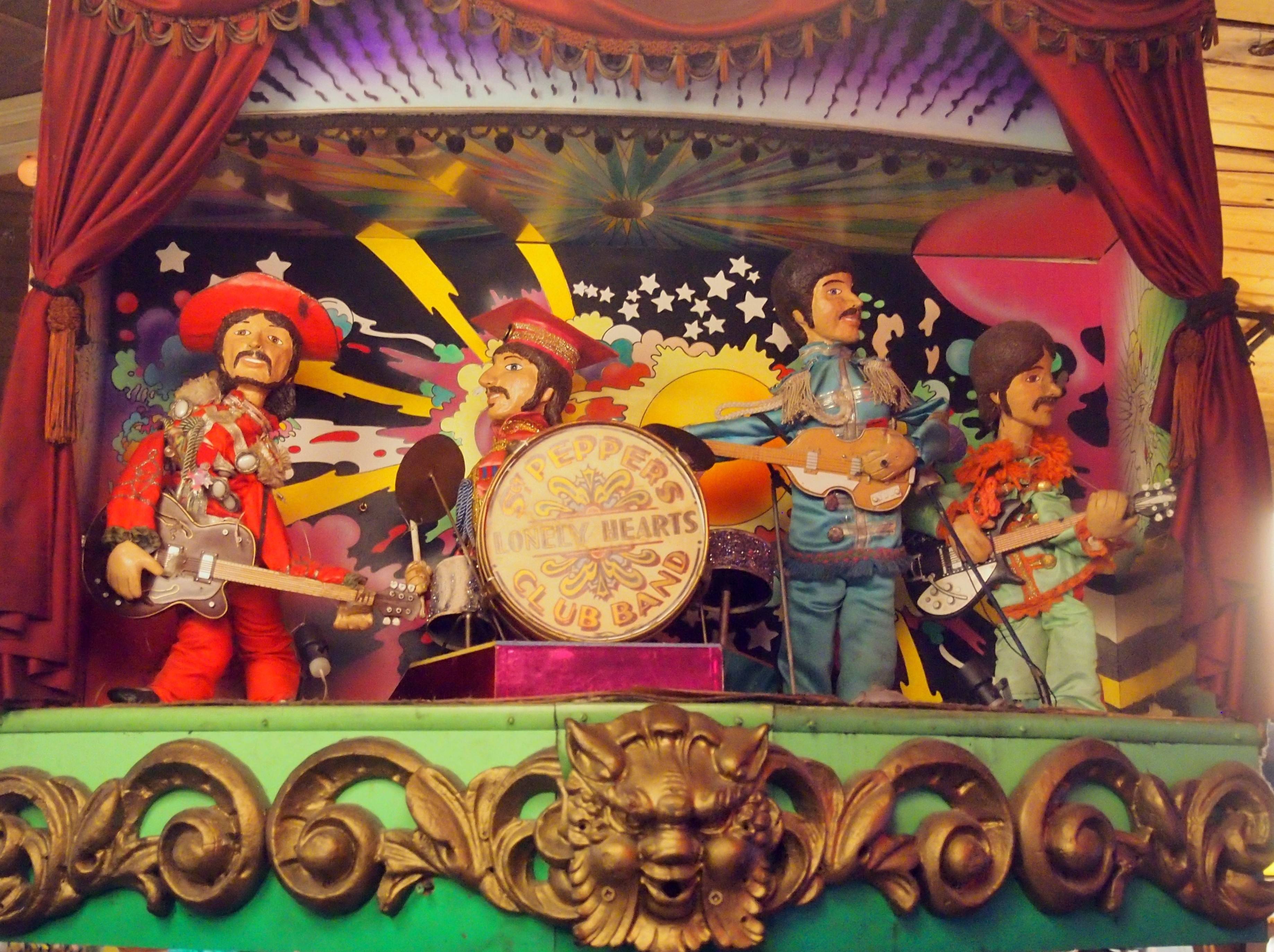 Here's a Chicago Coin's Band-Box.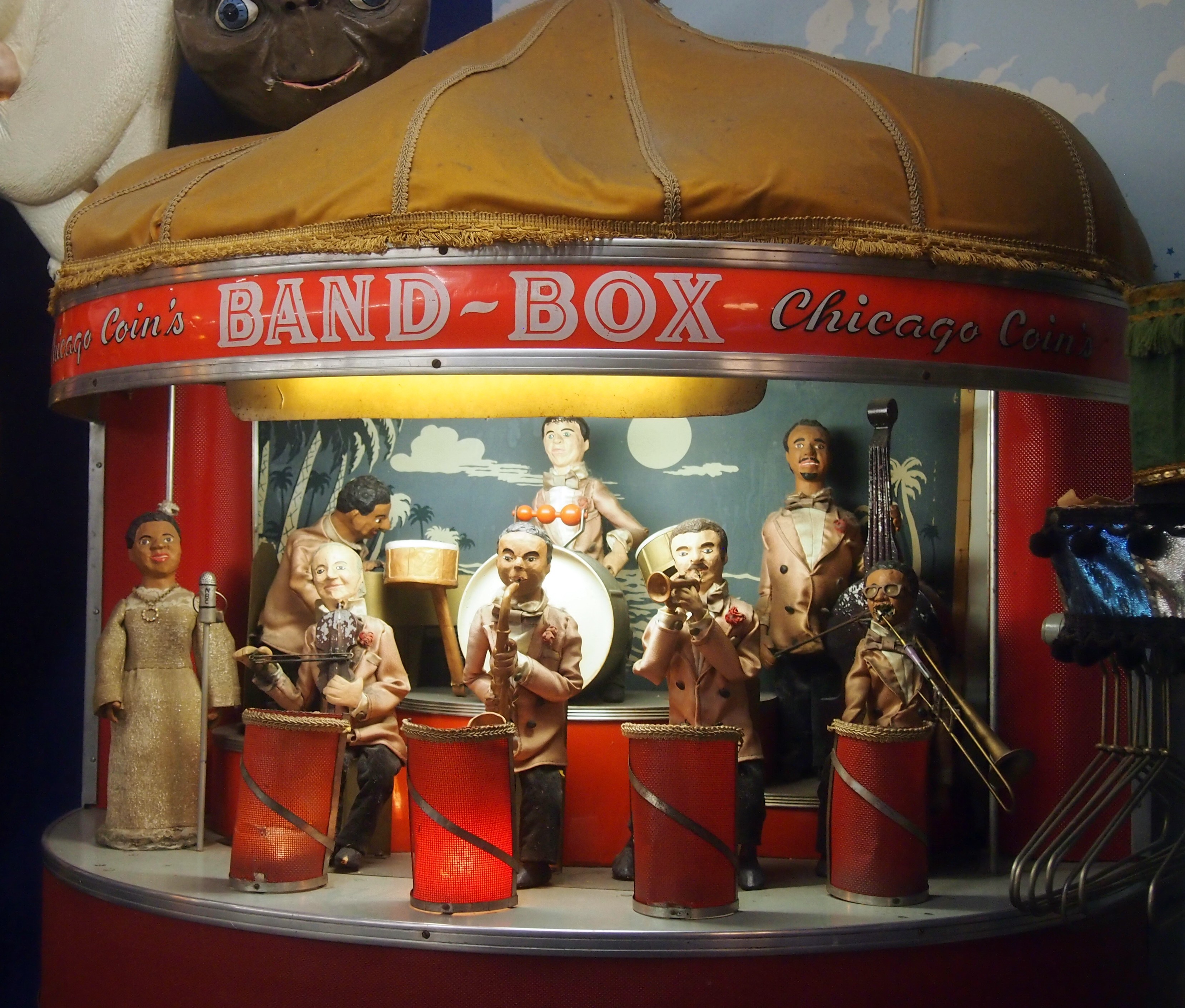 When I looked at it, I didn't realize that it's part of a little world of its own. According to the Chicago Coin's Bandbox site, these manikins, made only from 1950 to '52 in Chicago, were really part of a remote wall-mounted speaker for a jukebox. Drop and coin for a song and you get a little show, too.
"The jukebox closes a switch which causes the band box lights to go on and the curtains to open, revealing a seven-piece band with their instruments. They move as if they are playing the music. The figures were made of sponge rubber which decays over time."
Apparently the company made them and other mechanical contrivances, but went bust by the 1980s. At that time, a fellow named Brad Frank in California bought all the rights and trademarks of the former company, and he still makes the Band Boxes, along with replacement parts.
Just goes to show you the things you can learn by looking at the stuff on the walls. Followed by short Internet searches.
There's more. Most of Ella's tables were glass-topped, with various items displayed inside. Such as yo-yos.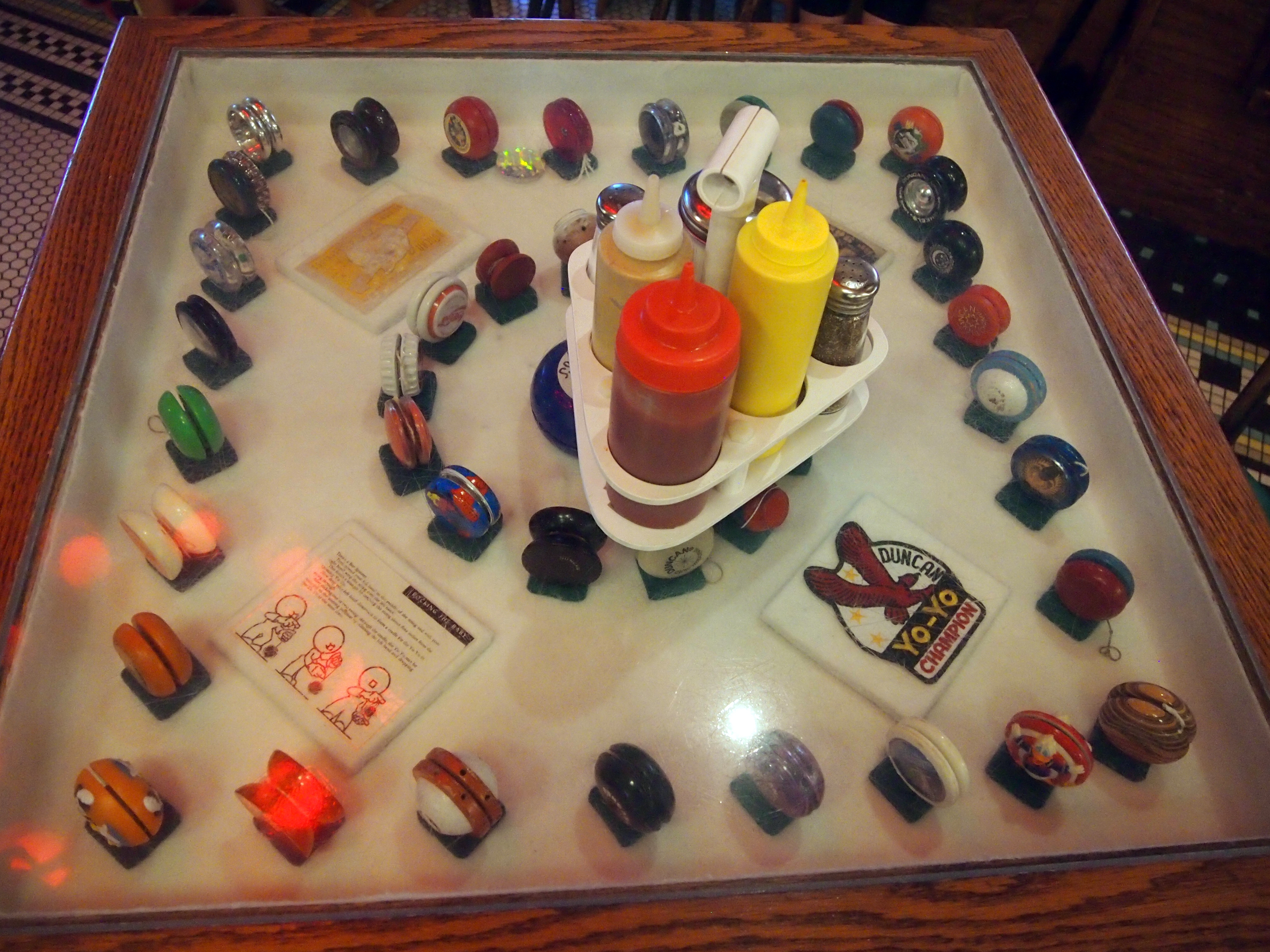 Or assorted gewgaws and gimcracks.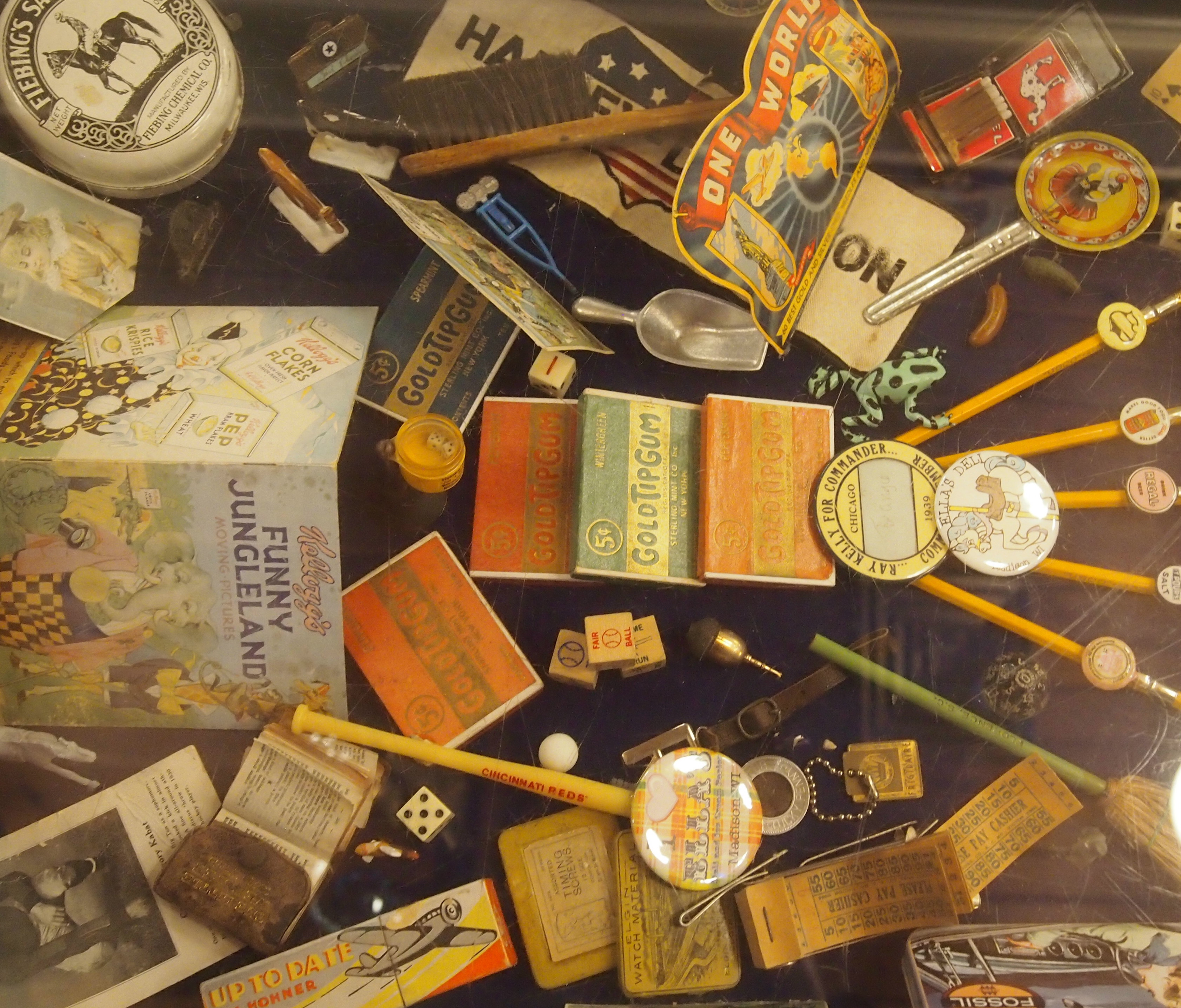 So Ella's was a very interesting place, visually speaking, to sit down for a meal. But all would have been for naught, and I probably wouldn't write about it, if the food weren't worth eating. Fortunately, it was.
In fact, "deli" in the name is no idle affectation. I opted for a Reuben sandwich, and it was the best Reuben I've had anywhere outside of New York. Everyone else reported satisfaction with their choices. Next time, I'll try the ice cream.