Since I don't go downtown regularly anymore, I miss new things that appear there. I'm not sure when these signs went up on Wabash Ave., but I don't remember seeing them before. It could have been several years ago for all I know. I'm going to think of them as new anyway.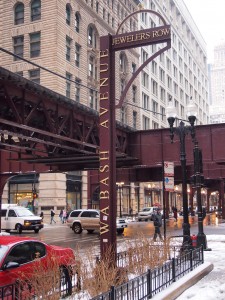 There are more than one of these gamma-like signs, with some on each side of the street, though I didn't make an exact count. It's more than just an historical marker, since there's still a concentration of jewelry stores along that stretch of Wabash from Washington to Monroe. Jewelry makers and sellers, silver specialists, and watch makers have clustered in the area for about 100 years.
It's an historical district for its buildings. According to the City of Chicago: "Comprised of a distinguished group of buildings important in the development of Chicago commercial architecture, the district includes important building types such as post-Chicago Fire loft manufacturing buildings, Chicago School loft manufacturing, mercantile, and office buildings, early twentieth-century skyscrapers, and Art Deco-style mercantile buildings. These buildings were designed in a variety of architectural styles, including Italianate, Chicago School, and Art Deco, by significant Chicago architects, including John Mills Van Osdel, Hill & Woltersdorf, Adler & Sullivan, D. H. Burnham & Co., Holabird & Roche, Alfred Alschuler, Christian Eckstorm, and Graham, Anderson, Probst & White."
Note that the sign is brown, to match the paint on the elevated tracks nearby. I think that paint job is new, too, since I seem to remember the El tracks being faded yellow covered with the grim of decades, but maybe I'm just imagining that.