I had a short talk with one of the volunteers at Annunciation Greek Orthodox Church in near-suburban Milwaukee during the Open Doors event. That was the first place we visited. She was roughly my age, and knowledgeable about her church. I asked her about the church's pews. That's not something you usually see in the Orthodox tradition.
The pews arrayed in a semicircle, with all of them facing the sanctuary. Each pew is lined with sky blue cushions — with gold carpet underneath — and a fish is carved into the end. Interesting detail, I thought.
Yes, she said, pews are unusual for an Orthodox church. In all the others she'd seen, including in the United States and Europe, the congregation stands. Are pews normal in other churches? she asked me. Catholic and Protestant ones?
I answered yes, even as the implications of the question sunk in. Someone so informed about her church, and with plenty of years behind her, had never visited any other kind of church? That couldn't be. Not even for a look? Not even in the great cities of Europe, where you can wear yourself out visiting churches of renown?
That's just about inconceivable to me, who will enter a church or any other religious site that's open, without hesitation. Especially unusual places such as Annunciation.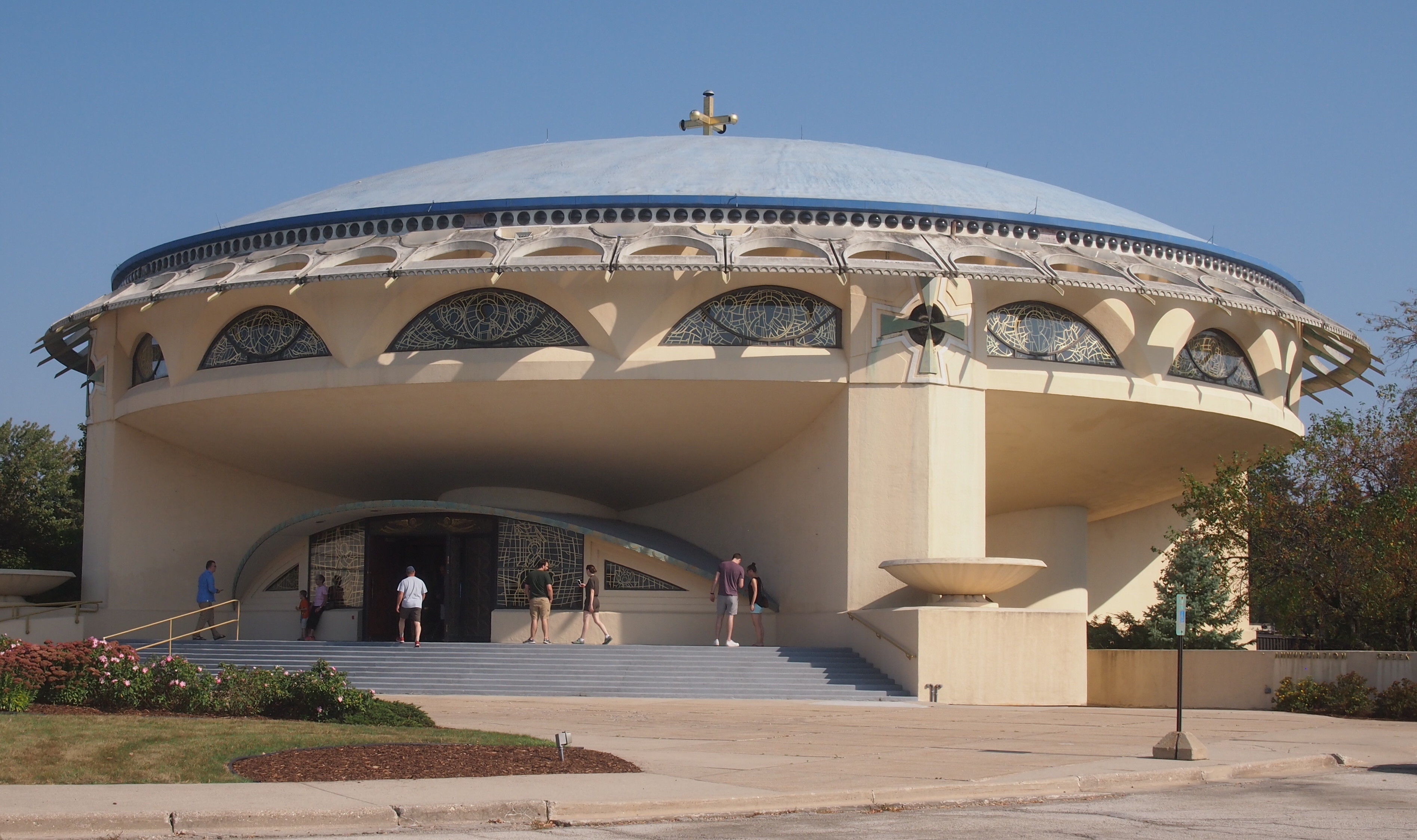 Genius or otherwise, Frank Lloyd Wright's work is almost always worth a look. Interesting how he incorporated Byzantine elements such as the dome, and crosses in circles, into something that doesn't look like other churches, Eastern or not. And doesn't the church have that Space Age look as well? Like the Jetsons might have attended there.
This is facing the iconostasis. The pews are partly visible.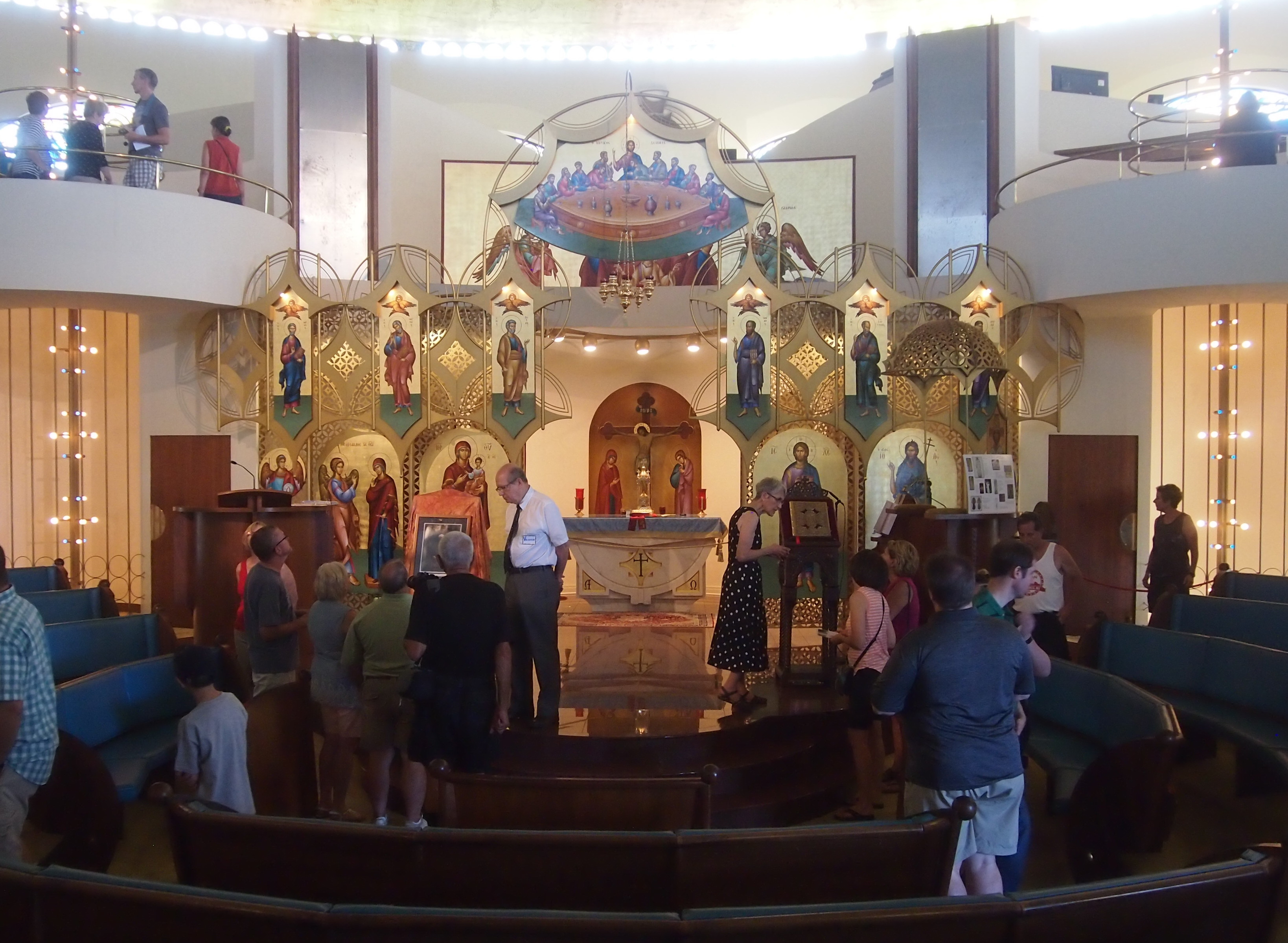 Rachel Minske writes in Wauwatosa Now: "The altar area, once carpeted, is now marbled. Egg tempera two-dimensional depictions of church icons surround it. The church choir normally sits high above the altar, on the second floor, and its members view the service using a video monitor as they are somewhat hidden from view, [Father John] Ketchum said.
"Stained glass windows are found throughout the church, which also were additions after the building was completed, Ketchum said. Glass bulbs line the church's perimeter, up high near the dome. There are more than 200 bulb-shaped windows, each letting in a significant amount of natural light.
"…The original ceiling was tiled, but that was replaced with paint after changing temperatures inside the church caused the tiles to fall off the ceiling.
"To access the church's bottom floor, there are three spiral staircases that wind downstairs. Each has a whimsical design and is lined with gold carpet."
On the upper level, I got a few decent images of the stained glass.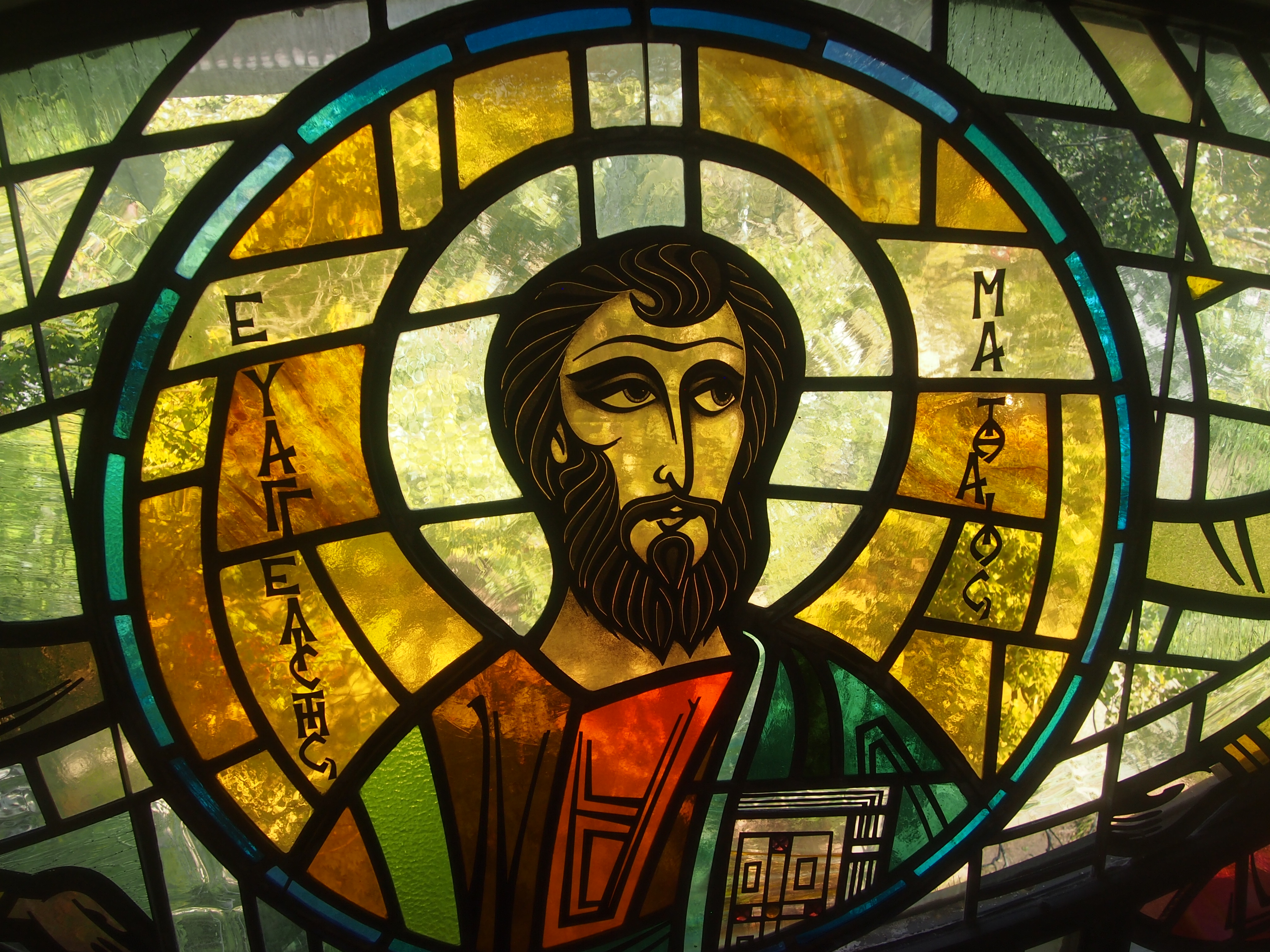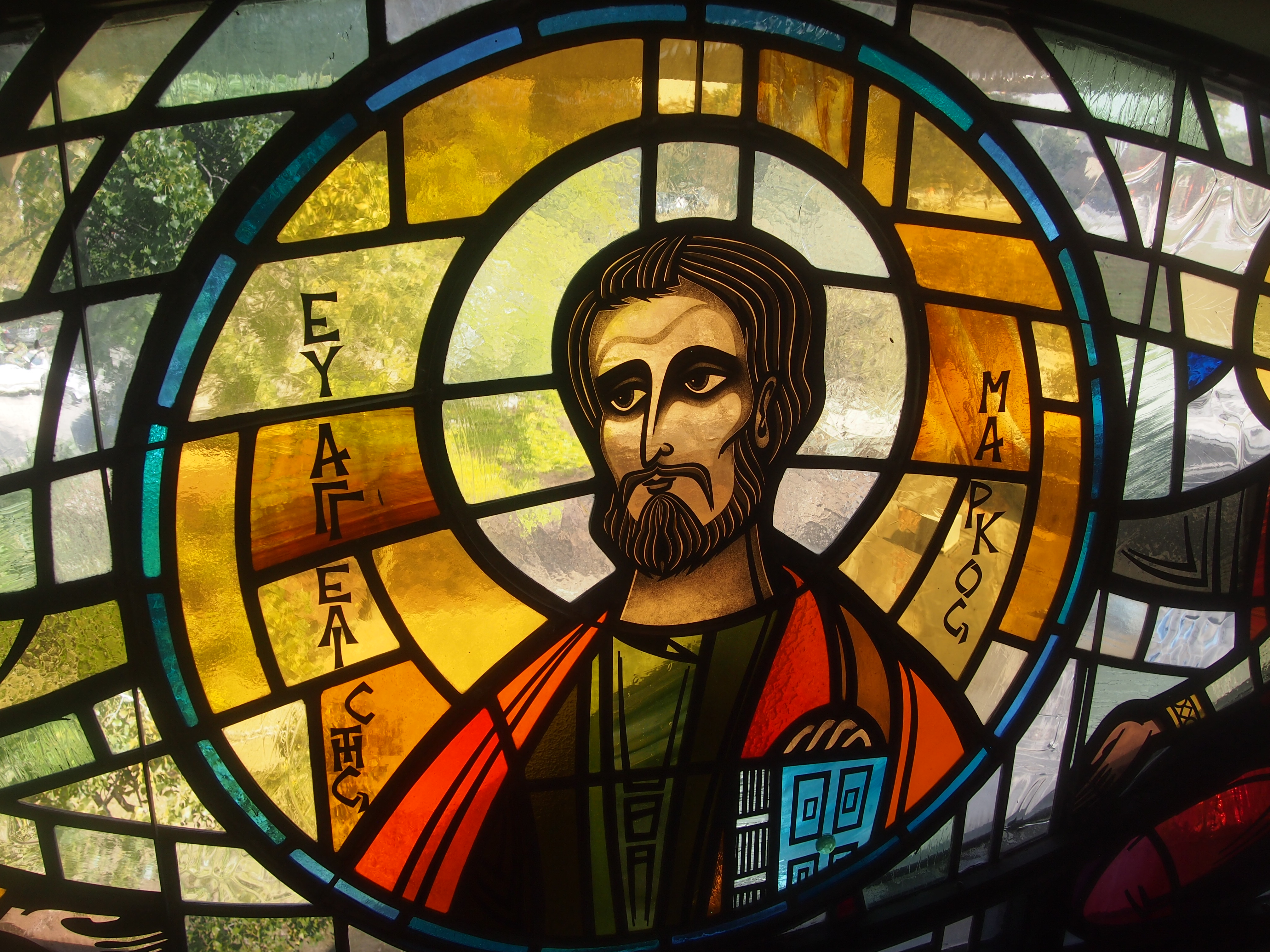 And a look at this sign.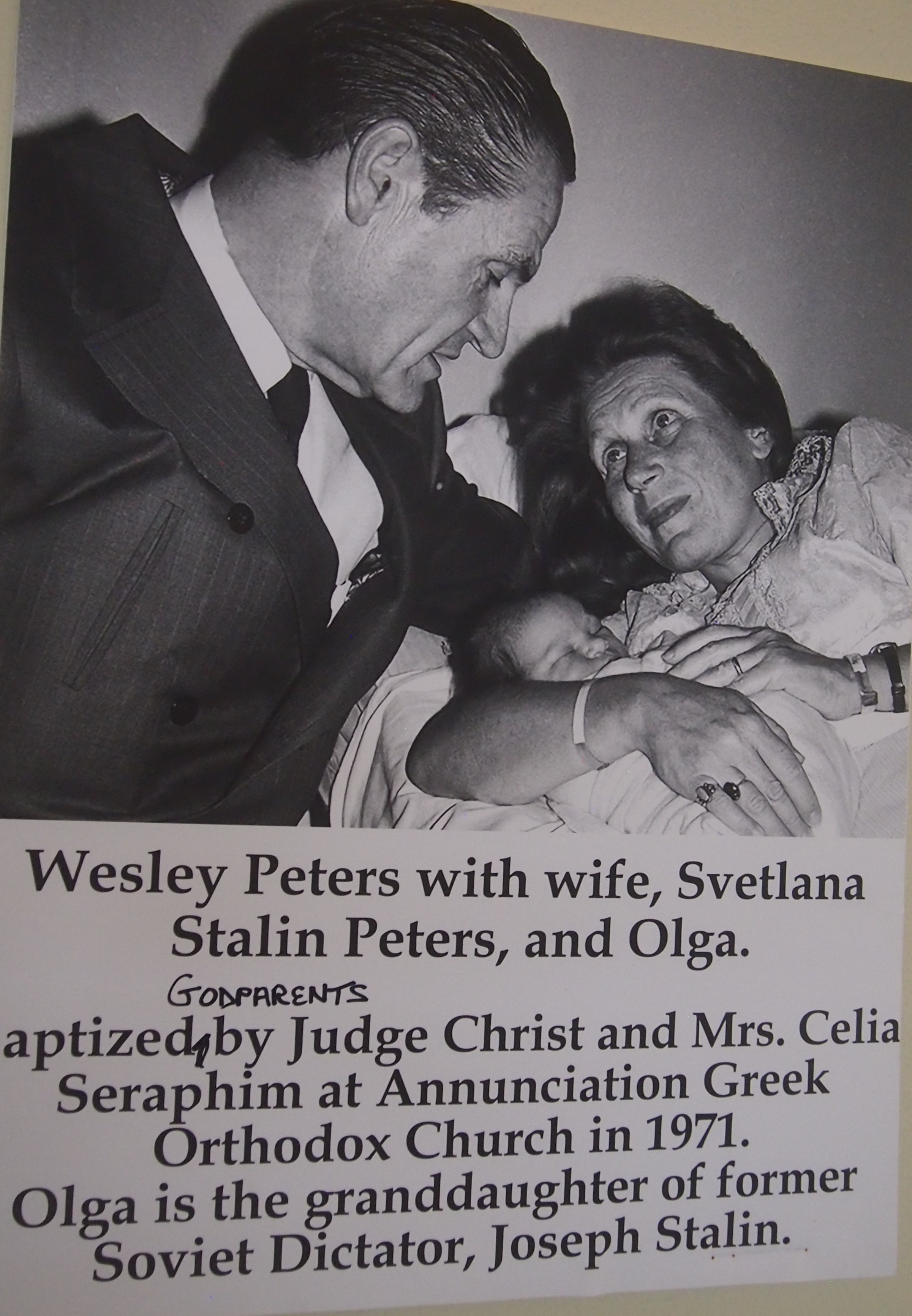 Curious that the church would draw attention to Stalin's granddaughter's baptism there. More current information about Ogla, now Chrese Evans, is all too easy to look up. I'll take the NY Post as authoritative in this case.