This slip of a note, all of 411⁄16 inches by 21⁄16 inches, came with dozens of others that I bought for a few dollars a few years ago. It's one of a series of small denomination notes issued by Banco Central de Nicaragua in the early 1990s that didn't have much value for very long.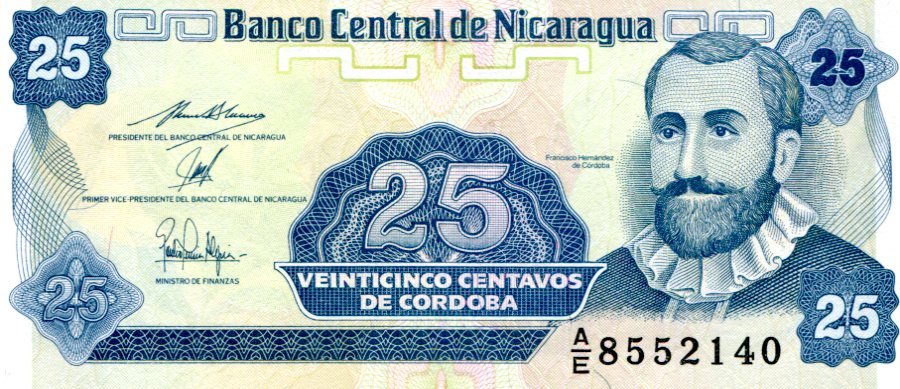 The country's base currency is the cordoba, named for the fellow pictured on the note, Francisco Hernández de Córdoba (d. 1526), who is regarded as the founder of Nicaragua, in that he founded Granada and León in that country. He's not to be confused with another Francisco Hernández de Córdoba (d. 1517), who had the misfortune to lead an expedition in the Yucatan inevitably described as "ill-fated."
Actually, the Nicaraguan Córdoba had his own ill fate, running afoul of another Spaniard, Pedrarias Davila, founder of Panama City and by most accounts a ruthless bastard even by conquistador standards. Davila had Córdoba put to death by decapitation, just as he did to Balboa (who has a currency named after him, too).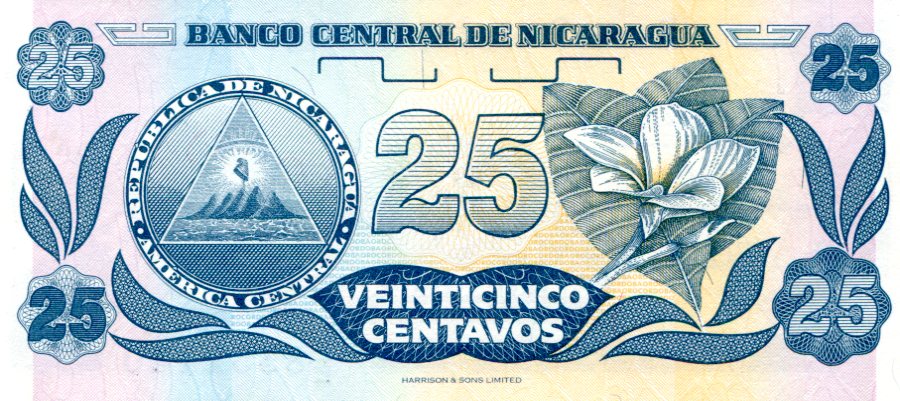 The note was printed by Harrison & Sons Limited, a major British engraver of stamps and banknotes founded in 1750 and lasting until it was bought by competitor De La Rue in 1997. "Harrison & Sons Limited" is visible right there on the bottom of the reverse.
The cap in the triangle, incidentally, is a Liberty Cap, a.k.a. a Phrygian Cap. A symbol of freedom, either a freedman's or more generally everyone's. I didn't know this until I looked it up, but Liberty Caps are commonly used Latin American coats of arms, by Argentina, Bolivia, Colombia, Cuba, El Salvador, Haiti, Nicaragua and Paraguay.
Why have we in the United States forgotten about the Phrygian Cap? Why did the silliest of the Tea Party supporters wear tricornes and not Liberty Caps? Most anyone in the early Republic would have known what it meant. Remarkably, Walking Liberty wore a Phrygian Cap on the U.S. half dollar until 1947, though I suspect by then few noticed.
Back to Francisco Hernández de Córdoba. His skull-less bones were discovered in 2000. The Miami Herald reported that year: "Nearly 500 years after he was decapitated by a ruthless boss, and 400 years since his grave was lost in the aftermath of a volcanic eruption, the remains of Hernandez de Cordoba have been discovered. Nicaraguan archaeologists made the find earlier this month in the dusty ruins of a church here on the banks of Lake Managua, 30 miles northwest of the capital…
"When Davila sensed that his chief lieutenant in Panama, Vasco Nuñez de Balboa, was growing in popularity, he had him decapitated. He did the same with Hernandez de Cordoba in 1526. The head of Nicaragua's founder was stuck on a pole in the town plaza, a reminder to others of the costs of incurring Davila's wrath, while his body was buried at the foot of the altar in Leon Viejo's only church."