Since the previous BTST broke down, I've been a few places, worked a lot, voted in an election that a lot people believed important (and maybe I did, too), even watched "The Great Vegetable Rebellion" on a whim because I saw it was available on Hulu, and because it's Irwin Allen at his best.
To kick off November, I took a trip to Branson. Not sure how the AP feels about Branson as a dateline, but I think it should stand alone: Branson, rather than Branson, Missouri, so famed has the place become. I've heard that I visited Branson when I was small, and when Branson was small, in the mid-60s, but remember nothing of that. En route elsewhere in 2001, we drove into town, ate lunch, and took away vague impressions. Mostly, I remember liking Yakov Smirnoff's billboards lining the road between Springfield and Branson.
So this time might as well have been a first visit, even though it was my third. It was a busy press trip. Being Branson, that meant seeing more musical-variety-comedy shows than I might see in many ordinary years. In fact, I realized in the middle of my stay that when the variety show died out from television, it was reborn in Branson. The shows I saw included singing, dancing, visual gags, bad jokes, good jokes, sometimes lavish sets and costumes, adaptations of classic theater and movies and the Bible, and even an aerialist – who played violin during her aerial act, which I've never seen anyone else do, not even in a circus. We also met a handful of entertainers in person, namely a couple of Lennon Sisters, as well as a fellow whose act is a Neil Diamond tribute.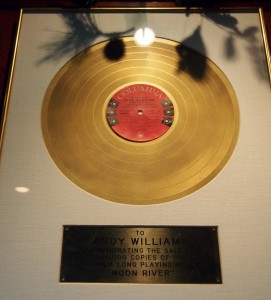 I noticed some relics, too. Saints' relics aren't what they used to be, since we tend to prefer celebrity relics in our time. At the Andy Williams' Moon River Grill, the late entertainers' gold records are on walls. That includes, of course, the LP Moon River (pictured), but also the Love Theme from The Godfather, among many others. That's a movie I hadn't realized had a love theme, much less one sung by Andy Williams. Its actual title, I've discovered, is "Speak Softly Love (or You'll Sleep With the Fishes)." (Parenthesis added by me.)
Branson wasn't all live entertainment. During my three full days there, I also managed to ride a train made of vintage railroad cars a short way into Arkansas, wander around the Silver Dollar City theme park, take the tour of Marvel Cave, and visit the surprisingly interesting College of the Ozarks – but not, unfortunately, see the Beverly Hillbillies' truck, which is there. Branson also sports some museums, and I went to three of them – one about a maritime disaster, another about war, and a third, smaller one about Branson and environs.
On foot one day, I checked out the newly developed downtown riverfront and its attendant open-air retail space, and not far away examined a store that called itself a Five and Dime and had an usually large assortment of merchandise, over and above Branson-oriented gimcracks and gewgaws. Those can be found everywhere in great profusion.