Before my most recent visit to Texas, which ended today, I spent a few days in Denver. It was like a first visit, because the last time was in June 1980. I had a layover of six — eight? — hours as part of a bus odyssey from Texas to Utah that summer, and took the opportunity to kick around downtown Denver, including a visit to the state capitol and the U.S. Mint.
Though I only remember Denver faintly from that visit, this time around I still felt that there's a lot more Denver than there used to be. Of course, as a matter of objective fact that's pretty easy to check. The metro population in 1980 was about 1.3 million. Now the Census Bureau puts the metro population at 2.8 million, though it seems that the definition of the statistical area has expanded over the last three decades-plus.
So it's a big place. I can see why people want to move there. There's lots to recommend greater Denver, except for the traffic and some dodgy areas, but every big city has those.
My trip focused on metro Denver. I didn't climb cathedral mountains, or see silver clouds below. Saturday before last, I started with a walkabout in the Capitol Hill neighborhood, which included a look at two major churches, the Cathedral Basilica of the Immaculate Conception (Catholic) and St. John's Cathedral (Episcopal).
I also had a late breakfast or early lunch — I can't call it brunch, it just didn't have that atmosphere — at a joint on E. Colfax Ave. called Tom's Diner.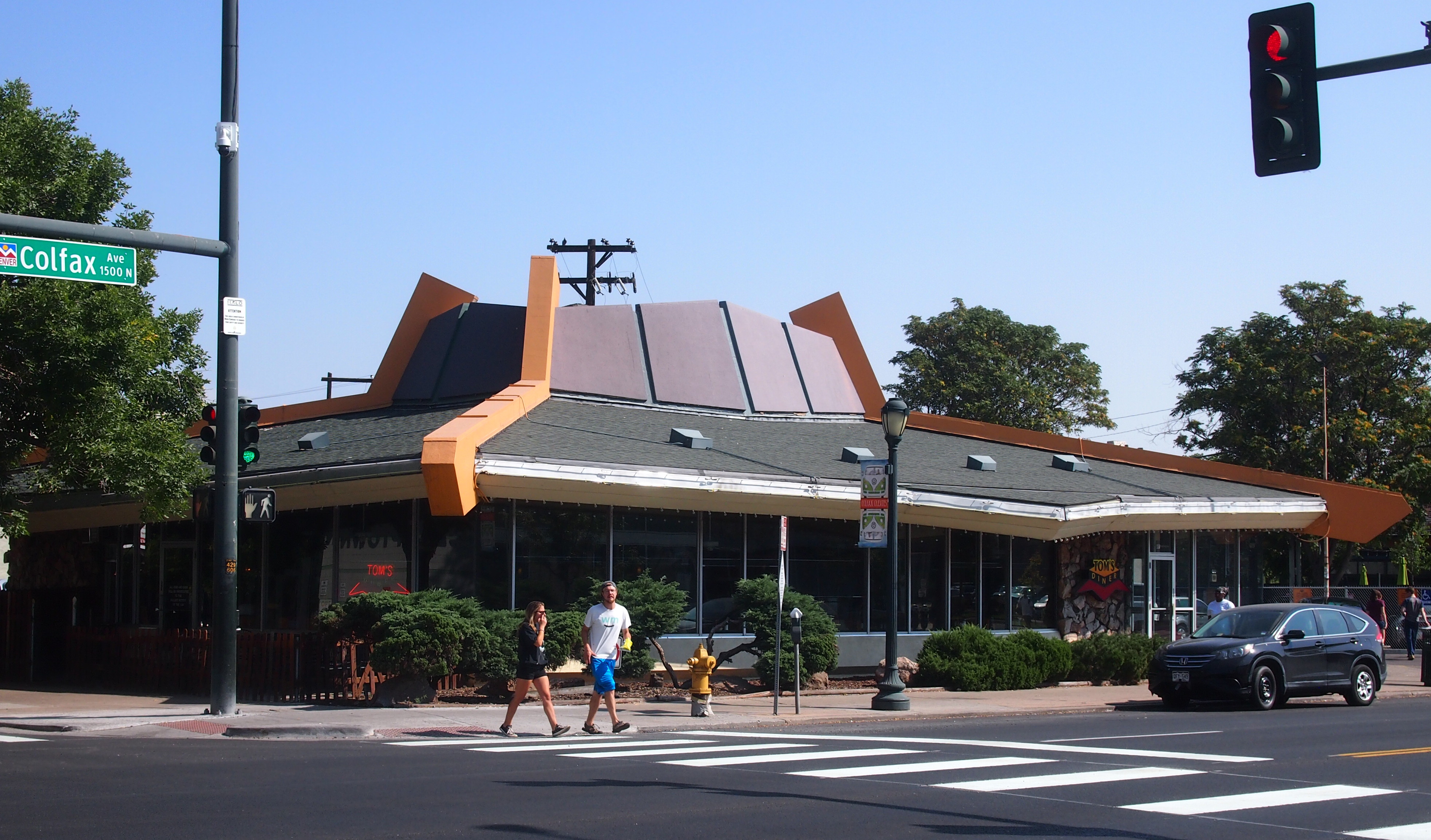 Decorative stone walls, avocado and orange tiles, big windows, yellow-surfaced booth tabletops, a counter to sit at while facing the kitchen: it was like stepping into 1973.
Later, I headed over to the Denver Art Museum and spent time wandering through the galleries. Just outside the museum, the Friendship Powwow and American Indian Cultural Celebration was going on that day, so I got to see some of that too.
I visited the Colorado State Capitol again, though just the grounds, since it was closed for the weekend. From there, I caught the no-charge bus that plies 16th Street through downtown, making my way to two urban spaces that I've written about a number of times, and which I very much wanted to see: Denver Union Station and Larimer Square. Both are superb examples of redevelopment.
I couldn't visit urban Denver without riding the RTD, the city's relatively new light rail system. I've written about it, too. I caught a train not far from Union Station.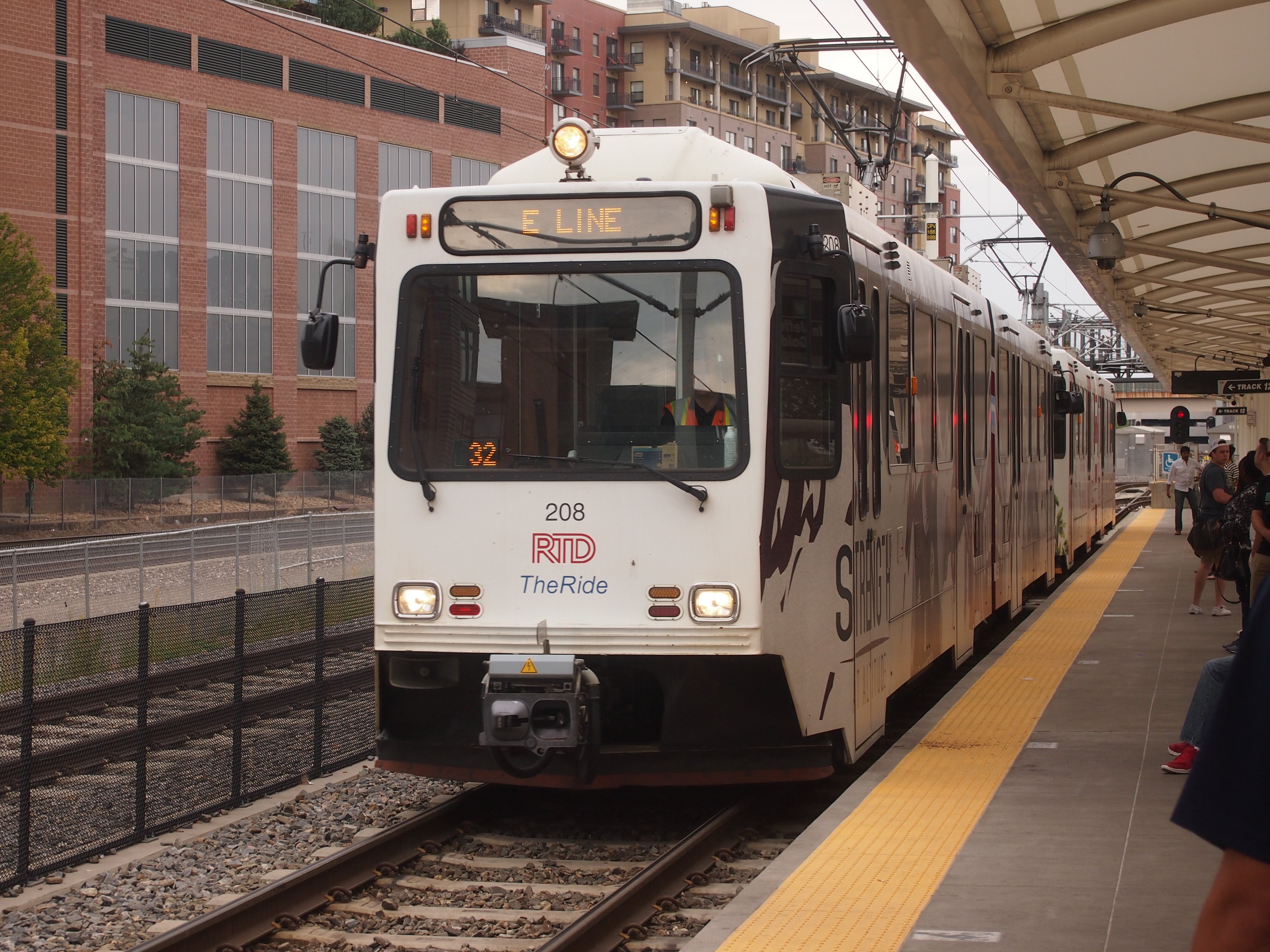 A sleek, new system: it was everything it needed to be, depositing me near the Denver Convention Center. It wasn't long before I found myself looking at "I See What You Mean."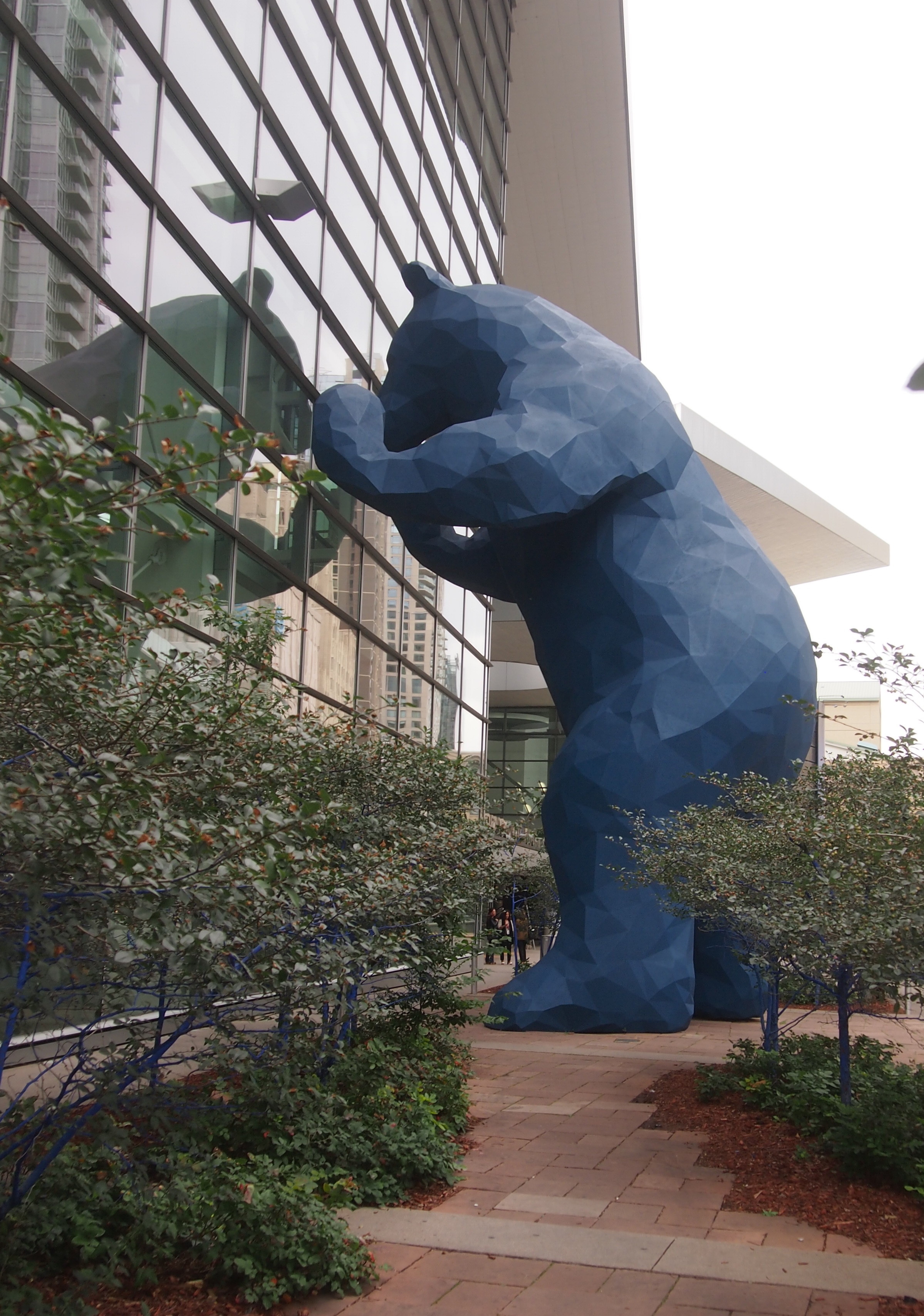 A 40-foot blue bear statue, the work of Lawrence Argent, installed in 2005. A lot of tourists reportedly take pictures of it. Why should I be any different?
After Saturday, I had less time for tooling around metro Denver, but I did squeeze in a few other places, such as Golden, Colo. Guess it counts as outer suburban Denver now, but in any case the town has some exceedingly pleasant public spaces, especially along Clear Creek (which is a river).
In Morrison, not far from Golden, I visited the extraordinary Red Rocks Park and Amphitheatre. I didn't see a concert there, but I can see the appeal to both the musicians and the audience. It's an uplifting, masterpiece of space design.
At Red Rocks — which is owned by the City and County of Denver — I took note of the flag of Denver (on the right).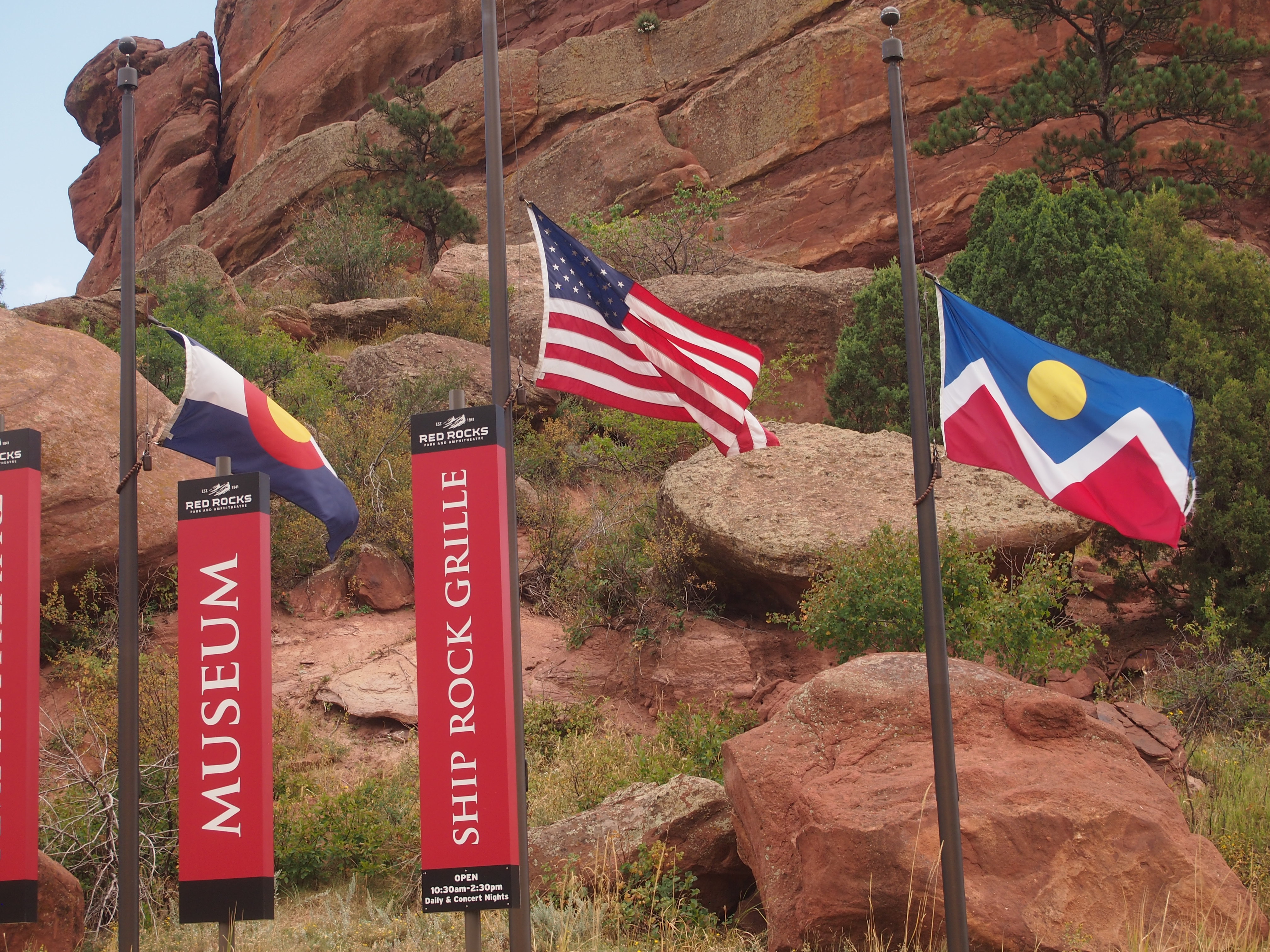 I don't remember seeing it before. Like the Colorado flag, it's a fine design. (Number three on the American City Flags Survey of 2004.)
I wanted to visit two historic Denver cemeteries, but I only had time for one: Fairmount Cemetery. It's a well-tended property, unlike Riverside, which is on the South Platte and supposedly has the virtue of being unkempt.
The Texas section of the trip was mostly devoted to work and family matters. But I did get out for a few hours one day to visit the King William District just south of downtown San Antonio. The last time I was there was ca. 1976. I mentioned that to a person even older than I am, and he said, "Yeah, I remember it then. It was a slum."
Not any more. For example, the house at 425 King William St., according to Zillow at least, is for sale for $2.7 million.