Portillo's is a (mostly) local chain specializing in hot dogs, Italian beef, burgers and the like, and across its various locations, thematic decorations from the '20s to the '60s. The food is good and the decorations interesting, so every few months we go to one of the locations, two of which are fairly close.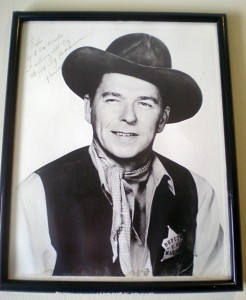 Last weekend Lilly and I visited the one on Illinois 83 in Elmhurst, a bit out of our usual orbit. Before ordering, I was waiting while Lilly was in the restroom, and taking a look at some of the items on the walls in that part of the restaurant. Off in one corner is a framed picture of Ronald Reagan in a western outfit, wearing a badge that says Deputy U.S. Marshall. My guess would be it's a publicity shot from Law and Order (1953).
On closer inspection, I noticed that it's autographed. I'm not familiar with Reagan's handwriting, but I've no reason to think it isn't his. "Dick" must be Dick Portillo, who founded and still owns the chain.
To Dick –
If I don't make it acting, I'll try the hot dog business.
Ron