Snow last night, first time it's stuck in quite a while. But only a few inches, not like the East Coast.
This year the Gilbert & Sullivan Opera Co., a nonprofit based in Hyde Park that does performances one weekend of the year at the University of Chicago's handsome Mandell Hall, produced Iolanthe. I have fond memories of the company's Yeomen of the Guard, which Lilly and I saw two years ago, so we all went on Friday (except Lilly, whose spring break hasn't started yet).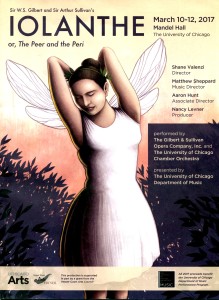 Like last time, we ate at Salonica's first. The face on the telephone pole is still down the street, on the way to the theater.
The show was just as much fun as Yeomen. More, since I knew some of the songs better, including everyone's favorite lord-marching-trumpets-braying number, which saw a mellifluous chorus of lords spill out from the stage and into the aisles and back, and the renowned patter song about insomnia and the weird dreams of shallow and disturbed sleep.
According to The Complete Annotated Gilbert and Sullivan by Ian C. Bradley, parts of which are online, "[Gilbert] had, in fact, experimented with the metre later used for the nightmare song in a poem entitled 'Sixty-Three and Sixty-Four,' which appeared in Fun in 1864 and which began:
Oh, you who complain that the drawing's insane, or too much for your noodles have found it.
But listen a minute, I'll tell you what's in it — completely explain and expound it.
An earlier poem by Gilbert, 'The Return from My Berth,' which appeared in Punch in October 1864, gives a more lurid account of a Channel crossing:
The big Channel steamer is rolling,
Frenchmen around me are bilious and fat
And prone on the floor are behaving unheedingly,
It's a 'sick transit,' but never mind that!
Matthan Ring Black was in fine form with the patter, and the rest of his Lord Chancellor part. Everyone else did very well, but I was especially taken with Claire DiVizio, who did the Fairy Queen, and David Govertsen, who not only amused everyone with Private Willis' single song, but stood perfectly still in the lobby in his bright red guard uniform as the audience filed in. Perhaps that's a G&S tradition I don't know about, but in any case he was there.
Private Willis also got the biggest laugh of the evening:
That every boy and every gal
That's born into the world alive
Is either a little Liberal
Or else a little Conservative!
Of course, there's Victorian context to that, but a modern one as well.
Yuriko liked it, and Ann, who's developing a taste for musical theater, said she enjoyed the show a lot. I never had such a taste as a teenager, though I did (mostly) enjoy the successive senior plays put on at my high school toward the end of each school year, all of which happened to be musicals: Bye Bye Birdie, The Mikado, Fiddler on the Roof, and West Side Story.
One more thing, which if I knew, I'd forgotten: Iolanthe apparently inspired Chief Justice William Rehnquist to add gold stripes to his robe in 1995. Guess he decided that a powdered wig as well would be a bit much.