Who could look at a map of the Upper Peninsula, taking a solid gaze at the UP's UP, namely the Keweenaw Peninsula, and not think I want to go there. Probably a lot of people would not think that. But I do.
So on July 1, unfortunately a bit late in the afternoon, we approached Keweenaw via M-26 (a part of the Lake Superior Circle Tour). Aside from a gas station in South Range, first stop was Houghton, a town with a pleasant main street — Shelden Street — that tries to capture the tourist trade, but isn't a full-blown, Gatlinburg-class tourist trap. Yet it is an old street formerly given over to ordinary commerce, then repurposed over time to feature restaurants, gift shops, boutiques and so on.
Shelden Street isn't the most frenetic example of that kind of street that I've seen — that might be in Banff Ave. in Banff in July — but it was busy enough. Red brick and red sandstone structures line the street, including the handsome Douglass House Hotel, which is an apartment building these days.
Across the street and down a block or so, tucked away in a pedestrian passage leading to parking off Shelden Street, was a wonderful mural map of the Keweenaw Peninsula. I can't find an image of it online, but whoever did it was a first-rate map muralist. The artist managed to straddle the line between creating an actuate map with too much detail and a map illustrated by small images (like in a tourist brochure), which often doesn't have enough detail.
Houghton is separated from the town of Hancock by Portage Lake, which is part of the canal cutting through the peninsula. The Portage Lift Bridge, with its unusual look, connects the towns. It's the fourth bridge on the site.
"This… bridge would have double decks with the upper deck carrying four lanes of traffic while its lower deck supported rail traffic," Keweenaw Free Guide says. "Its lift section – the largest and heaviest in the world – could be raised 32 feet to allow the passage of modern ore carriers below it. Construction on the new bridge began in 1959 and was finished by the following summer. The old steel bridge was demolished."
We crossed the bridge — driving, though walking across would have been an excellent thing to do — and went into Hancock, whose traffic was bollixed by road construction. As we drove slowly along, however, I was able to see the campus of Finlandia University.
Founded in 1896 as Suomi College, "Finlandia is one of 26 U.S. colleges and universities affiliated with the Evangelical Lutheran Church in America, and the only private institution of higher learning in Michigan's Upper Peninsula," the school's web site says. "It is the only remaining university in North America founded by Finnish immigrants."
Note also that the web site is honest enough to depict students in the snow. The University of Hawaii, it's not.
Just north of Hancock is the Quincy Mine. Driving by on US 41, you can't really miss it.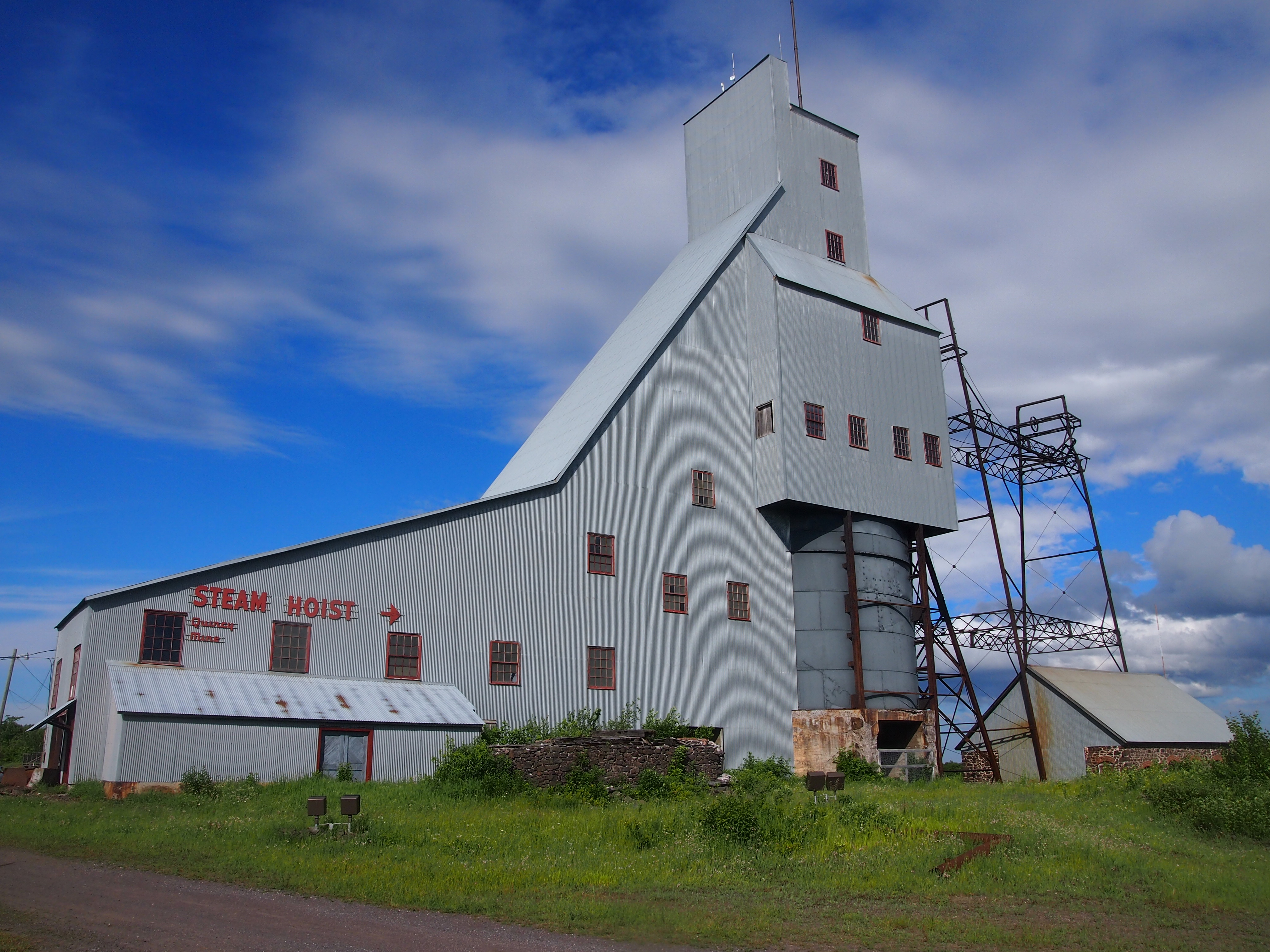 That's only the largest of the complex's surface structures. There are other buildings.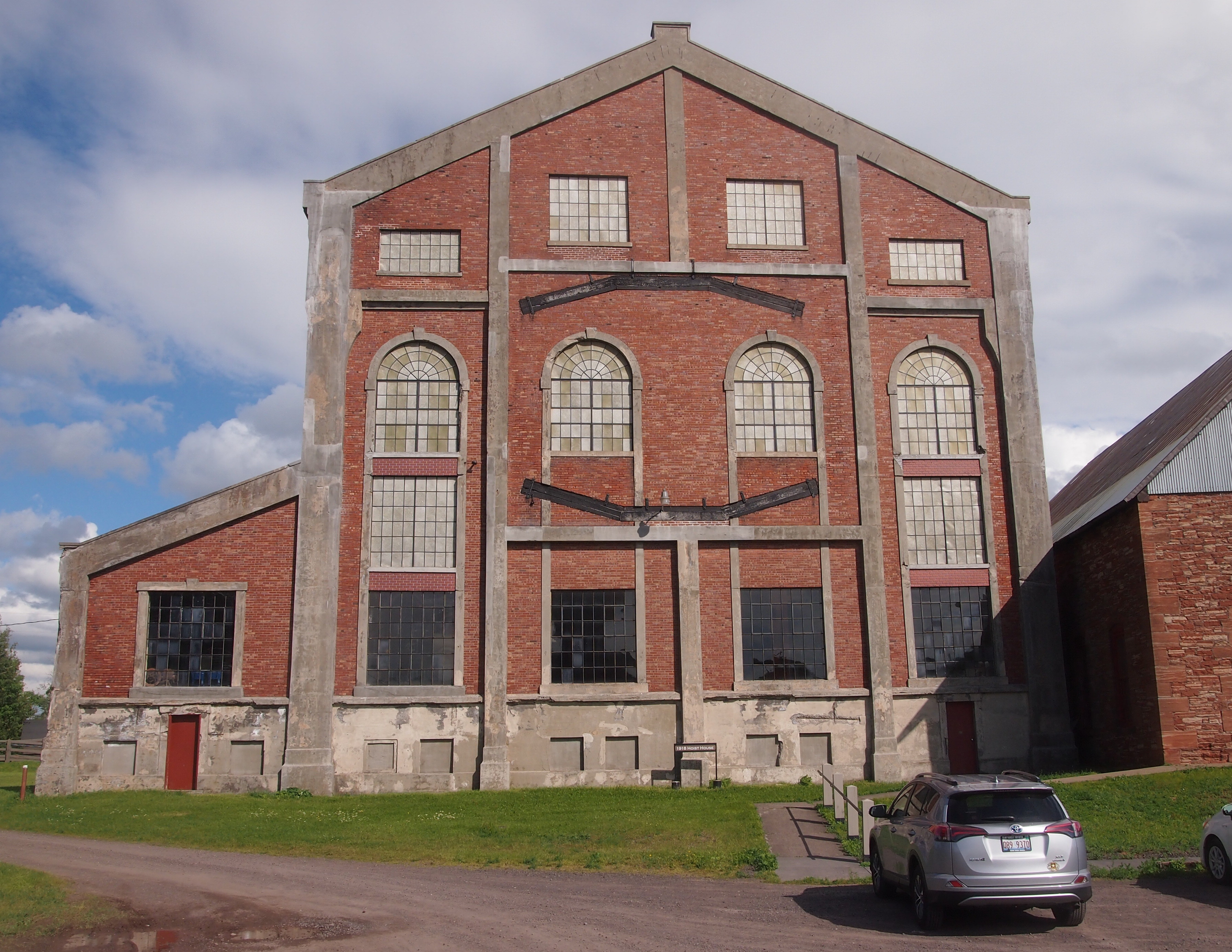 As well as picturesque ruins.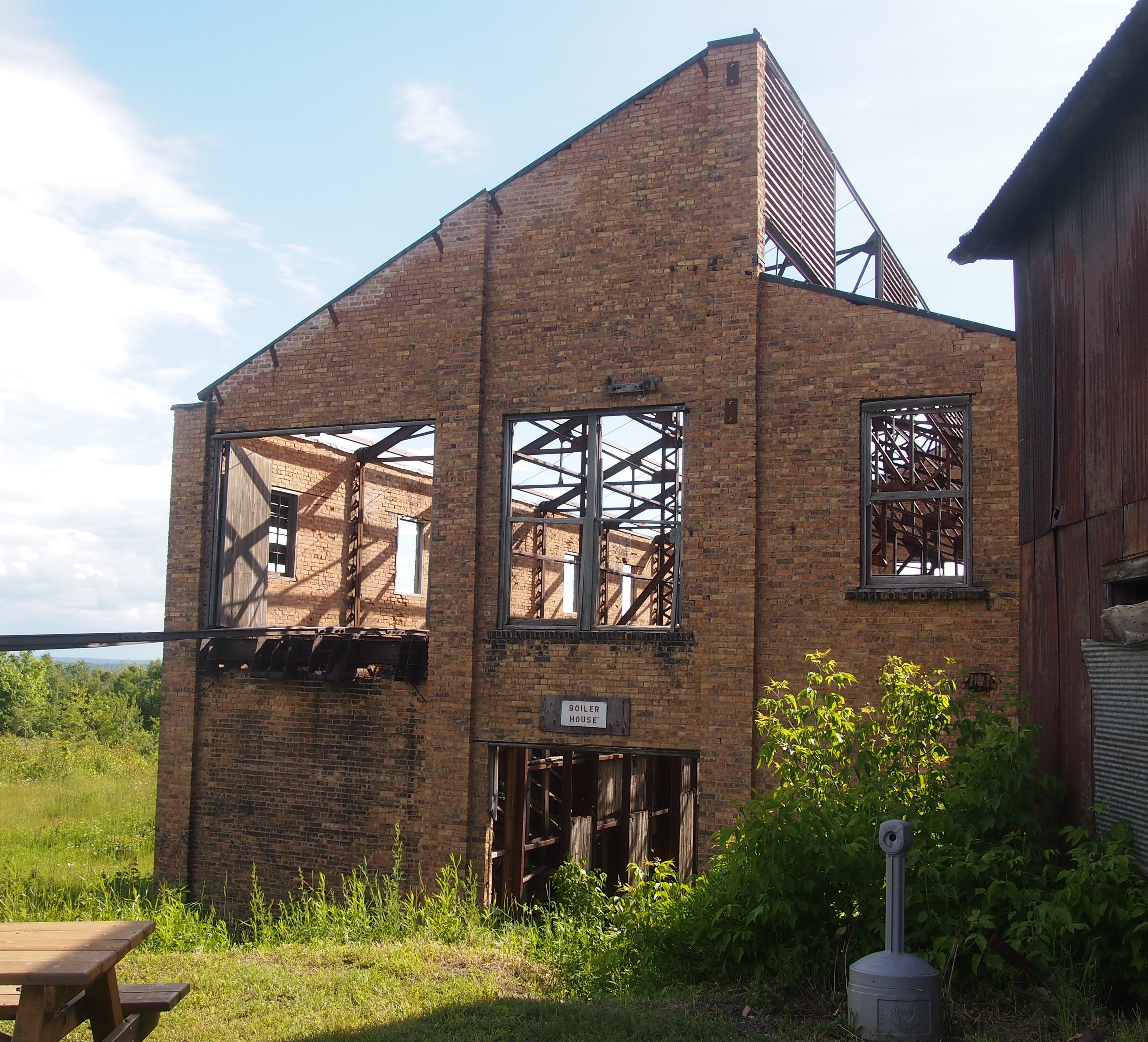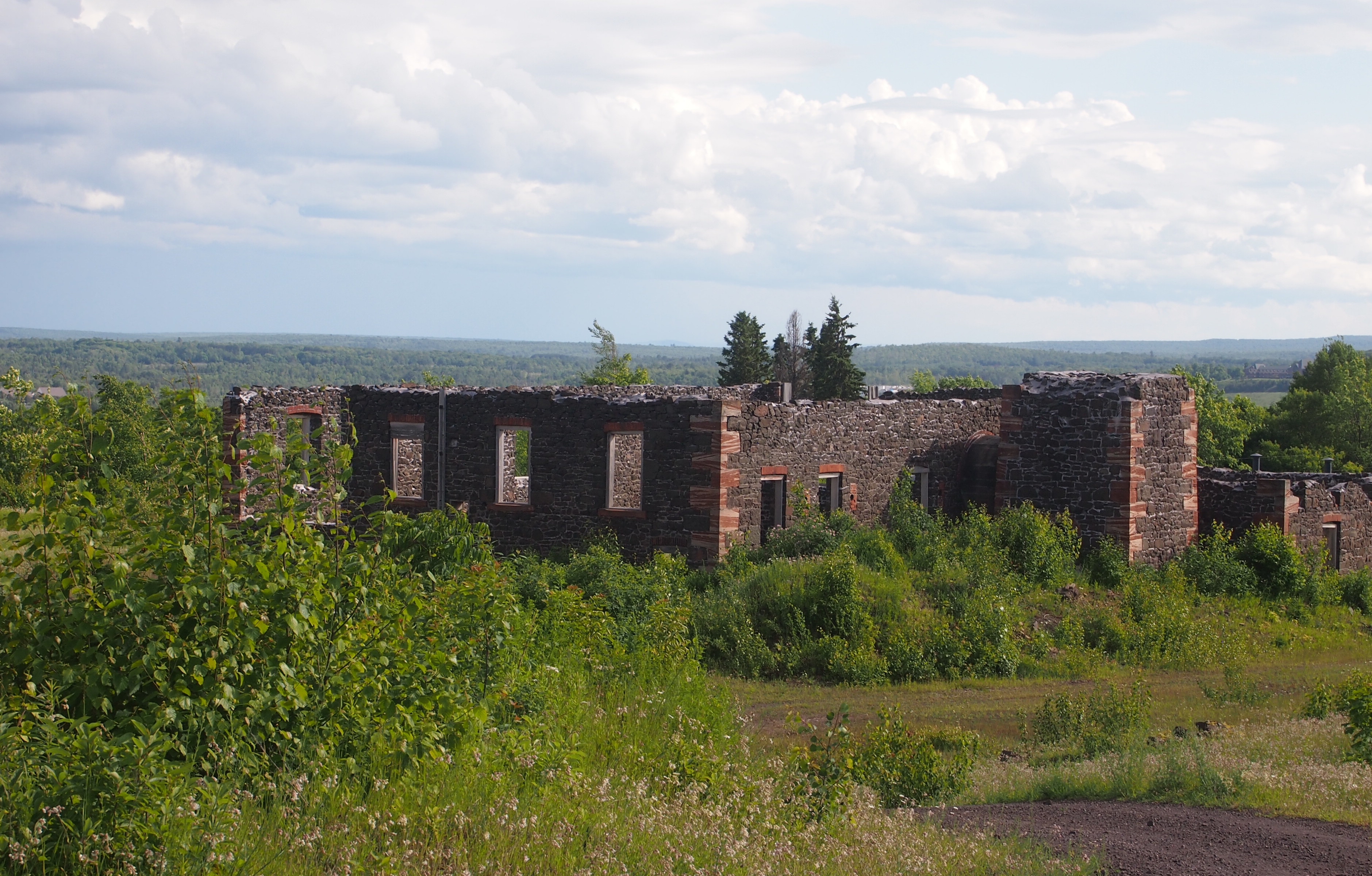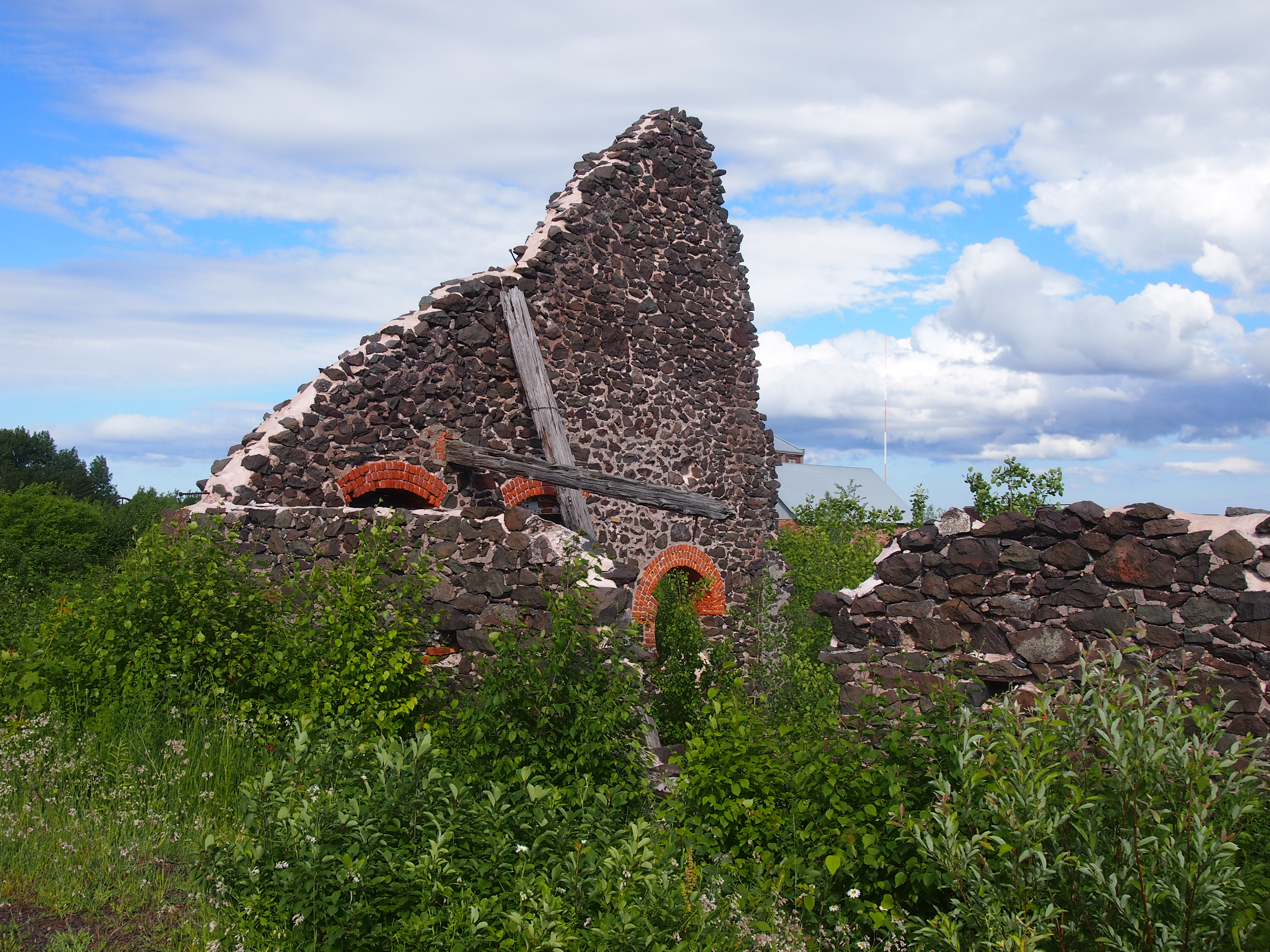 Engines, probably for ore-hauling trains. Or maybe they brought coal to power the mine. Or both.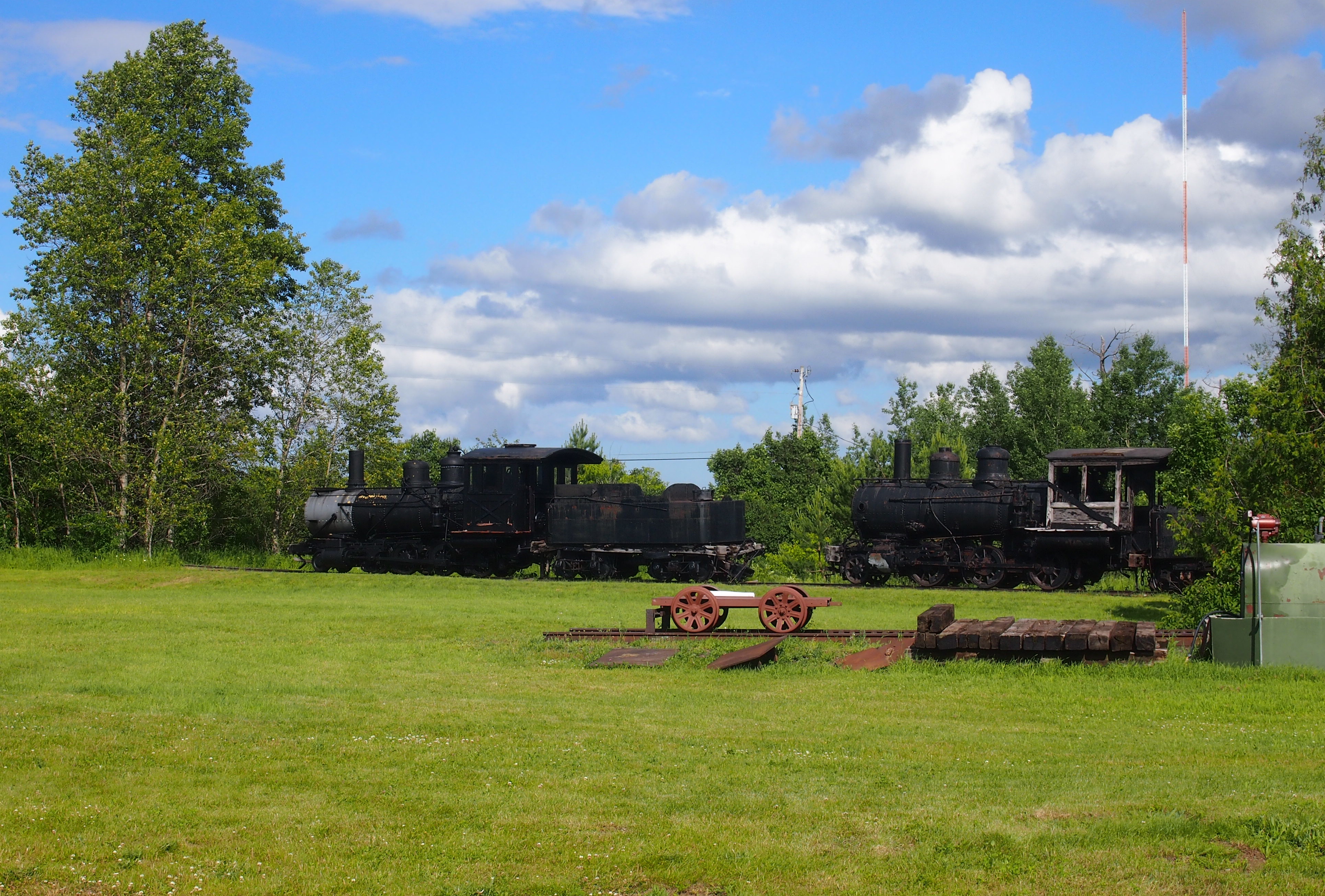 These days, the relics are part of the Keweenaw National Historical Park. Once upon a time, Quincy Mine was the most successful copper mine on the peninsula, which is saying something, since Keweenaw was the site of a copper rush beginning in the 1840s and had a lot of active mines for a while (unsurprisingly, Indians dug for copper there for centuries before that).
The National Park Service says: "1840. Douglass Houghton, state geologist of Michigan, publishes a report on the geology of the Upper Peninsula and describes the Keweenaw's copper deposits. Despite his appeal for caution, a land rush would soon start as investors, miners and entrepreneurs attempt to acquire copper-rich real estate.
"1856. The Quincy Mining Company begins work on the profitable Pewabic lode. Quincy soon becomes an important copper mine, and earns the nickname 'Old Reliable' for its nearly constant profits.
"1861: Demand for brass buttons, copper canteens and munitions increases. Despite the need, copper production at many older and profitable mines in the region actually decreases as new, speculative mines open, causing labor shortages."
Later, telephones and electric wiring spurred more demand for copper, and the Quincy Mine remained in production until the Depression, despite competition from mines in Montana and elsewhere. Quincy's last gasp as a mining concern was World War II. Remember, copper was in such short supply then that pennies were made of steel in 1943.
Now Quincy is a tourist attraction. You can take a tour down in the mine, at least at the levels that aren't flooded. We didn't get there in time to do that, but we were able to look around the ruins and the small museum inside one of the intact buildings. If I come this way again, I'll time things to see the depths of the Quincy Mine.