The 500-peso Mexican banknote now in circulation is the largest one I handled during my time in Mexico City, worth about US$26. On one side is Diego Rivera. On the other is Frida Kahlo. Husband and wife on paper money is unusual, but not absolutely unheard of: George and Martha Washington appeared on an 1896 U.S. $1 silver certificate.
I had Rivera in mind on our last full day in Mexico City, which also happened to be New Year's Eve, and a Sunday. I wasn't sure places like the Palacio de Belles Artes or the Palacio National, where Rivera murals are on display, would be open. Not only were they open, there was no charge to get in, though I believe that's always true at the Palacio National.
We arrived at the Palacio de Belles Artes just before noon. It looks like an art palace built before WWI, and it is, partly. Porfirio Diaz commissioned it, and work started in 1904. Enough of the exterior was finished by 1913 to give it Neoclassicial and Art Nouveau aspects. Adamo Boari, an Italian architect active in Mexico, did the exterior.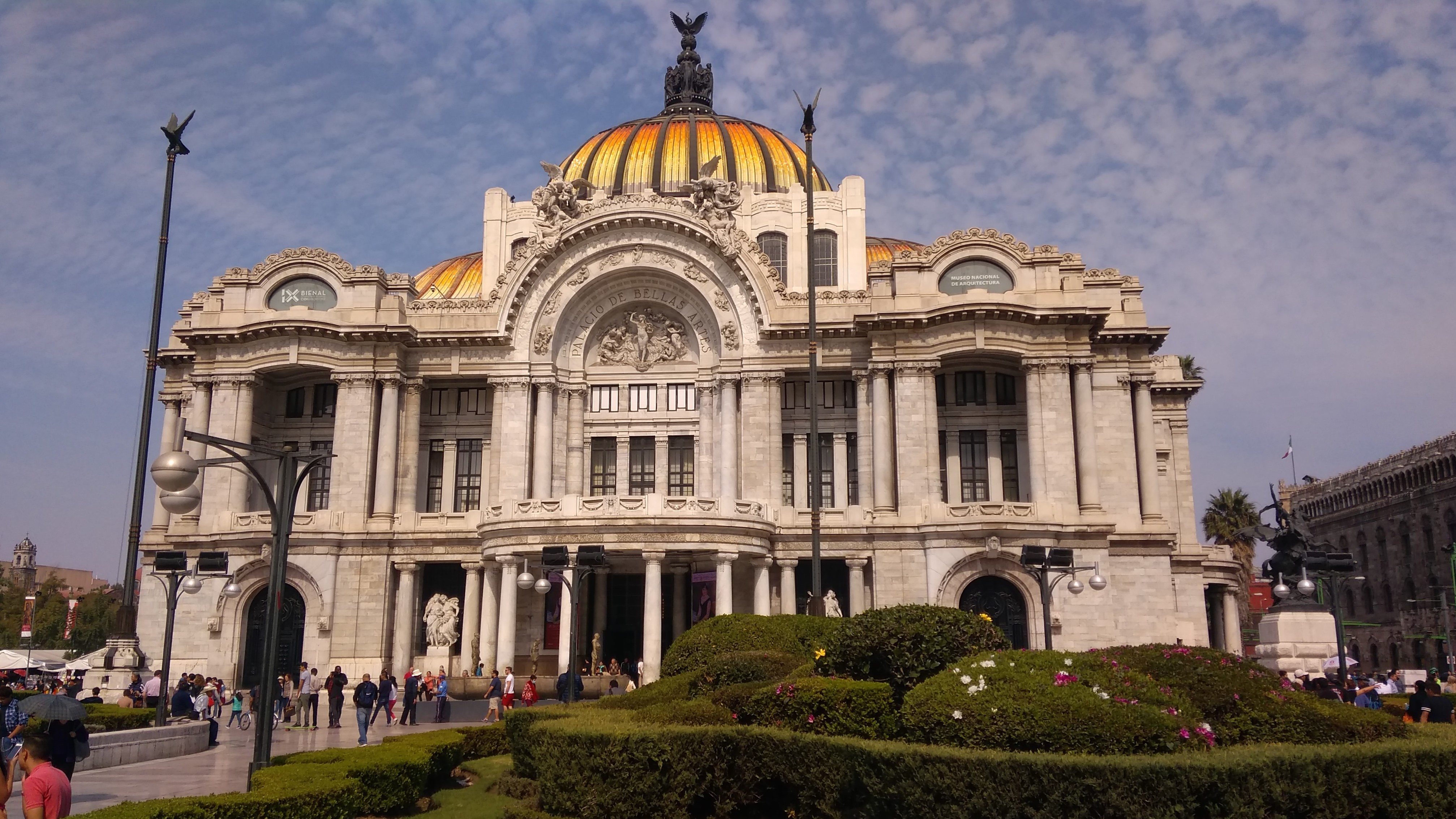 Worked then stopped because of the Mexican Revolution and wasn't picked up again until 1932. By that time, any art palace worth its salt was going to be art deco. Mexican architect Federico E. Mariscal designed the interior, and it's an tremendous bit of art deco.
As fine as that was, though, I'd really come to see the murals, and I wasn't disappointed. To quote from Lonely Planet Mexico, which organized the information well:
"On the 2nd floor are two early 1950s works by Rufino Tamayo: 'México de hoy (Mexico Today)' and 'Nacimiento de la nacionalidad (Birth of Nationality)', a symbolic depiction of the creation of the mestizo (mixed ancestry) identity.
"On the north side of the 3rd floor are David Alfaro Siqueiros' three-part 'La nueva democracia (New Democracy)' and Rivera's four-part 'Carnaval de la vida mexicana (Carnival of Mexican Life).' To the east is José Clemente Orozco's 'La katharsis (Catharsis),' depicting the conflict between humankind's 'social' and 'natural' aspects."
All interesting and sometimes unsettling works. But what I'd really come to see was Rivera's re-creation of his Rockefeller Center mural. If it were anything like his murals in the Detroit Institute of Arts, I knew it would be astonishing.
"At the west end of the 3rd floor is Diego Rivera's famous 'El hombre en el cruce de caminos (Man at the Crossroads),' originally commissioned for New York's Rockefeller Center," continues LP. "The Rockefellers had the original destroyed because of its anti-capitalist themes, but Rivera re-created it here in 1934."
Indeed he did, though I've also heard it called "El hombre controlador del universo (Man, Controller of the Universe)."

Quite a work. We spent a while looking at it. The polemics aren't subtle. Lenin is famously depicted, but so are organized workers, or maybe just determined masses.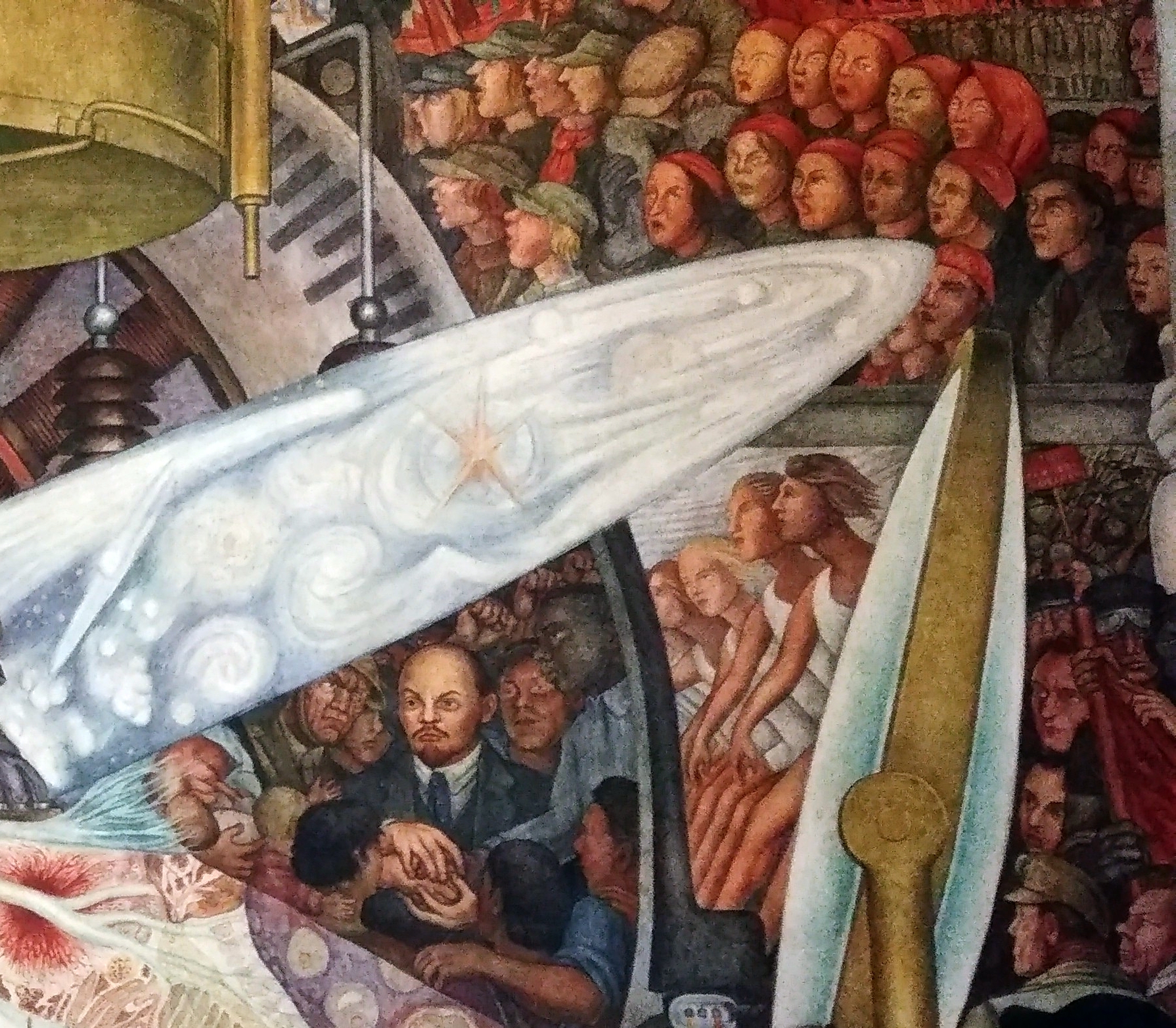 Capitalism has brute force and decadence on its side.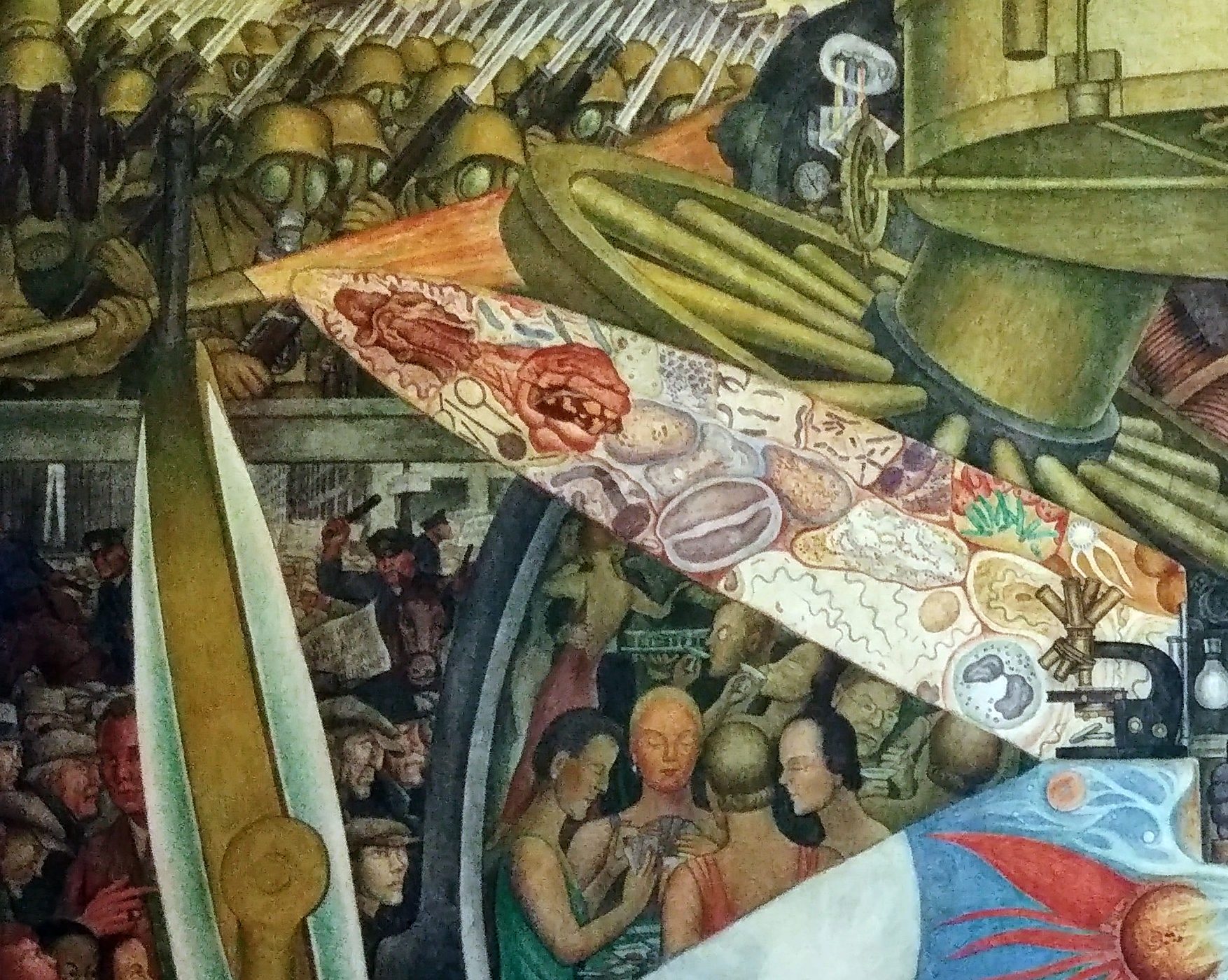 Why, I wondered, were the capitalist allegories to the left and the socialist ones to the right? Then in occurred to me that they are on their own respective right and left.
In between is Man controlling Science — so presumably capitalism and socialism are at odds over capturing the power of Science toward their own ends.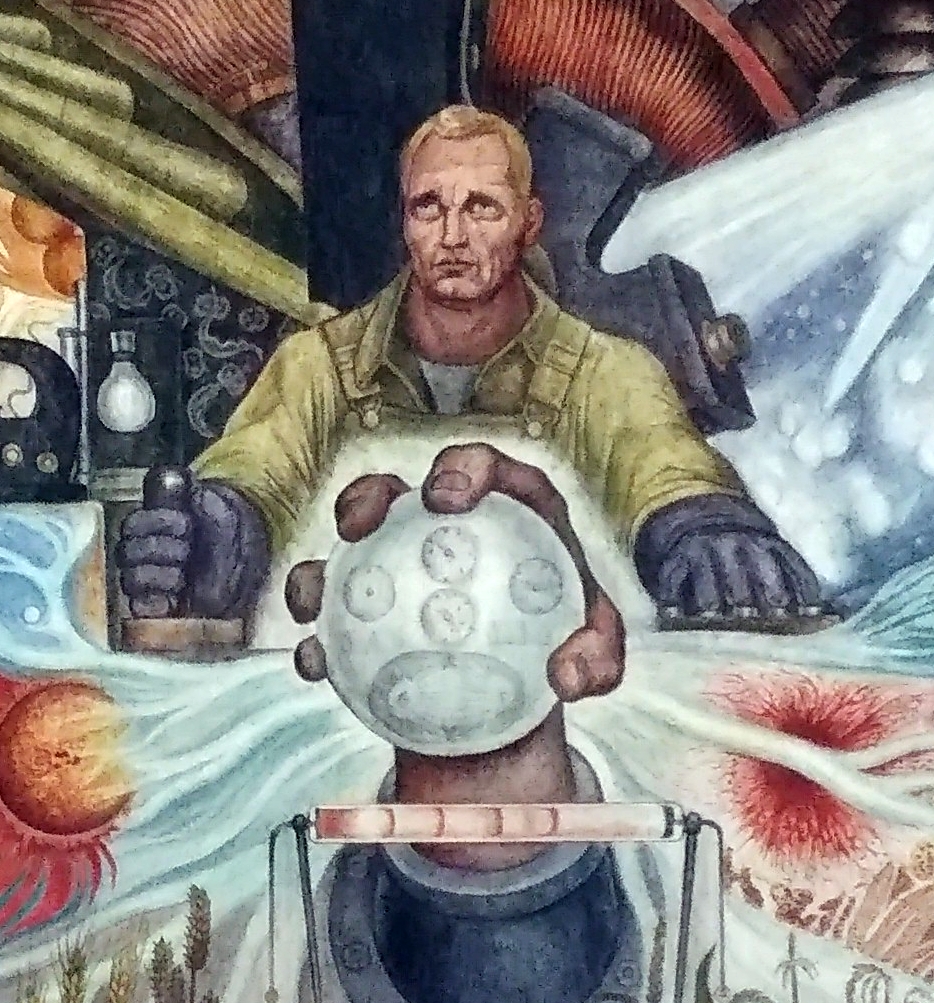 If you asked me, the man has vacant eyes, as if he's a scientist pretty much ready to serve whomever prevails, capitalism or socialism.