At one end of the Fair Park Esplanade is the Hall of State, a stately hall indeed. "The Hall of State, a museum, archive, and reference library, was erected in 1936 at a cost of about $1.2 million by the state of Texas at Fair Park in Dallas to house the exhibits of the Texas Centennial Exposition and the Greater Texas and Pan-American Exposition of 1937," explains the Texas State Historical Association.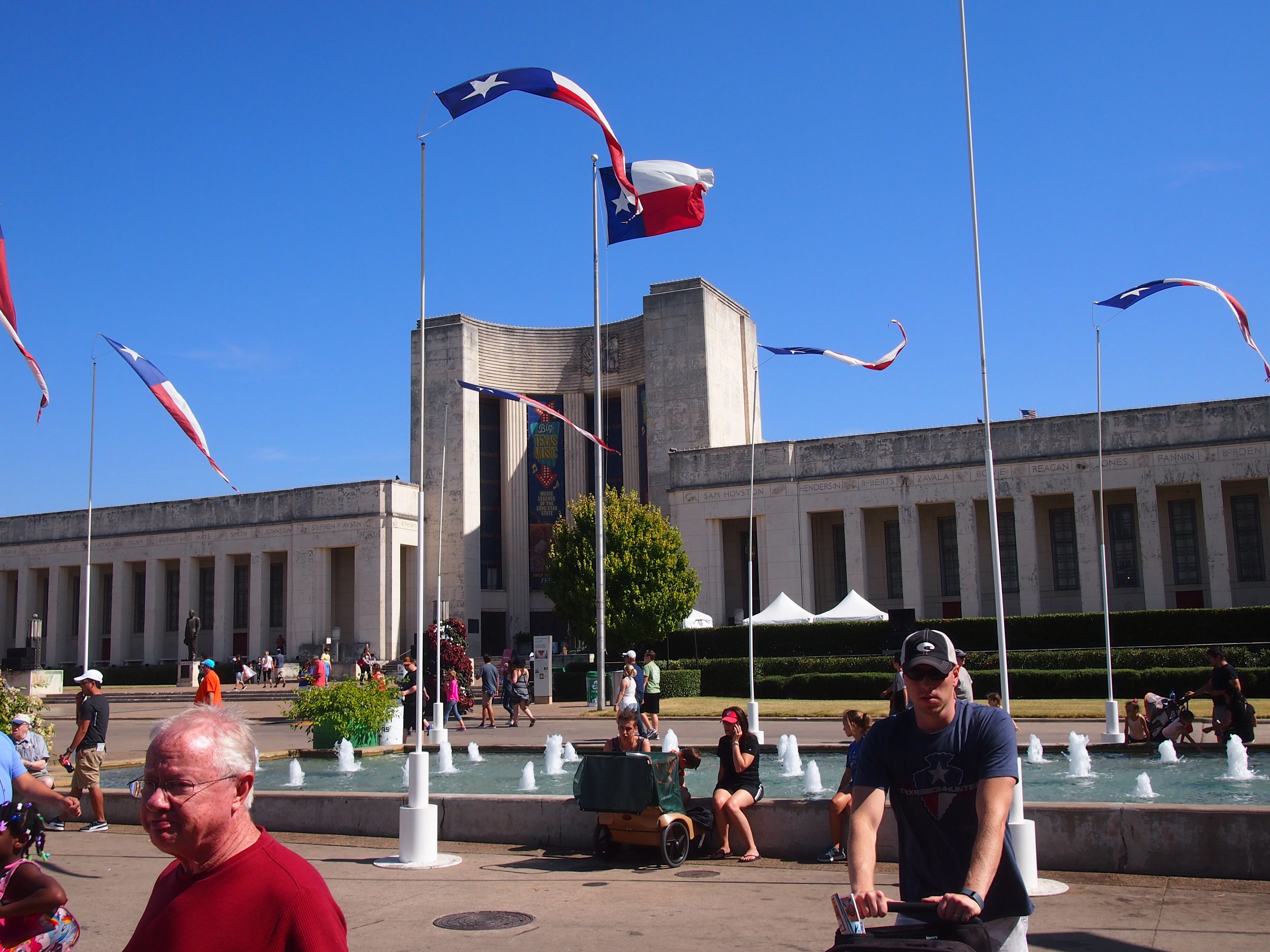 "The structure, designed by eleven Texas architects, is characterized as Art Deco… The front is 360 feet long, and the rear wing extends back 180 feet… The walls are surfaced with Texas limestone. A carved frieze memorializing names of historical importance encircles the building. Carvings on the frieze display Texas flora."
I went inside for a look, and soon was face-to-face — or maybe face-to-plinth — with six statues of early Texas luminaries: Stephen F. Austin, Sam Houston, Mirabeau B. Lamar, James Fannin, Thomas J. Rusk, and William B. Travis. Here's Lamar (1798-1859), second president of the Republic of Texas, among other things.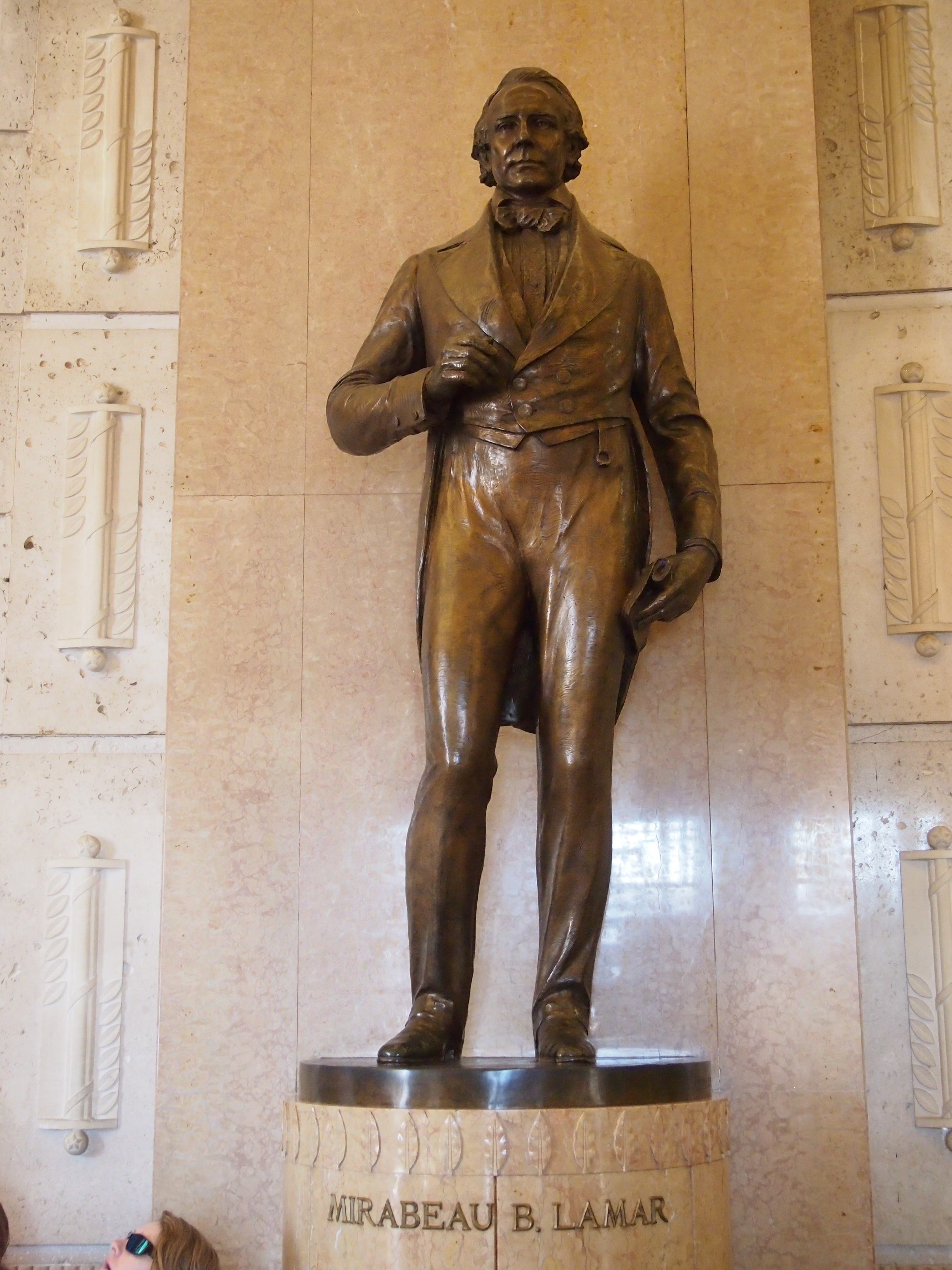 Pompeo Coppini did the sculptures. I'd run across his work before at the Texas State Cemetery in Austin. If it's a monumental sculpture in Texas done in the early to mid-20th century, odds are he did it.
Then I entered Great Hall.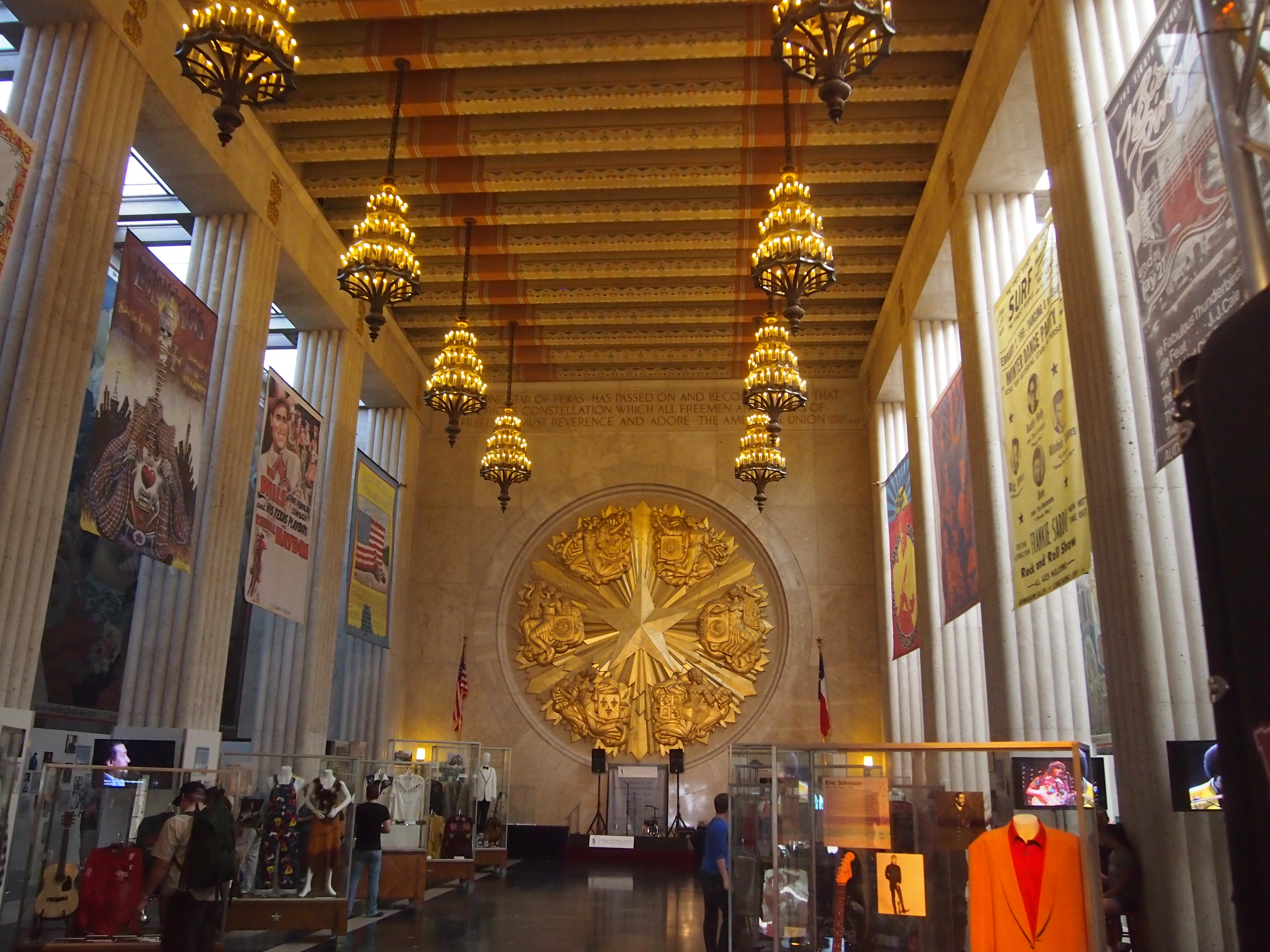 The TSHA again: "The Great Hall, or the Hall of the Six Flags, in the central wing, has a forty-six-foot-high ceiling. Murals on the north and south walls depict the history of the state and its industrial, cultural, and agricultural progress. These were painted by Eugene Savage of New York." I'd run across him before as well.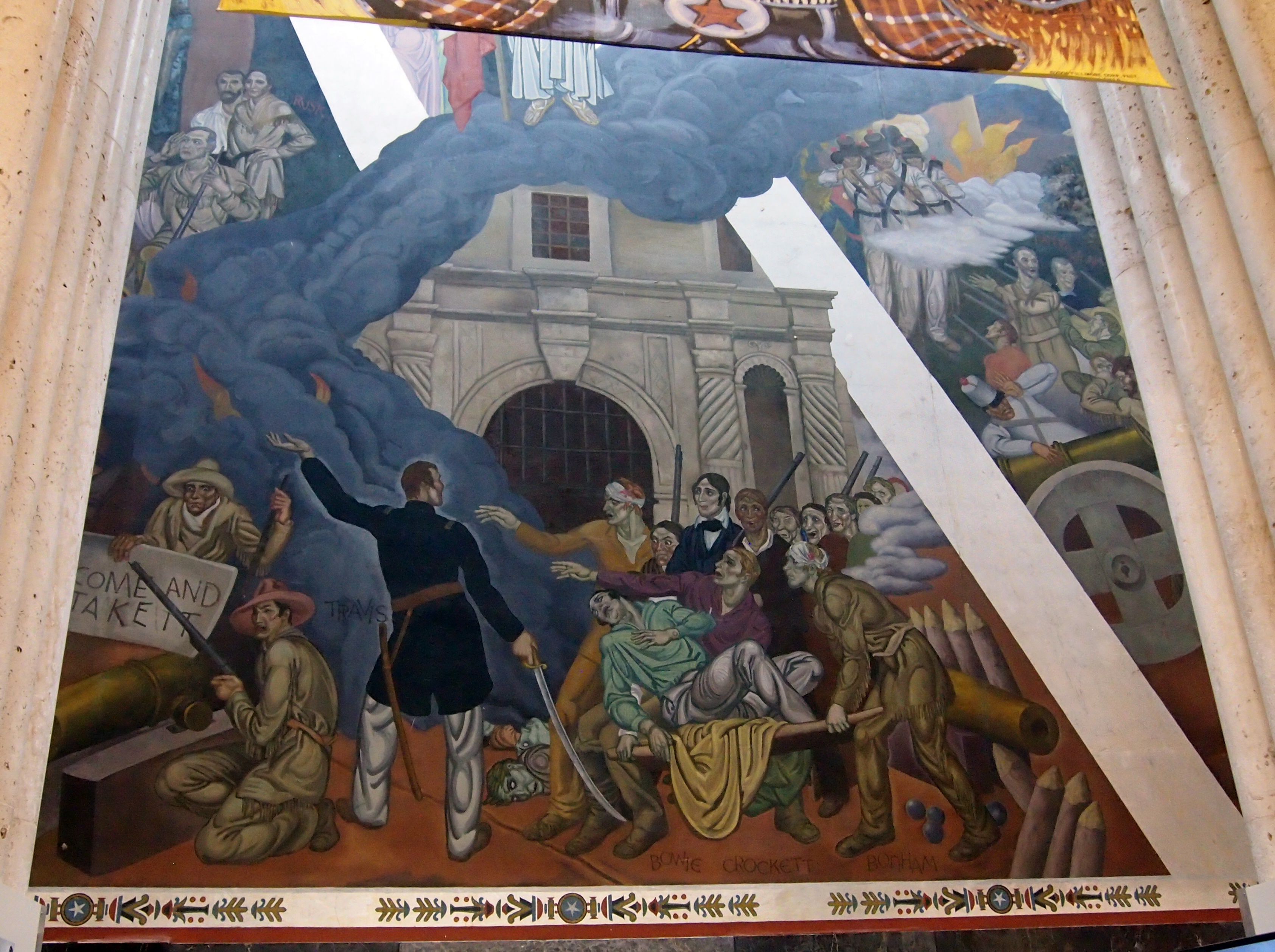 During my visit, the Great Hall happened to be sporting an exhibit about Texas musicians, and I will say that I learned that Meat Loaf was from Dallas, something I didn't know. Actually I didn't know much about many of the Texas musicians mentioned in the exhibit, such as various bluesmen and Western swing players and Tejano bands.
On the back wall of the Great Hall is a gold-leafed medallion with the Lone Star emblem of Texas surrounded by representations of the six nations whose flags have flown over the state.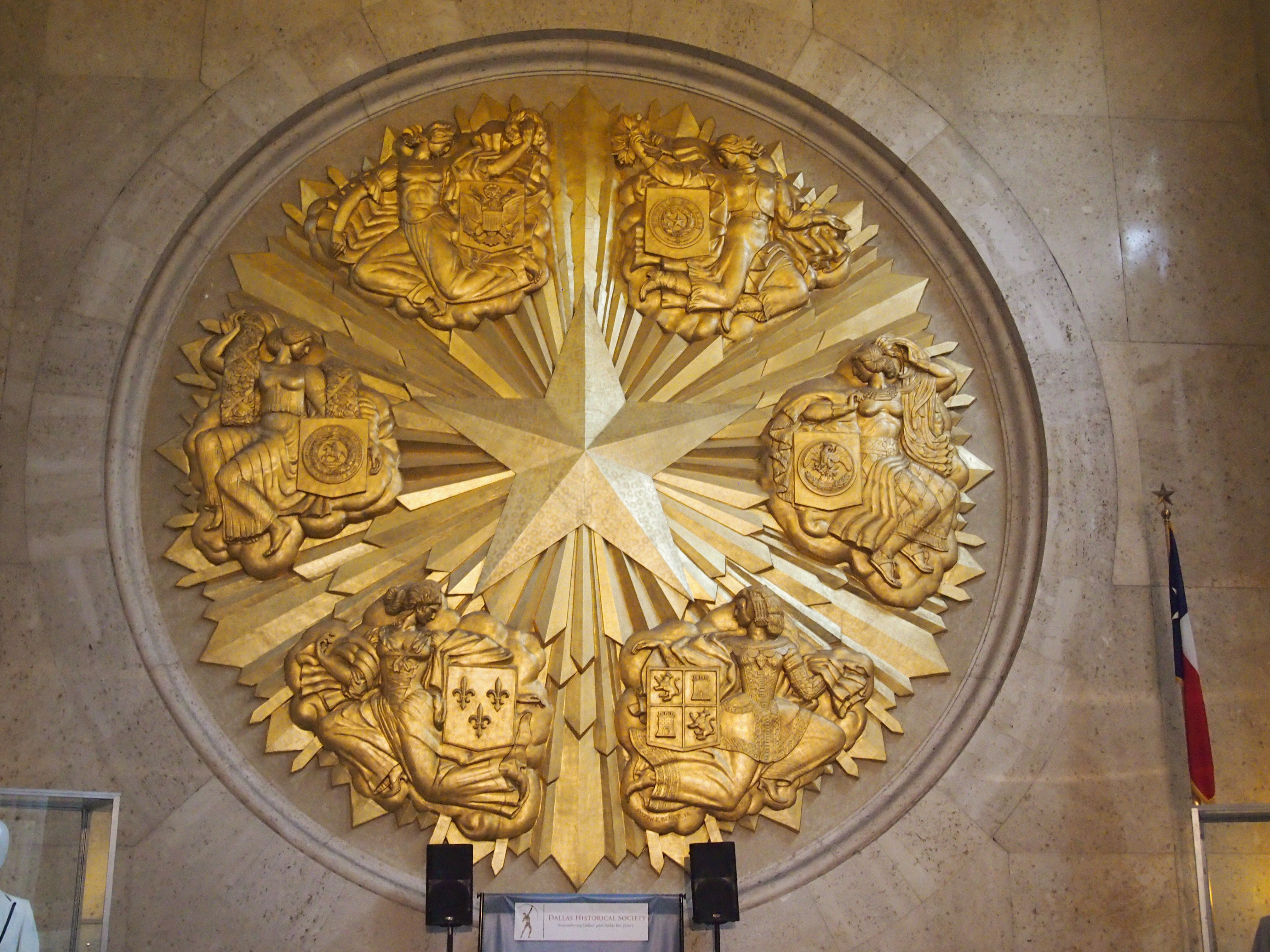 The United States and the Republic of Texas are at the top; the Confederacy and Mexico in the middle; and France and Spain on the bottom. The six together are a persistent theme in symbolic representations of modern Texas.