On the whole, Thanksgiving outside was gray and rainy, but pleasantly warm for this time of the year. The days afterward were drier but much chillier, though not quite freezing.
Pictured: an all-too-common meal snapshot, in this case most of my Thanksgiving dinner. Note the artless presentation. I did that myself. I don't remember what the plastic fork was doing there, but I will assert that we used metal utensils.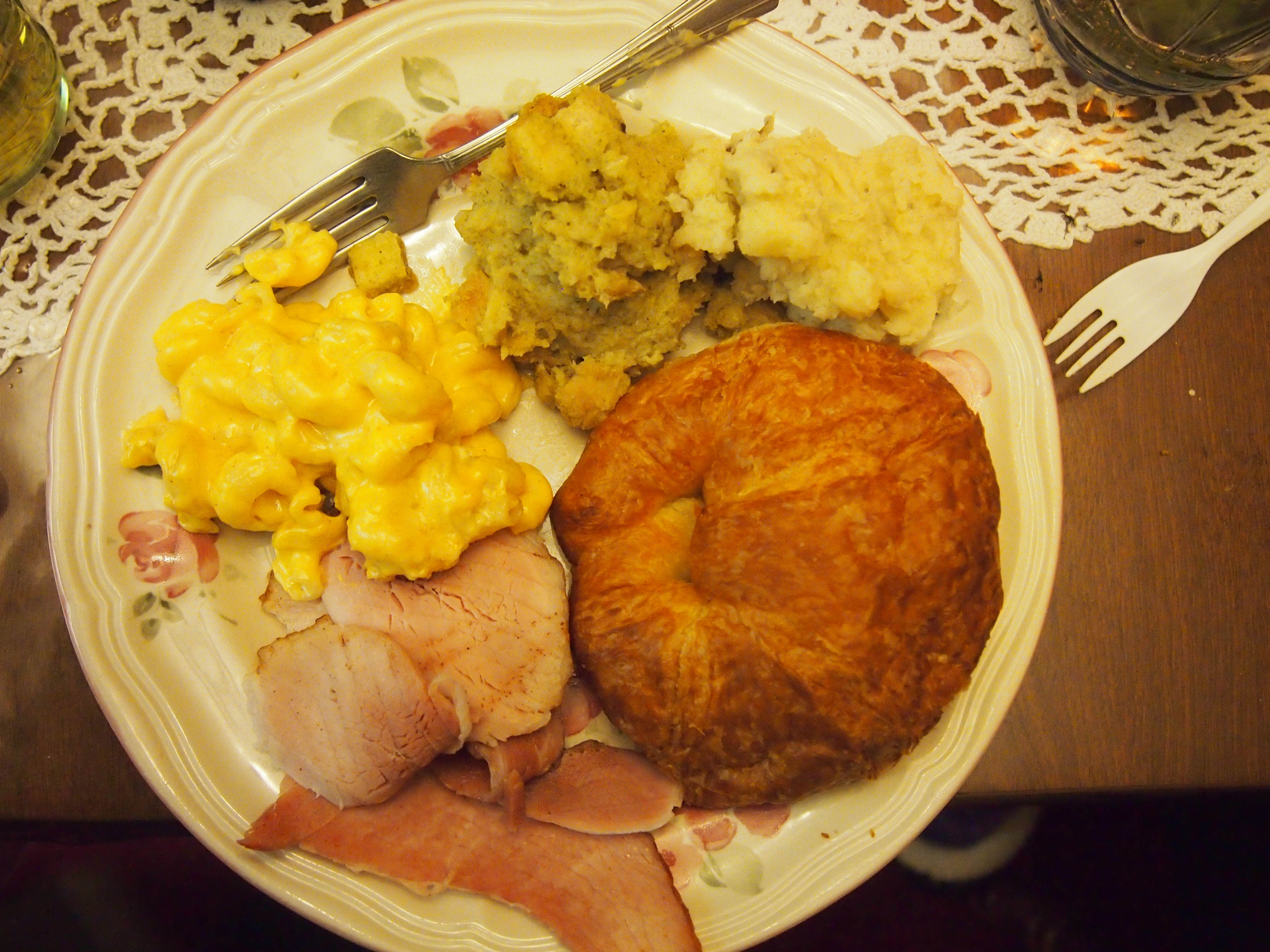 The ham came from a warehouse store, while Lilly prepared the various starches, with Ann's assistance. She combined four or five different cheeses for the macaroni and cheese. It isn't Thanksgiving without that, she said, and it was the star attraction of the plate. For those who fret about such things, there was a green item on the menu, too: green beans, which didn't make into the picture, but did make it into my stomach.
Once again, Martinelli's sparkling cider was the main drink — original and cranberry/apple — though we also opened a bottle of wine we bought at a winery near Traverse City in 2007. I'd post the name of the wine, but that would involve going out to the refrigerator in the garage, where it's now stored, and reading the label. It was a pretty good Riesling.
Some people shop on the Friday after Thanksgiving. That's never been my ambition. My ambition is to do as close to nothing that day as possible. Days like that are very rare. This year I almost achieved it. Almost, but not quite.
Which reminds me of this exchange in Office Space.
Michael Bolton: You were supposed to come in on Saturday. What were you doing?
Peter Gibbons: Michael, I did nothing. I did absolutely nothing, and it was everything that I thought it could be.
On Saturday, we watched Vancouver Asahi, a Japanese movie on TV about the baseball team of that name, composed of Japanese-Canadian players during its heyday in the 1930s, when there used to be a Japantown in Vancouver. Not bad on the whole, though about 30 minutes too long. It also had the virtue of being about something I'd never heard of before.
After the movie ended, at about 11:30 in the evening, I went out on the deck and could see Orion to the south, parading across a nice clear sky. Never mind the solstice. Winter's here.