We visited the Basilica of Our Lady of Guadalupe, Basílica de Nuestra Señora de Guadalupe, in the northern part of Mexico City, 18 days after Our Lady of Guadalupe's feast day, which is December 12. The new basilica and the old basilica, and the large plaza they occupy, were all crowded the day we were there. This was the scene just in front of the new basilica.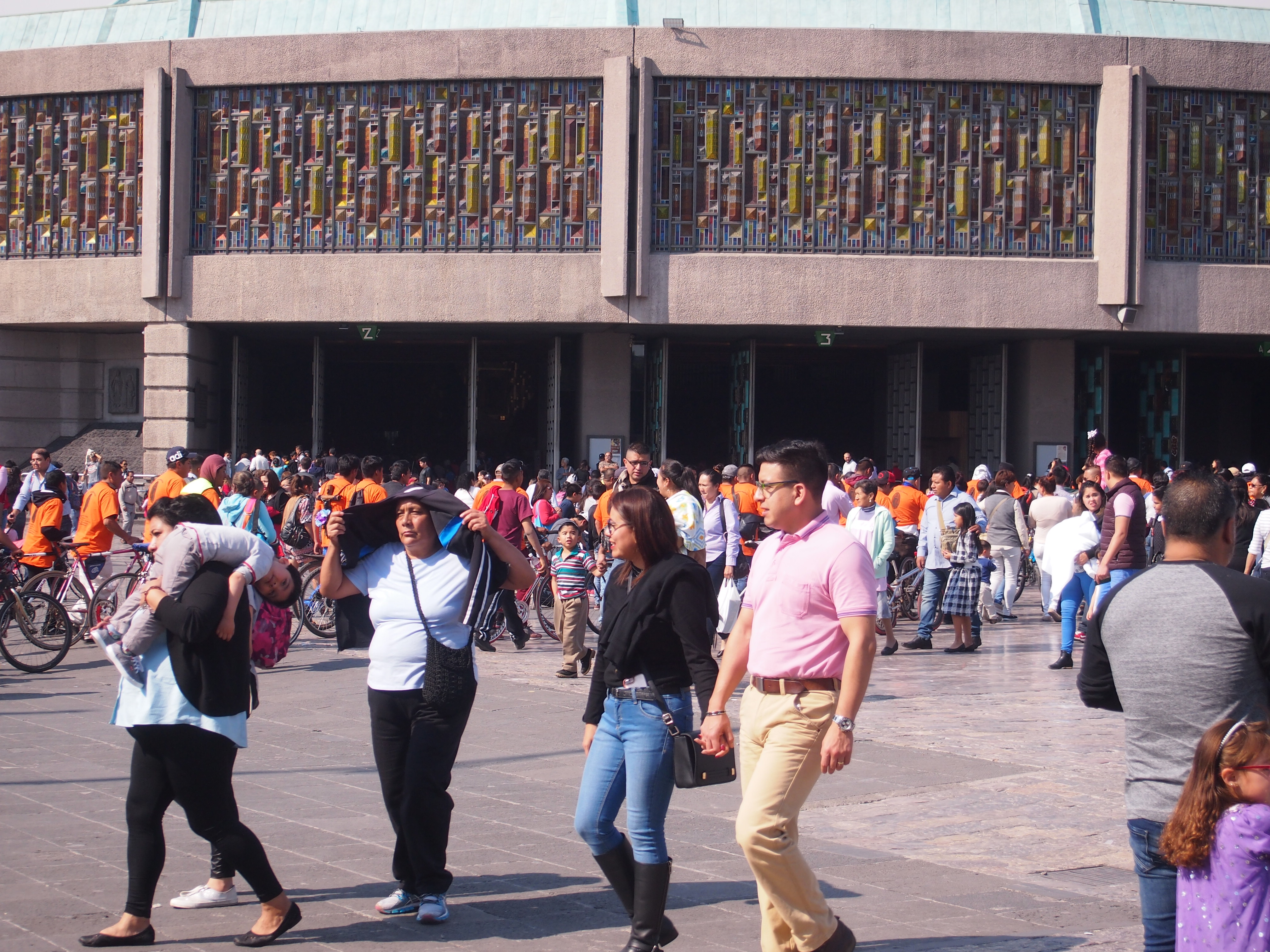 I can only imagine what it would have been like on the 12th. Every paving stone in the plaza would probably have had someone standing on it, or kneeling. As it was people were milling around, though I did see a couple of pilgrims making their way along on their knees.
A wider view at the new basilica, at roughly the same afternoon moment.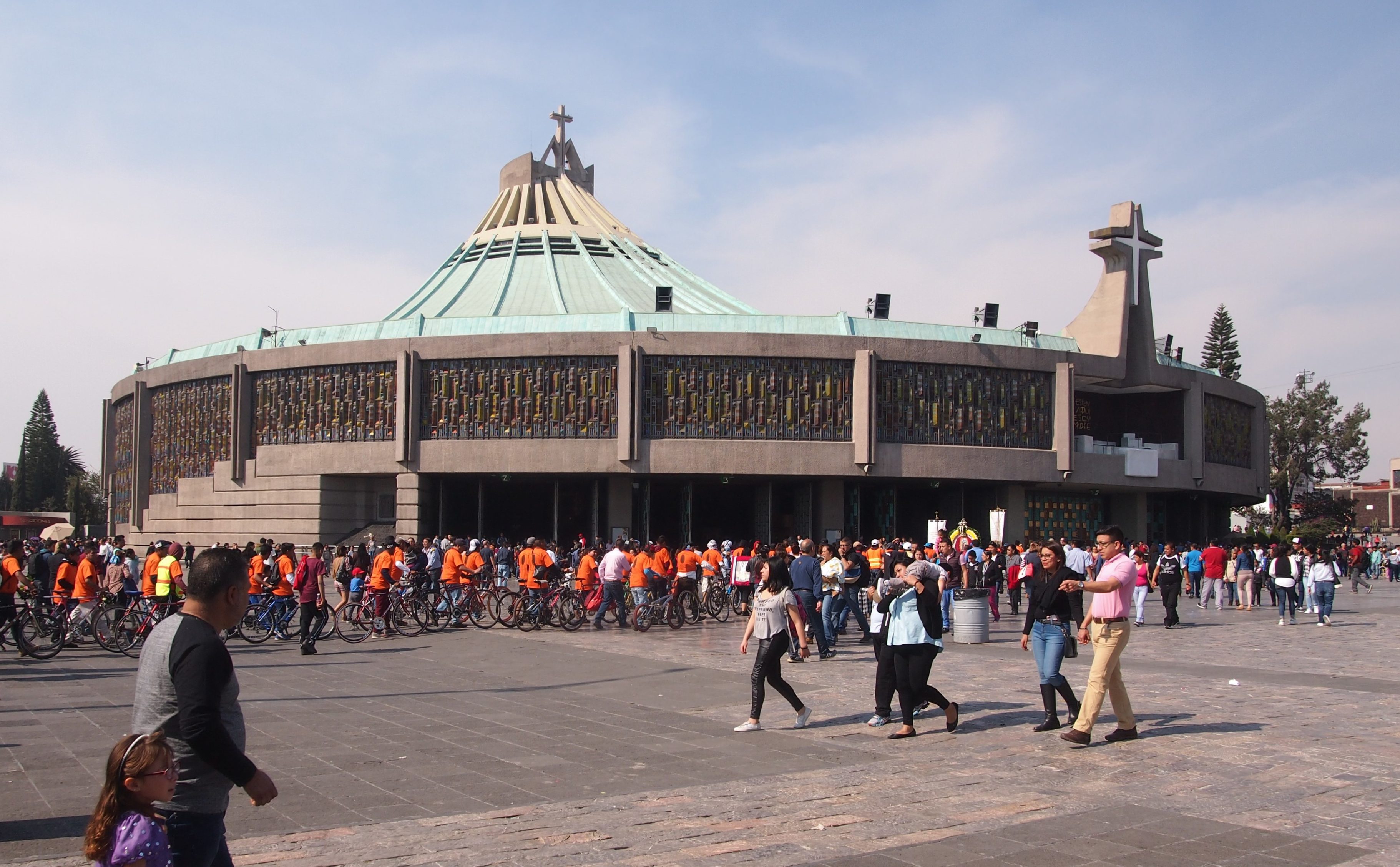 The orange-shirted men appeared to be pilgrims on bicycles, arriving to pay their respects to Guadalupe just as we entered the grounds. I don't know who they were, but I didn't doubt their devotion.

According to one wag I read recently, Mexico is about 80 percent Catholic these days, but 120 percent Guadalupean. (I would have thought the Catholic percentage was higher, but it seems that religious apathy and Protestantism have gained ground in recent decades.)
The new basilica, as these things go, is quite new — finished in 1976. Turns out the old basilica, built on dodgy soils, was at some risk of collapsing. Pedro Ramirez Vazquez, Gabriel Chavez de la Mor, and José Luis Benllioure designed the structure. Modernist it may be, but the new one has its charms, especially inside.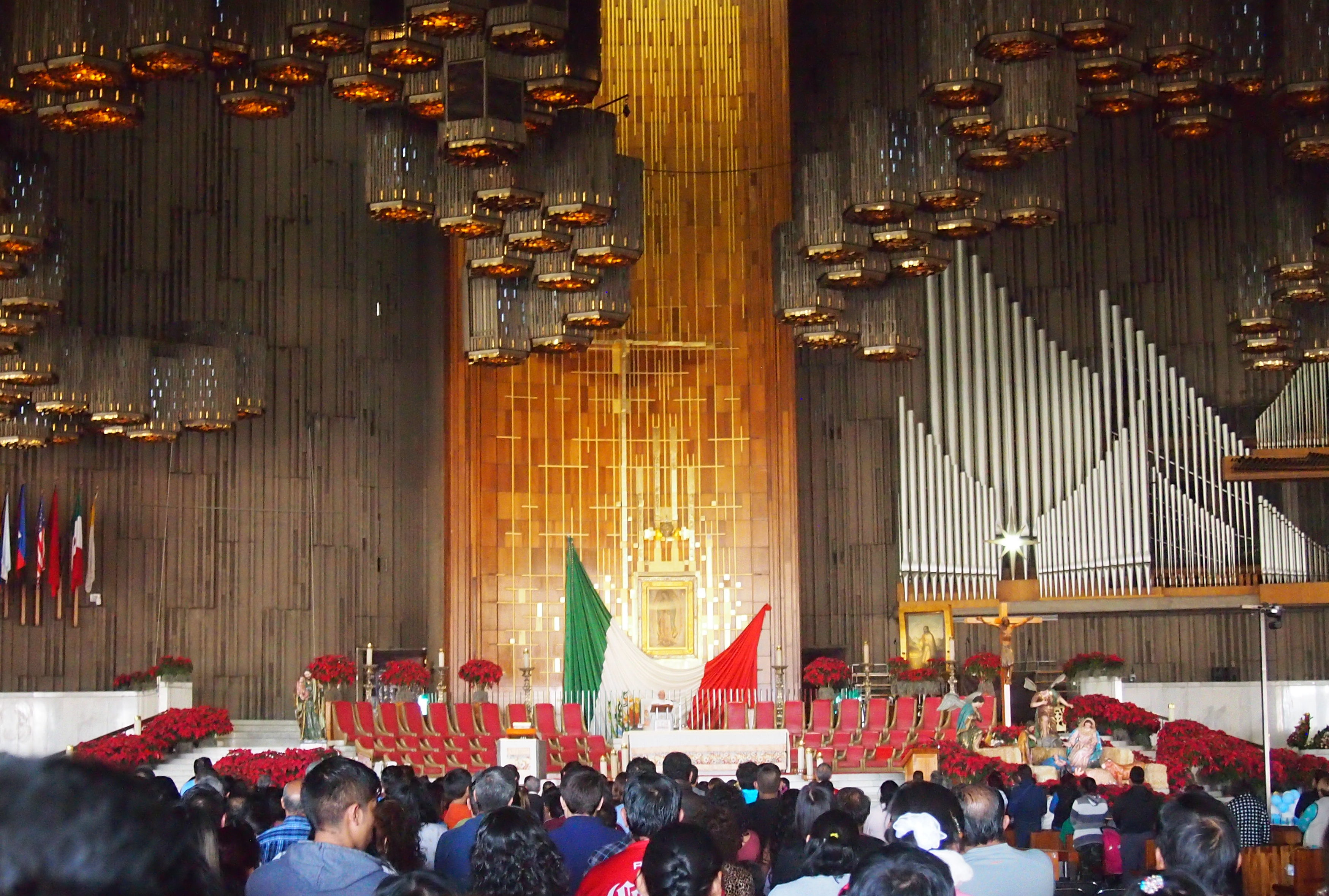 I've read that anyone from any spot in the basilica can see Juan Diego's cactus-fiber cloak with the image of the Virgin on it. I certainly was able to see it, though the glare was pretty strong. A mass was under way, so we didn't get that close.
The old basilica was closed after the new one opened, and stayed closed until the building was stabilized in 2000. It's a fine old colonial structure designed by one Pedro de Arrieta and finished in 1709.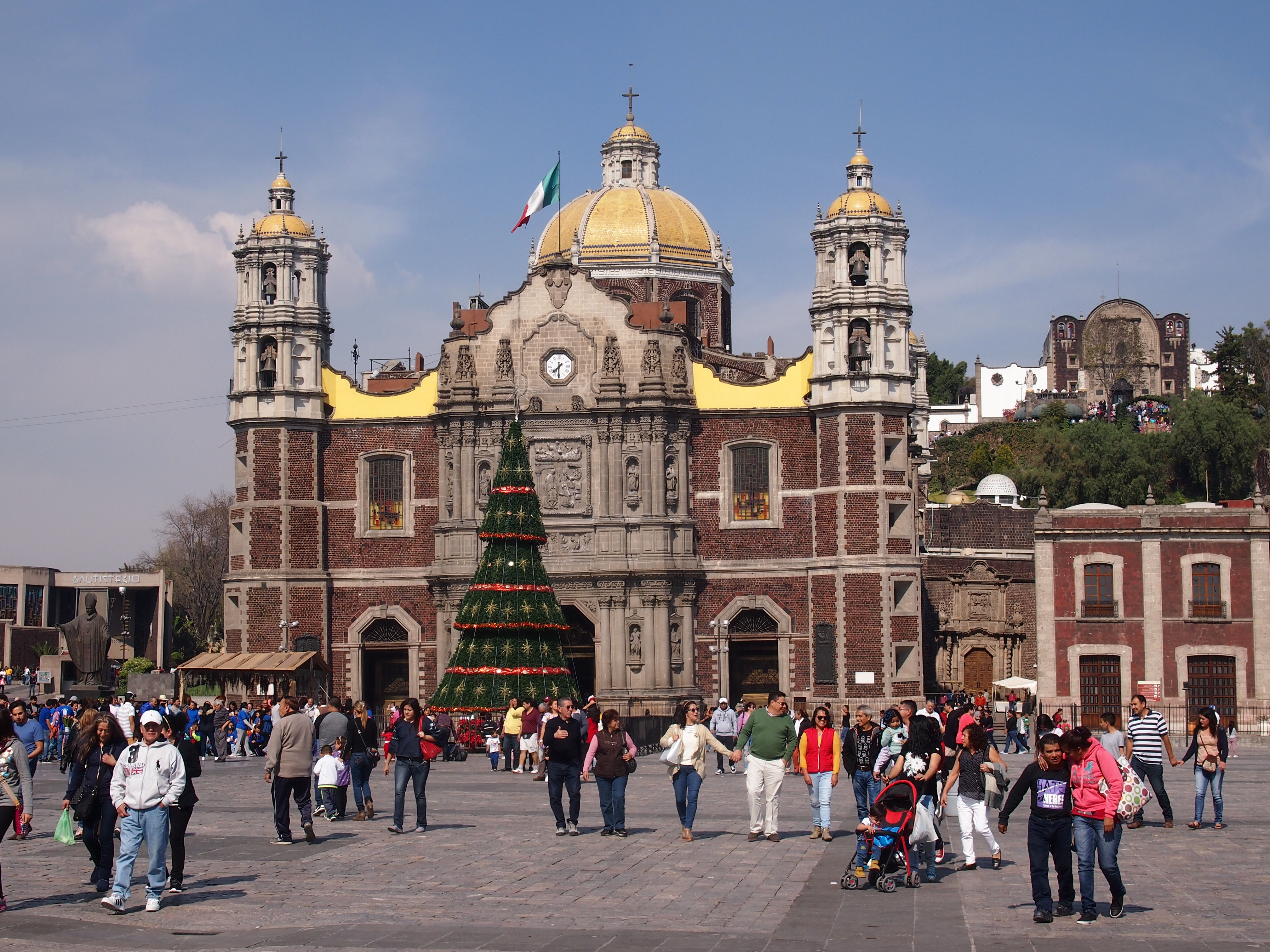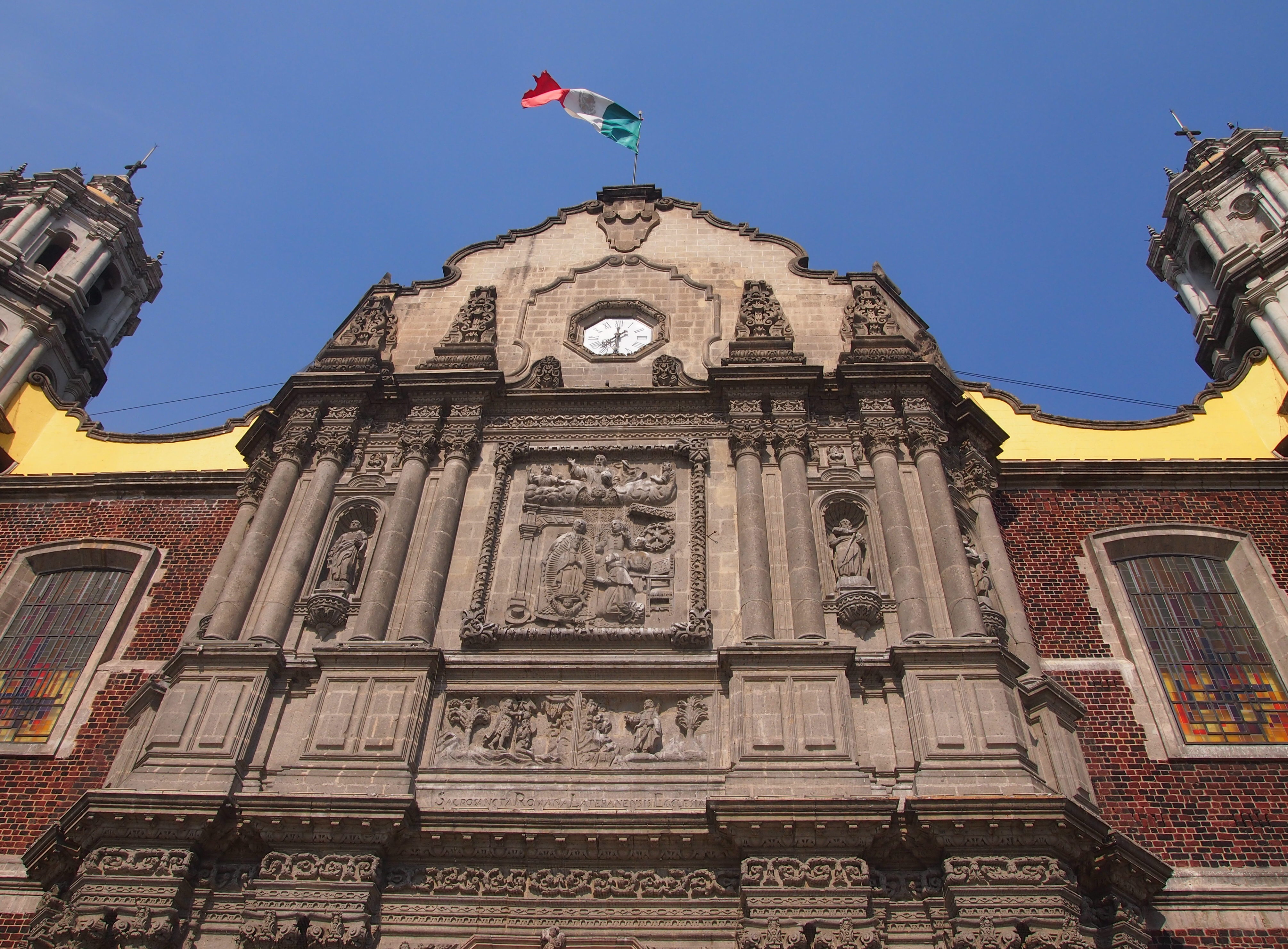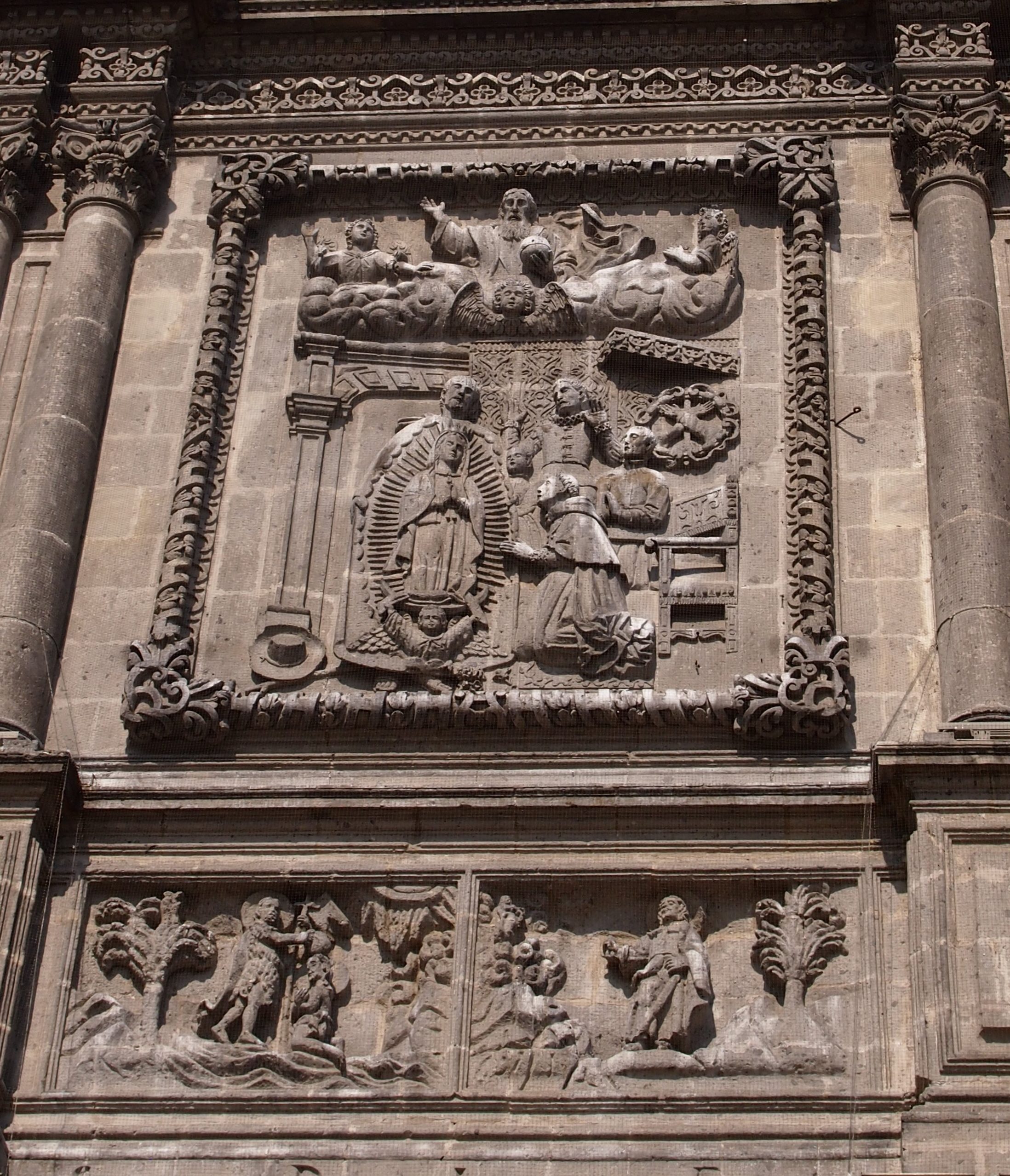 Inside is the the altarpiece that used to hold the image of Our Lady of Guadalupe.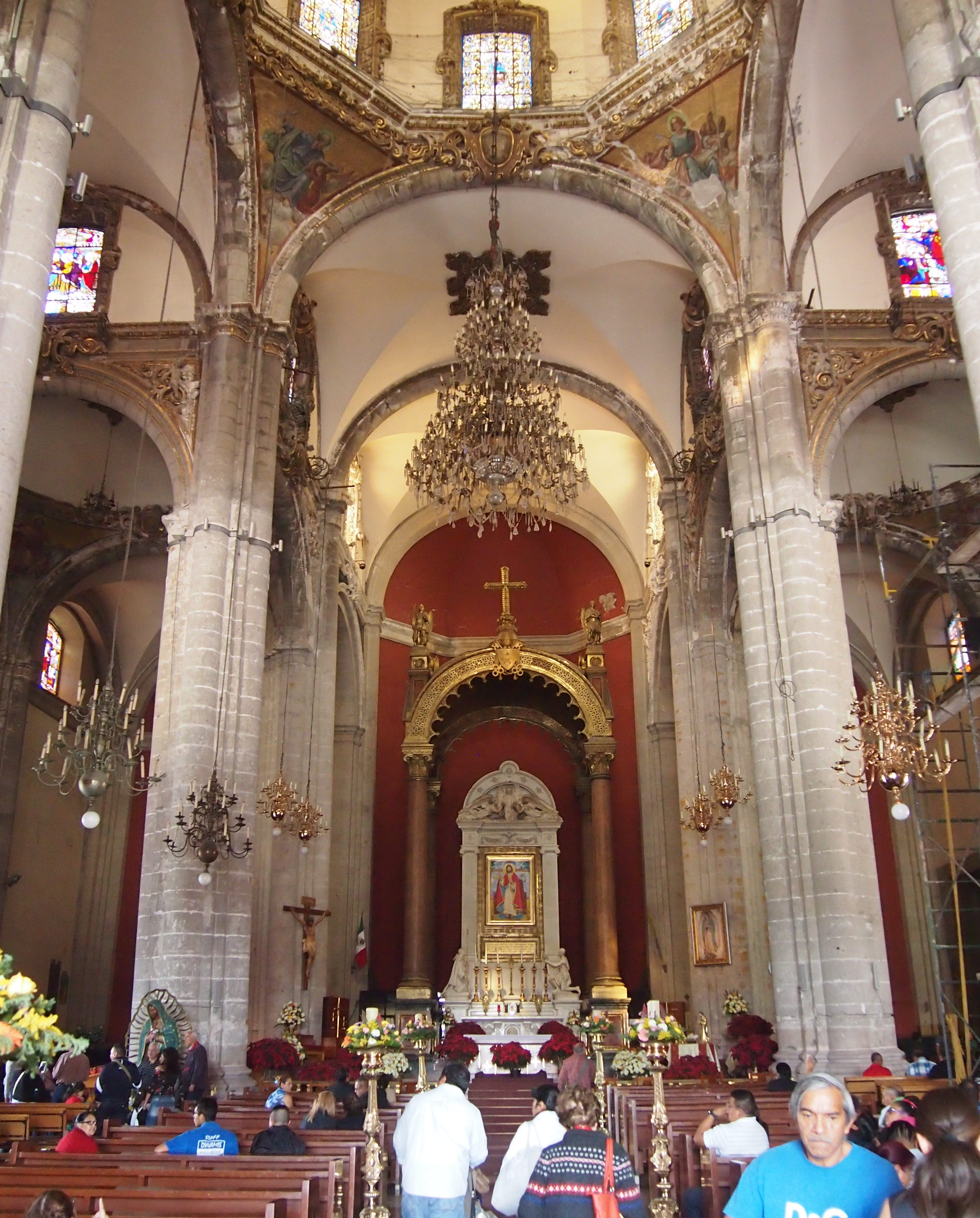 Behind the old basilica is an even older shrine on Tepeyac Hill, where the Virgin appeared to Juan Diego, but considering that we'd been climbing pyramids earlier in the day, no one wanted to climb the hill to see it.
One more thing, not visible in my pictures. Under the plaza is a sizable underground parking garage and an even bigger religious items gift shop, the largest of that kind of retail that I've ever seen. If you want to find just the right souvenir statue or painting or other image of the Virgin — and I was told the faces can vary considerably in their small details — that's the place to spend some time looking. I just bought a few postcards.