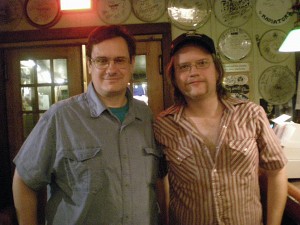 Got a postcard from my nephew Dees last week, the nephew who's the drummer for Sons of Fathers. It describes the 12th Bonnaroo Music & Arts Festival earlier this month, in which the band participated. The photo on the right depicts the only known first-name Deeses of the world, together about this time last year, when Sons of Fathers played at FitzGerald's in Berwyn, Ill., and I went out to see them. He's the hale fellow with facial hair.
A little further in the past – 1991 – I found myself driving from Boston to Chicago during this time of year, and I stopped at Gettysburg National Military Park. I missed the 128th anniversary of the battle by a few days, and presumably whatever commemoration events they had. I thought of that when I was reminded by the newspaper today that the 150th anniversary of the battle is upon us, beginning tomorrow, of course.
There were some other visitors when I was there, but not too many.  It was a hot day, fittingly, since it was a high-summer battle, which must have added to the misery. This image captures the summer conditions of the site pretty well, besides the 72nd Pennsylvania Infantry Monument, which has its own intricate history, and which was knocked over by high winds only last week.
Here's another view of the Angle – the stone wall that Pickett's men managed to reach (Lewis Addison Armistead's men, but let's not be too pedantic).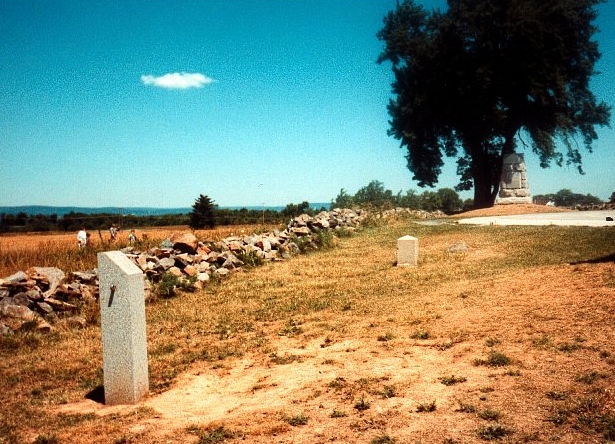 I haven't seen one of these quarters yet, though I've been noticing a number of national park quarters in change lately.