Not something you see everyday: a plaque marking a project by the Federal Works Agency. But there it was last weekend for me to see, at the Chicago subway station of the CTA Blue Line (O'Hare-Forest Park).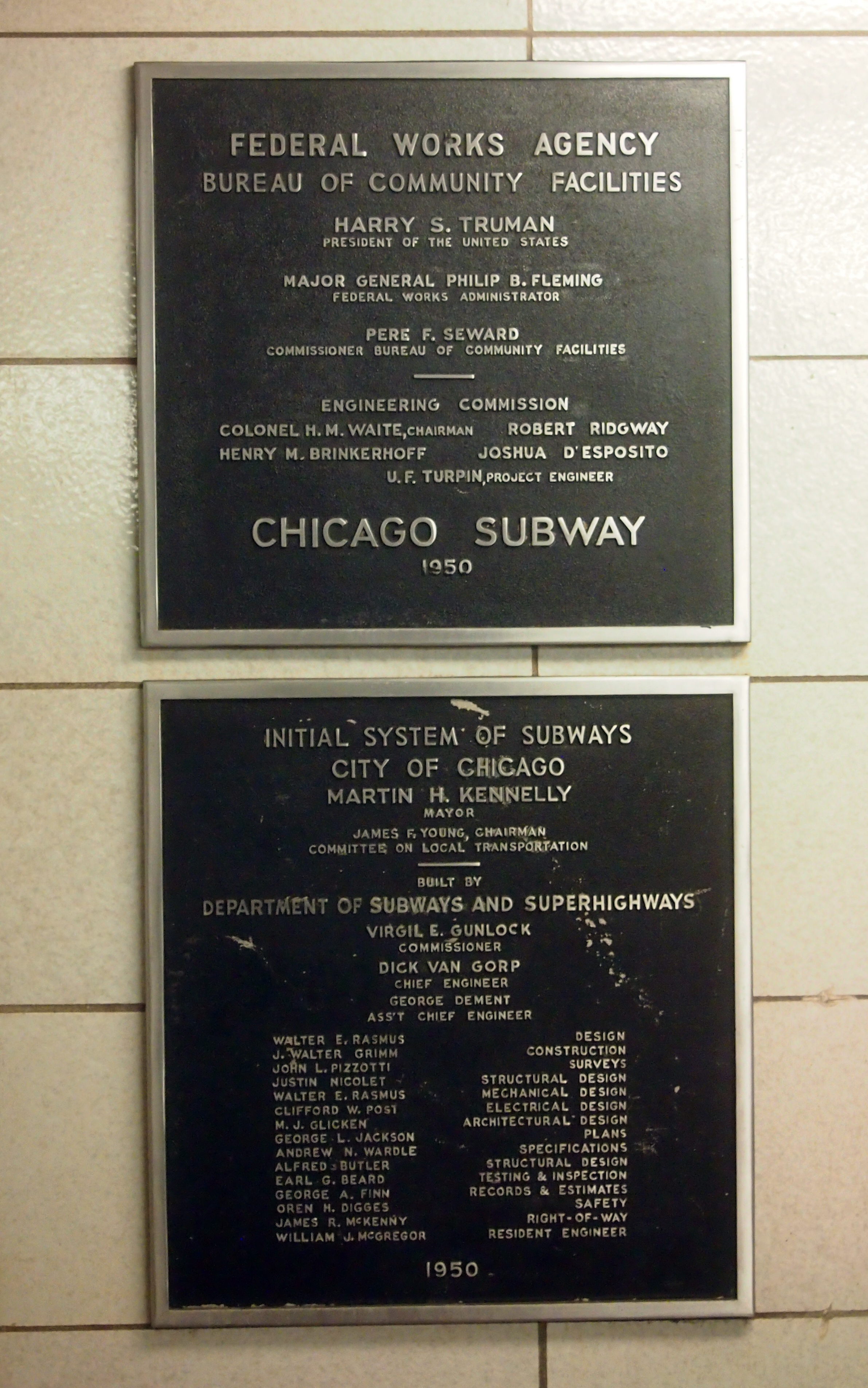 The Federal Works Agency only lasted until 1949, but it's a safe assumption that the subway construction project started under its aegis in the late '40s, so it was thought fitting to use the name even in 1950. The agency had been created as a part of a major federal government reorganization in 1939, authorized by Congress and overseen by the executive branch.
To quote President Roosevelt, in his message to Congress on the Reorganization Act of 1939: "[The FWA will include] the Bureau of Public Roads, now in the Department of Agriculture; the Public Buildings Branch of the Procurement Division, now in the Treasury Department, and the Branch of Buildings Management of the National Park Service… now in the Department of the Interior; the United States Housing Authority, now in the Department of the Interior; the Federal Emergency Administration of Public Works; and the Works Progress Administration, except the functions of the National Youth Administration."
Various additions and subtractions were made to that list until 1949, when the FWA's remaining functions were parceled out to other agencies, as well as the newly created General Services Administration. As federal bureaucracies go, the FWA had a fruit-fly lifespan.
With a 10-year run, there couldn't be that many FWA plaques. Certainly not as many as the GSA — nearly 70 years now — or even the WPA or the CCC, which also had short runs, but were really busy in their heydays. So maybe in the hobby of plaque-spotting the FWA is a nice find.
If there is such a hobby. Surely someone looks for plaques in a more enthusiastic or systematic way than I do. And is Blue Plaque-spotting a thing in the UK, or does this Spectator article merely refer to casually walking by them?