From the NWS at 3 p.m. today, for northeastern Illinois: WINTER STORM WARNING REMAINS IN EFFECT FROM 6 PM THIS EVENING TO 9 PM CST FRIDAY…
"Heavy snow expected. Travel will be very difficult to impossible at times, including during the morning commute on Friday. Total snow accumulations of 8 to 14 inches, with localized higher amounts are expected."
Well, that ought to be fun. Snow had already started as of 6 p.m. Thursday. Fortunately, all of us can stay home tomorrow.
One more small banknote for now. Small in value, about 1.6 cents, and small physically, 4½ by 2 inches. The 1 jiao of the People's Republic of China. The PRC. I miss it being called red China, just a little.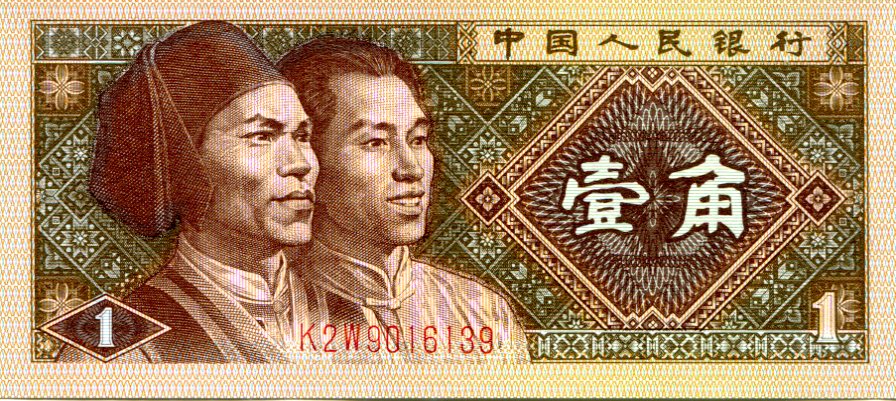 1 jiao is 0.1 yuan. So you could say that this is a Chinese dime. The gentlemen depicted on the note are stalwart examples of Gaoshan and Manchu men, presumably looking boldly toward the socialist future. Manchu, I'd heard of. Manchu Dynasty and all that. Gaoshan, on the other hand, I had to look up. Seems that's a term for Taiwanese aborigines.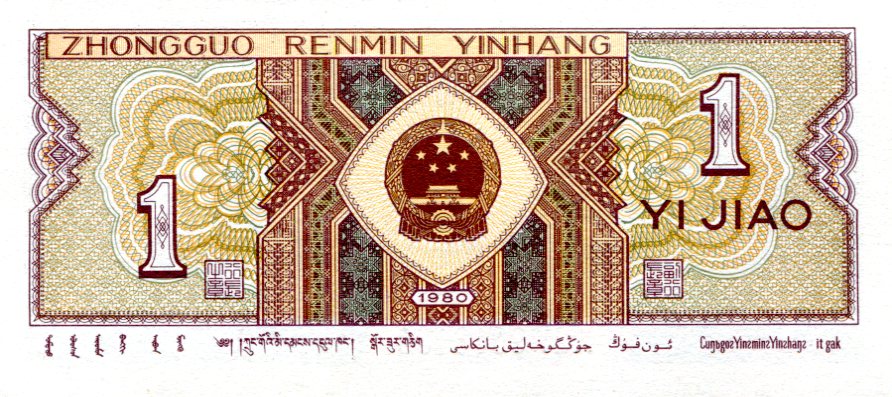 Dated 1980, but in fact part of the fourth series of the renminbi (as opposed to FECs), which were issued from 1987 to 1997. So I might have picked this up in China. I know I have a few 1 jiao aluminum coins from our visit. Or the note might have been among the bunch o' cheapies I got more recently.