Temps have cooled down some, but it's still warmer than usual for this time of year. At about 12:30 this afternoon, I saw an ice cream truck drive down our street. I can't ever remember seeing one in October.
Last weekend, Yuriko and I drove up to Milwaukee to participate in Milwaukee Doors Open. Ann couldn't make it, even if she'd wanted to, because she was attending her first high school speech tournament.
That's a good thing. Her joining speech inspired me, while in Texas recently, to open up one of my high school yearbooks, the 1979 edition, to the page devoted to the National Forensic League. I was a member.

I discovered when Ann signed up for debate that it isn't the NFL any more, but the National Speech & Debate Association, only since 2014. What kind of name is that? Hopelessly bland. It's as distinctive as the name of a suburban office park in a mid-sized market.
Note in the picture above: the club's officers (I was one of those, too) had fun with belonging to the NFL. We lined up like football players for the picture.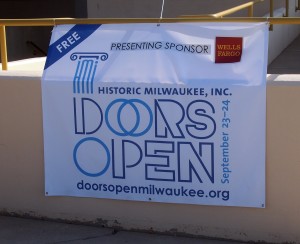 First we went to Annunciation Greek Orthodox Church, which is in the near suburb of Wauwatosa. It's best known for being one of Frank Lloyd Wright's last works, and in fact was completed after he died. As I read, and as I saw, this 1950s church is informed by traditional Byzantine forms. But I also couldn't help thinking of space age forms.
From there, we went into the city and revisited the Basilica of Saint Josaphat. Last time we were there was Good Friday 2011, and as you'd guess, the church was fairly busy that day. This time, it was open just for a look, so we were able to do that at some length.
East Town, the part of downtown Milwaukee east of the Milwaukee River, was next. A number of churches along or near Juneau St. were open, so they became the focus. Doors Open features a lot more than churches, but with so many clustered together, I figured that would be a good theme for this year.
They included All Saints' Cathedral (Episcopal), Summerfield United Methodist Church and Immanuel Presbyterian Church. All were worth seeing.
At one of them, a U.S. flag and another flag graced the entrance. The other one, which I'd never seen before, intrigued me. Y held it so I could take a picture, since the wind wasn't up.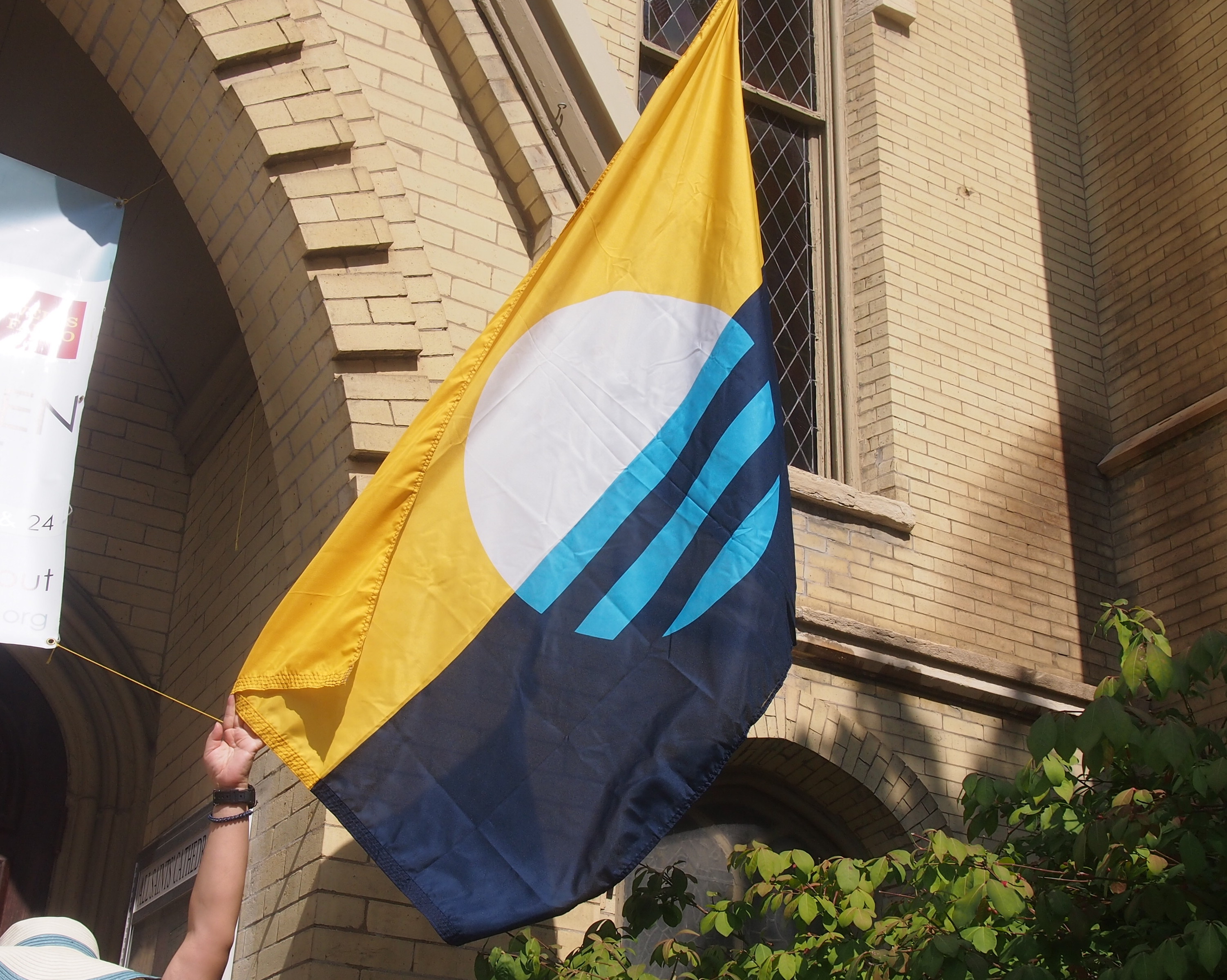 I asked the volunteer inside the door about it, and she told me it was the new flag of Milwaukee. I took that to mean officially, but that's not so. There's a movement to make it the official flag, to replace this embarrassment, but it hasn't happened yet.
Currently it's the People's Flag of Milwaukee. Sounds like the banner under which the proletariat would storm City Hall, but I don't think the organizers of online poll to pick a new design had that in mind. I'll go along with it, though I don't live in Milwaukee. It's a good design. Vexillologists hate the current flag, and I agree with them.
Speaking of Milwaukee City Hall, that was the last place we went for Doors Open Milwaukee after a late lunch at the downtown George Webb, the local diner chain with two clocks. I interviewed the mayor of Milwaukee in his office at City Hall in 2003, but I really didn't get to look around. It's a splendid public building, dating from the Progressive Era.