Back to posting on September 5. If you can't take Labor Day off, when can you?
One more thing about the Great American Solar Eclipse. It was followed by the Great American Traffic Jam. Or, to hark back to an increasingly distant bit of history, the Mother of All Traffic Jams.
We left Paducah, Kentucky, at about 2 p.m. on August 21. It took us about 12 hours to get home. Twice as long as under normal conditions.
Since not a lot of people jammed into Paducah to see the eclipse, I-24 north from the town wasn't bad at all. Even I-57 wasn't too crowded at first, until around Marion, Illinois. Then traffic stopped dead.
So much so that I could take a picture of the road ahead, at my leisure, while in the driver's seat. No one was moving.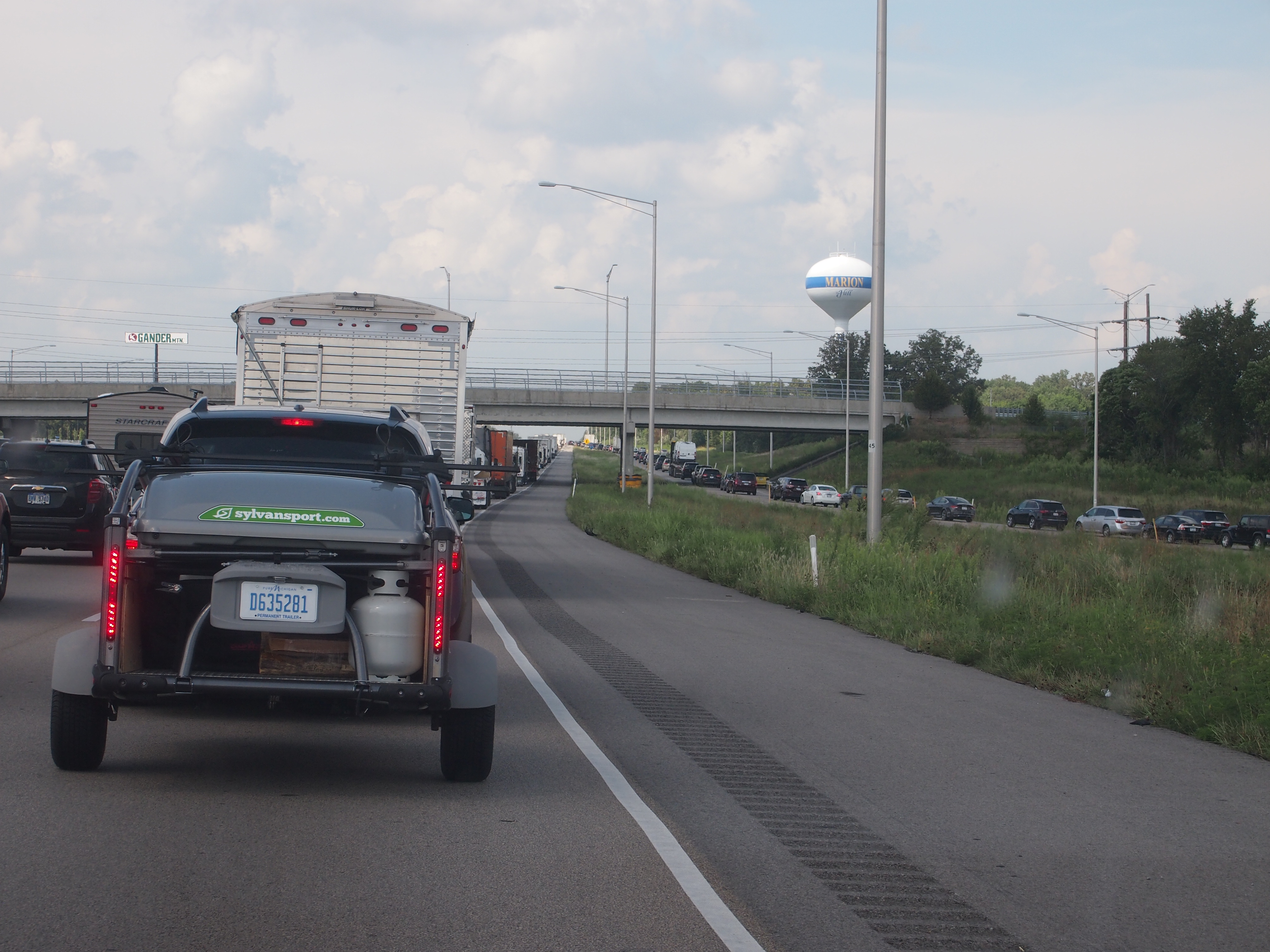 A lot of people had gone to Carbondale, west of Marion, to see the eclipse. The road from Carbondale, Illinois 13, meets I-57 at Marion. Google Traffic showed red and worse for miles and miles north of there.
After a long time of not moving at all, punctuated by exciting periods of slowly crawling along, we were able to get off I-57 and take to smaller roads, such as Illinois 1 and 130 and others. We should have done that from the get-go, but I mistakenly thought traffic would only be heavy on I-57, not molasses.
The alternate routes didn't entirely get us away from traffic, and at times we encountered slowdowns, such as when hit by a lot of rain. That was the weather system that clouded over the partial eclipse in the Chicago area, and which would have obscured totality for us had it arrived further south a day earlier. Sometimes you, and thousands of others, get lucky.
Our onboard navigation system wasn't a lot of use. No matter where you were, or what the traffic conditions were, its suggestions to get home amounted to get on the nearest Interstate. If it were programmed to nag, it would have said, "Why aren't you on the Interstate? You know that's the best way to go. Get on the Interstate!" Robert Moses isn't dead.
My old friend Tom was in Madisonville, Tenn., for the eclipse, reporting flawless weather for the event, as seen from Kefauver Park (as in, Estes). He also said getting back to Atlanta involved sticky traffic and a succession of small roads.
Enough about the traffic. It was merely an unpleasant coda to an otherwise remarkable experience. When we finally got home, exhausted, I asked a rhetorical question: Was it worth it? Was it ever.